Updated: October 13th, 2022
This article contains affiliate links. Read the full disclosure here.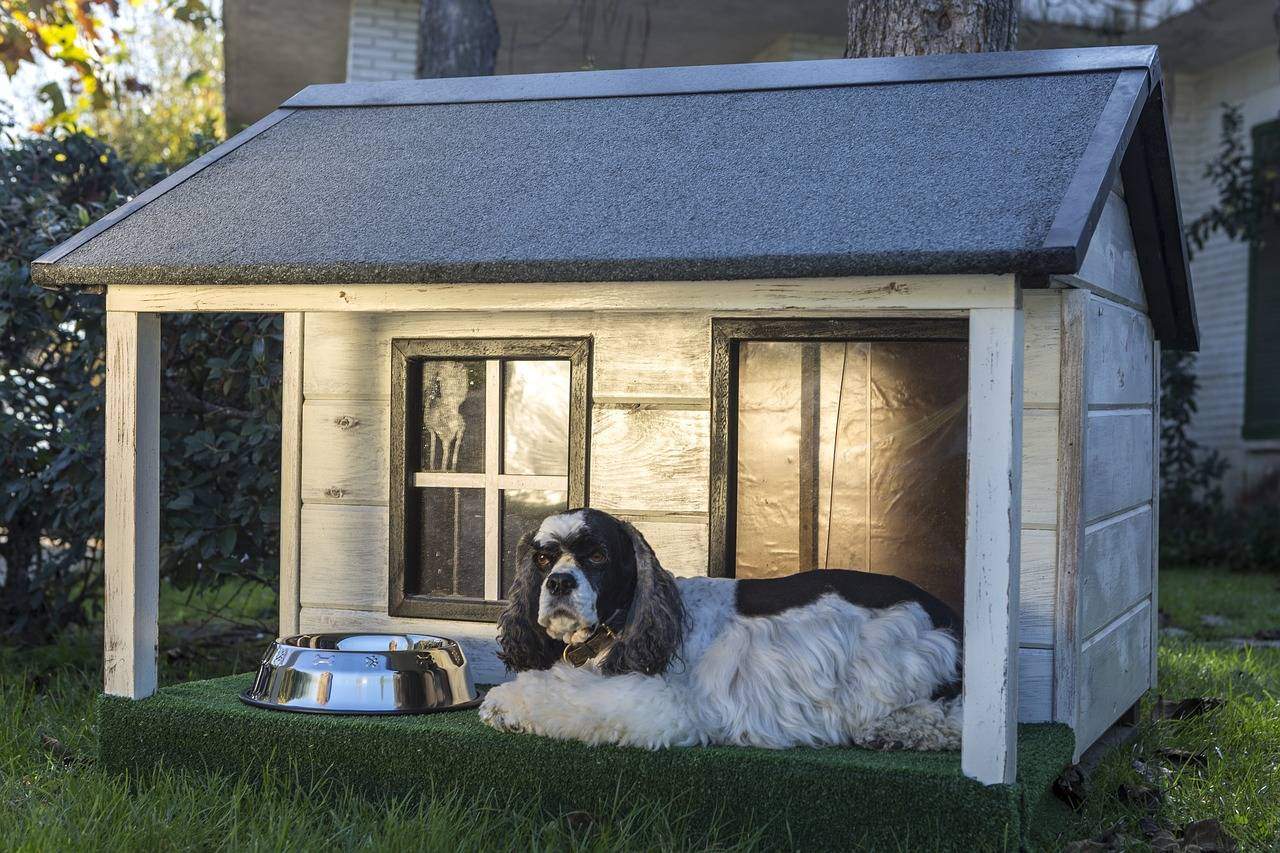 There is absolutely no debate when it comes to acquiring an individual dog house for your pets to keep them comfy when spending time outside. As much as dogs like human company, they also have unique personalities and may want to explore on their own. If yours is a massive guard dog, you could want it in the yard, especially at night. It does not mean that the pooch should suffer extreme weather conditions within that period.
Many dogs enjoy spending time outside with the family, and while you may have a comfortable space indoors, a suitable outdoor option is a necessity. Getting the right one shows how much you care for your canine friend(s) alongside your desire to protect him or her from harsh weather. Let us help you pick the right one for your pet(s) and get you informed on the best options available.
AT A GLANCE: OUR 5 BEST OUTDOOR DOG HOUSES
After taking into consideration essential and luxury features in different outdoor dog houses, here are our top 5 picks;
An Overview of the Best Dog Backpack Carriers
IMAGE
PRODUCT
 

Off-center door

Removable roof and floor

Weight capacity of up to 70 pounds

VIEW LATEST PRICE →

Self-leveling plastic feet

Slant roof

Off-center entrance

VIEW LATEST PRICE →

Vinyl door

Customization letters

Inside channel that collects fluids

VIEW LATEST PRICE →

Rear vents for increased ventilation

Plastic construction for easy cleaning

Pest-resistant

VIEW LATEST PRICE →

Two-story design

Veranda with lattice fencing

Removable roof

VIEW LATEST PRICE →
The Top 5 Dog Backpack Carriers: Reviews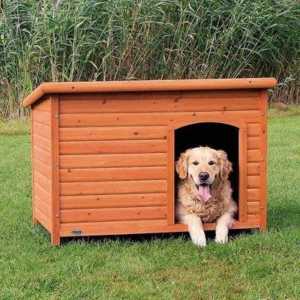 The Trixie Outdoor Dog House is a fantastic wooden outdoor model featuring a solid pine construction and a glazed finish.
Pros:
Solid construction

Waterproof roof and body

Removable roof and floor

Easy maintenance

Off-center door

Slant roof

Weight capacity of up to 70 pounds
Cons:
Low ventilation (when the roof is closed)

No door cover
Key Features
Say goodbye to any difficulty in dog house cleaning with this shelter that allows maintaining proper hygiene due to its removable roof and floor. Its solid pine construction will guarantee long years of comfort for your dog with little maintenance.
Just in case you have an uneven ground outdoors, the hard plastic feet ensure that you have no problems balancing the Trixie Dog Club House. You do not have to level the field as the feet are adjustable. This particular dog house comes in three sizes – extra-large, large, and small/medium – making it right for any dog.
The Trixie Dog Club House can provide a comfortable home for your pooch. You can even make it more stylish by making colorful imprints on it.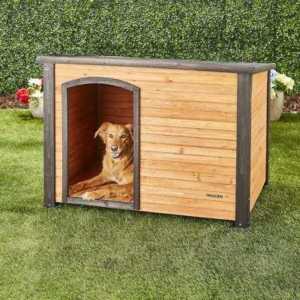 Looking for an outdoor dog house that can withstand the harshest weather conditions, the Precision Extreme Log Cabin Dog House is your best bet. Its solid wood construction makes it resistant to pest, rust, and rot.
Pros:
Long-lasting

Stylish finish with raised floor

Waterproof construction

Easy assembling

Self-leveling plastic feet

Slant roof

Off-center entrance
Cons:
Key Features
This Precision Pet product comes in three sizes to accommodate any dog, from small to giant. The dog house, weighing from 25 to 55 plus pounds, can withstand severe weather conditions. Instead of the conventional wooden roof, this outdoor model has a slanted asphalt waterproof type, making it a 100% leak-proof. Its double-layer canvas provides extra insulation for better heat regulation.
The door location allows enough room for your dog to lounge comfortably in harsh weather. It can also reposition conveniently without having to come outside. The dog stays above ground and away from cold and moisture due to the raised floors, making it one of the best outdoor dog houses. The legs of this unit are adjustable, providing balance on uneven ground. If you have a dog that spends much time outdoors, this is a suitable shelter to ensure maximum protection.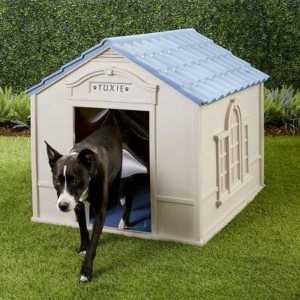 This Suncast product shows the company's desire to serve dog owners around the world consistently. If you have been searching for a luxury outdoor shelter for your dog, your search ends with this fabulous condo from Suncast.
Pros:
Easy assembly

Customization letters

Durable construction

Improved air circulation

Removable roof

Inside channel that collects fluids
Cons:
Available in one size only

Low insulation
Key Features
This dog shelter features durable resin with a stylish look and weather-resistant construction. In terms of design, it has a simple snap-together type of build, making it easy to assemble without using any tool. This dog house also has an inbuilt channel that captures fluids, ensuring your canine friend is dry every time. Its removable roof makes cleaning a convenient affair.
Improved air circulation is guaranteed by the numerous vents on this dog house. A unique feature of this shelter is its fancy, removable, easy entry and exit vinyl doors, which offer added protection for your dog against elements like rain and dust.
This luxury dog house comes with letters you can use to personalize your dog's name. With the Suncast DH350 Deluxe Dog House, you do not have to worry about your pooch's comfort, regardless of its size. This Outdoor shelter can be staked to the ground to ensure that it does not tip over easily.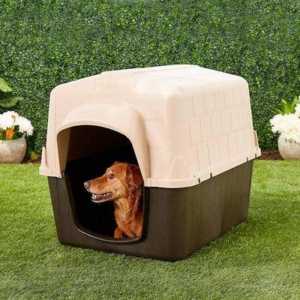 This Suncast product shows the company's desire to serve dog owners around the world consistently. If you have been searching for a luxury outdoor shelter for your dog, your search ends with this fabulous condo from Suncast.
Pros:
Easy assembly

Rear vents for increased ventilation

Plastic construction for easy cleaning

Lightweight and easily movable

Pest-resistant
Cons:
Low insulation

Not for giant dogs
Key Features
This outdoor dog house consists of easy to assemble or dismantle separate parts. A unique rear ventilation system ensures improved air circulation in a hot climate. Its durable and robust plastic promises a long life. This dog condo is available in four different sizes to fit dogs up to 90 pounds.
The Aspen Pet Plastic Dog House may not look as stylish as other dog houses on this list, but it can keep your dog comfortable. This option is not ideal for winter months due to its low insulation build. If you want to use it in cold weather, consider adding padding with soft materials to keep your dog warm.
This particular Merry product is the definition of style. Although it is specially designed for small dogs and cats, its popularity is owed to the unique two-story design, making it an aesthetically pleasing dog home.
Pros:
Easy to assemble

Two-story design

Lightweight construction

Veranda with lattice fencing

Outdoor and indoor use

Removable roof
Cons:
For small dogs

Not ideal for harsh weather conditions
Key Features
The Merry Products Wood Dog and Cat House is a two-floor dog condo with a veranda on top, secured with lattice fencing and convenient steps that give your dog a perfect place to relax and sunbathe. Its ground floor features the traditional dog house design where your pooch can rest and stay protected from the elements.
Another unique feature of this dog condo is its lightweight, which allows convenient repositioning outdoors and indoors. Its natural cedar wood construction offers easy cleaning plus extreme temperature and humidity protection.
While this dog house's durability lies in its unique design, let's not forget its other advantages, such as easy cleaning and maintenance. You may want to stay clear of this dog house if you have larger dogs.
What to Look for Before Buying an Outdoor Dog House?
If you have a dog that spends most of its days and nights outdoors, providing it with adequate shelter is essential. Since we get attached to these animals, a comfortable and safe environment will guarantee that they stay healthy and be at their best at all times. With different dog house options, you should consider these critical and must-have features before buying or building:
Consider the Material
Usually, dog houses are made from either wood or plastic. Each option has its distinct advantages and disadvantages, which you should consider before taking a pick. Dog houses made with wood provide much better thermal insulation and have an excellent outlook for several years. Still, this model tends to be more challenging to assemble and maintain than their plastic counterparts.
Plastic material dog houses generally offer more reduced insulation and may fade quickly or lose form when placed under direct sunlight. However, they are waterproof, easier to maintain, and assemble. Some models feature metal parts for increased durability.
Size
At all times, you must examine the size of the intended shelter to ensure it is suitable for your dog(s). The dog house should have enough space for your dog to lay down, sit, stand, and even turn around. We recommend that you know your pup's ideal length, height, and weight before buying or building.
Climate
The climatic conditions in your region would determine the suitable outdoor kennel for your dog. Although they all offer a certain degree of insulation, those living in a hot climate would want one with more air vents for adequate ventilation. Those designed with UV-resistant plastic would last longer than wooden models that may shrink.
In a cold climate, the wooden dog house can provide better insulation to help your pup survive. The hardwood is often cured to enhance durability and prevent termites from taking over the kennel and other dog house content. Models with raised floors ensure that water drains properly without getting into the tent when it rains.
Additional Features
The best outdoor dog houses usually have extra features that make it safe and more enjoyable. Look out for double walls, which improve insulation if your primary concern is to provide warm shelter for your dog during winter. Know that some kennels come with removable roofs that make their cleaning easier. Also, dog houses that do not require an engineer or technician to put together are always preferable.
In conclusion, you should ensure your custom made or purchased outdoor dog house has this list of must-have features;
Waterproof roof and body

Elevation from the ground

Vents/air chamber/window
Appropriate bedding material (see the best options for bedding materials here).
Should You Build or Buy It? (Custom Vs. Purchased Outdoor Dog Houses)
In recent years, purchasing dog houses have been on the increase, as against building one. The choice is usually dependent on the dog owner. If you are handy with a hammer and saw, you may try constructing, but be warned that it is a painstaking process that may not end well if you omit essential factors. Unless you are an expert craftsman yourself, it is not a venture worth considering.
Durability and resistance to the elements are essential requirements for any perfect outdoor kennel. Whether you are building or buying, the shelter should be durable and can withstand harsh weather conditions. Most models feature waterproof materials; however, you should look beyond it. Consider an option that is sturdy enough to withstand rain, snow, sun, and other weather conditions. Looking out for durability and resistance will ensure your pet has a cozy place for a long time to come without you worrying.
You can find a dog house with most, if not all, of your desired features. You also have the option of ordering for a custom dog house designed to your specification.
How the Chosen Materials Affect Dog House Insulation?
If you are building a dog house on a DIY basis, you need the right materials to make it convenient and durable. Keeping in mind that the weather changes regularly throughout the year, ensuring that your pooch survives the seasonal conditions is paramount. Dog kennel manufacturers understand these dynamics; that is why they design kennels with wood and plastic that offer better insulation.
Some models feature a combination of materials to provide the right level of heat-regulation while being waterproof, sturdy, and chew-resistant. When constructing a kennel in your backyard, you have more options besides wood and plastic. You can consider concrete and metal, keeping their benefits and drawbacks in mind.
Here are the standard material choices and their insulating effectiveness, among other properties that make them stand out.
Concrete
Only consider concrete if you want something of a permanent nature. They are more durable and can last for several years, regardless of the weather. Concrete dog houses are quite expensive to build but cost-effective and suitable for people with ample backyard space.
The insulation seems top-notch in hot weather, but things change during winter. Heat is lost pretty quickly, making the interior cold and uncomfortable for your pooch. You would need to provide extra insulation if you want your dog to stay healthy during this period. A proper dog bed with soft fleece material will do the trick.
Metal
Constructing a metal dog house is possible with the right tools at your disposal. They are durable but have poor insulation, and could get too hot or cold as the atmospheric temperature changes. Metal is chew-proof but could have potentially dangerous sharp edges. A special coating can protect the dog house against corrosion, which is a significant concern when using this material.
Wood
The wooden models are more common since they are easier to construct and repair. Wood is an excellent insulator that is scratch resistant and without sharp edges, making it safe for your dog. Since it comes from natural sources, you do not have to worry about toxicity, especially if your pooch chews on the panel. Although they regulate temperature, termite infestation and rotting from prolonged exposure are some of the problems with wooden kennels.
Plastic
Plastic models require specialized craftsmanship and heavy machinery that are too expensive to acquire for a little project like building the dog house. You would need to buy already made kennels if you want one that is made of plastic. With a thermal insulation level lower than that of wood, it may not be a suitable option for those living under extreme weather conditions. Over time, the plastic becomes warped from exposure to the hot sun.
Since plastic dog houses are lightweight, they can be moved periodically. They are also waterproof and easy to clean. The floors might become slippery when wet, making it unsafe for your pup. Accessories like anti-slip moisture-wicking pads enhance safety, making the desired difference.
Conclusion
There are several models, designs, and styles of outdoor dog houses, with multiple factors that make any choice the best. Above it all, your dog should love the shelter and live comfortably in it. 
Is your dog well protected despite the weather? Is it easy to assemble, clean, and maintain? If your choice answers these questions positively, your mind will be at peace whenever your dog is outside. 
Depending on your dog's personality, you can get interactive toys to keep them busy and ensure that they do not get bored while left alone.