Updated: February 13th, 2023
This article contains affiliate links. Read the full disclosure here.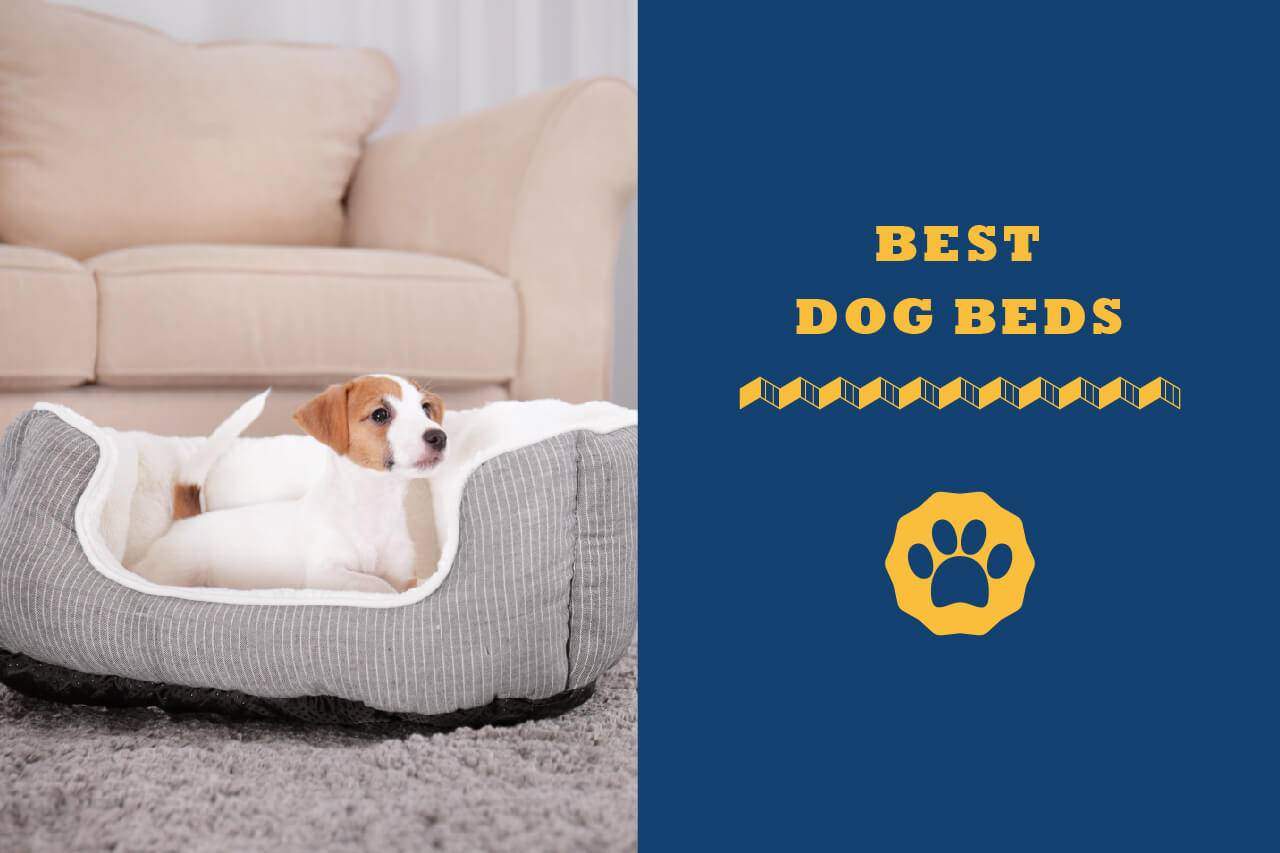 Every dog needs a best dog beds. We all know the importance of a good night's sleep to both feeling good on a daily basis and our long term health. Most of us also know just how terrible your body can feel when you sleep in the wrong bed, which is too hard, too soft, or just not right! Just as the bed that we sleep in can make a big difference to our health and happiness, the same thing is true for our dogs. Here we will give you some recommendations for best dog beds.
AT A GLANCE:
Our 7 Best Dog Beds
Overview of 7 Best Dog Beds
IMAGE
PRODUCT

Overstuffed mattress-style bed
Synthetic fur outer
Non-slip rubber grip bottom

VIEW LATEST PRICE →

Elevated design
Polythene fabric mesh that is flea, mite, mold, and mildew resistant
Made from 100% eco-friendly material

VIEW LATEST PRICE →

Orthopedic memory foam base
Machine washable cover
Comfortable headrest

VIEW LATEST PRICE →

MOST COMFY FOR LARGE DOGS

Orthopedic base
Headrest
Removable, machine washable cover

VIEW LATEST PRICE →

Thick memory-foam mattress
Water resistant fabric and additional water resistant liner
Non-slip bottom

VIEW LATEST PRICE →

Donut design
Creates protective atmosphere
Self-heating

VIEW LATEST PRICE →

BEST SNUGGLER FOR LARGE DOGS

Water resistant Denier base
Poly-cotton twill cover
Sized for larger dogs

VIEW LATEST PRICE →
There are now thousands of dog beds of different styles available. But how do you know which one is right for your dog, and how do you tell the difference between a bed that is $30 and $300?
Read on for our full buying guide and our review of what we think are the seven best dog beds currently on the market, especially for larger dogs like golden retrievers.
7 Best Dog Beds Reviewed
If you are looking for a high-quality bed on a very low budget, then this basic, mattress-style bed from MidWest is worth a look.
Product Features
Overstuffed mattress-style bed

Synthetic fur outer

Non-slip rubber grip bottom
This bed features a padded base covered by a synthetic faux-fur outer that is super comfortable and removable for cleaning. The cover is also machine washable and dryable for easy cleaning. It is great for general use in the home or to add extra comfort to a crate or kennel.
The bed comes in six different sizes, so it should be easy to find a bed that works for your dog, no matter their size and breed. However, it is more suitable for larger dogs, as long as they don't chew!
Considering its affordable price, it is little surprise that this bed simply won't stand up to excessive chewing. It also comes in three different colors, so that you can find something that fits best with your home decor.
Pros:
Affordable

Easy cleaning

Non-slip

Wide variety of size options
Cons:
Not durable against chewing
If you are looking for something basic and affordable that dogs will love, then this bed from MidWest should be on your list.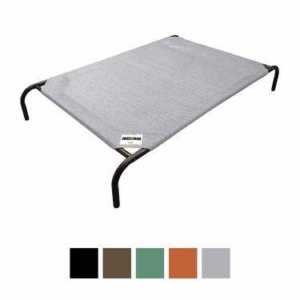 Coolaroo offers a budget-friendly elevated bed for pet parents who want to keep their pets comfortable off the floor.
Product Features
Elevated design

Polythene fabric mesh that is flea, mite, mold, and mildew resistant

Made from 100% eco-friendly material
This elevated bed uses a metal frame to pick your dig up off the floor, combined with a mesh mattress for their comfort. As well as keeping them off the ground, the design allows for cooling air to flow underneath and reach your dog through the mesh bed. This makes it an ideal choice for hotter climates, or dogs that suffer with overheating.
If it is bugs on the floor that you are worried about, then you have the extra benefit that the polythene fabric of the mesh is flea, mite, mold and mildew resistant. The mesh is also made from 100% eco-friendly material that is safe for your dog.
The elevated style also means that there is no floor for your dog's joints to push against. However, if your dog already has joint issues, they may find it challenging to get in and out of this bed comfortably as it is a good seven inches off the ground.
The bed is lightweight yet durable, so it is easy to move around, and also comes in a variety of sizes and six different color options.
Pros:
Lifts your dog up off the floor

Cooling features

Lightweight

Durable

Flea, mite, mold and mildew resistant

Protects joints

Variety of sizes and colors
Cons:
Dogs with mobility issues may struggle to use the bed
Again, if you are looking for something that is basic and affordable, and you are also keen to keep your pet off the ground either to keep them cool or protect them against insects, this bed from Coolaroo is a good investment.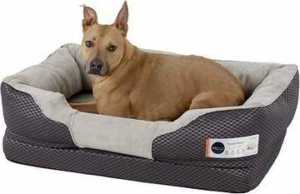 Offering orthopedic support to dogs weighing up to 100 pounds, this bed comes at a bargain price and offers great comfort to larger dogs.
Product Features
Orthopedic memory foam base

Machine washable cover

Comfortable headrest
Coming in one size with an interior sleeping space of 36 inches by 24 inches, it is for medium to large dogs. The base is made from orthopedic foam specifically designed to alleviate joint pain.
The foam will it not lose its shape over time but does take in the contours of your dog's body. This bed should last and last. Dog's also love the extensive headrest.
The bed uses an ultra-soft polyester cover that is water resistant, removable, and machine washable, so care and cleaning is relatively easy. It also has a non-slip surface on the bottom so you don't need to worry about it skidding around the house when your dog gets in and out of the bed.
Pros:
Affordable

Orthopedic based

Easy cleaning

Non-slip
Cons:
Not suitable for small dogs
If your budget is tight but your dog is large, consider this high-quality alternative from BarksBar.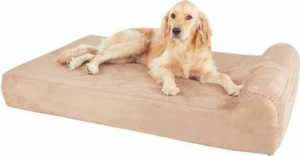 This orthopedic bed is designed for joint comfort and protection, especially in larger dog breeds. Not cheap, it is for dogs that need a little extra TLC.
Product Features
Orthopedic base

Headrest

Removable, machine washable cover
The base of this bed is seven inches of comfort. It starts with two inches of comfort foam for the bed surface, under which are three inches of high-density core, and then another two inches of comfort foam for the bed base. In this way, the bed distributes your dog's weight evenly, eliminating any pressure points. This bed is particularly good for large dog breeds.
At one side of the mattress it has a super comfortable headrest to support your dog when it comes to lounging. The covering is made from 100 percent microfiber cloth that is removable and machine washable for easy cleaning.
A lot of thought has gone into this design, and you are certainly paying for that expertise, as the bed comes with a pretty hefty price tag. Also, while the thick base offers extreme comfort and protection against joint issues, it also makes the bed difficult to access for some dogs with mobility issues.
Pros:
Comfort designed base

Includes comfortable headrest

Easy cleaning
Cons:
Height may be difficult for some dogs with joint problems to use

Not suitable for dogs of all sizes
If you are looking for extreme comfort for your larger dog, then the Big Barker is the best on the market.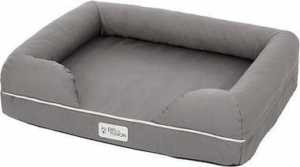 Another great bed for larger dogs, the PetFusion is a bit more affordable and a bit closer to the ground.
Product Features
Thick memory-foam mattress

Water resistant fabric and additional water resistant liner

Non-slip bottom
The PetFusion combines a solid four-inch mattress made from certified high-density memory foam, with a sofa-style bolster made from recycled polyfill, a combination to give comfort. This is all covered with a polyester and cotton twill cover that is water resistant and machine washable, and the mattress itself also has an additional water resistant liner to minimize the damage of any accidents. This bed also won't be travelling as your dog uses it thanks to its non-slip bottom, ideal for tiled and wood floors.
While this bed that is ideal for large dogs still comes with a pretty hefty price tag, it is about half the price of the Big Barker. Nevertheless, it is just as durable, standing up even against heavy chewers.
Again the main problem with this bed is that it is relatively high up off the ground, so while it is designed to support sensitive joints, it is not ideal for older dogs that are already suffering from extreme joint issues. But it may be a life-saver for dogs that are just starting to have issues.
Pros:
Relatively affordable

Durable

Water resistant

Memory foam mattress

Easy cleaning
Cons:
Height may be difficult for some dogs with joint problems to use
If you are looking to invest in your large dog's comfort but can't afford to go premium, this is a great mid-range alternative.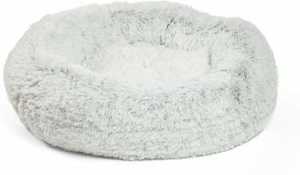 When it comes to smaller dogs, that are 25 pounds or smaller, this deep cuddler offers them the ideal cozy resting spot.
Product Specifications
Donut design

Creates protective atmosphere

Self-heating
This bed is designed like a bowl, which allows your dog to snuggle in deep while still keeping an eye on what is happening around them. It couples this with bolstered edges that give additional orthopedic support and makes a great headrest.
This bed is also ideal for smaller pups that suffer with the cold as its unique insulation layer radiates warmth from your dog's own body in order to generate heat.
While this bed comes in a few different sizes, though all for smaller dogs, it comes in three different colors in a shag design. These shag fabrics are machine washable, so it is relatively easy to keep this bed fresh and fragrant.
Pros:
Affordable

Easy washing

Ideal for snuggling

Self-heating for dogs that don't like the cold

Wide variety of colors
Cons:
Only appropriate for smaller dogs
This bed is ideal if you are looking for a cozy and affordable snuggler for your small dog.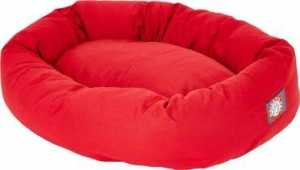 If you have a bigger dog, but they are still a snuggler, then consider this bagel bed from Majestic.
Product Features
Water resistant Denier base

Poly-cotton twill cover

Sized for larger dogs
This dog comes in a variety of sizes, so you can secure the snuggling experience for any size dog. The extra-large version is perfect for dogs weighing 70 to 100 pounds. The base of the bed is made from waterproof 300/6000 Denier so that the bed should not be damaged by any accidents. The comfy poly-cotton twill cover is machine washable for easy cleaning too.
The bed comes in six different colors, so that you can find the perfect fit for your home, and it won't break the bank. It doesn't offer the orthopedic support of other beds, but then again, this bed is for wrigglers. The non-skid bottom will help with this as well.
Pros:
Affordable

Easy cleaning

Water resistant

Variety of sizes and colors

Non-slip
Cons:
Limited orthopedic support
If your big dog thinks that they are still a puppy and likes to nestle, then this is the bed for you!
Dog Beds: Buying Guide
While dogs can, and do, curl up and sleep pretty much anywhere, they do still need beds of their own for a variety of reasons.
First, dogs like to have a space that they can call their own, and that they know they can retreat to, and that they will never find another member of the household sitting in. Providing a bed also helps you control where your dog sleeps, as you can train them to get comfortable in their space, rather than jumping up on your bed or onto your new sofa.
Sleeping on the floor can be bad for their health. The pressure of a hard floor against their joints can cause them pain and lead to long term problems. A good bed can help with existing problems, relieving pressure from arthritis or structural ailments. Plus, they do not always pick the cleanest places to sleep and they can pick up dirt, grime, and bugs off the floor.
When it comes to choosing the right bed for your dog, there are a lot of things to take into account. How big are they? What are their sleeping habits? Do they have health conditions that need addressing such as joint issues or overheating?
It is also important to weigh cost against durability. Beds will generally get daily use, and depending on your dog, perhaps daily gnawing. Will it hold up under the pressure? Read on for tips on what to consider when choosing a bed.
Types Of Beds
First thing is first, there are several different types of dog beds on the market.
Standard Beds
A standard dog bed basically just looks like a big cushion or beanbag. They are usually made from flannel or fleece, as these are both safe and comfortable. Most dogs will like curling up in one of these, but they are not ideal for dogs with any particular joint issues or for particularly heavy dogs as it will quickly lose shape under their weight.
Orthopedic Beds
Orthopedic beds are specifically designed to give more support to dogs with joint issues or skinny dogs with musculoskeletal problems. They look more like human beds, as they usually include a mattress made from special foam padding that supports problem areas and helps distribute your dog's weight evenly.
Donut Beds
Donut beds, well… look like donuts! But dogs that love to be cozy will love this type of bed as they can bury themselves down in the soft hole. The only challenge with this type of bed is that it tends to have high edges, so it can be hard for older dogs or dogs with particular movement problems to get in and out.
Kennel Bed
If your dog mostly sleeps inside their kennel or crate, then a kennel bed is ideal. It is basically just a mattress that you can put in the bottom of their kennel or crate to help them get more comfortable. They are usually thinner than other mattress beds for dogs, as well as more durable and water resistant as they are designed to be used in a high-traffic area.
Covered Beds
Covered beds are great for dogs that like to nest. They come in a variety of different styles but will have some kind of top cover that can be used to form little tent-like structures. This is better for smaller dog breeds.
Elevated Beds
Elevated beds are designed to provide a significant amount of distance between your dog and the floor. This is great if you are concerned about protecting your dog from insects and pests. They usually feature a sleeping surface mounted on a metal frame, with a sturdy mesh forming the basis of the bed itself.
Other Fundamental Considerations
As well as type of bed, there are a few other fundamental things to consider.
Size
The size of the bed that you need depends on the size of your dog. Dogs need enough sleeping space to lie down comfortably; you don't want their feet hanging off the edges.
At the same time, you don't want something that is too big. Not only does this take up unnecessary room in your home, but it won't appeal to your dog in the same way as a cozy space.
It is a good idea to measure the space that your dog usually sleeps in to get an idea of what size bed they need. You can also measure your dog from snout to tail, as you will need a bed at least this size.
Height is also a consideration. According to Dr Zabell:
A bed your dog has to climb or jump into or out of is not appropriate, as this can prove hard on their joints and puts them at an increased risk of falling out of it or getting stuck in it.
Padding
The material used to make the bed padding is essential in terms of comfort, and different materials are more suitable for different breeds and activity levels. You need to go for a material that can support the full weight of your dog, and won't simply collapse into something uncomfortable beneath them.
For dogs with particular joint problems or that are particularly heavy, orthopedic beds can be best. They often use materials very similar to human beds, such as memory foam. Beds should also be made from CertiPUR-US certified material, as this does not contain any toxic materials that can be harmful to your dog's health.
Water Resistant
Water resistance is not just about whether your dog has an accident. We are also talking about drool or dogs that like to come in and flop on their beds after an afternoon out, no matter how dirty they are. Consider something with a removable washable cover for easy cleaning, since no matter what you do, dog beds become stinky and need regular cleaning.
Durability
Most dogs will chew their beds a little, but some dogs are worse for this than others. Whatever bed you buy, it will need to be sufficiently durable to put up with whatever use your dog makes of it. Most are chew resistant, but if your dog is a serious chewer, you will need to consider something a bit more heavy duty.
Non-Slip Bottom
Many dog beds will come with a non-slip bottom to ensure that the bed stays in place when used on tile or hardwood floors.
Heated/Cooling
Beds are available that are designed to provide your dog with extra heat if they suffer with the cold or extra cooling for dogs that are prone to overheating. According to the Canine Health Foundation:
Heat-related canine conditions can also become life-threatening without immediate treatment. Overheated dogs can suffer heat exhaustion, heat stroke or sudden death from cardiac arrhythmias.
It is worth considering whether your pup falls into one of these categories.
FAQs
Does my dog need a bed?
Not only do dogs like to have a cozy place to curl up and call their own, but it is not particularly healthy to let your dog sleep on the floor as it can cause undue stress on their joints and bones. It can also help keep them warm in places where floors get cold and drafty.
What size bed does my dog need?
As a general rule of thumb, measure your dog from snout to tail and get a bed that is at least that long. While many dogs like to sleep curled up, if you get one much smaller than that then they won't have the opportunity to stretch out if they want to. When in doubt, do bigger than you think is necessary.
When should I replace my dog's bed?
Dog beds need to be replaced about once a year, or when the cushion has become misshapen, and therefore not providing the support it was designed to give. Regular cleaning will help your bed last longer.
Should you wash your dog's bed?
Yes! Remove covers and wash according to instructions. If machine washable, wash separately from other laundry. Make sure to choose a pet-safe detergent.
The Verdict
What dog bed is best depends entirely on your dog and their specific needs. How big are they? Do they have joint issues? Are the gnawers? Do they like to snuggle?
If you are looking for a basic product that is good value and should do the job for most dogs, then consider something from the MidWest brand. If you are keen on an elevated bed, you are unlikely to find anything better than the Coolaroo.
Large dogs will have no problem getting comfortable in a Big Barker, but it is quite expensive, so PetFusion offers a more mid-range alternative or BarksBar is a dirt cheap option. Little dogs generally prefer to snuggle and so will love the Best Friends by Sheri bed. If your big dog still thinks of itself as a puppy and likes to snuggle too, then check out the Majestic Bagel bed.
Whatever bed you go for, remember that it is important to keep it as an exclusive place for your dog, and place it somewhere in your home where they will feel safe and connected with the family. Also, both you and your dog will be happier if you clean the bed regularly to keep it smelling fresh.