Updated: October 14th, 2022
This article contains affiliate links. Read the full disclosure here.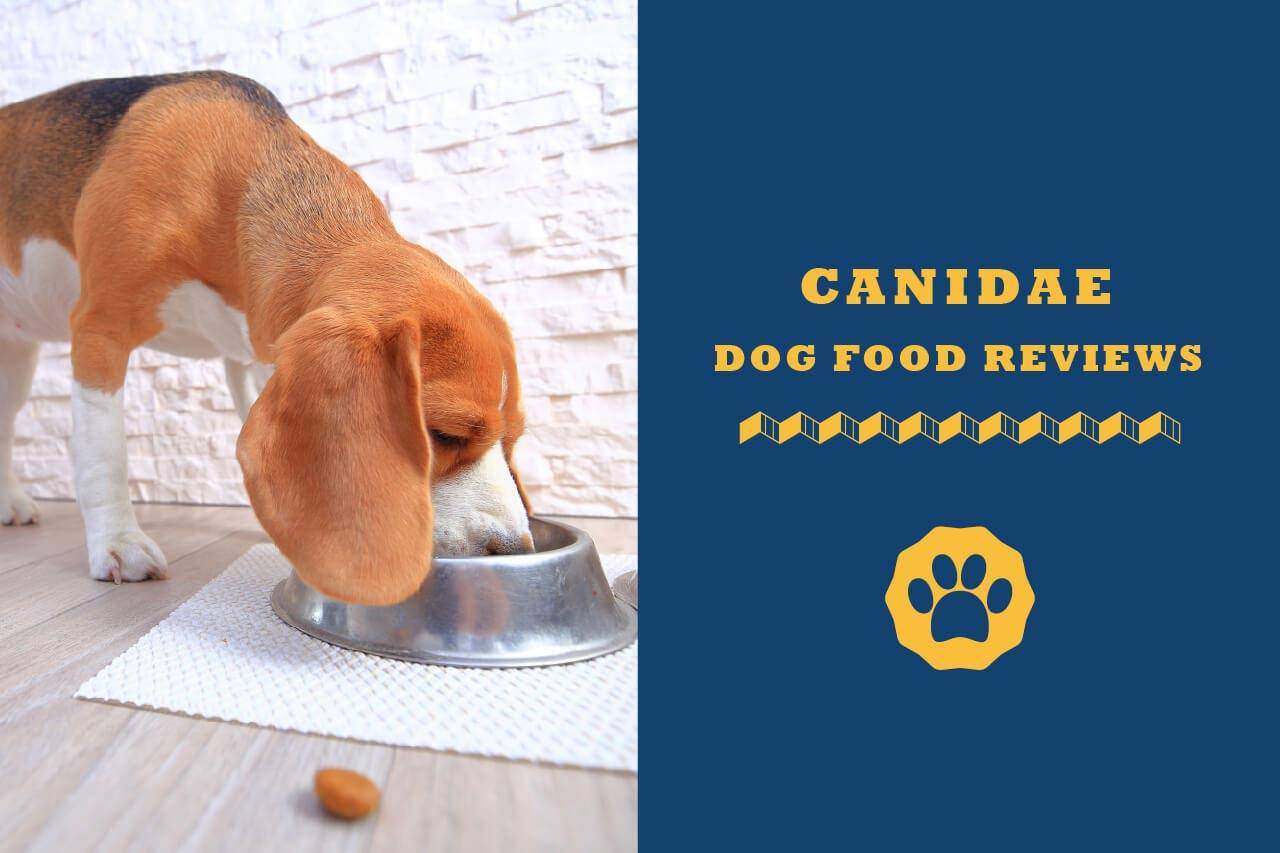 [five_sixth_last]
Ever asked your fellow doggy parents what they want for their pooch? I've done it, and for the most part, the answer is unanimously the same: to be happy and healthy.
Now let's face it, doing that isn't a walk in the park, but it's possible. You'll actually realize that any expert content about this subject hardly fails to mention quality pet food and it's for good reasons.
Tasty healthy nutrition is what's sure to make your dog be at her best. You can tell a diet is of good quality if it can easily meet the nutritional needs of your little friend. Also, it should pass the litmus test of taste, which is, does it appeal to your mutt's palate? If no, put it aside.
With a sea of dog food formulas out there, it can get a bit overwhelming trying to figure out which brand really has everything you are looking for. But luckily for you, you have a chance to see how Canidae fares in relation to other brands.
Today, I explore the brand and dig a little deeper into Canidae dog food reviews to give you an in-depth view inside their dog food recipes.
AT A GLANCE:
Our 5 Best Canidae Dog Food
An Overview of the Best Canidae Dog Food
IMAGE
PRODUCT

Promotes lean muscle development
Omega-3 fatty acids
Provides a 32% crude protein content

VIEW LATEST PRICE →

Vet-formulated
Improve skin health and give your pup a glossy coat
Recipe utilizes whole grain carbs

VIEW LATEST PRICE →

Multi-protein
Corn, wheat, or soy free
Contains 24% crude protein content

VIEW LATEST PRICE →

Aiding in proper muscle development
Provide the much-needed carbohydrates
Taste becomes irresistible to any dog

VIEW LATEST PRICE →

Grain-free
Treat made from salmon and sweet potatoes
Affordable

VIEW LATEST PRICE →
Brand Overview
Founded in 1966, this independent, family-owned business has been striving to deliver healthy nutrition to dogs and cats, as well as horses. Their success is credited, in part, to their state-of-the-art Ethos nutrition plant in Brownwood Texas.
One notable trait that has kept Canidae a firm favorite for pet owners is their high level of integrity. For example, the ingredients that are written on their pet food labels are exactly what your pooch will receive on her doggie food bowl.
I also find their approach to sourcing ingredients admirable. The brand has partnerships with local farmers, ensuring that their ingredients are always from a reliable and identifiable source. This makes it easier for them to sustain the high-quality standards in their recipes.
What's more is they encourage these local farmers to practice integrated farming by growing high-value crops such as millet, milo, peas, herbs, and veggies, which the brand uses in their pet food manufacturing processes.
For Canidae to still be relevant and a market leader in the pet food industry to this day, they must be doing a lot more other things right and in a way that resonates with doggy parents! You can watch the video below to learn more about them:
What Makes Canidae Dog Foods Special?
Canidae's relentless pursuit of excellence in the provision of nutritious diets is what makes their recipes some of the most highly-rated.
Canidae grain free dog food reviews, for instance, boast of solid testimonials from doggy parents of how the recipes have been kind and helpful to their allergy-prone canine buddies.
Broad Range of Recipes
Another special thing about the brand is that they make foods that can cater to all the life stages of a dog. They even have recipes that address the special needs of overweight mutts and those in their senior years.
Other formulations they offer include dry and wet recipes, treats, limited ingredients, and grain-free varieties. Canidae has certainly covered all the bases, ensuring that no matter what breed, life stage, or special dietary needs your furry buddy might have, he is not left out.
Quality Ingredients
What's common among all these formulations is that they are all well-balanced, tasty, and packed with all the important nutrients your mutt needs for proper development and well-being.
As for ingredients, real meat animal protein sits at the top. Some of the sources include pasture-raised lamb, chicken, salmon, bison, and turkey.
A variety of meals such as menhaden, chicken, lamb, and turkey are also used in the formulations to bolster the protein content. Chicken fat also features prominently because of its richness in linoleic acid and Omega 6 fatty acid.
Veggies and fruits are also featured across Canidae's formulations for taste and health as well as the provision of vital minerals, vitamins, and antioxidants for a healthier immune system in your mutt.  This is in addition to grain-free options that use legumes, sweet potatoes, peas and potatoes as carbohydrates.
Recalls History
Canidae has had to issue only one voluntary recall of its product to date. This was in May 2012, when a large batch was suspected to be contaminated with salmonella. The Canidae's dog food products that were recalled we being manufactured by Diamond at the time.
It is fair to say that Diamond handled the situation responsibly then as such glitches are bound to occur. But, it is equally impressive that there has only been one Canidae recall as far as dog food is concerned since 1966. This speaks to the high processing standards that Canidae subscribes to.
Top 5 Best Canidae Dog Food: Reviews
Earlier on, I promised to take a detailed look at a few Canidae dog foods that I found to the best, according to pet parents, vets, and other doggie experts.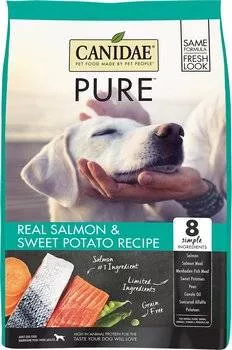 If you'd love to keep your doggy food simple, this recipe is for you. It's a limited ingredient formulation that will work well for dogs with allergies triggered by specific dietary ingredients.
In addition to being simple enough for your pooch to digest, the diet offers a premium natural meaty taste that she's sure to love.  Even dogs not prone to allergies can still have it as there are plenty of nutritional benefits they can gain from it.
Only eight ingredients have been used to create this recipe. Top on the list is salmon, an animal protein great at promoting lean muscle development, as well as healthy skin and coat.
The recipe's protein content is further enhanced through the addition of a menhaden meal (menhaden is a small ocean fish that is loaded with omega-3 fatty acids) and salmon meal to provide a 32% crude protein content in this recipe.
When such quality sources of tasty animal protein are paired with grain free carbohydrates such as sweet potatoes, potatoes, peas, and alfalfa, digestibility is made really easy for your mutt. In spite of the limited ingredients, the formulations remain sumptuous and healthy.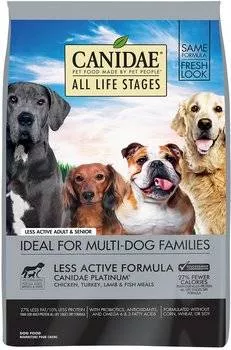 Isn't it amazing knowing that you can feed your mutts, from the littlest to the most senior, with just one pack of Canidae's All Life Stages Less Active Formula Dry Dog Food?
You may be wondering how is it that this formula can be effective at all the life stages of a dog. Well, I found out that this formula is vet-formulated to meet the nutritional needs of all breeds, sizes, as well as less active dogs and seniors.
The nutrition dense recipe has been crafted with chicken meal as the first ingredient. Turkey meal and lamb meal are also included to enhance the promotion of lean muscle growth and maintenance of an optimal body mass.
The presence of linoleic acid, omega fatty acids, and chicken fat, in conjunction with flaxseed and salmon oil, serve to not only provide energy but also improve skin health and give your pup a glossy coat.
Also, the recipe utilizes whole grain carbs such as brown rice, rice bran, oatmeal, and cracked pearled barley for low-fat energy provision. For pooches that do not have any issue with gluten, these are worthy energy sources with excellent fiber and low fat.
Tomato pomace adds to the dietary fiber, supporting frequent bowel movement, as well as quality fecal matter.
If your mutts' ages are all spread out, this one-size-fits-all option may be a good choice for your furry family.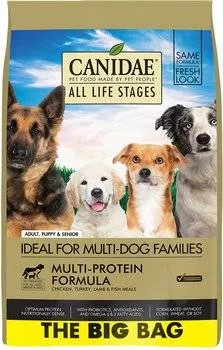 This multi-protein all life stage formula has been vet-formulated for high nutrition density. It also includes a trio of antioxidants, omega-3-and-6 fatty acids, and probiotics which are all great for digestion, absorption, and general wellbeing of your pup.
If she's prone to allergies triggered by corn, wheat, or soy, you will be happy to know that this formula does not contain any of these elements. Instead, the carbohydrates in this recipe are sourced from white rice, rice bran, potatoes, and oatmeal, all of which are highly digestible and easy on the stomach. Tomato pomace adds to the dietary fiber by promoting frequent bowel movement.
Lean muscle development and maintenance of optimal body mass in your mutts of all life stages is ensured by chicken, lamb, turkey, and ocean fish meal.  All these are high protein concentrates that give the recipe a 24% crude protein content.
What's more, these protein meals are also rich sources of phosphorus and calcium, both crucial elements in the development of stronger bones and teeth and the production of glucosamine needed for promoting healthier joints.
Pooches in all stages of life that are fairly active, will benefit from this formula. One bag does it for all your differently sized mutts.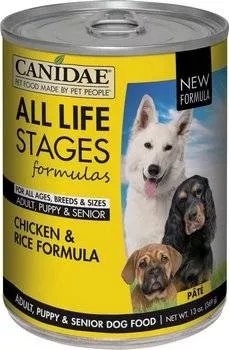 If your dog's palate leans more towards wet foods, this canned formula has her covered. You no longer need to rummage through a myriad of dog food cans when it's chow time for your furry family of different ages because this nutrition-dense recipe sees to it that all your pups, adults, and seniors get their nutritional needs met from one can.
Top on the ingredient list is real chicken, a quality animal protein that's known to have a delectable taste, as well as aiding in proper muscle development. Brown rice and barley provide the much-needed carbohydrates. When both are mixed and slow-cooked with chicken broth, kelp, and cranberries, the taste becomes irresistible to any dog.
Another thing about this recipe is that its rich with omega fatty acids provided by flaxseed. Together with salmon oil, both work towards the promotion of healthy skin and coat, as well as a stronger immune system.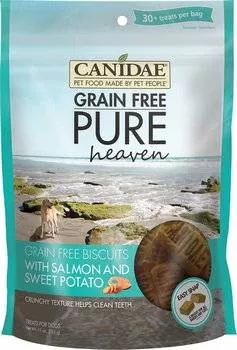 It's said that every good deed deserves a treat, at least in the doggie universe. This grain-free and tasty Canidae treat made from salmon and sweet potatoes can be pure heaven for your little friend.
I love that they are crunchy and sumptuous with just the right nutrients for a snack, including cane, molasses, cinnamon, plus chicken fat.
What's more is that these snacks can also help to clean your dog's teeth for better dental health. So, if you are looking for the right snack for a reward her, this might do it. The treat bag contains 30 of them.
Once you see how your dog loves them, you will never want to be without them when hanging out with your canine buddy.
Conclusion
You've probably noticed that finding the right brand of dog food to work with today can be a herculean task. One common reason for that is that every other day, there seems to be a dog food company popping up. Opting for the older brand is thus justifiable, given that they are proven and tested.
An older brand such as Canidae, which has been formulating dog foods for decades with only one voluntary recall is worth betting on any day. Their track records on integrity, quality of production processes, and use of top-grade ingredients over the years are unquestionable.
Such a solid foundation, reputation, and testimonials, like those you will find in Canidae puppy food reviews, make choosing the brand's formulas easier to trust.
That, plus the fact that Canidae's range of recipes are equally impressive with a taste that your little furry friend will love.