Updated: October 17th, 2022
This article contains affiliate links. Read the full disclosure here.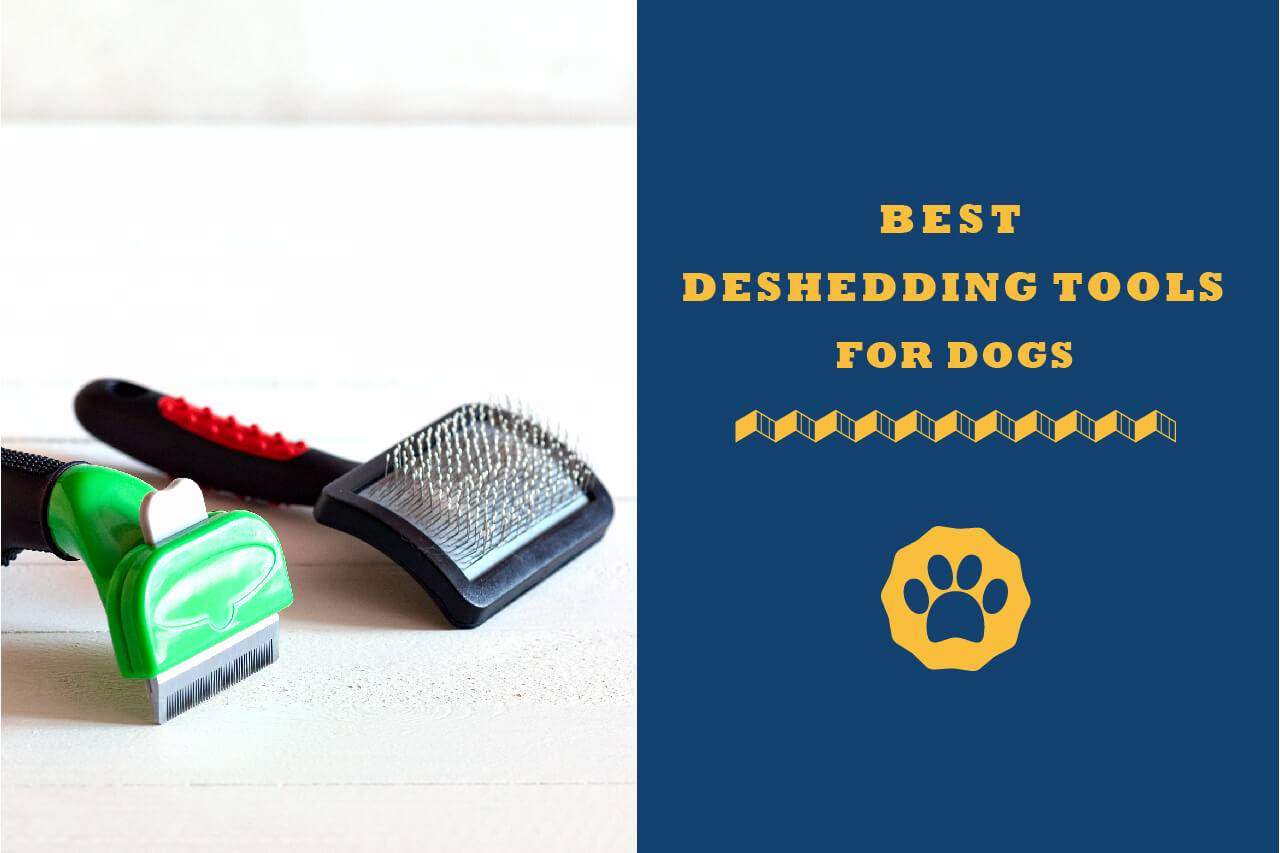 Dogs will naturally shed fur from time to time. As to how much and how often your pooch will shed fur is largely dependent on the breed.
Generally, most dogs shed more fur during the spring in preparation for the summer so they can stay cooler in the hotter months ahead. And as the winter approaches, she will definitely shed less fur just to make sure she is well-insulated for the winter chill.
Some dogs, however, have no shedding schedule at all and shed fur steadily throughout the year.
You've probably mastered the fur growing and shedding cycles of your dog and rather than use your vacuum cleaner or lint rollers, why not give a deshedding tool a chance?
Besides helping you manage your dog's fur and shedding better, a deshedding tool will keep your mutt looking all spiffy, and more importantly, remove the excess fur.
In this article, we'll review in detail the best deshedding tools for dogs and show you how they are a great choice for grooming your pooch.
AT A GLANCE:
Our 5 Best Deshedding Tool For Dogs
An Overview of the Best Deshedding Brush For Dogs
| IMAGE | PRODUCT | |
| --- | --- | --- |
| | All coat types except for dogs with long, human-like hair | VIEW LATEST PRICE → |
| | Dogs and cats of all hair types | VIEW LATEST PRICE → |
| | Larger long haired or double coated breeds | VIEW LATEST PRICE → |
| | Long- and short-haired breeds of cats and dogs | VIEW LATEST PRICE → |
| | | VIEW LATEST PRICE → |
Top 5 Best Deshedding Brush For Dogs: Reviews
As promised earlier, let's now take an in-depth look at some of best dog grooming brushes for dogs in 2019.
Loose fur will no doubt accumulate on your pooch and shedding it all over your floor, furniture, and the car has become all too familiar. But with an easy to use SleekEZ deshedding tool, you can control shedding with relative ease.
This deshedding tool has a well-designed handle made from poplar wood that allows you a nice comfortable grip during the brushing motion.
You can use one or two hands on the 10-inch shedding brush handle depending on how big your furry pal is.
Besides, the edges do not require any honing and are extremely effective in removing dead hair as well as dander and dirt.
When dirt and fur accumulate while in use, simply brush it off with the included soft horse brush from the package's tact box to get rid of the build up.
Just brush away and see unhealthy, dead hair fall off. In no time, your dog's coat will look clean and well kept.
You can get this tool from a reputable online store such as chewy.com.
The whole construction of this product adds up to make grooming of your canine buddy effective yet simple. What impresses me most is that this deshedding tool is designed with comfort and longevity in mind.
The materials used for construction include a comfortable handle from plastic and rubber while the bristles are made of stainless steel.
Paws & Pals Dog & Cat Deshedding Tool is built for versatility as it can effectively groom and attend to all fur types including, long, short, and curly hair.
The stainless steel bristles do a wonderful job of trapping and collecting dead hair as you brush your fluffy pal's coat.
In essence, it works like a rake. So your nasal is not likely to be irritated by fur flying all over as is usually the case with deshedding brushes of lesser quality.
You can get this product on most leading online outlets such as chewy.com.
If you have been fighting a losing battle with doggy fur, then it's time to up your game by getting the best deshedding tool for dogs.
Try Furminator Deshedding Edge Dog Brush for your buddy's grooming and see what all the rave by doggy parents is about.
This product is designed to manage shedding of larger, long-haired or double-coated breeds such as Collies and Samoyeds.
In addition to that, this grooming tool is designed with a stainless steel deshedding edge that has an amazing ability to safely remove loose hair while grooming the undercoat without hurting or nipping your pooch's sensitive skin.
If you have a mutt that is somewhere between 51 to 90 pounds and a coat longer than 2 inches, then your pooch is the ideal candidate to benefit from the ingenuity of the FURminator deshedding tool.
What's more, you can purchase this item from any leading online store for pet products such as chewy.com.
The versatility of Dakpets Furblaster deshedding tool is a feature that prominently stands out. Its stainless steel bristles imply that the product is designed for high performance.
Its versatility comes from the fact that the stainless bristles can effectively work on long-, short- or medium-haired dogs with thin or thick coats without causing any discomfort or pain.
That aside, they have the ability to work on the undercoat and remove any dead or unwanted fur without damaging the topcoat for a shinier result.
Other benefits of grooming with this deshedding tool include its ability to stimulate the blood and promote healthy skin by removing dander and dirt.
Above all that, the handle is ergonomic, meaning you can brush for longer without your hand and fingers getting fatigued.
If you need this amazing tool, head over to trusted pet products stores such as chewy.com.
One of the things that make Andis Premium Deshedding Pet Tool special is that it reduces shedding by up to 90 percent.
The Andis deshedding tool is specially designed with curved teeth for even better performance.
Such design eliminates any irritation to your pooch's skin as the bristles work on the undercoat to remove dead hair, dander, and general dirt.
The curved bristles easily collect dead hair from your pooch. Removing accumulated hair from the bristles is equally hassle-free.
Andis' slip handle has good grip. It feels comfortable in the hand and fingers thus lessening the chances of fatigue during a grooming session. Also worth mentioning is that this deshedder works well for varied coat types.
Why Use A Dog Shedding Brush?
As much as you love your furry buddy, her shedding can sometimes get under your skin, especially if her fur is floating everywhere around the house, from your clothes and furniture to food and personal items.
Remember, bad air quality in the home as a result of dog fur can also be a source of allergies for some people. So, if you have been vacuuming tons of dog hair every other day, then it's probably time to change tact in how you manage shedding from your pooch.
A dog shedding brush has become the ultimate solution for most doggy parents for a number of reasons. Here are some of them:
Helps your dog keep cool during summer months
Does a wonderful job of removing excess hair
Results in significantly less vacuuming episodes
Your pup's coat stays groomed and looking neat
Quality deshedding tools such as the ones I will review later in this article have the ability to remove as much as 90 percent of your buddy's shedding fur.
How To Use A Deshedding Tool
Using a deshedding tool may sound intimidating at first but it is fairly safe and simple once you know what to do and what to look out for.
Actually, it's recommended that you give your pooch a thorough wash and allow her to dry before commencing deshedding in order to achieve the best results.
Before using the deshedding tool, have a quick look over your buddy's entire body in order to see where hairs may be matted and take a mental note of places where she may have an injury, bruises or open sores. In case of injuries, it is best to have them treated by a vet before deshedding.
Untangle the matted hair where possible by using a wide hairbrush. If you have to cut off the mats, let it be as a last resort. Be extremely careful to not nip at her skin.
Use the deshedding tool the same way you would use a brush. Gentle, long strokes are recommended. Accumulated hair from the deshedding tool can be removed using a soft brush.
You need to take extra caution when brushing around sensitive areas such as the genitals, stomach, anus, and armpits.
Check this video to further boost your confidence in grooming your pooch using a deshedding tool. It's so simple you will love it!
Quick Tips for Good Grooming
Shedding can be brought under control by employing some good and regular dog grooming habits. These include:
Brush her fur daily or as often as possible with the right tool (check out our review of the best dog brush for shedding). A deshedding tool will remove dead hair, dirt, and debris before it accumulates to the point of shedding.
Use a detangler or wide tooth comb daily or as often as possible for long-haired dogs. The more tangled hair gets, the harder it is to manage. Follow up with a deshedding tool for excellent results.
For breeds such as poodles, a trim is recommended when the hair becomes too long. This will keep it neat and prevent tangles. Follow up with a deshedding tool.
You will clearly see a major difference of little to no shedding as a result of frequent grooming using a deshedding brush for dogs.
Conclusion
Since all dogs will shed fur naturally and in varying degrees depending on the breed, it's pretty clear the best approach to managing it is to regularly groom her with the best deshedding tool for dogs.
In addition to allowing you better control over accumulation of unwanted fur, a deshedder will help to lessen your vacuuming needs around the house.
Better still, using a deshedding brush frequently on your pooch will get you ahead of your dog's fur piling up all over the upholstery in the house and your car. More importantly, it keeps you pooch looking and feeling at her best while you breathe easier and cleaner air.
Read to get yourself one? If yes, any of the options in this review will definitely serve you better. Be sure to make a stop at chewy.com as they have a variety of these deshedding tools that will satisfy your every need.