Updated: August 14th, 2022
This article contains affiliate links. Read the full disclosure here.
Owning a dog comes with responsibilities like taking care of their coat and paws while cleaning up after them. With potty training, your dogs can learn to relieve themselves using indoor litter boxes without needing to go out in the rain. This option saves you the trouble of having to get rid of paw prints from your floors and furniture after outdoor potty breaks on a rainy day.
Dogs require daily physical activities to keep their muscles in good form and enhance metabolic function for healthy growth. You may have dog exercise equipment in your indoor gym, but it may not be enough as pets could get bored and develop behavior problems without the mental stimulation they get from routine outdoor walks. Going outside with your pooch during the rainy season becomes inevitable, hence the need for a raincoat.
Although the Royal Society for the Prevention of Cruelty to Animals (RSPCA) recommends that "dogs should only wear clothing if it has a clear welfare benefit to the dog wearing it," some owners try to make it fun while being functional. This guide can make choosing the best dog raincoat less confusing for pet guardians that want to keep their pups warm and dry in wet weather.
AT A GLANCE: OUR 5 BEST DOG Raincoats
AT A GLANCE: OUR 5 BEST DOG Raincoats
An Overview of the Best Dog Raincoats
The HDE dog raincoat is a top-quality product made of 100 percent polyester material that guarantees durability in harsh weather conditions. It is also hypoallergenic, ensuring that your pup's coat is not irritated. You also do not have to worry about the material rubbing against the fur in a way that causes discomfort after a prolonged period.
This raincoat is waterproof and can keep your pooch dry and comfortable in the rain. It has a reflective coating that guarantees improved visibility at night to prevent accidents that could result in injuries to your pet or other people. With the adjustable belly straps, you can secure your pups' clothing to ensure that it fits while allowing them to move freely.
There are multiple sizes to suit different dog breeds. It is lightweight and easily foldable, making it easy to store or carry along while packing for a trip. The hood can come in handy when you need to cover part of your dog's head.
Pros:
Durable and waterproof design
Reflective coating
Adjustable belly straps with Velcro strips
Hypoallergenic
Multiple size options
Cons:
The stitching may come loose
It does not cover the legs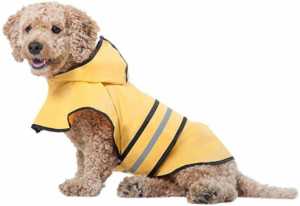 This stylish raincoat by Ethical Pet is another suitable option for dog owners that want to keep their pets dry in wet weather. The poncho-style outfit is fashionable and comfortable with a vibrant color that gives a sporty appearance. While being functional, the apparel is also trendy and does not restrict your pup's movement in any way.
The Fashion Pet raincoat features 100 percent polyester material that does not irritate your dog's skin. It is also waterproof with a hood that keeps your pooch warm and fully protected. There are holes around the neck region that allows the passage of a leash for convenience during walks. With the reflective stripes on the raincoat, your dog stays visible, even in dimly lit environments.
Velcro strips on different sides of the outfit to allow easy dressing and undressing of the pet. It is lightweight and machine-washable for better storage and hygiene. With multiple sizes on offer, you can easily pick one that fits your pooch snugly.
Pros:
Simplistic and waterproof design
Reflective stripes
Adjustable belly straps with Velcro strips
Machine-washable
Leash holes
Quite affordable
Cons:
Sizing discrepancies
Challenging to use with a harness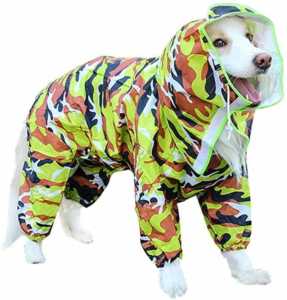 The SZFY dog raincoat is another durable option designed to resist wear and tear, regardless of the environmental or weather conditions. It has a breathable design to allow free airflow while keeping your pooch warm and dry in the rain. The 100 percent polyester fabric is hypoallergenic, guaranteeing the safety of your dog's coat.
The unique design of the outfit ensures that your pup's entire body is fully covered. Velcro straps are in different areas, including each leg, for fastening to ensure that it fits snugly. It is soft enough for users to make holes underneath to allow male dogs to pee freely. The hood is detachable with a drawstring that allows you to adjust the fitting until your pet gets comfortable.
This apparel is lightweight, foldable, and machine-washable. It comes in three eye-catching colors and multiple sizes to suit different dog breeds.
Pros:
Lightweight and waterproof design
Multi-color options
Adjustable with Velcro strips
Detachable hood with drawstring
Full body covering
Cons:
The stitching may come loose
Dogs may not get used to it quickly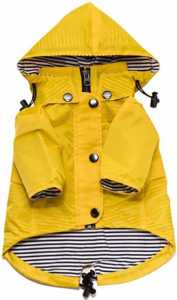 The Ellie Zip Up raincoat is a fashionable model that gives your pet the "coolest pup on the block" look while optimally functional. It is fully waterproof with a double layer design to keep your dog warm and dry in winter or during the rainy season. The durable zipper makes it easy to dress and to undress your pooch when necessary.
This dog raincoat comes with several pockets to store useful items while taking the pooch on a walk. With a removable hood, your pup can quickly attain that desired trendy look. There is an opening on the back for connecting the leash comfortably. The materials used in manufacturing this garment are tested for quality assurance purposes, ensuring you do not have to buy a replacement outfit within short notice.
There are multiple size options with adjustability features to ensure that it fits different dog breeds. The drawstrings on the neck and rear areas help enhance fitting.
Pros:
Durable and waterproof design
Double-layer design
Drawstrings for a perfect fit
Several pockets for storing treats
Multiple size options
Cons:
Expensive
Quite challenging to put on the dog
This adjustable lightweight jacket by Pro Plums is another raincoat with a fashionable yet simplistic design that makes it a comfortable fit for dogs. Fastening the back strap is possible through a DuraFlex buckle, which guarantees that the apparel stays in place while your dog performs different physical activities in the rain.
There are reflective strips on different parts of the raincoat that glow in dim light to guarantee visibility at night. The harness hole makes it possible for pet guardians to attach a leash conveniently while the pooch remains comfortable. It is a suitable rain jacket for small, medium, and large dog breeds with multiple size options.
The mesh lining in this poncho-style apparel guarantees breathability while keeping your pup warm and fresh. It is lightweight, does not fade quickly, trendy, and can be worn throughout the year.
Pros:
Durable and waterproof design
Multiple reflective stripes
Harness hole
Backstrap with DuraFlex buckle for fastening
Mesh lining for improved insulation and breathability
Cons:
The back strap is not elastic
It does not cover the legs
What to Look for Before Buying Dog Raincoats?
Design: Raincoats come in different styles that offer a varying degree of coverage for your dog. You can find those that provide full protection and poncho-style alternatives. Getting your dog to wear those that cover fully for the first time can be very challenging. The poncho-style apparel seems like a more convenient option but may slide off their backs quickly, causing them to trip on windy days or during physical activity. The harness hole for attaching a leash is also essential to make walking your dog more convenient for both of you.
Weather: You would have to think about the climate in your region before making a purchase. If the weather becomes freezing, you would want a waterproof garment and can offer the right insulation to keep your dog warm and comfortable. Raincoats with a double-layer design that may feature fleece or wool linings would be ideal for colder climes, while models with mesh lining are suitable in warmer regions.
Fasteners: Raincoats feature adjustable straps with Velcro strips for securing the garment on your pup. You may find models with drawstrings, buttons, and zippers to ensure that the raincoat stays in place. These options are easier to get on and off the dog than pull-overs, which offer a more secure fit.
Hoods and extended collars: Although hoods seem a bit over the top, they may come in handy for dogs that want to keep their heads dry. It might be challenging to get your pup to wear the hood since they do not want anything blocking their sight or covering their ears. But with training, your pooch could get used to the hood. The hoods are also removable, giving you the option to choose whether your furry friend needs one or not. You could also get alternatives with extended collars that also provide a great deal of protection for your pup's head.
Size: You may only need to measure your dog's length to get a suitable size since most raincoats feature adjustable straps for proper fitting. With a tape measure, you only need to get the measurement from your pup's neck to the base of his/her tail. You would want to measure the neck and chest girth when buying from brands that offer multiple size options to get the best fitting raincoat.
Reflective material: While in the rain with poor visual conditions, you would want your dog to remain safe. Some raincoats have a reflective coating, while others feature reflective stripes that glow in dim light. It keeps your dog visible, ensuring that everyone is safe around human or vehicular traffic.
Getting your Dog to Wear a Raincoat
Not all dogs are accustomed to being dressed up. Associating any activity with pleasure makes it easier for your dog to want to try it again. Some dogs have tough coats and can survive in the rain without getting cold and uncomfortable. Some breeds require warm covering, including a raincoat for their fur and protective boots for their paws. These elements of clothing are cheap investments that are worth every penny since they keep everyone happy.
For pups that are new to doggy garments, keep the raincoat within reach, allowing them to inspect it at will. Each time it touches the coat, give treats, and offer praises in return. Try rubbing the garment on his/her back and continue offering treats for good behavior. You can subsequently put the raincoats on them for short durations until they get used to wearing the garments. Gradually extend the duration, and in time, you will have a dog happy to wear the apparel.
Best Practices for Walking your Dog in the Rain
Besides getting a comfortable raincoat and rain boots to reduce the risk of hyperthermia in dogs, you could consider getting a doggie umbrella attached to his/her collar. It may seem like a bulky option, but it saves your pooch a trip to the ER for getting a cold.
Avoid busy streets because plenty of noise could cause your dog to panic or develop anxiety. The dog park in your area would be an ideal location for a walk in the rain. With a retractable dog leash attached, you can control your pet, preventing him/her from running into muddy puddles in cold weather. You can also bring a towel to wipe your pup's legs and paws before letting them into the car.
When you get home, remove the garment and boots, dry your puppy's fur with a towel. You may consider using a pet-friendly blow dryer, especially for thick-furred breeds. With routine walks that are unhindered by rain, your dog stays healthy and happy.
Final thoughts
Although dogs produce their body heat, cold weather could constitute a health risk. Aside from getting wet, mud splashes could also make your pup's fur dirty. A suitable raincoat will save you the trouble of bathing your pooch daily or cleaning the entire house due to muddy paw prints. While getting one that offers optimum protection, you can show off your style with these cute garments.