Updated: November 11th, 2022
This article contains affiliate links. Read the full disclosure here.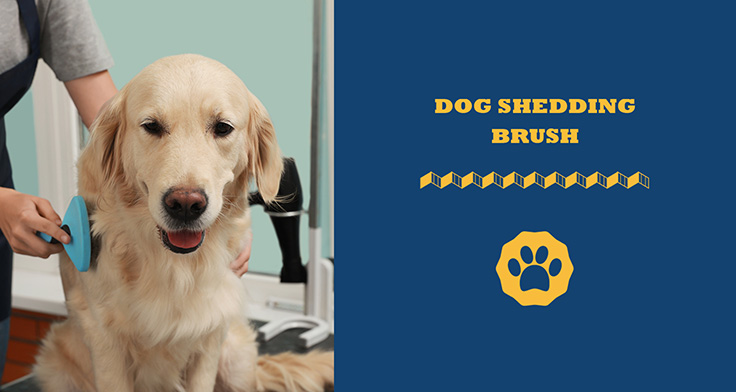 Don't panic when your dog sheds; although it's messy, it's a natural process. In some seasons, it will be minimal, but in the warmer months, the shedding will inevitably rise, sometimes to annoying levels. This excessive shedding can be troublesome to deal with unless you get yourself the perfect dog shedding brush to tame all that unnecessary hair.
As with any product, some dog shedding brushes do this better than others. But without background knowledge, you will not be able to tell the good ones from the not-so-good. It's a crowded market, after all, and a wrong buy could make your dog's shedding situation even worse.
To eliminate some confusion, I've created a guide for you with specific criteria to use in narrowing your selection to the most suitable option. Of course, I used the same criteria to arrive at the list of products below. I also spoke to professional groomers, vets, and pet owners to find out what their best-performing shedding brushes are.
Without further ado, here are the results!
AT A GLANCE:
OUR TOP 5 Best Dog Brush For Shedding
Best Dog Brush For Shedding – A Comparison Table 
Dog Shedding Brushes – [The Top Picks & Reviews]
This FURminator deshedding tool for dogs guarantees you a smooth experience from start to finish. Even when the amount of loose hair to be removed is huge, this expertly-designed brush does it with ease and in under 10 minutes.
Key Features
Deshedding tool
Hair-release button
Ergonomic handle
Curved edge
Deshedding tools like this one are comfortable to use and won't hurt your dog's skin. In fact, its skin guard design makes sure the blades don't dig into and instead gently slide over your dog's skin. For best results, be sure to use it as directed by the manufacturer.
Pros
Removes loose or dead undercoat hair faster without causing harm to the skin or topcoat
Curved at the edges to match your dog's natural shape
Easy to release collected hair
Comfortable to hold and use for longer periods if necessary
Cons 
Slightly more expensive than other dog shedding brushes
Sometimes, you will need to groom or deshed your dog quickly or simply remove all the dead hair your bristle or pin brush left. Look no further than this deshedding tool for satisfying results.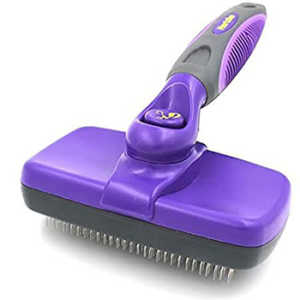 In the world of slicker brushes, this Hertzko tool leads the pack. Millions of pet parents now own it for different reasons, top amongst them being its outstanding ability to rid their dogs' coats of loose hair, knots, mats and tangles.
Key Features
Slicker brush
Fine bent wire bristles
Retracting mechanism for cleaning
Ergonomic handle
Many things make this brush special, but what most users love the most is its ability to work well on dogs of all sizes and breeds, including golden retrievers. Another great thing about this brush is how easy it is to clean. Once you press the button, the pins instantly retract, making it easy for you to shake off all the dirt and debris.
Pros
Safe for dogs of all sizes and types
Effectively gets rid of loose hair, mats, tangles, knots, dirt, and dander
Easy to clean
Less arm and wrist fatigue
Offers a massaging sensation
100% money-back guarantee
Cons 
Retracting mechanism may suffer wear and tear and break over time if not carefully operated
When you need a slicker brush that can stand the test of time, works like a charm, and suits all your dogs, this slicker brush fits the bill.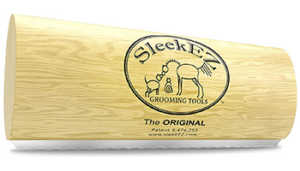 Some deshedding tools are made to brush away all the loose hair and dirt in your dog's coat and nothing more–but not this SleekEZ deshedding tool for dogs! This unique brush not only works on pets but also pet beddings, furniture, carpets, cars, saddle cars, and any other place where your dog's fur is deposited.
Key Features
Deshedding tool
Wooden handle
Patented wave pattern blade
Ergonomic handle
What's most fascinating about this tool is the wave-patterned blades grab at the tips of a dog's hair, but your dog will not feel any pain as they extract. Hair and debris will then collect along the dog shedding blade's length and fall to the ground where you can clean it later.
Pros
Different sizes available to accommodate dogs of all sizes
Sleek design finished in premium-grade wood
Oval-shaped handle allows for superior grip
Easy to clean and use
High-quality stainless steel dog shedding blade
Relatively affordable
Cons
Wood normally fades and degrades faster than other materials
Quality deshedding tools don't come cheap, but if you are on a budget and would love an option that doesn't disappoint, this is the ultimate choice.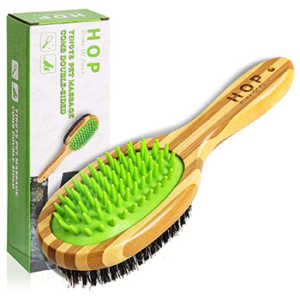 HOP's 2-in-1 brush kills two birds with one stone. On one side, you have a rubber brush to massage your pet and keep their coat healthy, and on the other side, you have a bristle brush to knock off all the loose hair and wipe out all the dirt and debris from your dog's coat. How cool is that?
Key Features
Double-sided brush
Soft rubber tips and gentle bristles
Hand-made ergonomic bamboo handle
The best thing about this handy 2-in-1 dog brush is how it's been made to go the extra mile. You have a massaging rubber brush that makes a dog feel great while at the same time rejuvenating her skin and scrubbing away loose fur, dead skin and dirt. The gentle bristles are also great for spreading certain fragrances and products throughout your dog's coat for a shinier look.
Pros
More comfortable handle that minimizes fatigue
Ideal for pets with skin allergies because it doesn't pull on hair
Massages and grooms your pet
Can nourish and restore your dog's coat to its pristine state
Can be used dry or wet
Cons
Can be difficult to clean at first
Only suits short-haired dogs
Effective pet grooming requires both rubber and bristle brushes, but you don't have to buy each separately when there's a tool that combines both. This 2-in-1 brush is one of the best investments you can ever make when it comes to dog grooming.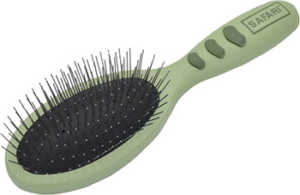 Here's a brush you could use every day to groom and deshed dogs of all sizes, from small to large, golden retrievers included. It may look simple, but you would be wrong to underestimate its capabilities.
Key Features
Pin brush
Wooden handle
Long flexible plastic pins
You can count on this brush to clear out loose hair, dirt, and debris from your dog's coat, no matter the amount. Brushing with it regularly will also help you distribute natural oils to every part of their coat, making it healthier and more beautiful.
Pros 
Removes loose hair and dirt while nourishing the coat
Suitable for all coat types
Can be used to fluff a dog's coat
Available in various sizes to match different breed sizes
Very affordable
Cons
It may not be able to break up heavily matted coats without the support of a comb
Despite its simplicity, this SAFARI wire pin brush is the most suitable and effective option for your daily grooming needs and routine deshedding.
About Shedding & Deshedding Tools 
Before you settle on what you believe is a perfect dog grooming brush for your retriever, first, you should take time to understand the different types available. Each has a special purpose as well as its own unique advantages and disadvantages. The main types of grooming and deshedding tools include:
Brushes 
Brushes are the most common tool used for dog grooming. Several options are available at your disposal, including:
Pin brushes – Pin brushes feature plastic or rubber tips and are suitable for removing tangles and mats on medium-haired breeds
Bristle brushes – Perfect for short-coated dogs and improving overall coat shine
Slicker brushes – Feature angled wire bristles with protective tips and are an incredible option for removing mats and tangles from dogs with medium and long hair
Rubber brushes – Massage your dog's skin and are a perfect alternative for dogs that can't stand being brushed with pin, bristle or slicker brushes
Deshedding Tools
When combing or brushing fails to effectively all the hair and fluff from your dog's undercoat, a deshedding tool is the next thing you should turn to. These tools can rid your dog's topcoat of all the loose fur and penetrate deep into their undercoat to remove dead fur. As you search for the best deshedding tool for dogs, always be sure to check the safety features first.
Combs
Just like with dog brushes, there are a couple of comb options to choose from. Some shedding combs for dogs are designed for general grooming, while others are great at getting rid of tangles and mats.
What's The Reason For Shedding? 
First off, let's clear up some common misconceptions about shedding. Every healthy dog sheds. It's a natural way for them to rid themselves of old, damaged, and/or unnecessary hair in their undercoat.
However, the extent to which a dog sheds depends on their breed, the season, and the dog's overall well-being. Thick-coated breeds, such as golden retrievers, beagles, German shepherds, and huskies shed more in the spring and fall to control their body temperature.
Additionally, although shedding is natural, abnormally heavy shedding is not. If left unchecked, factors such as stress, skin allergies, parasites, fungal infections, and hormonal issues can lead to unusually high shedding.
How To Treat And Prevent Shedding
With most dogs, shedding is a natural cycle you have to make peace with. Although you can't stop it from happening, you can help control it by using a suitable shedding brush to groom your dog.
However, as soon as you notice excessive shedding, let your vet know. Medical issues that can cause abnormal shedding, such as hormonal complications, skin allergies, pest infestations, and scratching are best addressed by a veterinarian.
You can also speak to a professional groomer or vet for recommendations on what other shedding solutions work best for your dog's fur type.
Bathing your dog with a dog shampoo, for instance, could help to control their shedding. Many dog shampoos have ingredients that can help to strengthen your dog's fur to prevent it from falling out easily.
Shedding In Golden Retrievers
Golden retrievers shed more fur than most other dog breeds, especially in spring and fall thanks to their double coat. Also, they love to play and need to exercise often. But this, unfortunately, embeds even more dirt and debris in their coats.
You can now imagine the issues your golden would have to deal with if she's left ungroomed. It goes beyond just her being uncomfortable. The main reasons you should brush your golden retriever include:
To prevent and get rid of tangles and mats
To remove loose fur and/or debris
To keep your house free of dog fur
Routine grooming will also help you spot any unusual changes in your dog's skin, like bumps or lumps, which normally should be addressed without delay.
What To Consider When Looking For The Best Dog Shedding Brush
1. Price
Shedding brushes are generally affordable, but there will always be a few options with a higher price tag. However, expensive doesn't always mean better quality. Evaluate each option to be sure you are getting the best value for your money.
2. Material
Common materials used to make grooming brushes include plastic, wood and rubber. Each has its advantages and downsides you will want to weigh before making your final decision.
Plastic and rubber, for instance, are more affordable, but quality varies from brand to brand. Alternatively, wood looks nice but fades and degrades faster than the aforementioned materials.
3. Ease Of Cleaning
Some brushes feature dump buttons you can press to empty the dirt and debris that accumulates as you groom your dog. Even if the option you go for lacks this feature, make sure it's easy to clean.
4. Pros & Cons
Different dog grooming brushes types have their own unique features, pros, and cons. Bristle brushes, for instance, are suitable for shorter coats, while pin brushes only work with medium-haired dogs. Thoroughly evaluate each type to establish which one is perfect for your dog's size and breed.
6. Handle Design
Always go for a shedding brush with an ergonomic handle. Make sure it's designed to fit well in your hands and won't strain your arms and wrists.
Frequently Asked Questions 
Are Deshedding Brushes Good For Dogs?
Deshedding brushes are absolutely safe for dogs and are generally considered the best and safest tool you can use to reach their undercoat to remove dead, damaged, or loose hair. They will not tear or rip off your dog's fur or cause skin irritation and discomfort, provided you obtain the right type for your dog's size and breed and use them properly.
What Brushes Do Dog Groomers Use?
Most professional groomers use either slicker, bristle, pin, rubber, or grooming rakes. Basically, they use mostly the same tools pet owners use. To be nearly as skilled as your dog groomer, though, you have to learn how to effectively use the different tools for deshedding a dog.
How Often Should You Have Your Dog Groomed?
For dogs who shed often like golden retrievers, it is recommended that you brush them at least a few times a week, except during the seasons when they are shedding heavily. For such times, it is best to deshed them daily.
Dogs with a single coat tend to shed less and thus require very little grooming and brushing. Grooming them a few times a week or weekly is usually sufficient.
You can also take them to a professional groomer a few times a year for optimal outcomes.
And The Best Deshedding Tool For Dogs Is…
If there was a medal for the best deshedding brush for dogs, the FURminator undercoat deshedding tool would win it hands down. It's safe, fast, and reliable. Where the other brushes fail, this tool doesn't. Add to that its outstanding deshedding abilities, and you have the ultimate tool for taking care of your dog's coat.
This, of course, doesn't mean the rest of the options are undesirable. Keep in mind that each has a special role to play in your effort to effectively deshed your dog. Just make sure you have all your grooming needs figured out before settling on what you believe to be the best dog shedding brush.
Finally, whenever you're shopping for the right grooming tools for your dog, always remember:
Make sure the tools and brushes are easy to clean
Pay close attention to the prices of the products
Opt for grooming products made of durable, quality materials
All the best as you embark on the tough but rewarding dog deshedding journey!