Updated: December 21st, 2021
The golden retriever is one of the most popular dog breeds in America. Since they are purebreds, however, goldens are more likely to suffer from genetic health problems as compared to mixed breeds. This raises the need for the best pet insurance for golden retrievers.
Some of the health conditions that golden retrievers are predisposed to include cataracts and heart problems. Their long ears can also cause ear infections, while their inquisitive nature makes them more prone to ingesting foreign bodies. When your furry friend falls sick, you will need to visit a vet, which can cost an average of $1500.
If you need your dog to get the best medical care, it's important to get the best golden retriever pet insurance. Without this coverage, your vet bill can add up to thousands of dollars or even tens of thousands, depending on the condition and the care your pup needs.
But with the wide range of insurance products available for your golden retriever, you may end up confused when trying to make the right choice. Fortunately, we have reviewed the top three options that are worth considering.
Embrace Pet Insurance – Best Overall Pet Insurance For Golden Retrievers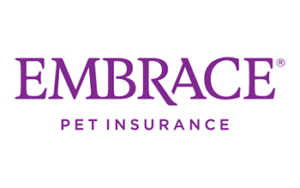 Embrace Pet Insurance ranks top on our list as it enables pet owners to customize their coverage to meet their golden retriever's needs. It's also arguably the most comprehensive insurance for pets.
No matter the kind of treatment needed for your dog, the policy covers everything related to your dog's health. This includes diagnostics, exam fees, hospitalization, and surgery.
Embrace Pet Insurance may not be the cheapest on the market, but this is understandable considering how comprehensive the policy is. While other companies may be cheaper, they may end up charging extra fees to cover conditions such as cancer and hip dysplasia.
The pet insurance has an age limit of six weeks to 14 years, with the limit only applying to new enrolments. This is understandable considering the lifespan of golden retrievers. If your pet hasn't had an examination in the last  year, the policy will also cover the medical exam.
Upon enrollment, the coverage has a waiting period of 14 days for illness, six months for orthopedics, and two days for accidents.
Pet owners can choose among  various policy options such as illnesses and accidents, accidents only, or voluntary wellness coverage. For every year that the pet owner doesn't make a claim, they get a diminishing deductible of $50.
 Pros
Most comprehensive policy
Annual deductible decrease for years with no claims
Illness waiting period is short
Covers exam fees
Discounts on a second coverage
No restrictions on lifetime limits
Cons
Price is on the higher side
You can choose your Embrace deductibles from as low as $50 to as high as $1,000 depending on your preferred premiums. If you choose to pay lower monthly premiums, this will translate to higher deductibles.
Since golden retrievers require a high level of care and can be affected by dog diabetes, the comprehensive policies offered by Embrace Pet Insurance make it our top choice. You can get a free quote by answering a few questions about your dog.
Lemonade Pet Insurance – Most Affordable Pet Insurance For Golden Retrievers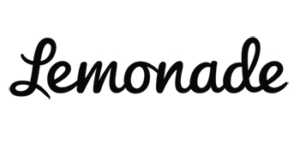 With Lemonade pet insurance, you can be assured that your pet will receive the necessary medical attention no matter how big the vet bill may be.
The company offers comprehensive coverage that are affordable and wellness add-ons that provide your canine with good medical coverage. They  offer a wide range of customizable annual limits, a long list of covered costs, a fast claim-making process, and great technological features.
The policies from Lemonade cover treatments, procedures, and other costs associated with illnesses and accidents such as:
CT scans, x-rays, blood tests, lab work, and ultrasounds
Surgery, hospitalization, specialty care, and emergency care
Prescription drugs
You can also choose extra coverage options that will cover visits to the vet and exam fees related to the covered incidents. Other coverage options that you can add include physical therapy, acupuncture, and chiropractic care.
Pros
A short waiting period of two days
Affordable plans as compared to competitors
Annual coverage limit option of $100,000
Monthly premiums as low as $10
Cons
Doesn't cover behavioral treatment
If you bundle your pet insurance with your home insurance policy, Lemonade will give you a discount of 10%. When you pay annually instead of monthly, you can also save 5%.
Lemonade has a safe limit for its coverage that depends on the life expectancy of the breed. This can be six to 14 years. With this coverage, you can customize your policy as per your preferred deductibles, reimbursements, and benefit limits.
Petplan Pet Insurance – Best Comprehensive Coverage For Illnesses And Accidents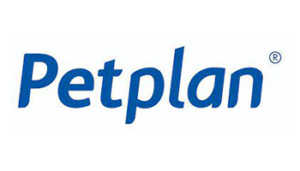 Petplan provides pet owners with affordable coverage for illnesses and accidents. While they don't offer routine and preventive coverage, the company offers reimbursements for additional emergency services.
These additional services include dental protection, advertising and reward, and boarding fees. The company offers several packages, allowing you to choose a deductible that can be as low as $250 and as high as $1,000. It also has an affordable optional unlimited annual coverage.
The company offers illness and accident coverage for pets that are over 10 years old with an annual limit of $15,000, a deductible of $750, and a reimbursement of 70% for the covered services.
With other companies, some of Petplan coverage is only included as add-ons. If your pet will require hospitalization, Petplan will reimburse you a maximum of $1,000 for boarding fees.
Petplan coverage includes:
Illnesses and accidental injury
Cancer treatment
Behavioral disorders
Diagnostic tests
Exam fees
Ultrasound and imaging
Non-routine dental treatments
Holistic therapies
Special treatment and referral
Surgery and rehabilitation
Some of the conditions that aren't covered by the policy include cruciate, hip dysplasia, and patella conditions. This applies during the first six months of your coverage. However, by submitting a vet report showing that your pet has healthy knees, this period can be reduced to 30 days. The company also requires your pet to be examined by a vet within 60 days before the beginning of the policy.
Pros
Offers an unlimited yearly limit
Has a 30-day money-back guarantee
Covers boarding, trip cancellation, and much more
Cons
The number of coverages and deductibles is limited
Doesn't have a preventive care plan
The coverage for older pets is limited
Petplan has generous coverage on illness and accidents, which compensates well for its lack of an accident-only coverage or a wellness plan. It has one of the most comprehensive illnesses and accident policies, making it a good choice for golden retrievers owners.
The premiums that you pay for your pet will depend on the breed, type, age, and area of residence. The coverage from Petplan has a waiting period of 14 days. With this comprehensive coverage, you can see why it's one of the best insurance for your golden retriever.
How Much Is Pet Insurance For A Golden Retriever?
Several factors determine the pet insurance cost for golden retrievers. These include the insurance company you choose, the type of policy, age of your dog, deductibles, and any pre-existing medical conditions.
For instance, lower deductibles can bring down your premiums considerably. However, you will be required to pay this figure upfront before the insurance kicks in. You may also choose higher premiums and avoid paying a lump sum.
Bear in mind that insurance rules for coverage limits and deductibles vary. When considering insurance premiums, consider not only the monthly costs but the total amount you will be required to pay out of pocket. You will also need to consider the total amount of care the policy will be paying for.
Generally in New York City, an insurance policy for a golden retriever can cost anywhere from $49 to $111 per month for a six-month-old dog. If the canine is five years old, the insurance can cost from $66 to 135 per month.
By comparison, in Beverly Hills, CA, the insurance policy for a six-month-old golden retriever can range from $46 to $67 per month, while the premiums will range from $62 to $82 monthly for a five-year-old dog.
The cost of a golden retriever insurance policy in Thomasville, AL, ranges from $27 to $39 per month for a dog aged six. For a five-year-old dog, the insurance premiums can be between $36 and $72.
Is Pet Insurance Worth It?
Golden retrievers are prone to illnesses, and  unexpected issues such as accidents can arise. All these occurrences can add up to hefty vet bills. According to a CNBC report, the cost of emergency veterinary care for pets ranges from $800 to $1,500 per incident.
As with humans, pet insurance can help to protect you from unexpected medical bills that are more than what you can afford. This makes pet insurance to be a great hedge against financial risks associated with dog health. Therefore, pet insurance is worth every penny.
FAQs On The Best Pet Insurance For Golden Retrievers
Here are commonly asked questions on pet insurance for golden retrievers:
Does the pet insurance company pay the bill?
No. Pet insurance companies will reimburse you instead of making payments directly to the vet.
Do major veterinary practitioners accept pet insurance?
Yes, pet insurance is accepted by all the major vet practices in the United States. Whether you take your golden retriever to an animal hospital, mobile clinic, or emergency vet, you will get reimbursements for what you spend.
What type of pet insurance can you get for your golden retriever?
There are several types of pet insurance that are a good fit for a golden retriever. These include:
Lifetime insurance. This covers any pre-existing condition for your golden if they develop it during the course of your policy.
Maximum benefits. The policy provides a pot for a certain condition. After the pot has been used up, you will need to pay for the treatment out of pocket.
Accident only insurance. This covers your canine in case of an accident. However, the policy doesn't cover illnesses or medical conditions that your dog may develop.
Time-limited insurance. This is insurance that covers conditions for a maximum of 12 months. After this, in case your dog falls sick, you will need to cover the cost out of pocket.
Final Thoughts
With the best pet insurance for golden retrievers, you can have peace of mind knowing that your pet will have the best treatment in case of an accident or illness. It can also help to reduce your out-of-pocket expenses.
While these are things you hope will never happen, you will have 70% to 90% of the treatment cost reimbursed if or when they do.
However, you need to remember that you will be paying monthly premiums for the policy. Therefore, you should ensure that you do your math to understand what is being covered before you can commit to a particular insurance provider.
Remember that different insurance companies offer different coverage. This is why you should ensure that you go with a company with the right coverage. With one of the above insurers, you can be assured of a good medical package for your canine friend.