Updated: October 14th, 2022
This article contains affiliate links. Read the full disclosure here.
Does your doggy pal go absolutely bonkers when they see a best dog water fountain in the park?
I mean tongue hanging out, happy barks, and pulling at the leash in a bid to reach the fountain?
Well, that is not surprising because dogs love water, especially running water.
This is an inherited trait from their hunter ancestors who knew where to safely get a drink. A dog will jump into a pond, lake, pool or even ocean to retrieve a toy or play with you.
Next, let's look at why you a pet owner would need this unit and how to select one.
AT A GLANCE:
Our 5 Best Dog Water Fountain in 2020
An Overview of the Best Dog Water Fountain in 2020
IMAGE
PRODUCT

Large two-gallon capacity with a deep, square bowl
Free-falling water stream entices pets to drink and keeps water fresh.2
Made from BPA-free plastic with dishwasher-safe parts for easy cleaning

VIEW LATEST PRICE →

Features 3 water spouting points
Made out of stainless steel
Has free-falling stream of water

VIEW LATEST PRICE →

Easy to clean
Dishwasher-safe
BPA-free plastic

VIEW LATEST PRICE →

Has easy access to the water
Comfortable for pups
BPA-free plastic

VIEW LATEST PRICE →

Easy to use
BPA-free plastic

VIEW LATEST PRICE →
Top 5 Best Dog Water Fountain in 2020: Reviews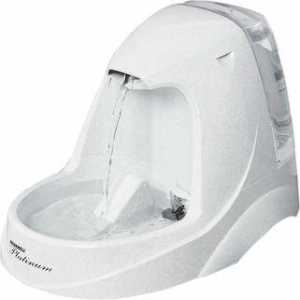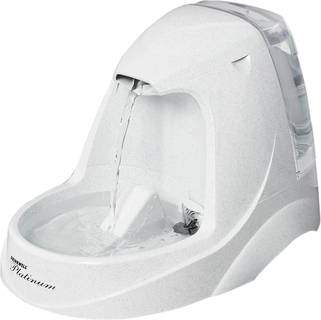 Top on my dog water fountain reviews is the compact and neat Drinkwell Platinum Pet Fountain. The simple construction allows your dog to step up to the waterer at any time and have an uncomplicated drink.
Holding approximately 168 ounces of water, this fountain will cater to a dog that easily consumes 50 ounces of water in a day without needing a refill in three days. It features a free-falling stream of water that allows the water to get naturally oxygenated during the cycle.
The fountain's carbon filter can clear odors and other impurities and pollutants, plus it's replaceable, meaning you don't have to throw away the whole unit when the filter becomes less effective.
Among the parts that can be disassembled on this fountain is the submersible pump. This is to ensure the unit gets proper maintenance along with the rest of the fountain.
Something else you will love about this fountain is the discreet and quiet operation of the pump and the design that consists of a ramp to lessen the splash from the spout.
It is made from plastic and can be easily disassembled for cleaning. Simple warm water, soap, and a toothbrush are effective enough to clean the unit, including the pump.
You can also clean the other parts of it in the dishwasher, with the exception of the pump. According to the manufacturer, the entire unit needs a clean every two weeks. Also, you need to replace the carbon filters every fortnight or monthly.
Expect to get a 1-year limited warranty when you purchase the Drinkwell Platinum Pet Fountain. 
Like those who already have it, I'm sure you'll love the simple design of this fountain. It features 3 water spouting points that empty into a circular trough at the base.
It's made out of stainless steel and can be used as a waterer for multiple pets. The free-falling stream of water gets aerated with every cycle, keeping it fresh and infused with oxygen.
With this unit, PetSafe provides dog owners with the best water fountain for dogs made with excellent long-lasting materials. Not only does the carbon filter capture unwanted impurities, it is also fitted with a foam filter as a second filtration system to get any impurities that escaped.
It gives you 128 ounces of water, meaning you need to give it a refill every couple of days depending on the drinking needs of your pooch or how many pets you have.
Cleaning is every fortnight, according to manufacturing instructions, but only if you have one pet using the unit. When multiple pets are using it, you need to clean it more frequently.
Cleaning the unit, as well as the pump, can be done using warm, soapy water and a brush. The unit itself is dishwasher safe, but not the pump.
Because of the submersible nature of the pump, it produces minimal noise during operation. The streams also empty into the base with a soft splash. You can adjust the stream from the spouts to control the flow.
The steel construction is easy to clean, and with the 1-year warranty, you are guaranteed years of excellent service.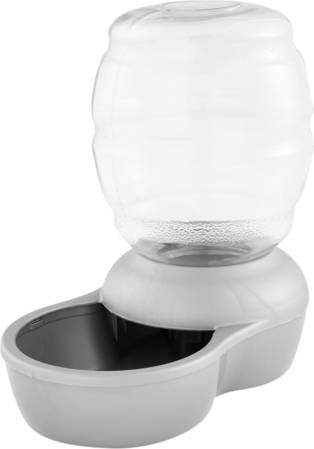 Petmate Pearl Replendish Waterer with Microban comes in peacock blue, brushed nickel, and pearl silver gray. The manufacturers were not afraid to put in a real charcoal filter, ensuring that the water comes through pure and healthy round the clock for your pup.
The addition of a microban layer on the base's inside also prevents the growth of dangerous bacteria. The design includes an open mouth bottle that is much easier to fill.
Another interesting feature is the availability of 4 sizes of water bottles in varying capacities. You can get a bottle from half a gallon to 4 gallons, making it a great option for both multi-pet as well as single pet households.
The base is dishwasher-safe so you can clean it easily. As for the bottle, it just needs a swipe at the rim of the mouth. The simple easy-to-maintain design aside, you will love the design of the base that allows any pooch, big or small, easy access to the water.
Also, it is made out of hard plastic, a fact that makes it a sturdy unit.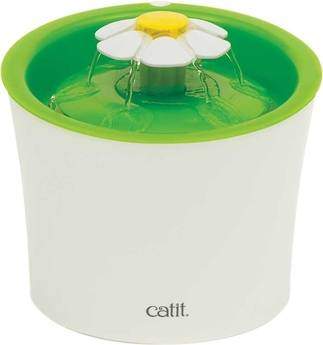 A delightful design and sturdy construction always ensure a well-appreciated product and that is exactly what the Catit Flower Pet Fountain is.
The unit has a bubbling top where your pooch has easy access to the water. The height is comfortable for both pups and adults to reach and the cleaning of the unit easy and fast.
My favorite part of this unit is the filtration system that works in three effective actions. The triple action filtration gets rid of harmful elements like magnesium and other related sediments, as well as odors and funny tastes. Plus, it has a water softening filter.
The water fountain is made from BPA-free plastic as is its submersible pump. You will get a little noise distraction from this unit unless the water levels are low.
You can adjust the bubble flow by tightening or loosening the flower at the top. As for the filters, they are replaceable and the pump can be maintained by disassembling it and cleaning the inside. This should be done every fortnight or on a monthly basis.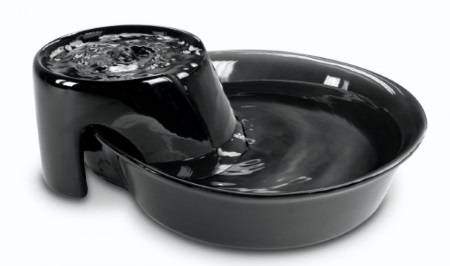 This ceramic drinking fountain is not just a great waterer for your pet; it is also elegant enough to add character to your space. It has the capacity of over 1 gallon of water to ensure you go a couple of days before needing a refill.
While it doesn't feature a free-falling stream, it has a fascinating circular play on the water at the top before the water cascades into the bowl at the base.
Available in white and black, this unit has a replaceable charcoal filter and a wide drinking surface area to cater to any size of the dog. Users love the efficiency of the unit despite a few reports about faulty motors that don't go beyond a few uses.
Cleaning your unit is crucial to its longevity and this model is easy to clean and maintain. The pump needs 1-3 cleans a month to ensure it works at its optimum.
For a thorough clean, take it apart and rinse the impeller under a stream of running water. Clear the hair and food debris from within. Put the impeller back after cleaning and drying and put the parts back in place.
The rest of the unit can be cleaned using warm soapy water and a sponge. 
Why Buy A Dog Water Fountain?
I understand that a good number of us may have doubts as to whether they really need this lovely item. Well, I've prepared more compelling reasons for you:
Moving Water Is Safer
A drink of water from a moving stream is always safer than from a stagnant water body. This is because bacteria, insects, and algae do not have the opportunity to thrive and grow in moving water. That is the concept the best dog fountain mimics.
The moving water prevents unsavory elements from infiltrating the water and growing in it, ensuring your dog drinks clean, healthy water.
The best dog water dispenser will come with a filtration system, sometimes even two or three, that ensure the water is always clear of impurities.
A Substantial Amount Of Water
A dog fountain provides your pooch with a substantial amount of water compared to a bowl. With a fountain, you can be sure your dog is drinking as much water as they want without running out.
Regulating Body Temperatures
Water is crucial in helping dogs regulate their body temperatures. They don't sweat, so panting is their way of maintaining their temperature.
However, after a bout of activity or high environmental temperatures, they can't pant fast enough to bring their temperatures down. A bowl of water can only do so much but a fountain will deliver the much-needed relief.
If you have no idea how to take your dog's body temperature, watch the video below:
Efficient
Besides the water staying fresh compared to stale water in a bowl, you do not have the water bowl changing duty to add to your list of daily chores. Having said that, cleaning the water fountain is essential to keep the water fresh and clean, but the cleanup process is far in between and these fountains are very easy to clean.
Your Dog Will Love It
Show me a dog that doesn't get excited at the sight of a moving stream of water and I will show you a dog that's not living its best life. Moving water, whether in a stream, from a hose, or a dog fountain gives your pooch a chance to play and get wet.
During the day when your dog needs to hydrate, it will not only have fun drinking water; it will also love the sound of splashing water from the fountain. In that regard, a fountain sounds and feels more natural to your dog's instincts compared to a bowl.
In fact, dog toy manufacturers understand this side of a dog's nature so well that they make a killing by creating summer dog toys that float in water.
What to Consider Before Buying A Dog Water Fountain
You'll want to pay attention to the following five things before you decide to add this unit to your cart:
The Materials
A ceramic water fountain for your pooch is the best way to go. Not only is ceramic a hardy material that can withstand scratch marks; it is also easy to clean and maintain. With ceramic, you do not have to worry about rust or BPA elements in your fountain. However, it is an expensive option, which is why you have the option of stainless steel and plastic.
Of the three options, ceramic is the most aesthetically pleasing with stainless steel at a close second, followed by plastic. While the plastic dog fountains are not the most elegant, most are constructed with BPA-free material and they cost less.
However, always check the manufacturing label on the materials used to ensure no harmful chemicals have been used on the plastic dog fountain.
Ease Of Cleaning
The best dog fountain is only as good as its ease of use and maintenance. Too many nooks and crannies that can't be reached for cleaning make it a breeding ground for parasites and unwanted bacteria.
So, choose a fountain with a straight forward design and easy to clean parts. The waterer should have detachable parts that can easily be removed, cleaned, and put back in place.
The moving parts should feature a sturdy construction and be made from hardy material. Since they are constantly removed and put back together, if they are made using inferior material, the wear and tear will occur sooner.
Size
Consider a fountain with a large capacity because such fountains need fewer cleans in between. That means less of a strain on the removable parts. However, a small breed doesn't need an oversized fountain.
Match the fountain size to your dog's drinking needs. The trick is finding out how much water your dog drinks in a day and buying a fountain that can hold that amount plus some so you do not need to refill it all the time.
A Filtration System
Clearing impurities out the water before your dog consumes it is important. The best water fountain for dogs should have either a charcoal or carbon filter.
Charcoal has elements of oxygen and hydrogen, which help to trap impurities and pollutants. The carbon used in these systems is activated carbon, which works in the same way as charcoal. Both filters are safe and sanitized.
An additional foam filter around the pump on the fountain is a huge plus. It captures any impurities that escaped the first filtration process.
Discreet Operation
The last thing you or your pooch want is a loud dog water fountain. The submersible pump should be discreet with a relatively low noise level. If your preferred fountain has a high noise level, you may need to move it during your dog's nap times to prevent disturbing your dog's rest.
Conclusion
I know none of us know what doggy heaven looks like, but I can bet it has a doggy fountain or at least a stream. This is where furry pals congregate to have a drink and quench their thirst after a long day of play and talk about the dog water fountain their owners got them when they were here on earth.
The above dog water fountain options will make your home a little heaven for your pooch without a doubt. So, choose one and make your doggy a happy camper all day. Everyday!