Updated: October 14th, 2022
This article contains affiliate links. Read the full disclosure here.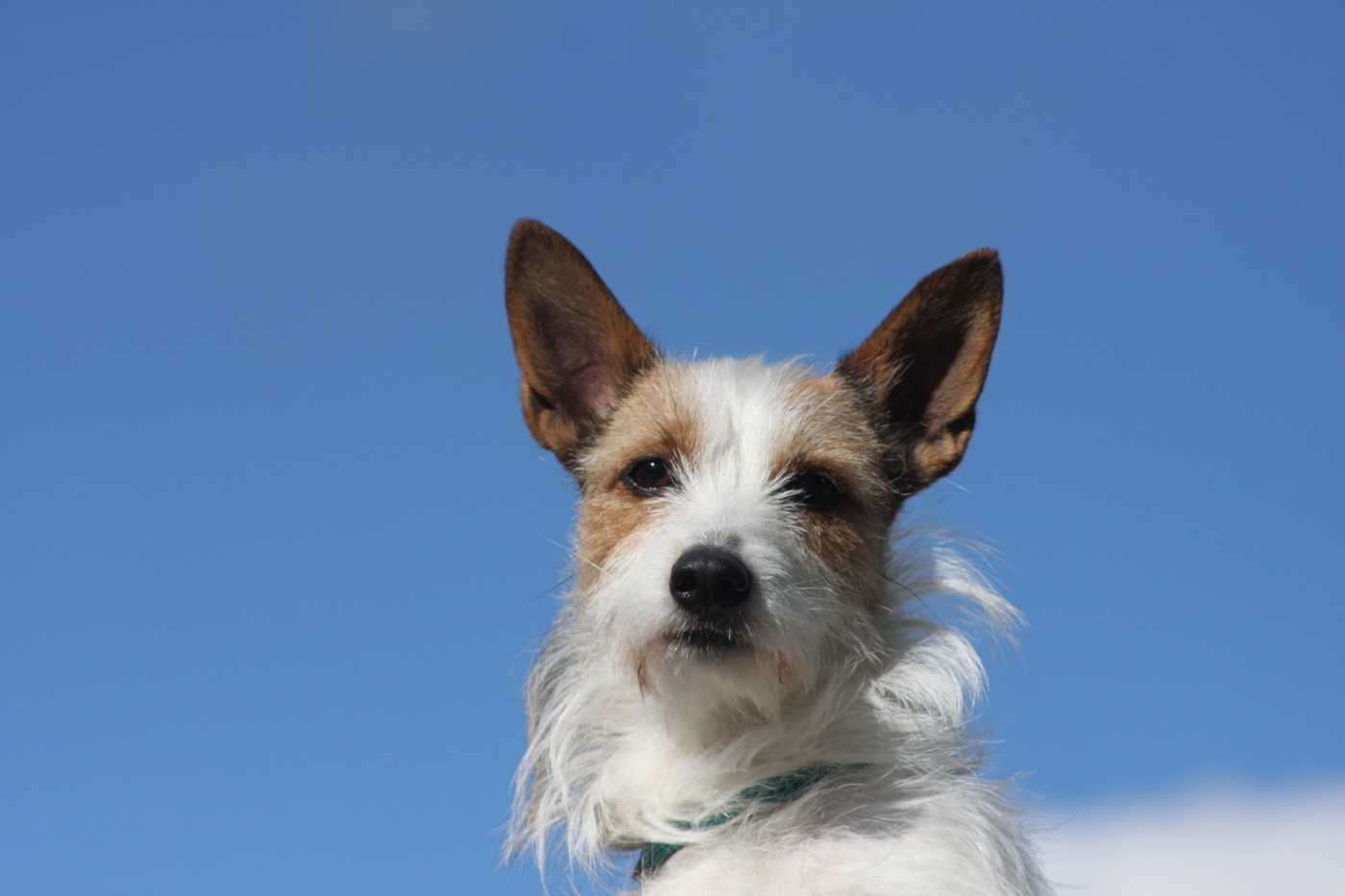 A well-nourished dog is a happy dog. Sometimes, the diet we serve to our dogs may be lacking in some vital minerals and vitamins essential to their growth and overall health. Most commercial dog foods are well-rounded and offer the needed vitamins; some do not. Other times, we serve them homemade food that may be lacking these essential nutrients. When this is the case, including multivitamins specifically made for dogs in their meals is ideal.
These vitamin supplements help to boost the health and vitality of the dogs. You should note that these top 5 reviewed multivitamins for dogs do not specifically cure any diseases but only advance your pup's overall health.
Our top 5 picks
We highly recommend looking at the comparison table we have below where we highlighted the features of each product.
IMAGE
PRODUCT
 

Contains over 35 minerals and vitamins

90 count multivitamins

chewable

CHECK PRICE →

RUNNER UP

RUNNER UP

180 count multivitamins

Beef flavored tablets

Contains over 25 minerals and vitamins

CHECK PRICE →

Chicken flavored

Chewable

Colony forming units (CFU) probiotics

CHECK PRICE →

Duck flavored chews

Veterinarian formulated Multivitamin

90 count tablets

CHECK PRICE →

60 chewable multivitamins

Ingredients for all-round immunity

Soft and easy to chew

CHECK PRICE →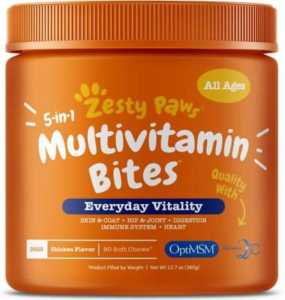 Step up your dog's daily liveliness record with this chewable Multivitamin. This 5-in-1 Multivitamin takes care of the skin and coat, hip and joint, digestive, immune, and heart complexes. For healthy skin and soft fur, it contains cod liver oil, biotin, and vitamin E. The inclusion of glucosamine, chondroitin, and OptiMSM® takes care of the bone and joints, keeping your pup running with comfort.
Niacin, enzymes, and probiotics aid digestion, while vitamin A, vitamin C, and Vitamin E boost the immune system. For promoting heart activity, this Multivitamin features folic acid and pure Kaneka Q10®. 
With over 35 vitamins and minerals, Zesty Paws 5-in-1 Multivitamin Bites can enhance the vital aspects of your dog's health. It is suitable for puppies and adult dogs across all breeds. This product is the best choice for your dog since it improves more aspects of your dog's health than many others. It comes in two flavors- chicken and peanut butter- offering an alternative to suit their preferences.
Pros:
Chewable

Available in 2 flavors

Suitable for all breeds and ages

Grain-free.
Cons:
More expensive than many other supplements
Getting old may not be so much fun with old age's joint pains and weakness for our canine friends. At this time, you need to take extra care of your dog. To do this, you should choose the GNC Pets Ultra Mega multivitamin.
This vitamin supplement is specifically formulated for senior dogs to give them vitality all day long. The beef-flavored chewable tablets make administering them easier, getting the seniors to have the nutrients they need. It contains over 25 minerals and vitamins, omega-3, and amino acids to take care of your dog's general health.
Probiotics, antioxidants, and enzymes are included to boost the digestive system. The supplements contain chondroitin for pain-free and comfortable mobility. With this, you can see your old furry friend run around like a young one.
Pros:
180 count supplement

Chewable

Enhances general health and immune system

Contains chondroitin
Cons:
Ignores cardiovascular enhancement

On the pricey side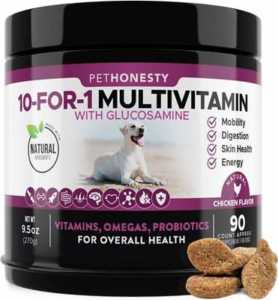 Treat your dogs to this PetHonesty's 10-for-1 vitamin supplements to boost vitality, all-round health, and the immune system. They are soft chewable chicken-flavored multivitamins that your dog can quickly eat like they are dog treats. These soft chews improve aspects of your dog's health from nose to tail. It contains 20 minerals, vitamins, and nutrients that enhance the skin, coat, hip, and joint.
Omega fatty acids and glucosamine are present to tackle joint inflammation, making it suitable for senior dogs. With PureForMSM included, heart health is taken into consideration, also. The antioxidants and 1 billion colony forming units (CFU) probiotics help with diarrhea and constipation to boost digestion and energy.  
This product does not contain wheat, soy, corn, GMO, or any chemically derived preservatives. It is suitable for all breeds of dogs, including golden retrievers, making PetHonesty 10-for-1 multivitamins the right choice for your furry friend.
Pros:
Supports heart, brain, joints, and skin enhancement

Soft and chewable

Suitable for puppies, adult, and senior dogs

No genetically modified ingredient
Cons:
May not be suitable for dogs allergic to chicken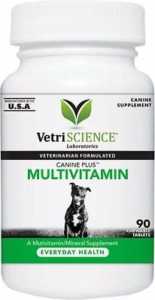 This multivitamin tablets formulated by veterinarians offer all essential vitamins, minerals, and nutrients your dog needs. The fact that veterinarians make it should help you rest assured that your pet's health will stay boosted, as stated. The tablets contain over 25 minerals and vitamins to meet dogs' needs for all breeds, ages, and sizes.
Your pup's general health is assured as each tablet features fish oil, amino acids, and omega acids. For healthy skin and a soft, shiny coat, you get omega 3 and 6. Combining all the nutrients enhances the cognitive and liver health, cardiovascular system, immunity, nervous and digestive system, and improves your pup's vitality daily.
Pros:
Chewable tablets

Suitable for dogs of all ages

90count chews

It is inexpensive
Cons:
Does not care for joint pains

Some complain that their dogs do not like the flavor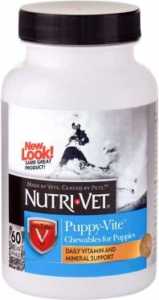 Your canine friend is just beginning to learn many things that will shape its adulthood in its puppy days. At this early stage, you must guide your pet through teaching it pet manners and giving the right nutrition to grow and stay healthy. Paying particular attention to this theory, Nutri-Vet Multivitamin Chewables should be your choice of vitamin supplements. They are soft and chewable and would not be hard on your pup's growing teeth. They contain vitamins A, D, B-complex, and minerals to ensure healthy skin and coat, strong bones, healthy joints, and an immunity boost. Antioxidants help to protect cells by neutralizing free radicals formed during development.
Pros:
Chewable

60 count soft tablets

Inexpensive 

Contains vitamins A, D, B-complex and minerals
Cons:
Some dogs may not like the taste 
Things to consider when choosing multivitamin supplements for your dog
With the swarm of multivitamin supplements in the market, being guided on choosing ensures your dog's health for satisfactory results. Below are tips to guide you on that purchase.
Talk to the Vet

: The first and most important thing to do is check with your veterinarian. They will guide you on whether or not your dog needs vitamin supplements. As much as vitamins are essential to your dogs' health, it may be harmful to them if taken inappropriately. If a dog is undergoing treatment, introducing a multivitamin without confirmation from the vet may interfere with the medication. It is potentially dangerous.

Check the Ingredients: 

when selecting multivitamins for your dog, you must check the ingredients. Be sure not to get one that contains ingredients your dog may be allergic to. Do not also fault yourself if you make the purchase and discover later that your dog doesn't like it. It is okay to switch between multivitamins. You may also seek your vet's opinion on the ingredients to consider. 

Product Form: 

soft chewable multivitamins are usually easier to give to dogs. You can mix multivitamins that come in tablets or powder with your dog's meal. You merely have to know what form works.

Flavor:

 since this is all about your dog, you should find a flavor it likes. If the taste is not right, you may not be able to get your dog to take the much-needed multivitamins. 
When do you need to get multivitamins for your dog?
Since vitamins are essential for both humans and animals alike, you have to be sure if your dog needs it before buying one.
If you feed your dog high-quality commercial food labeled "complete and balanced', you may not need to get supplements for your dog. Your pet will need multivitamins if you feed it homemade food.
You may also need to introduce multivitamins when your dog is getting old. Your dog finds walking and running around tiresome at this age; their joints become weak, and arthritis sets in. It is paramount that you get multivitamins to strengthen the bones and joints to increase its vitality and make mobility comfortable.
However, you should note that these multivitamins are not a cure for arthritis or heart-related diseases in dugs. When the vet confirms that your dog lacks vitamins or minerals, it is time to include multivitamins in the meals.
There is limited sunlight during the winter season, and an additional source of vitamin D would help keep your dog's coat and skin healthy. You do not want your pup to suffer due to dry and itchy skin since they cannot use skin moisturizers like humans. It would be best if you did not overlook skin health, whether for the short coat breed like Basset Hounds or their long coat counterpart like the Golden Retrievers. You can find our most recommended skin and coat supplements here.
Can I give my dog human multivitamins?
Most dog parents may have considered giving their pets from human multivitamins, the way they feed these animals with table scraps. It sounds like an excellent idea since you can quickly get these supplements from a drugstore around the corner. But the money and time you are looking to save would not be worth the effect on your dog.
Multivitamins for humans cannot replace those for animals since we have different health needs per time. It could also contain known additives that are unsafe or ingredients in excessive amounts. An FDA report in 2018 found some dog food to have excessive amounts of vitamin D. And with the varying amounts of vitamins, you may only require these supplements in minimal doses.
Curious pets are known to chew on containers that smell nice or look fascinating. Keeping human multivitamins safe and out of reach will ensure that your pets do not accidentally ingest them. Look out for pills that fall to the ground while taking your dose of supplements and carefully dispose of them.
Can a multivitamin hurt a dog?
Several components of a multivitamin supplement might be unsafe for dogs when ingested in large amounts over an extended period. Excess vitamins A and D cause gastrointestinal upset and systemic signs like lethargy, bloody diarrhea, vomiting, decreased appetite, and anorexia. Iron toxicity with similar symptoms may occur when you administer vitamins that contain the element in large proportions.
Other vitamins like D and B are also unsafe in large proportions, and accidental ingestion or prolonged use often has severe consequences. Observation is key to ensuring that you do not exceed the daily recommended dose. You may consult your veterinarian for proper advice and suggestions on the correct use of supplements.
Research multivitamin supplements and choose options, preferably with a seal of approval by the National Animal Supplement Council. Do not overdose, instead call your vet's attention when there are complications or other health issues, including allergic conditions.
Gummy vitamins and xylitol hazard
According to an article on toxicology and poison control by ASPCApro, "toxins lurk in unexpected places." And gummy vitamins for children unsafe for dogs due to its xylitol content are a perfect example. Xylitol poisoning is the leading cause of liver failure in canines, hence the need to keep products that contain the ingredient away from your pet. In cases of accidental consumption, a quick visit to the ER can save the life of your pooch.
Final thoughts
Humans and animals need vitamins and minerals to stay healthy and carry out daily activities effectively. Choosing the right supplements for your dogs is essential, especially if the nutrients, vitamins, and minerals are not already present in the dog food. 
Since getting the right supplements may be difficult, tips to help you through this process are available in this article.