Updated: October 13th, 2022
This article contains affiliate links. Read the full disclosure here.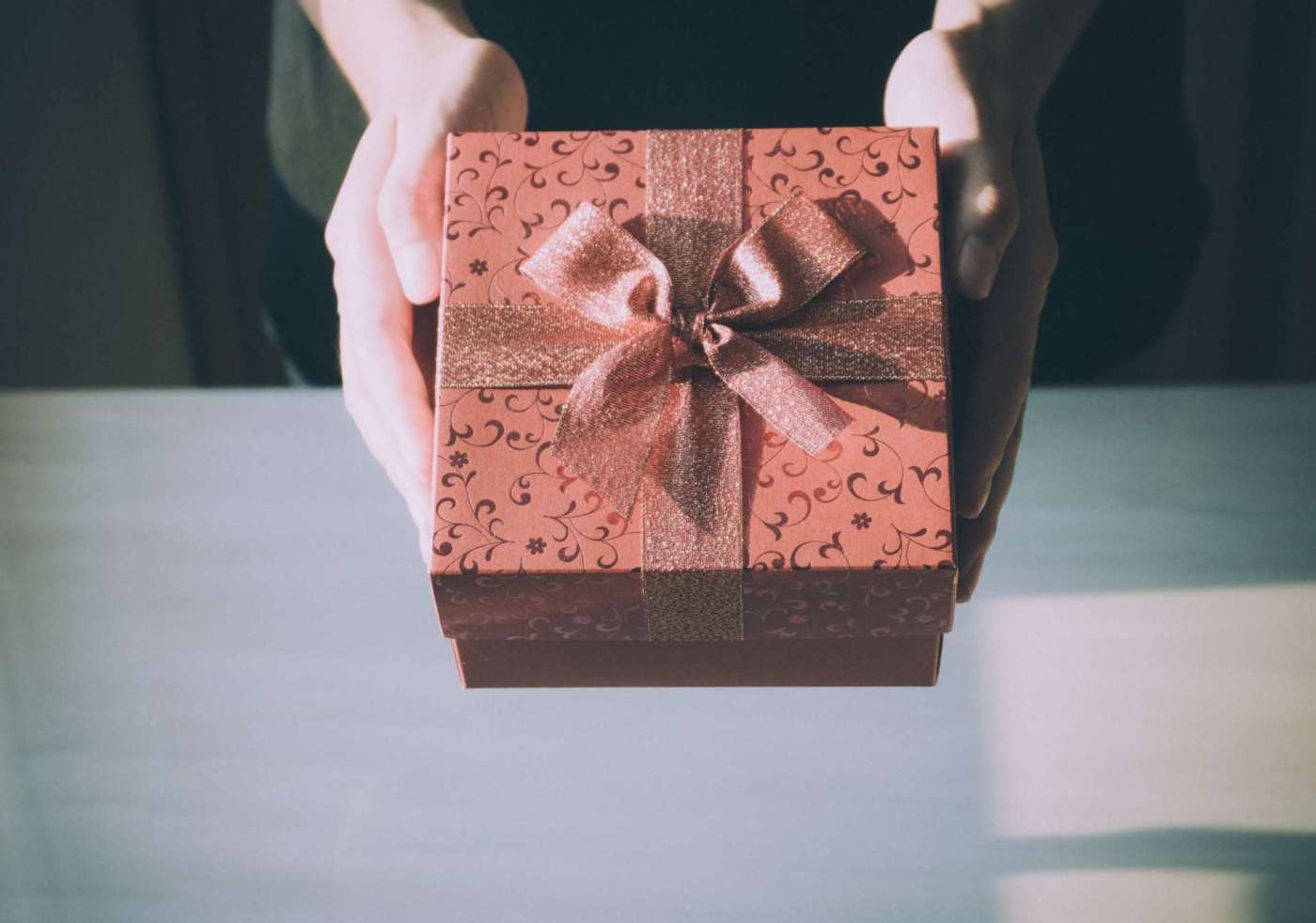 Golden retrievers are among the most loved dog breeds due to their gentle and affectionate demeanor. The cuddly nature of these pups makes people liken them to teddy bears. They have captured several people's hearts and minds with their lovely personalities and fantastic traits that make them unique. These pets are addicting; that is why we find these dogs in most households with or without kids.
Golden retriever lovers are excellent gift-givers, always looking to find fun and functional products that the breed lovers in their lives would love. Whether you own one or merely love the breed, celebrating your favorite pups from a distance is now possible with gifts for friends and family, regardless of their age.
We have reviewed a selection of items to help you identify the best gifts for golden retriever lovers, whether you share the same interest or not. This guide would help you populate your birthday or holiday wish list with heartwarming goodies.
AT A GLANCE:
OUR TOP 5 GIFTS FOR GOLDEN RETRIEVER LOVERS
Overview of the Best Gifts for Golden Retriever Lovers
We highly recommend looking at the comparison table we have below where we highlighted the features of each product.
IMAGE
PRODUCT
 

BEST OF THE BEST

BEST OF THE BEST

Lightweight and portable

Attached rope for convenient hanging

High aesthetic value

CHECK PRICE →

RUNNER UP

RUNNER UP

Two hand towels

Absorbent and machine-washable

100 percent cotton

CHECK PRICE →

Reinforced double stitching

Hand-dyed

Multiple size options

CHECK PRICE →

Usable on all magnetic surfaces

Weather-friendly, high-gloss UV ink

Lightweight and portable design

CHECK PRICE →

Holds 15 ounces of liquid

Microwave and top-rack dishwasher safe

High-quality earthenware

CHECK PRICE →
Read on to discover why we chose these particular foods, and for tips and advice on getting your picky eater to enjoy more food.
Top 5 Gifts for Golden Retriever Lovers: Reviews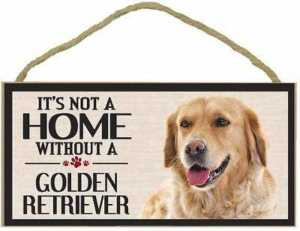 CHECK PRICE →
This wooden breed sign by Imagine This Company is an excellent item for dog parents that want to let guests know which breed they own. The sign which reads, "IT'S NOT A HOME WITHOUT A GOLDEN RETRIEVER," could also make a fantastic gift for fellow dog owners. It allows people to display their love for the breed with pride, whether indoors or outdoors.
The decorative paw prints and detailed photo of a golden retriever allow this gift item to take its place among the embellishments that can enhance the aesthetics of your home or backyard. With the attached rope, you can conveniently hang the sign on any spot. It's dimensions of 10-inches by 5-inches imply that it is portable and can be moved easily to any location of your choice.
Pros:
Made with quality wood.

Lightweight and portable

Attached rope for convenient hanging

High aesthetic value
Cons:
It could get damaged from exposure to harsh weather.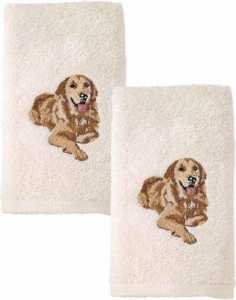 CHECK PRICE →
The two-pack hand towels by Avanti Linens gives you more options when looking for an ideal gift for a golden retriever lover. Although they make perfect additions to your kitchen or bathroom collections, these towels let you flaunt your doggie pride. Functionality meets flair with gifts like this piece that is fashionable while enabling you to dry your hands.
This white towel features plush 100 percent cotton with the beautifully detailed image of a golden retriever embroidered in gold. It is absorbent and machine-washable, making it easy to keep clean for people that use hand towels daily. The hand towel is also lightweight, with dimensions of 16 x 28 inches, and can be tumble dried to remove moisture and get it ready for use.
Pros:
A pair of hand towels.

Absorbent and machine-washable

100 percent cotton

It can be tumble dried
Cons:
Bleaching can damage the towel.

CHECK PRICE →
Golden retriever lovers looking to make a fashion statement would love the Big Face Golden Short Sleeve T-Shirt by The Mountain. It comes in different sizes for adults, ranging from small to XX-large, ensuring everyone gets a perfect fit. This unisex T-shirt with a quint design offers a bold way to show your love of the dog breed.
The eco-friendly T-shirt features 100 percent cotton that is hand-dyed to guarantee the evenness of the colors. A realistic 3D graphic image of a golden retriever's face is screen-printed on the shirt's front. All seams feature reinforced double stitching, ensuring that it is stylish, and there are no loose hems after years of use.
This wardrobe staple is breathable, warm, and does not feature materials that can cause skin irritation, making it a suitable gift for all lovers of the breed. It is washable with regular detergent and tumble-dried to get it ready for subsequent use.
Pros:
It is washable

Warm and breathable

All seams feature reinforced double stitching

Hand-dyed to guarantee the evenness of the colors.

Multiple size options

A realistic 3D graphic image of a golden retriever's face
Cons:
Washing is only with like colors or alone.

Hanging may cause the fabric to sag.


CHECK PRICE →
Individuals that love to place those magnets with whimsical ornaments on their refrigerator doors would love this product by Imagine This Company. The bone magnet is another option for dog parents seeking to express their love for the breed. It can also be used in cars and other magnetic surfaces, making it a better alternative to bumper stickers that leave a messy residue when removed.
The bone ornament features a single line of text and a heart symbol that implies – I Love My Golden Retriever. You can rest assured that the high-gloss UV ink used for the inscription will not come off from exposure to water or sunlight. It is an ideal gift for golden retriever lovers of any gender or age.
The unit is lightweight and can be repositioned quickly from one metallic surface to another. It can also be wiped clean with a damp cloth to ensure that it retains its original appearance over many years. Removing the magnet at intervals will ensure that there is no build-up of dirt around it.
Pros:
Usable on all magnetic surfaces

It features weather-friendly, high-gloss UV ink

Lightweight and portable design

Budget-friendly option
Cons:
Use on uncured surfaces may lead to damage.

CHECK PRICE →
This coffee mug by Pet Gifts USA is another gift option for golden retriever lovers. It offers you the opportunity to show how much you love the breed, even at formal establishments. The fact that you can take the mug to work or school makes it very special.
This earthenware mug features high-quality materials, ensuring that it remains functional, safe, and attractive. It is microwave and top-rack dishwasher safe, capable of maintaining its original appearance for years. The mug can hold 15 ounces of liquid, which is sufficient for your morning dose of caffeine.
You can find a list of the top three behavior traits of golden retrievers on one side of the mug and a detailed portrait of the dog on the other. The design by Danbury Mint artist, Tamara Burnett, increases its aesthetic value while the earthenware adorns your office desk.
Pros:
Holds 15 ounces of liquid

Excellent design by Danbury Mint artist, Tamara Burnett

Microwave and top-rack dishwasher safe

High-quality earthenware

Ideal for formal environments
Cons:
What to Consider Before Buying Gifts for Golden Retriever Lovers?
The Person's Interests
When looking to buy a gift, it is wise to find out what the person might like. These interests should not be limited to design and the present's nature, as colors are also important. Functional products like grooming supplies for golden retrievers are great, but put some thought into it.
With insights into what a person may like, buying the perfect gift is guaranteed, whether it is food, jewelry, tech gadgets, or clothing, among others. This strategy helps you get something that has meaning and would be appreciated by the recipient.
Age and Gender
Although most gifts are standard products that everyone uses, some are peculiar to selected gender and age groups. Children may opt for toys that would not be appealing to teenagers who would instead prefer something more engaging like tech gadgets for boys or fashion items for girls. General household items are preferable for adults, whether male or female.
Return Policy
The product brand and their return policy are essential considerations when looking to purchase gifts. With more online outlets available, you can quickly get the desired information about a product before purchase. If you find that the recipient dislikes the present, the return policy makes it possible for you to return it for replacement with something more suitable.
Budget
Gifts make our hearts fonder, whether they are functional or merely attractive. According to a 2019 poll on Gallup, consumers planned to spend an estimated $942 on gifts during the holiday season. Most times, the cost does not equate to the value for the recipient. Sticking to your budget ensures that you get something that you can afford to avoid regrets in the long run.
Critical Tips for Gift Giving
Gifts are not compulsory.
Feeling pressured into getting a gift for someone defeats the purpose, as you do not feel happy after the purchase. Gifting should be genuine, heartfelt, and meaningful to both the giver and recipient. With the right cause in mind, the cost of the item would not matter.
A simple "thank you" works.
You do not always have to spend money to purchase an item when showing love to someone. But when you receive a gift, first say "thank you" rather than think of paying back with yours. You can do it verbally or with a thank you note.
When you get rude gifts, a note is also necessary, and it should be one explaining your disappointment.
Do not get what you would want in return.
Most people end up getting items that they desire for friends or family while gifting. It ends up being ineffective as the recipient may have no interest or use for the product. A study by psychologists from Cornell University, New York, found that "money spent on doing, provides more enduring happiness than money spent on having." If you do not support the same cause or share similar interests, try not to impose your likes and beliefs on others.
It would help if you cared about someone enough to want to buy them a gift. Those that love food should get favorite meals or tickets to a restaurant. Ensure that the presents you get aligned with their passion and interests, like golden retriever gifts for the breed lovers. You do not want to begin to feel guilty when your present seems too expensive and pushes the other person to want to reciprocate.
Belated gifts
It is better to give something than nothing at all, even after the holiday period has passed. If you initially forgot about gifting, you can send it with a note to explain what it is for and reasons for the delay. Your friends would never turn down a good gift.
You are killing two birds with one stone if you can get a single gift to cover two separate events, like a birthday and a holiday. Homemade gifts are also cool if you have the DIY skills to come up with something thoughtful. You can go ahead to make or buy two different gifts if you can afford them.
Ask for their wishlist.
Asking for someone's wishlist can give you insights on the best gift to get, whether it is their birthday or a holiday. Although it ruins part of the surprise, it guarantees that you do not worry about the product's return policy. This strategy works best for people you are not in direct contact with for close observation and those that may not share similar interests with you.
In Conclusion
Besides shopping for special items like the subscription boxes for your pup, gifting is also encouraged among dog parents. While gifting a golden retriever lover, you should not worry if they had gotten the same item before. What usually matters to them is that you have them in your thoughts and identify with their love for the breed. The reviewed products and considerations above would help you make informed decisions as you work towards improving your relationships and showing off your favorite furry friend.