Updated: October 13th, 2022
This article contains affiliate links. Read the full disclosure here.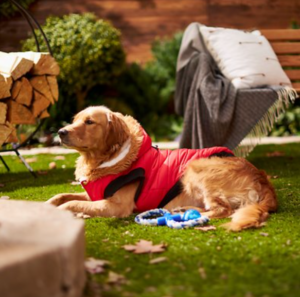 picture taken from chewy.com
Walking your golden retriever in colder conditions can be very uncomfortable for you and your furry friend. Many dogs can benefit from that extra layer of comfort and protection when faced with extreme weather conditions. Young pups, small and miniature dogs are not able to retain their natural heat. Senior dogs who suffer from joint or muscular pain will require extra warmth and comfort. Winter coats for dogs are available in a variety of different sizes, colors, and styles. These coats will add style and warmth while protecting your pooch from rain, wind, and snow. There are many trendy winter coats available to suit your dog's wardrobe best. Coats with faux fur trims will add luxury and style, while quilted options are more classic. Your furry friend will be well protected while strutting the walkaways or hiking in the snow. Our top trendy winter coats for dogs buyer's guide will provide you with everything you need to find the perfect fit.
AT A GLANCE:
Top Trendy Winter Coats for Dogs
What are Winter Dog Coats?
Winter coats are designed to keep dogs warm and comfortable in cold weather conditions. These coats are made with added insulation to help retain natural body heat with a protective outer layer that is water-resistant for rainy conditions. Most winter dog coats have zipped openings that are easy to attach to a leash or a harness. Dog coats and jackets come in a variety of different sizes to fit your breed best. There are many choices available that will add warmth, comfort, and style.
An Overview of the Best Winter Dog Coats:
The Benefits of Purchasing a Winter Coat for your Dog:
There are many benefits when purchasing a winter coat for your furry friend. Winter coats and jackets are specifically made to keep your golden retriever warm, comfortable, and protected from harsh weather conditions. A parka or winter coat will protect your dog from rain, wind, and snow during the winter months. Wearing a winter coat or jacket is a must for dogs that will require additional warmth and protection. Puppies that are five months old or younger are not able to regulate their body temperature yet. These pups will need a coat for their first winter season. The size of your golden retriever will also dictate the amount of warmth and protection that they require. Smaller, miniature, or toy breeds such as French Bulldogs or Pugs struggle to stay warm.
Shorter dogs are closer to the ground and need to keep their bellies warm when walking in the snow or  ice. Taller breeds such as Whippets will benefit from winter coats that have sleeves to keep their exposed legs warm. Senior dogs who suffer from joint or muscular pain will experience additional discomfort caused by colder conditions. A thick, padded insulated coat will suit them best. Older dogs lose their ability to retain their natural heat as they age. Dogs with single layer coats will require a thicker jacket or coat compared to breeds with double-layered coats. Huskies and Alaskan Malamutes have thick fur and undercoats to help them endure cold winter conditions. These dogs will not need a jacket or coat when treading out in the cold. Your golden retriever will let you know if he is feeling cold and uncomfortable. He will start to shiver all hunched up and lift one of his paws. Recovering dogs who have suffered injury or surgery will need a protective layer to keep them warm, dry, and supported in colder wet weather.
Different Types of Winter Coats for Dogs:
There is a wide range of winter dog coats available. Waterproof coats are perfect for rainy weather conditions and come with hooded options to keep your furry friend's head dry. Padded or doubled layered parka offer more protection for dogs who have single fur coats or are more sensitive to the cold weather. Reflective stitching or piping is an important safety feature when walking your golden retriever in poorly lit areas. Dog jackets have the most protection with legs and pockets for baggies and essentials.
Top 5 Best Winter Coats for Dogs: Reviews
Let's take a closer look at our top 5 winter coats for dogs from Chewy.com
In no particular order: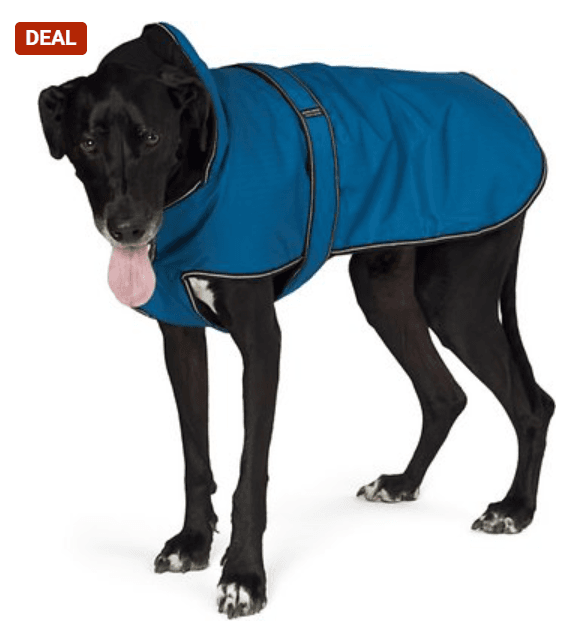 The Petrageous Designs Insulated Dog Jacket will keep your furry friend stylish and cozy. This heavyweight coat is made from a solid poly-cotton blend and a poly fiber fill. Protecting your dog from the harsh elements with its wind and waterproof design. Attractive, yet versatile this adorable Petrageous jacket offers comfort with full chest coverage and a stylish solid print. This coat will keep your dog snug with elastic leg straps and an adjustable fuzzy fastener back enclosure. An opening in the jacket collar makes for easy removal or adding a dog leash. The Petrageous insulated jacket has reflective stitching to keep your golden retriever visible during those night walks.
Pros:
Insulated

Water resistant

Windproof

Comfortable

Opening to add a leash

Reflective
Cons:
The Canada Pooch Alaskan Army Premium Faux Down Parka has a luxurious sherpa lining and faux-down insulation with trendy faux fur trim. This luxury parka will keep your pooch warm and cozy while looking ultra-trendy in the cold, snow, or rain. A water-resistant cotton exterior will keep your furry friend dry and warm with a dual hook and loop closure for extra adjusting. Available in a range of multiple sizes for the perfect fit.
Pros:
Insulated

Water-resistant

Dual hook and loop for extra adjusting

Faux-down insulation

Multiple sizes 10-16 with sleeves

Machine washable

Trendy faux fur trim
Cons:
Not reflective

Only available for small dogs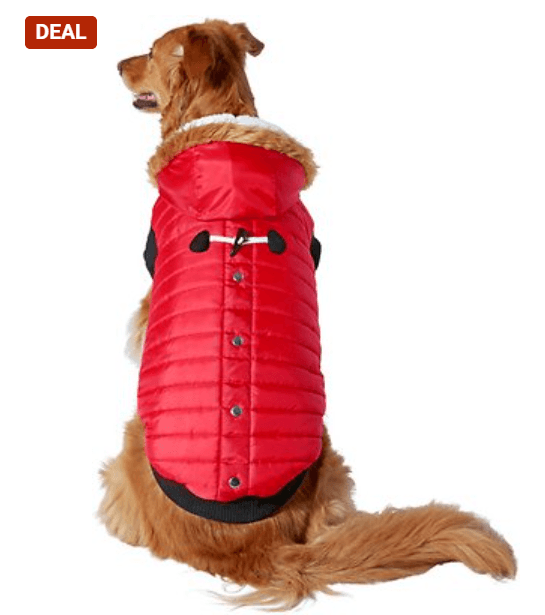 The Frisco Insulated Dog Parka with Toggle Accent has a 100% water-resistant polyester exterior, filling and soft sherpa lining. This parka will retain your pooch's body heat keeping him extra cozy and warm in the snow, cold, or rain. The fur-accented hood has three snaps on the back with toggle accents for extra style. Hook-and-loop fasteners along the belly and a neck snap button for the perfect fit. This parka is an absolute must-have for your furry friend's winter wardrobe.
Pros:
Water resistant

Insulated

Hooded

Machine washable

Leash opening

Pockets
Cons:
The US ARMY Insulated Quilted Dog Parka will keep your pup warm and stylish during walks with a polar fleece lining and hood. An added hood is perfect for the cold, rain, or snow. Available in three different colors and five sizes to fit multiple breeds. This parka is easy to slip on with fuzzy fastener closures and a bungee cord for the perfect fit. A leash opening and a large bag pocket carry bags and essentials. Show your support to our men and women in uniform with this officially licensed US Army parka jacket.
Pros:
Insulated

Water resistant

Adjustable cord

Hooded

Leash opening 

Machine washable

Lined

Pockets
Cons: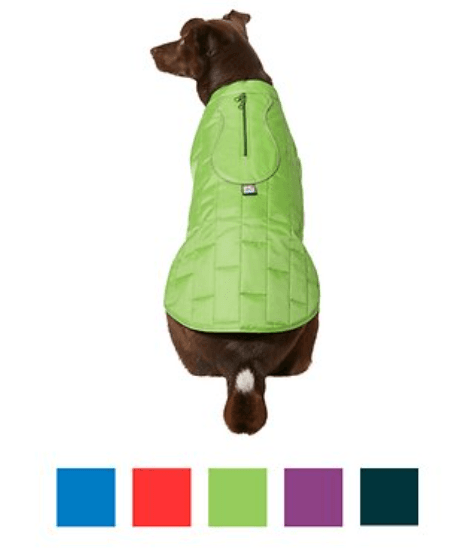 The Kurgo Loft Dog Jacket will keep your golden retriever toasty during those chilly winter months. This quilted coat is made from Microtomic Ripstop material with a cozy Polytech fill. The Kurgo Loft jacket is waterproof with a two-way zipper for easy access to your dog's harness underneath and to attach a leash. The two side adjustment points allow an extra snug fit.
A reversible jacket that will keep your furry friend's core dry and warm without restricting his movement. A versatile design with reflective piping perfect for dogs who love the city streets, hiking, or running in chilly weather.
Pros:
Reversible

Waterproof

Double-sided adjustment points

Reflective piping

Two-way zipper for harness and leash attachment
Cons:
Winter Coats for Dogs Buying Guide:
It can be a daunting task to decide which winter coat would suit your dog best. We have highlighted a few factors to consider to help you find the perfect fit for your furry friend.
Size:

Winter coats for dogs are available in many different sizes according to breed and age. Not all dog coats are suited for puppies. Shorter and smaller dogs will have size requirements that differ compared to taller dog breeds. It is best to know your dog's size before making a purchase. Measure the circumference of your dog's neck, chest, and widest part. The measurement from the neck to the tail will determine the size.

Fabric:

Most dog coats are machine washable. Insulated options are available for colder weather conditions. The type of filling will depend on the amount of warmth that is required. There are waterproof options available for wet conditions.

Climate:

Snow, wind, or rain will determine the filling and protection that is required.
Final Thoughts on Winter Coats for your Golden Retriever
The perfect winter dog coat will depend on the size of your golden retriever and the climate that you live in. Hooded, waterproof jackets are best suited for wet rainy conditions. Reflective dog coats provide safety when walking in poorly lit areas. Insulated dog jackets will add extra comfort and warmth when walking your golden retriever in the snow. Winter dog coats should be comfortable and not restrict movement in any way. No matter what winter coat or jacket you decide, we know that your furry friend will put his best foot forward in rain, wind, or snow.