Updated: October 14th, 2022
This article contains affiliate links. Read the full disclosure here.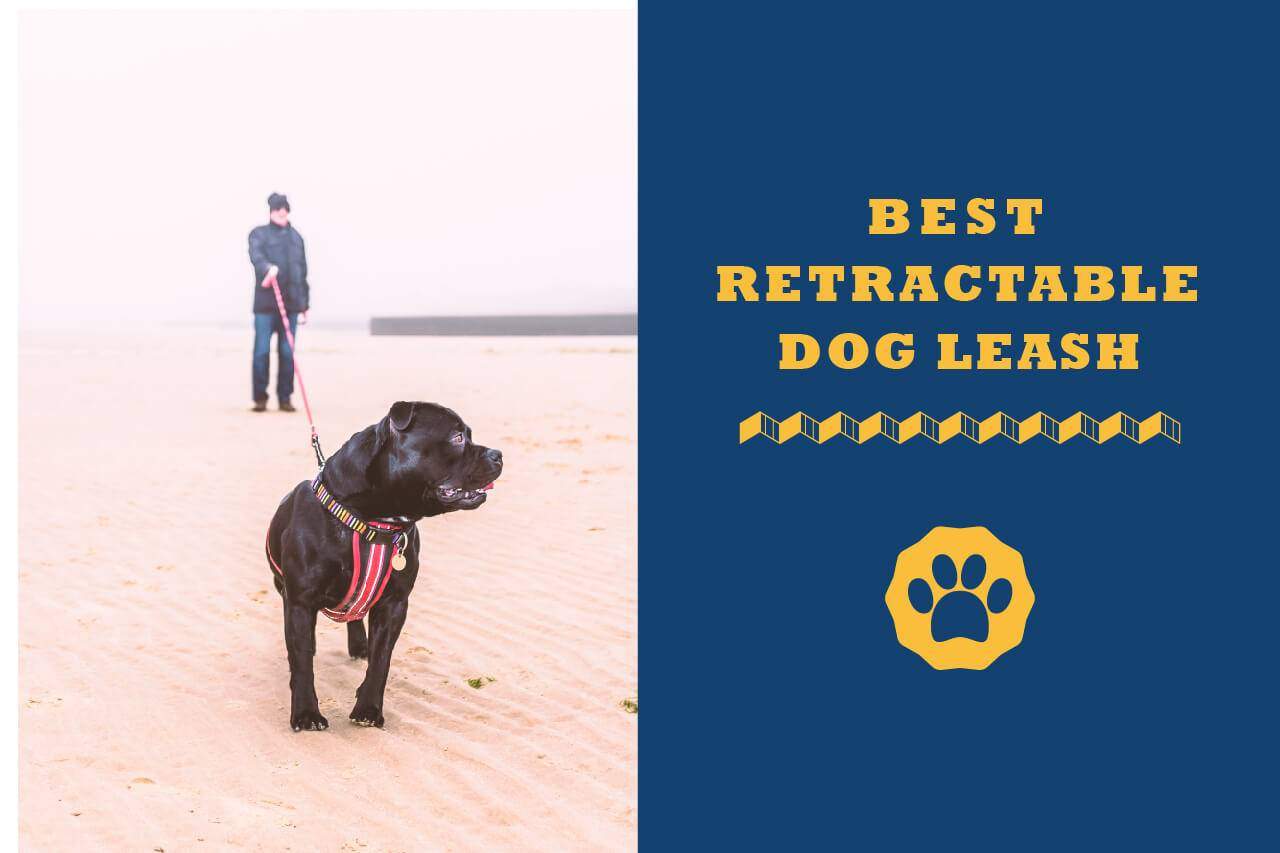 Taking your dog for a walk is supposed to be a leisurely activity, but often it is not.
You've probably been in a situation like this: you have an over-excited pup that is so enthusiastic about the outdoors and all the fun things in it—to the point that her walking becomes wild.
You need the best retractable dog leash you can find!
Worse things could come from this behavior, too, from frustration and anger to injuries from chasing her around and collisions with the law in places where dog restrictions exist. Honestly, that's not what you want to deal with when all you wanted was a nice walk with your canine friend.
That is why you want to have a retractable dog leash.
While they allow your pooch to roam and explore, they are still a behavioral tool designed to restrain and control her walking in a way that makes both you and her happy and keeps everyone safe.
Of course, you'll have to consider a few features when shopping for one (more on that below). In the meantime,
We'll share what I've found to the best and most reliable retractable dog leashes today, based on comfort, functionality, user reviews, and other factors.
Some of the selections will surprise you!
AT A GLANCE:
Our 5 Best Retractable Dog Leashes for your Golden Retriever in 2021
An Overview of the Best Retractable Dog Leash in 2021
IMAGE
PRODUCT

Excellent tension in the long cord leaves no slack regardless of dog's distance
Intuitive, quick-reacting braking system operated by one hand
Handle is adjustable

VIEW LATEST PRICE →

Fits the hand perfectly and has an ergonomic rubber grip
Lightweight
Excellent braking system

VIEW LATEST PRICE →

Offers a highly efficient braking system
Comfortable handle with soft grip
Two color design makes it trendy

VIEW LATEST PRICE →

The tape is rubberized for ease of operation
Nylon material is strong for controlling large size dogs
Features TUG's patented tangle-free construction

VIEW LATEST PRICE →

Ergonomically designed leash handle offers a natural grip
Reflective material in the leash for visibility in the dark
Comes in several sizes

VIEW LATEST PRICE →
Reviews Of The Best Retractable Dog Leashes 
Here is a detailed look at the best retractable dog leash reviews to help you choose the right leash for your pup.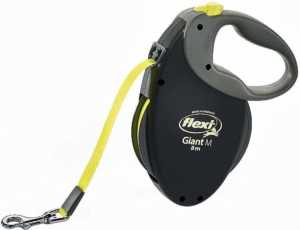 If you have a large breed dog, then you might want to look at the Flexi Giant Retractable Tape Dog Leash. Usually, to walk a large dog, it will take a lot of work and effort on your part to control it.
This leash is made from heavy duty tape to help with control, making it probably the best retractable dog leash for golden retrievers.
Key Features
Heavy-duty 0.75-inch tape
In-and-out mechanism
One-hand braking system
Ergonomically designed handle
Two size options
This leash measures 26 feet long, and it can be used for dogs of different large breeds. It is exclusively developed for large dogs ranging in size from medium build to extra large. No matter how high energy your dog is, this leash will keep up with her pace while giving you perfect control of her movements.
Flexi models are hand assembled, and for utmost safety, they undergo as many as 100 quality checks before being put on the market. Users love that they can take the leash in the water and play in the sand without any issues. 
Pros:
Excellent tension in the long cord leaves no slack regardless of dog's distance
Intuitive, quick-reacting braking system operated by one hand
Handle is adjustable to fit all hand sizes including gloved hands
LED lighting system features bright red and white for night visibility
Ambidextrous storage box for waste bags or treats
Cons:
Cannot be used together with the Flexi Multi Box Dog Leash Accessory
Flexi is trusted worldwide by golden retriever parents because, not only do they use superior materials, but they also have awards like "Brand of the Century" to back up their excellent products. So, giving this extremely functional leash a try is a good idea, especially if you own a large-breed dog.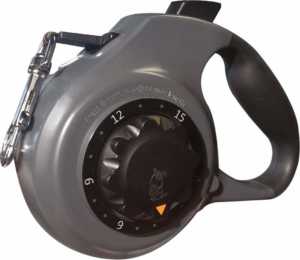 "Fancy" is the first word that comes to mind for this leash but is quickly replaced with words like "efficient" and "highly functional". The overall design is lightweight and easy to work with, even when you are on long walks with your pooch.
Key Features
Autobrake for quick braking
Smooth and silent operation
Compact design
Lightweight construction
Able to hold large dogs
This leash has natural grip handle, so you don't feel strained when handling your pooch. Adjusting the leash automatically can be done in seconds with the dial-a-distance safety feature which sets an automatic stop between 0-15 feet. In case of an emergency stop, you can use the manual thumb break to stop sooner.
According to users in retractable dog leash reviews, the tension on this leash is just right, eliminating concerns like leash biting or pulling on your golden retriever. Always make sure you have the right grip on the handle for maximum control.
Pros:
Fits the hand perfectly and has an ergonomic rubber grip
Lightweight, reducing the chances of hand fatigue
Excellent braking system with automatic stops that you control
Cons:
Perthe manufacturer, does not accommodate dogs over 50 pounds, although some users have reported using it successfully on their 65 pound dogs
Overall, this is a great leash for long walks that gives you more control over your pooch than other similar products in its class.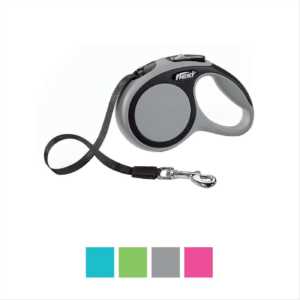 Walking your golden retriever should be an enjoyable experience, but it can be quite the opposite when you have a leash that bites into your hand. Well, not with this Flexi leash, because it offers a comfortable soft-grip handle to accommodate your hand grip naturally.
Key Features
Two-color leash
Ergonomic soft-grip handle
One-hand braking system
Several size options
The Flexi Comfort Retractable Tape Dog Leash is compatible with the Flexi Multi Dog Leash accessory, so you can pack waste bags or treats for your walk. You can also fit it with the Flexi LED lighting system for great visibility during nighttime walks. And the color options allow you to be trendy with your pup!
Holding this leash for long walks is comfortable, because it smoothly runs in and out so that your golden retriever has freedom to roam and explore while still being kept under control.
Pros :
Offers a highly efficient braking system to control your golden retriever
Caters to all dog sizes from extra small to giant breeds
Comfortable handle with soft grip
Two color design makes it trendy
Cons:
Some users received leashes with BPA warning stickers though Flexi did give those customers a refund
Other than being buildable, because of its compatibility with other Flexi products, this leash is also comfortable to use and can fit just about any dog. It's definitely worth a try and is the best leash overall on this list.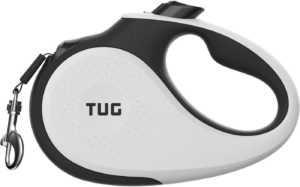 With this TUG retractable leash, you can expect great functionality in the overall design. The construction is sturdy and durable, featuring high-quality internal parts. This leash is developed to ensure your walks with your furry pal are comfortable for both of you.
Key Features
Lock and break system
Strong internal retractable coil
Weather-resistant construction
Multiple sizes and assorted colors
The lock and break system allows you to control the dog's movements, keeping it within a safe distance of yourself. It also gives you the option to lock and unlock the leash as well as freeing the coil to your preferred degree.
The handle doesn't slip from your grip regardless of your pooch's antics. This lessens the strain on your hand as you walk her. The buttons are also very smooth and easy to operate.
Pros:
The tape is rubberized for ease of operation
Manufacturer includes an extension tape in case your golden retriever chews the original one
Nylon material is strong for controlling large size dogs
Features TUG's patented tangle-free construction
Weather resistant, allowing you to use it all year round
Cons:
No hook for the poop bag holder
The thoughtful addition of the extension tape and the ability of the leash to move 360 degrees are proof of the time and thought TUG has invested in the safety, functionality, and efficiency of this leash.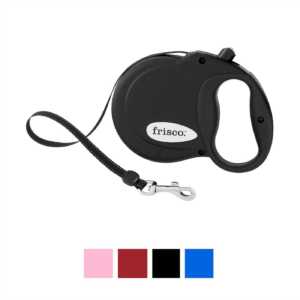 Your golden retriever needs some freedom, even when walking with you. Just a little room for exploration is necessary to satisfy her curiosity, which can be curtailed whenever necessary using this retractable dog leash. While it automatically adjusts as your dog moves, both in the front and back, you also have the option to lock down your preferred leash length with the help of a push-down button.
Key Features
Several size options
Assorted color options
Automatically adjustable
Efficient braking system
The assortment of color options allows trendy dog parents to match colors to their doggie's personality. You can even get matching collars and harnesses.
Also, this leash handle has a soft material with excellent grip to lessen any strain on your hand, especially when you take long walks with your pooch.
This particular Frisco model is widely considered the best retractable leash for any breed of dog by reviewers. Most also love the fact that the reflective material is thermostatic rubber (TRP) instead of latex, meaning it has the ability to be stretched and still return to its original shape, giving it a longer life and excellent physical range. 
Pros:
Ergonomically designed leash handle offers a natural grip
Leash can be locked into your preferred length while you walk
Lock-button quick-braking system can be operated with one hand
Reflective material in the leash for visibility in the dark
Comes in several sizes accommodating all dogs
Cons:
Sometimes leash gets stuck and the spring mechanism that engages the automatic retraction doesn't function efficiently
For this leash to be effective, you must have trained your dog, perhaps with a no-pull dog harness, so that your pal will not run off and entangle itself or others nearby with the leash tape. For your safety, be careful that it doesn't wrap around you and keep it away from kids.
Given all it's able to offer and the price it comes in at, there's no doubt that the Frisco Reflective Tape Retractable Dog Leash is the best value product on this list.
Important Things To Consider When Choosing A Dog Leash
Retractable leashes have had a fair amount of controversy surrounding them, but with advancements and the help of top retractable dog leash manufacturers who take the time to do it right, doggie parents are changing their minds about them.
If you have decided to invest in one, here are a few things you must consider when shopping for the best retractable dog leash for large dogs or puppies.
Comfort
A good retractable dog leash should be comfortable for the doggie and you as well. For comfort, ensure the handle has a natural grip for your hand and fits your hand properly. This ensures that you have excellent grip on the leash and by extension, your dog. Rubberized material offers the best grip, because it doesn't become slick from sweat, water, or rain.
Visibility
Investing in a leash that has reflective material or tape is always a good idea. It ensures that you and your golden retriever are safe during nighttime walks, and since your pooch walks ahead of you, it increases the safety for your dog all the time.
Length 
Choose models that offer you extra length. After all, you can retract the leash to your preferred length during short neighborhood walks or long park walks. Anything between 16-26 feet is an excellent choice, allowing you pooch freedom but with the required restraint.
Functionality
Depending on the use of the leash or the temperament of your golden retriever, you must choose the most functional leash for your circumstances. For example, a rope leash is thicker with more durability, while a tape leash gives you more room to maneuver and can have additional features like reflective material.
Consider a retractable leash that comes with accessories like a doggie bag holder, treat compartments, and lights to make your walk easier, safer, and more enjoyable. Other important functional features to make sure you look for include brake controls, lock controls, and recoil control as well as a tangle free design for safety.
But this is not all; these are just the primary factors. You might want to consider the rest of the factors below as well for the best experience possible:
The Dog's Weight And Temperament
A retractable leash is meant to walk an already trained dog that will not pull or fight to get away. The packaging will show the correct weight for each leash, so ensure that you buy the correct leash for your pooch.
Weigh your pooch first to make sure you purchase the right leash. Also, consider the breed size. Large dogs should not use retractable leashes made for small breeds and vice versa. The wrong fit can result in injury to your furry friend (or you).
What Is Your Walking Schedule? 
If you have a full-time job, the only time you may have to walk Fido is at night. If that is the case, it will be important to buy a leash that has reflective material that makes your pooch visible at night.
This ensures that both of you are safe, and that no matter how far ahead your golden retriever walks, she remains visible at all times, especially when there is oncoming traffic.
When walking your golden retriever in areas with a lot of traffic, you need a leash that can easily retract to a minimal length to enable you keep a firm grip on your pal. If you have lots of space, consider one that has more length to it to allow the dog to explore and roam.
How Many Dogs Do You Walk?
Dog trainers and experts discourage walking multiple dogs on a single retractable leash. This is because you have less control over the doggies and they can easily influence each other by running amok.
So, always invest in separate leashes for individual dogs. If you are determined to walk several dogs at the same time, then opt for a dual retractable leash. This leash has two separate leashes attached to one case.
Here's a quick video on how to do that properly:
Are There Any Dog Rules In Your Vicinity?
Depending on the neighborhood where you walk your dog, there may be rules about dog walking etiquette, including how long the leash should be during walks.
Find out about such rules and purchase the correct leash length according to the requirements. Overlooking such rules can get you kicked out of an apartment complex because of safety issues for the dog and other tenants.
Benefits Of Using A Retractable Leash
Here are six of the greatest benefits of a retractable leash:
1. Increased Mobility For The Dog
A dog on a retractable leash has more freedom to explore safely as the owner adjusts the leash to let her roam. Allowing your dog to walk semi-unrestrained gives her more confidence and allows her to respond better to commands. The walk becomes an enjoyable experience for both you and the pooch. Plus, you always set the pace.
2. Gives You Absolute Control
The leash gives you complete control over your pooch. By letting you remain in charge of the walk, you can prevent most of the unnecessary accidents that occur to dogs and their parents when out on a walk.
You can prevent your dog from ingesting dangerous substances or running into an electric fence or the road. Besides, you can steer your pooch away from dog fights on the street.
3. Comfort For Your Dog And Yourself
The materials used to make the leash are usually comfortable and accommodating. On the handle, the leash should feature rubberized material for excellent grip even when the handle becomes wet from rain or sweat.
The tape, on the other hand, is usually made from cotton or nylon, both of which are breathable materials. Others are made from leather, which becomes softer and more comfortable with a little wear.
4. Smooth Retraction Mechanism
The process of reigning in your pet or letting her go further is smooth because of the easy in-and-out retraction motion. This ensures that your dog doesn't suffer injuries to their neck area. The leash allows you to gently halt the movements of your golden retriever, so you do not have to pull or tug at your resistant dog and saving you from the risk of dislocation or a sprain to your hand.
5. Automatic Processes
With most retractable leashes, you do not have to do things manually. They have automatic braking systems that can be operated by one hand, and they can adjust the length of the leash automatically. In some cases, the leash can even be programmed to halt your pooch after short intervals.
6. Aids In Dog Training
These leashes are behavioral change tools that train your dog to walk with discipline. After a while of using retractable leashes, your pooch will not stray when out for a walk with you, and she will also keep her cool around strangers and bystanders, not to mention other dogs. Ultimately, you will end up with a better behaved dog that can enjoy a walk without running wild in public.
How A Retractable Leash Works 
The leash works by keeping the dog at a safe distance from you but with enough control to gently correct her behavior. It works best when you use your intuition to correct your dog's behavior before it occurs.
For example, if your dog sees another dog approaching from the other side of the road and you know she will react, shortening the leash gives you better grip on her before she lunges onto the road to try to reach her furry pal on the opposite side of the street.
The technical aspect entails a spring mechanism and a lock system encased in a plastic housing. Most of the time that you encounter issues with a retractable leash, the problem could be dirt and debris caught up in the spring mechanism, preventing it from its normal motions.
It is a simple construction, but I do not recommend trying to repair a retractable leash because of the injuries you may sustain from the spring mechanism. Since some leashes come with a warranty, you can get a replacement from the company or just buy another one.
Risks Of Retractable Dog Leashes 
A retractable leash is not a dangerous tool as long as it is used correctly. It is not a restraint mechanism for your dog and neither is it meant to be a punishment tool.
Having said that, I understand some dog parents are not good candidates for retractable leashes. If you are too high handed or impatient with your pooch, you could injure your pet.
To keep your pooch is safe, make sure she is trained not to run off once the leash is on. Most injuries occur when the dog takes off at full speed, and you haven't locked the leash. This can cause tracheal injuries and even spinal related ones. 
Untrained dog owners using a retractable leash can have mishaps where the leash is too long, and the dog suddenly crosses the street leaving the owner on the opposite side. This poses a danger to the pooch, the owner, bystanders, and motorists.
It is important to first train your dog to be well-behaved and learn how to operate the leash before you begin using it in public. At least this way, you and your pooch are safe, and you keep others around you safe as well.
Remember, to safely use a retractable leash, never panic when operating the controls because you can easily lose control of your pooch and hurt her or someone else.
Even while using a retractable leash, continue giving your pooch familiar commands and cues for good behavior. That way, your dog will continue to respond to your cues as usual even if the leash malfunctions.
Important Tips When Using A Retractable Leash 
When using a retractable leash, there are a few rules of engagement that you must adhere to for the safety of all involved. Here is a comprehensive list:
Even with a retractable leash you must ensure your pooch is within your sight at all times. Having a retractable leash is not an excuse to become less vigilant about the antics of your dog, because she can easily entangle herself during a moment of excitement.
Never hold a retractable leash by the tape. Always keep your hand on the handle to control your pooch. Because of the tension in the tape, it becomes taut and can easily slice your fingers.
A retractable leash is not meant for use while you are mobile. If you are on a skateboard, bike, or in a car, it is not safe for you or your pooch to use the leash. These types of leashes are only for walking purposes.
To train your dog against behaviors like pulling and sharp head twists, you should use a no-pull dog harness and not a retractable leash. If you pull hard against a straining dog that is wearing a retractable leash, you can cause serious neck injuries to your pet. Retraction should be a gradual, smooth process. Most leashes offer smooth in-and-out retraction, and they are mostly automatic.
Always check the leash before using it on your golden retriever. Look for any type of damage to the leash from frayed or chewed tape to broken handles. A leash in poor condition can cause cuts to you and your dog, burn your pup's flesh where it rests against the skin, and even amputate parts in extreme cases.
Ensure your golden retriever leash is reflective when walking at night, because bystanders may not notice the leash otherwise. This is especially true if they are moving at high speeds (like on a bicycle), and the leash has no reflectivity or lighting.
When using a dual retractable leash, ensure each leash is color coded to assist you in keeping tabs on each dog. This helps you with entanglement and knowing exactly what each dog is up to. You can also walk the two dogs side by side and let the color coding correspond to specific buttons that help with braking and smooth retraction.
A tape leash works for bigger, muscular dogs, and cord leashes are better for smaller breeds. Also, consider rubberized handles that give you excellent grip to help reduce the strain on your hand, especially if you have afflictions like arthritis.
Conclusion
My bet is that your doubts about having a retractable dog leash are now gone, not just because of the benefits discussed earlier, but also due to the fact that it's not dangerous, provided you use it properly
With that out of the way, the five options in this review would be a great place to start. The Flexi Comfort Retractable Tape Dog Leash takes the crown as the best among the five, mostly because of the versatility in lengths, comfortable handles and tape, visibility (thanks to the LED lights) and overall better functionality.
Feel free to give the rest a try as well, because they are just as good in several other ways like being pocket-friendly or relatively lighter. In fact, let your needs and the factors I mentioned earlier guide you in making your final selection.
Let this be the start to happier walks with your furry friend!