Updated: October 14th, 2022
This article contains affiliate links. Read the full disclosure here.

Heating pads keep your dog warm and cozy during the colder months. Dog heating pads come in a variety of different sizes, styles, and features. Cooler weather is known to worsen painful ailments in senior dogs. Indoor orthopedic pads can be used as a form of heat therapy to treat and soothe stiff joints, muscle pain, and arthritis. An outdoor heater pad is more resilient while adding warmth and comfort to doghouses, barns, or garages. There are so many different options to fit your dog and his crate or bed. In this buyer's guide, we discuss the many benefits of purchasing a heated dog pad and share our top five
AT A GLANCE:
Our 5 Best Heating Pads for Dogs
What are Heating Pads?
Heating pads are mats that are warmed up using electricity, microwave, or utilizing body heat. These heated pads treat tired, stiff, and painful muscles or joints. They can also be placed within the home or outdoors to keep your dog warm in cold conditions. During rehabilitation, a warming pad is used to soothe injuries and speed up recovery for post-operative surgery. They come in an array of different sizes and materials to add comfort and warmth to your dog's resting space.
An Overview of the Best Dog Heating Pads:
IMAGE
PRODUCT

Water resistant PVC exterior
Outdoor use
Removable fleece cover

VIEW LATEST PRICE →

Self-warming
Lightweight
Insulating polyester fiber

VIEW LATEST PRICE →

Microfleece
Non-slip bottom
Self-warming

VIEW LATEST PRICE →

ABS Plastic
Low wattage
Internal thermostat

VIEW LATEST PRICE →

Built-in sensor & thermostat
MET Listed
Temperature adjustable

VIEW LATEST PRICE →
The Benefits of Purchasing a Dog Heated Pad:
Purchasing a heating pad is a great way to add comfort and warmth to your dog's space. Warming pads are used for heat therapy to treat older dogs who suffer from joint pain, stiffness, arthritis, or illness. Heat therapy increases blood circulation, reduces inflammation, and promotes relaxation. Using a warm pad can improve the mobility of stiff ligaments and tendons caused by running injuries. An orthopedic option can reduce muscle spasms and alleviate pain by releasing endorphins, a natural pain blocker. These heating pads have an extra comfortable exterior layer and support for dogs who have undergone surgery or rehabilitation.
During the first 2-3 weeks, young puppies are not able to regulate their body heat. A self-heating pad with an inner thermal cover will keep the whelping box warm and snug for your pups. Warming pads come in many different sizes and material options to fit your doghouse, crate, or dog bed. A larger heating pad will be beneficial for tall dog breeds like Whippets that have a single coat. Shorter bulkier dogs like beagles that have undercoats would benefit from self-warming pad options. Heating pads have different materials for indoor or outdoor use. Outdoor warming pads are made from more durable materials like PVC exteriors to withstand rain or snow without any dampness or moisture. Indoor options have plush or fleece covers for extra comfort. All dogs can enjoy the many benefits of a heated pad.
What are Dog Heating Pads Best Suited For:
Soothing painful muscle or joints

Post-operative recovery

Whelping

Cold weather
Top 5 Best Heating Pads for Dogs: Reviews
Let's take a closer look at our top 5 dog heating pad options from Chewy.com
In no particular order: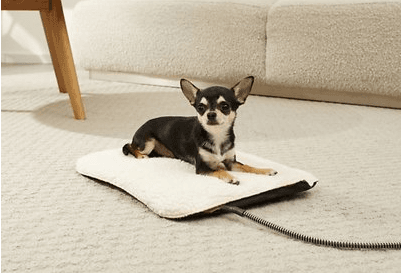 The Lectro-Soft is the first outdoor, soft heated pad on the market. This heating pad requires low wattage perfect for outdoor barns, sheds, doghouses, porches, basements, and garages. This unique outdoor, orthopedic heated pad will keep your furry friend comfortable and warm in cold conditions. The inner orthopedic foam is covered in an ultra-soft PVC to prevent water absorption during wet conditions. This heated pad is for outdoor or indoor use for puppies or adults weighing up to 80 pounds.
Pros:
Available in different sizes

Adult or puppy

Water-resistant PVC exterior

Outdoor use

Thermostatically controlled

5.5-foot steel-wrapped cord MET listed for safety

The removable and washable fleece cover
Cons:
Temperature not adjustable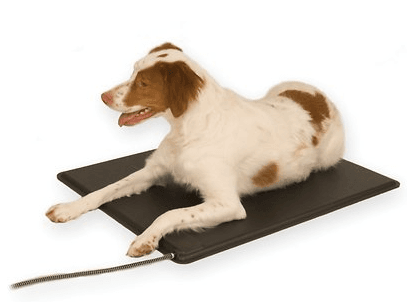 K&H Lectro-Kennels have been used for more than 40 years by veterinarians, breeders, and pet owners. This sleek and soft heated pad is made from rugged ABS plastic with a safe steel wrapped cord. The Lectro-Kennel pad will keep your dog warm while lying flat inside a doghouse or attached to a wall for indoor or outdoor use. Perfect for adults or puppies weighing up to 80 pounds.
Pros:
Available in different sizes

For Adult or puppies

Internal thermostat

Indoor and outdoor usage

Can be attached to a wall or flat on surfaces

Easy to clean removable fleece cover

Low wattage

 5.5-foot steel-wrapped cord
Cons:
Temperature can't be adjusted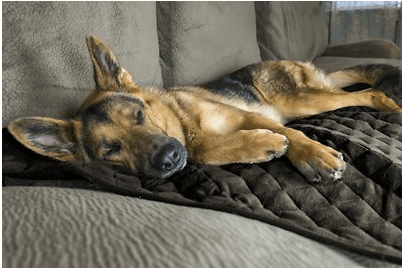 The ThermaNAP Plush Velvet Self-Warming will keep your dog warm and cozy without the use of electricity. Uniquely made with a special reflective layer of material enclosed with an insulating polyester fiber to trap in your furry friend's body heat and reflect it back. The plush velvet exterior is soft, comfortable, and gentle to the touch. This mat is perfect for travel and is machine washable for easy cleaning. Keeping your pet warm and comfortable on-the-go.
Pros:
Self-warming

Lightweight

Soft plush exterior

Available in different sizes and colours
Cons:
Not chew resistant

Can't be used for puppies

Only for indoor use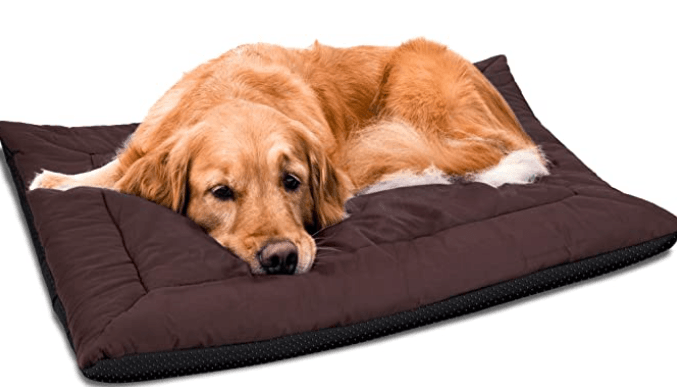 The Paws & Pals Self-Warming Dog Crate Mat will keep your dog warm during colder nights without the usage of electricity. This self-warming mat captures your furry friend's body heat and reflects it back at him. An ultra-soft microfleece exterior perfect for snuggling and resting with a non-slip textured bottom to prevent slipping. This mat fits most crates and carriers perfect for using on-the-go or in the comfort of your home.
Pros:
Self-Warming utilizing your pet's body heat

Ultra-soft Microfleece

No parabens, harsh dyes, or chemical treatments

Non-slip textured bottom
Cons:
Thin backing

Not chew resistant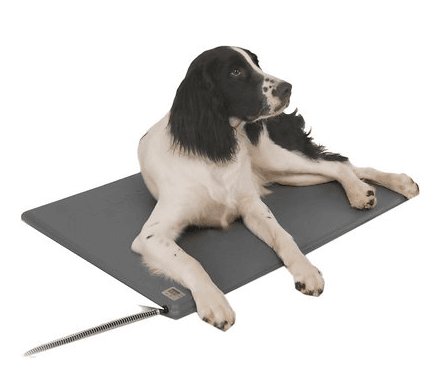 This Deluxe Kennel Heated Pad has the perfect temperature control for post-operative care, whelping puppies, or senior dogs. The heating pad is built with an internal sensor and thermostat allowing easy temperature adjustments. This deluxe pad is MET listed and has a unique push-button design with a digital readout. Easy to clean with a removable machine washable fleece cover.
Pros:
Built-in sensor and thermostat

Temperature can be adjusted between 80°F – 100°F option to change into Celsius

Digital readout and push button design

Indoor or outdoors

Can be attached to wall

For Puppies, Adult or Senior dogs

Easy to clean with a damp cloth

Removable machine washable fleece cover

Economical, low wattage

5.5 foot steel-wrapped safety cord
Cons:
Can take up to 2 hours to heat up
Different Types of Heating Pads:
There is a wide range of warming pads available to help you find the perfect fit for your furry friend. Self- heating pads have an inner thermal layer that reflects heat keeping your pet warm. A lightweight option that is portable and great for traveling and keeping your dog warm on-the-go. Dogs that suffer from muscular aches, joint or skeletal problems can benefit from an orthopedic heating pad. Orthopedic pads come with an extra outer layer to cushion painful joints. Heating pads come in different sizes to fit the size of your dog best. Dogs that will spend a lot of time in the doghouse or outdoors will need a pad made to withstand the harsh elements. Outdoor heating options have a special PVC water-resistant exterior to prevent dampness and moisture. A wide range of outdoor pads is available without compromising the size, style, comfort, or durability. Indoor heating pads have many plush or luxe options. These covers are removable for easy cleaning. Heating pads are available in small, medium, or large sizes to fit comfortably in your dog's bed or crate, doghouse, or floor space inside the home. 
Dog Heating Pad Buying Guide:
Now that you have a better idea about how your dog can benefit from using a heating pad. It can be overwhelming to decide which one would suit your dog best. We have highlighted factors to consider when purchasing the perfect heated pad for your furry friend.
Size:

Finding the right size is vital for your dog to enjoy the full benefits. Heating pads are available in different sizes for small, medium, large, and giant breeds. Make sure you know the measurements before purchasing one online.

Material:

The choice of material will depend entirely on the usage. For outdoor use, it would be best to find a heating pad that has a water-resistant exterior. Dog heating pads come in many different material options. Orthopedic foam is perfect for seniors and dogs suffering from joint or muscular discomfort, made to conform to your pet's contours with added comfort. Fleece or plush covers are a great option for added warmth and comfort.

Self-warming / Electrical:

Self-warming pads are portable and great for traveling. These pads come in many different size options and utilize your dog's natural heat to stay warm. Heating pads that are heatable using a microwave or plugin are best suited for colder conditions and heat therapy. They are also great for an outdoor doghouse, barns, garages, or basements. 

Temperature control:

Most

electrical heating pads

come with this feature. Adjusting the temperature of the heating pad is an important safety feature to prevent overheating. Older dogs who are not very mobile spend long periods on the heating pad. Pregnant dogs will also need temperature monitored regularly.
Safety feature:

Cordless pads are better suited for very playful dogs that could get tangled up in cords or those that tend to chew. There are many chew friendly cord options available to keep your furry friend safe coated in steel. A chew resistant pad is best for chewy dogs and puppies.

Easy to clean:

A heating pad with a removable, machine washable cover is a good option for easy cleaning. PVC exteriors prevent moisture from seeping in when used outdoors. Most heating pad covers are removable and are machine washable.
Final Thoughts on Heating Pads for your Dog
The best dog heating pad that you purchase will depend largely on the size and space requirements. Heating pads for adult dogs have different features in comparison to puppies. No matter which pad you decide is best for your furry friend, rest assured that he will be warm, cozy, and comfortable.