Updated: October 14th, 2022
This article contains affiliate links. Read the full disclosure here.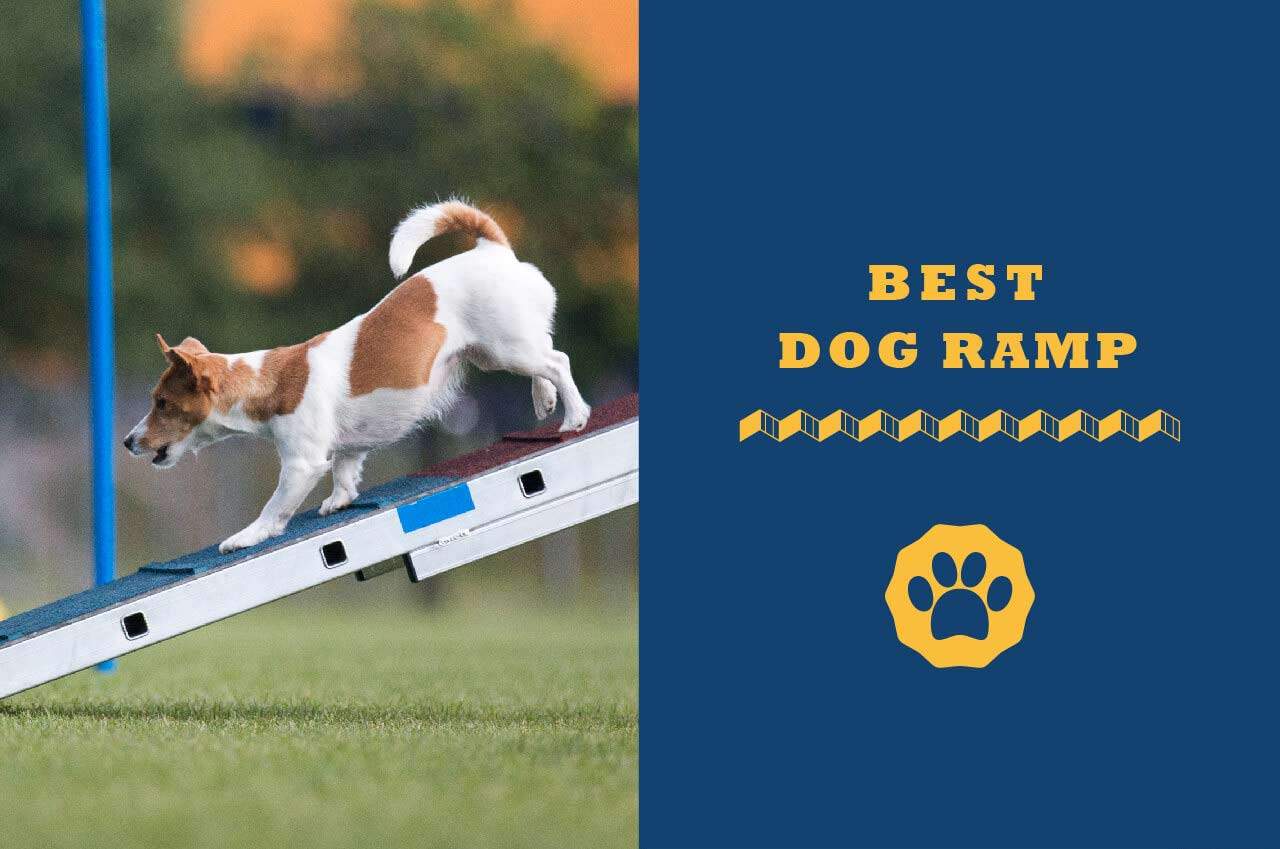 No matter how incredibly agile your dog looks, at some point in their life they will need extra help to climb up on or down from your car, bed, sofa, or any other raised object. If your pooch has mobility issues or is recovering from a recent injury or surgery, the best dog ramp can make their life so much easier!
I remember how much trouble my pup had moving around the house when he was diagnosed with arthritis. As a dog who was used to snuggling next to me on the sofa, he was deeply affected by his inability to jump up and curl next to me.
Even if your dog doesn't have a medical condition, you may simply want to see them move safely to and from one place to another. But if you have a pregnant or elderly dog dealing with health problems such as joint issues, jumping on the sofa or into the back seat of your car may seem like an impossible feat.
Since I couldn't allow my pooch to spend the rest of his days sleeping on the carpet, I've decided to research dog ramps and see if they are worth it. In this article, I'll take a closer look at dog ramps, review the best models available on the market, and tell you what to look for. Continue reading to find out more!
AT A GLANCE:
Our 5 Best Dog Ramps
An Overview Of The Best Dog Ramps
| IMAGE | PRODUCT | |
| --- | --- | --- |
| | | VIEW LATEST PRICE → |
| | Steeper elevations such as trucks | VIEW LATEST PRICE → |
| | | VIEW LATEST PRICE → |
| | | VIEW LATEST PRICE → |
| | | VIEW LATEST PRICE → |
Dog pregnancy, mobility issues and joint pain, old age, or the tiny stature of your dog are just a few among many reasons you may want to know more about a dog ramp and how it could be of help to your dog.
As an assistive device, a dog ramp helps to minimize the amount of work your dog has to do in order to go up or down elevated positions.
What's even better is that there are many options for you to choose from, based on the individual needs of your dog.
Whether you are looking for a dog ramp for a car or a device that will assist senior dogs, I was able to round up five great dog ramps that you may want to give a try. Let's take a look, shall we?
Top 5 Best Dog Car Ramps: Reviews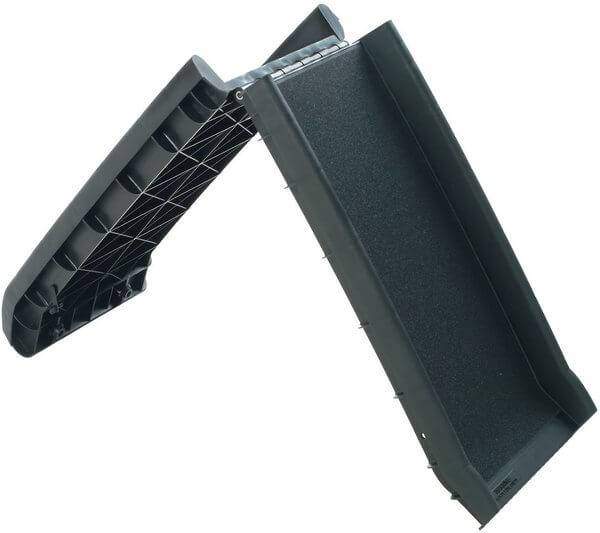 The need to make your dog more comfortable when climbing into and descending from your SUV is what inspired the creation of the PetSafe Foldable Dog Car Ramp.
Made out of durable plastic, this folding dog ramp is both easy to carry and set up. Also, there are indentations beneath the ramp that add to its portability.
Storage has been made easier thanks to the fact that the ramp folds into two and comes with a safety release latch that prevents any accidental openings once locked.
Despite weighing only 10 pounds, the ramp can hold weights of up to 150 pounds. This means it is perfect for both small dogs and extra-large dogs as well.
To ensure better traction, the ramp's walking surface has been textured, meaning your golden retriever will be safe when going up or coming down the ramp. Besides the high traction surface, this ramp also has side rails that prevent slipping and falling while going up and down.
What I also love about this ramp is the fact that even though it is lightweight, the strength and durability of the design haven't been compromised.
With a few additional simple-to-use accessories, this ramp can also be modified for use on side doors. Being 62 inches long makes this assistance device a good choice whether you drive a car, minivan, or an SUV and need some help getting your pooch on board for the adventure.
Your pup is likely to appreciate it, too, especially if they are pregnant, senior, or recovering from an injury.
Pros:
Portable and lightweight, but at the same time durable and made to last
Folds up for easy storage and won't take up much space
High-traction surface and side rails prevent slipping and falling, thus ensuring your dog's safety
Compatible with cars, minivans, and SUVs
Cons:
A few customers reported that this ramp was too steep for their cars and that their dogs couldn't use it. So measure your car's elevation and length of the ramp and check the resulting incline.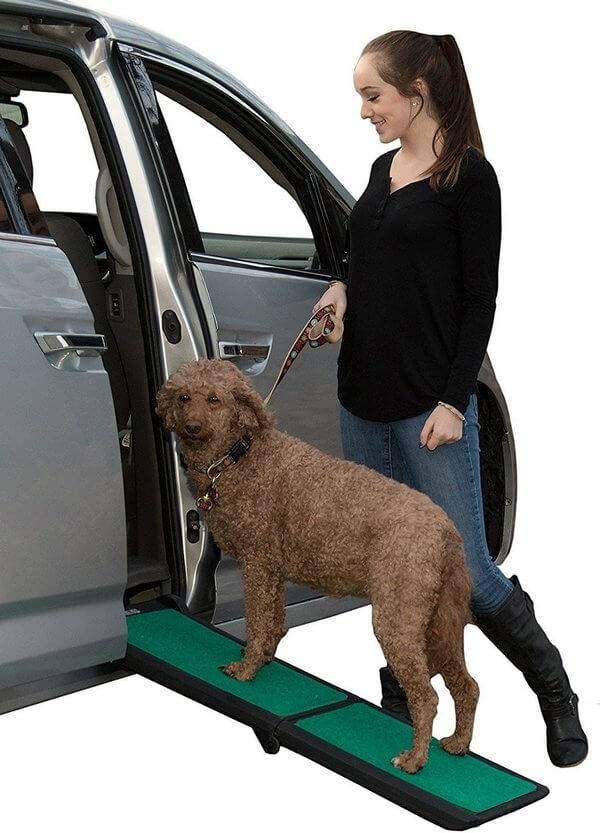 Pet Gear Travel Lite with SupertraX has been crafted to address your traction and stability concerns. Not only is the walking surface textured, it is also pressure-activated.
What that means is that when your pet puts their weight on the SupertraX tread, their paws will have greater surface area contact for superior traction. Cleaning the tread mat is very easy because it is removable.
The ramp's stability is ensured by non-slip rubberized grippers and a safety tether that attaches it to the back of most vehicles, thus providing even more stability.
If your car is cluttered and finding storage space is a challenge, you will be happy to know that this bi-fold ramp is very slim, thus requiring little storage space.
Carrying and handling are also quite comfortable, thanks to the built-in carry handle and the fact that it weighs only seven pounds. As for how much weight it can handle, the maximum is 200 pounds.
Also, the side of the ramp is slightly raised to stop your dog's paws from slipping over the edges. This ramp measures 42 x 16 inches when unfolded, and its rubber feet prevent it from slipping while it's being used and attached to your car.
Pros:
Rubberized feet prevent slipping and ensure that the ramp is safe and stable while your dog is using it
Bi-fold design makes it easy to fold, carry, and store
Has a weight limit of 200 pounds, making it suitable for both small and large dogs
Pressure-active textured surface provides extra grip and sure footing for dogs recovering from injuries or those who are taking joint supplements
Cons:
This ramp is too short to be used for an SUV, so you should look at other models if you have a truck or a sport utility vehicle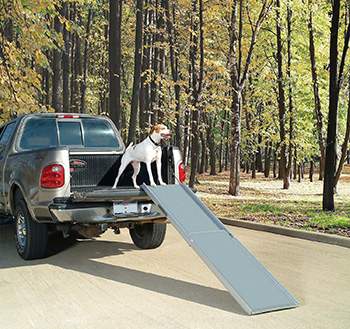 Although most ramps will be adequate for SUVs or minivans, higher vehicles such as the back of a pickup truck pose a steeper challenge for most pups.
PetSafe Happy Ride Telescoping Dog Car Ramp is the ideal ramp for steeper and higher elevated inclines of an SUV or a truck. What makes it work so great is the fact that it is constructed to provide more walking space.
Being large means it's able to provide a gentler climbing angle for your pooch, despite the height of your truck or SUV.
If your pooch has joint issues, this ramp will make their life and yours so much easier. You will love the fact the walking surface has good traction for sure footing.
The ramp is constructed with a combination of both durable plastic and aluminum, which explains why it weighs 18 pounds. Although that may sound slightly heavy, this heavy-duty dog ramp can hold up to 300 pounds with ease.
On top of that, the ramp is compact, stiff, and won't bend even if it's used regularly by a large breed dog or an overweight pooch. And while it is heavier than the other dog ramps for SUVs, the telescoping design makes this model more compact and easy to store.
Pros: 
Sturdy and heavy-duty aluminum construction makes this ramp suitable for dogs weighing up to 300 pounds
The telescoping design makes it easier to use and store
Has a high-traction surface that ensures sure footing and stability, especially on a steeper incline
Suitable for higher vehicles including trucks and SUVs
Cons:
The traction surface creates sandpaper rubbing noise, which may deter some dogs from using the ramp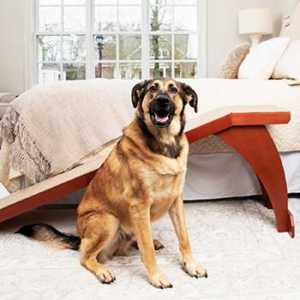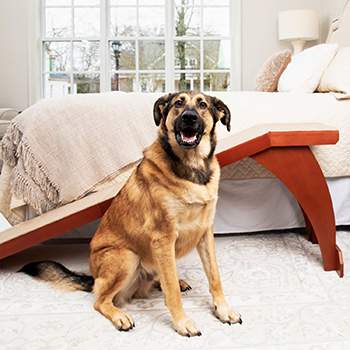 More often than not, your dog's favorite spots in the house may become increasingly harder for them to reach. This could be because of aging, pregnancy, or an injury.
Most pet parents are finding PetSafe CozyUp Wooden Dog Ramp helpful in many ways. First, it is made from wood and painted with a rich cherry finish, which adds to or complements the furniture in most bedrooms.
The walking surface of the incline provides sure footing for your pooch because it is made from a ribbed carpet with plenty of traction.
Next, the design is a little different due to the addition of a generous landing area, making it easier for your pooch to get up and down from a bed with ease. In fact, if your furry pal is not a big fan of bedside stairs, then the PetSafe CozyUp Wooden Dog Ramp might just work for them.
This ramp has also been designed to provide a gentler slope that will give your dog easy access to all furniture. While this dog ramp features a durable design, it's still very convenient and won't take up too much space in your home.
This ramp can comfortably hold up to 120 pounds and is a great indoor solution for the doggy parent who needs a ramp that blends in with interior furniture.
Weighing 22 pounds, this wooden dog ramp is a bit heavier than most folding ramps, but you can still easily move it around inside your home.
Pros:
Features a stylish design that won't disrupt your home's interior décor
The sturdy wooden construction is durable and made to last
The heavy-duty carpet surface ensures sure footing and will prevent your dog from slipping from the ramp
Easy to clean and maintain using a damp cloth or furniture cleaner
Cons:
A few customers noted that they had to add rubber grip strips to the feet to prevent the ramp from sliding around the floor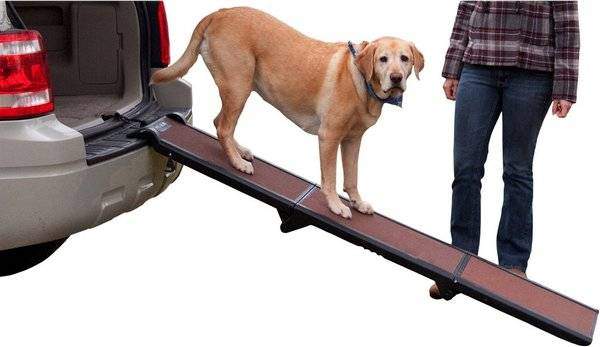 Pet Gear Full Length Tri-Fold Pet Ramp is slightly different from all other ramps I've looked at so far. The glaring difference is that it can uniquely fold three times for even easier storage.
When it comes to sturdiness, the ramp doesn't disappoint either. Thanks to the bottom rubber grippers, this ramp won't slide or wobble while your dog is using it.
The ramp features a slip-resistant walking surface that provides good traction and will prevent your dog from sliding or falling from it. This dog ramp for the car has a maximum weight limit of 200 pounds when installed properly.
Bear in mind, there is always the chance that the ramp has not been properly placed against the car, which can lead to injury. To avoid any accidents, use a tether to fasten the ramp to your SUV or truck, thus ensuring additional safety and preventing the ramp from being dislodged.
Handling the ramp is pretty easy as it can be carried around using the provided handles. You can also be sure of easy folding for storage and smooth unfolding for use.
Thanks to the slightly raised edges, the chances of slipping off the ramp are significantly lower. However, to ensure your dog's safety, never leave the ramp unattended and make sure you are there to supervise your pooch while they are using the ramp.
Pros:
Tri-fold designed for easier space-saving storage
Features a slip-resistant surface that makes getting in and out of the car so much easier and safer for dogs
The rubber grippers on the bottom keep the ramp in place and prevent sliding and wobbling
Durable but lightweight construction weighs only 15 pounds
Cons:
Several owners reported that their dogs didn't like the sandpaper feel of the walking surface and refused to use the ramp
What To Look For When Buying A Dog Ramp
Whether you are looking to buy a dog ramp or a pet stair, there are certain things you should do first to find the best assistive device for your pooch.
The first thing you should do is get the measurements. Measure the height of your car, bed, sofa, or other object you want your pet to reach. Also, gather all the key information about any mobility issues your dog could be facing.
Once you've done that, now go ahead and pick a ramp for your dog based on the following factors:
Purpose Of The Ramp
Ramps come in different forms based on what you intend to use them for. Some are designed for home furniture such as sofas, beds, etc. You will also see those made as stairs or ramps for dogs to get into cars. So, always ensure the ramp you buy will address your individual needs and those of your dog too.
Materials
At the moment, you are more likely to come across plastic, metallic, or wooden ramps, probably because they are the most preferred by pet parents due to their durability and strength.
PVC, for instance, is durable, waterproof, easy to clean, and bacteria-proof, but obviously less solid than, say, metal ramps. This means PVC would work better for smaller dogs, while metal would be ideal for the heavier hounds.
Wood, on the other hand, is light and generally used only for indoor ramps.
Telescopic, Fixed, Or Folding
Even though a bit more expensive, telescopic ramps are easier to use straight out of the box. You only have to disengage the safety locks, pull out one half of the ramp, attach it to your vehicle, and let your dog use it.
Folding ramps are quite different as they take a relatively smaller space when packed, yet when unfolded they can reach a greater length. Like telescopic ramps, they are also exceptionally versatile and you can carry them wherever you need them.
Fixed ramps, on the other hand, are ideal for low-height furniture such as beds, chairs, and sofas. Since they can't be folded, fixed ramps may take up too much space, especially if you live in tight quarters. However, if you have plenty of space to spare, go ahead and purchase a fixed ramp to give your pup free access to all furniture.
Traction
Traction is one of the most important considerations you will have to make when purchasing a ramp for your dog. For safety reasons, you should look at dog ramps that provide solid, firm, and extra-wide walking surfaces that have texture and slip-resistant properties. Keep in mind, your dog must feel safe in order to use the ramp, so choose a model that has a texture that allows for a firmer grip.
Weight Of The Ramp
Portability, no doubt, matters a lot, especially if you plan to move the ramp around your home or take your pup on frequent car rides. However, the weight of the ramp is equally important as it offers greater stability. So make sure there's a great balance between the two.
Lightweight ramps, for example, might be easier to store and carry around; however, they are usually made from flimsier materials and may not last very long. On the other hand, a heavy ramp might not be very portable, but it's sturdy, strong, and durable, which means it will be more stable and safer for your dog to use.
Interestingly, some people opt to make a ramp on their own, like in the video below, but as you will realize later, professionally made ramps are more versatile and cleverly designed for multiple purposes.
FAQs About Dog Ramps
Are Stairs Or A Ramp Better For Dogs?
Whether pet stairs or a dog ramp is better for your dog will depend on their overall health and mobility issues. Pet stairs are a good option for dogs that are agile enough to use standard household stairs without problems. Dog stairs are also very portable and take up less space than dog ramps, which makes them more convenient for small homes and owners who lack space.
A dog ramp, on the other hand, is a better choice if you have an older dog with mobility problems or a pooch that is recovering from an injury. Most dog ramps have gentle inclines that are much easier for walking and put less pressure on joints and bones than pet stairs.
Are Ramps Bad For Dogs?
Even if your dog is completely healthy, using a dog ramp can't be a bad thing. Dog ramps are designed to minimize the adverse effects that jumping can have on your dog's bones and joints. Whether young or old, big or small, every dog can benefit from dog ramps and gain better access to furniture in your home.
What Angle Should A Dog Ramp Be?
Ideally, the ramp should have an incline of between 18 and 25 degrees. Small dog breeds should use ramps with an incline angle of between 18 and 20 degrees. Medium and large-sized dogs, however, should use ramps that have an incline angle between 22 and 25 degrees.
While these angles might seem too steep from a human perspective, don't forget that your pooch walks on four legs and has a lower center of gravity than you do.
Conclusion
My assumption is that you've probably already identified a reason or two why your dog needs the best dog ramp. If not, take this opportunity to express your love and kindness to your pet by getting them something that can make their life more comfortable.
Evidently, there are so many brands out there making these ramps, but as always, not all are made equally and not all of them will be great for your dog's individual needs. However, with my list of the best dog ramps, I'm sure it will be easier for you to pinpoint which ramp would be best for you and your pup.
Don't hesitate to place your order today, because everyone wants great ramps but sometimes there are not enough for everyone.