Updated: October 14th, 2022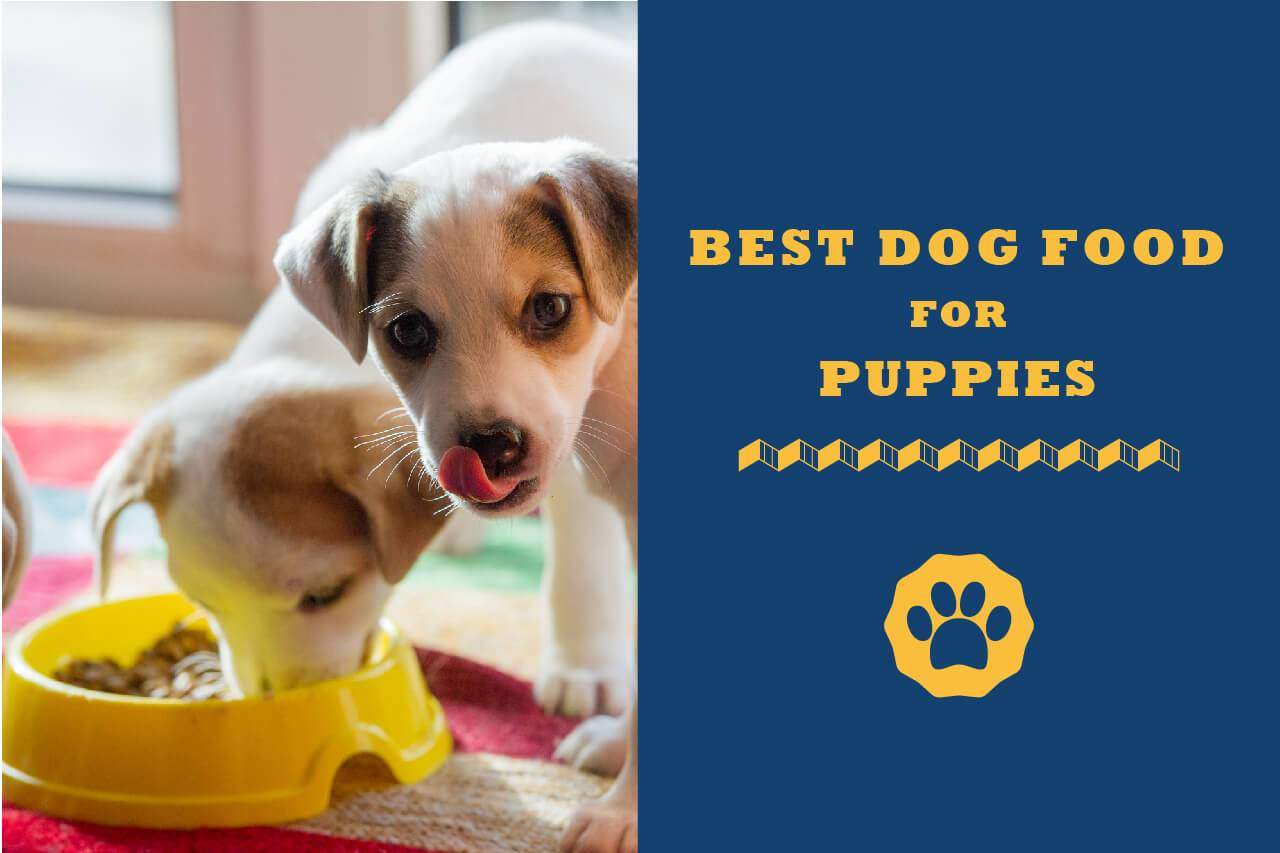 So, you've got a new Golden Retriever puppy! I bet you have really great plans for her…from where she'll hang out, how you'd like her trained, and which leash she'll use to the crate you'd love her to spend her day or night in, toys to play with, you name it. Anything for your little canine queen, right? Don't forget that she also needs the best dog food for puppies in order to thrive.
AT A GLANCE:
Our 5 Best Dog Food For Puppies
Overview of 5 Best Dog Food For Puppies
IMAGE
PRODUCT

Grain free
Made with novelty meats
Meat meal provides extra protein

VIEW LATEST PRICE →

BEST FOR DIGESTIVE HEALTH

A chicken and rice formula
Contains docosahexaenoic acid (DHA)
Rich in antioxidants

VIEW LATEST PRICE →

Grain free
Wet food
Rich in essential nutrients like omega-3 and -6 fatty acids, DHA, and B12 supplement

VIEW LATEST PRICE →

Pate formula
Made with chicken and salmon as top ingredients
Rich in essential nutrients like omega fatty acids, phosphorus, and calcium

VIEW LATEST PRICE →

All-natural ingredients
Large kibble
Made with high quality meat proteins like lamb

VIEW LATEST PRICE →
You can't afford a horrible mistake like feeding her adult or senior dog food, because you'll make her life difficult, or worse, cut it short. At this stage, she has special needs like extra calories; essential nutrients that will strengthen her muscles, bones, and joints; food that will be friendly to her stomach; etc. 
Diets specifically for puppies come equipped to fulfill these needs, but your biggest challenge will be telling which one is really right for her considering things like her activity level, age, and diseases she's prone to, among other factors.
Don't worry though! I did the research, and to start you off, here's a look at the unique selection of foods I narrowed it down to: 
Best Dog Food For Puppies – Reviews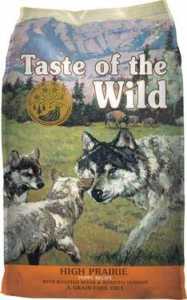 The roasted bison meat used in this formula is not only tasty but also works well for dogs that have shown an allergic reaction to chicken, pork, or lamb. Plus, expect meat meals from beef and buffalo, which have the high concentration of proteins needed to build your young dog's muscles.
Key Features
Grain free

Made with novelty meats

Meat meal provides extra protein

Contains K9 strain probiotic
I love that they have included essential nutrients like antioxidants which can prevent future chronic diseases like cancer. 
By including veggies and fruits, the food expands the palate of your pup, so she can enjoy garden veggies with ease.
Pros:
Easy-to-chew formula with small kibble

No artificial preservatives in the all natural ingredients

Contains probiotics to help promote your pups intestinal health and immune system
Cons:
Expensive compared to other similar offerings
Keeping it grain free means the food is packed with more important ingredients like protein and chelated minerals. Also, it is one of the best tasting puppy foods that's going to effortlessly meet the nutritional requirements of your little canine friend.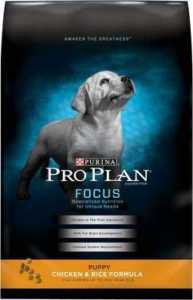 Here's a diet that's going to help your pup with her intestinal health by providing prebiotic fiber. Even dogs with sensitive stomachs will benefit from this highly palatable formula that provides for all the necessary nutritional needs.
Key Features
A chicken and rice formula

Contains docosahexaenoic acid (DHA)

Rich in antioxidants

Made with prebiotic fiber
Purina has built a reputation as a dog food manufacturer for quality, nutritious dog foods. Over the decades, they have taken their time to collect data and research that helps in ensuring that their products are reliable and safe for pooches worldwide.
Pros:
Excellent nutrients for cognitive development (including DHA)

Omega-6 fatty acids provide your pooch with a shiny coat and healthy skin (click here for more skin & coat supplements)

Made with real chicken for high quality protein

Prebiotics to promote gut health

Great option for dogs with sensitive stomachs
Cons:
Specifically made for small breeds 
Generally, Purina Pro Plan Focus Puppy Chicken & Rice Formula Dry Dog Food is an excellent option for puppies that suffer from a sensitive gastrointestinal system and also for finicky eaters.
Grilled chicken and turkey sounds delicious, and your dog will agree. The choice of animal protein is readily available and is highly palatable by most dogs, unless they have an allergic reaction to chicken.
Key Features
Grain free

Wet food

Rich in essential nutrients like omega-3 and -6 fatty acids, DHA, and B12 supplement
The deboned turkey makes up the primary protein ingredient. With this high quality protein, you can be assured your pooch is getting the best lean protein for muscle building and repair. It also contains DHA which is essential in pups as they develop cognitive abilities.
Pups on Blue Buffalo Wilderness Turkey & Chicken Grill Grain-Free Puppy Canned Dog Food have shiny coats and healthy pink skin underneath. The formula is balanced nutritionally, so you do not have to look for additional nutrients to complement any deficiencies in the food.
Pros:
Good formula for dogs that love the flavor of poultry

Contains B12 supplement which promotes excellent gut health 

Flaxseed helps boost your dog's immune system

Contains no meat byproducts, fillers, or artificial additives
Cons:
Some dog parents were concerned about the quantity of fat in the gravy compared to the amount of meat
Despite the higher price tag, the quality of this food is exceptional with very healthy ingredients necessary for a growing pup. It's among the best recommended puppy food for pet parents on a budget and looking for the best value. 
Wellness Complete Health Just for Puppy Canned Dog Food offers holistic nutrition to your pup, ensuring that she is not just getting the required protein but also other crucial nutrients for her growth process. The food caters to puppies over one year old.
Key Features
Pate formula

Made with chicken and salmon as top ingredients

Rich in essential nutrients like omega fatty acids, phosphorus, and calcium
Using sweet potatoes lends the food a sweetness that perfectly matches the savory flavor of the meat. Sweet potatoes are also an excellent source of beta carotene which helps to boost your dog's immune system. 
Other ingredients like omega fatty acids ensure she has the beautiful coat that all dogs owners love to see on their pets. It will last for 24-48 hours when refrigerated. 
Pros:
Comes with a guarantee from the parent company, Wellness

Can be eaten alone or as a topper for a dry food formula

Feeding guidelines eliminating any guesswork for parents

No byproducts from animals
 Cons:
Can become expensive to feed this food exclusively
Being made with quality ingredients and rich in essential nutrients, plus the presence of a gurantree, makes this formula a trusted product for the growth of an active, growing puppy.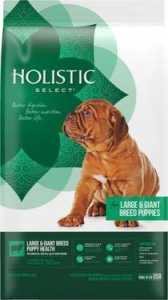 This food has unique support for your doggie's digestive system, which includes a healthy blend of prebiotics, natural fibers, digestive enzymes, probiotics, and botanicals. The formula caters to large and giant breed puppies and is made from all-natural ingredients.
Key Features
All-natural ingredients

Large kibble

Made with high quality meat proteins like lamb
Most dog parents appreciate the lack of artificial flavors, preservatives, and colors in this formula. At least they do not have to worry about allergic reactions from such additives affecting their pup.
I love the fact that this food comes with a select guarantee from the company, so dog parents have recourse if they encounter any issues with the product. This guarantee inspires confidence in consumers. Please note that the formula is made with pups over a year old in mind.
Pros:
Contains docosahexaenoic acid (DHA) to promote excellent cognitive development and health

Uses natural fiber to aid the digestive system process

Satisfaction guaranteed
Cons:
Not as readily available as customers need it to be
The fact that this formula doesn't contain any meat byproducts makes it a high-quality food for your puppy. Plus, lamb is a favorite with dogs, and it has fewer cases of allergies reported.
Your Puppy's Diet And Nutrition
In order to do right by your pup when it comes to food, it is important to understand three essential things that play a huge role in her diet: her breed, allergies, and weight.
Large breed pups are susceptible to diseases, like hip dysplasia, so their diet should take into account how to prevent the onset of such diseases. Small breeds can eat a wider variety of food, but there is the risk of obesity which can also bring on other unwanted diseases like diabetes. 
Allergies can begin to manifest in dogs as early as the pup stage. It's imperative that you quickly identify the allergies and what triggers them so that you can feed accordingly.
Always keep in mind that pups are not just small versions of adult dogs, they are growing dogs that are gradually meeting growth and developmental milestones.
The following rules provide a great guide:
Calorie Density
Your pup requires a calorie-dense meal. Calories are the gas that helps the doggie enjoy her daily activities like walks, playing in the park, and other energy-fueled actions. 
When approaching the calorie density of a pup's diet, it is best to equate it to the same number of calories you would give your adult dog and even more. 
Your adult pooch should consume 375kcal/per cup, but your pup will need to consume 445kcal/per cup. Half the calories that puppies consume are used up in growing tissues and developing vital organs.
Nutrients
Pups are in danger of nutritional deficiencies if they are fed a regular adult diet. They need higher levels of omega fatty acids, calcium, and phosphorous to ensure they have excellent bone and joint health. 
It is imperative to ensure that your pooch eats a diet with the correct balance of nutrients and vitamins. Too much or too little of these nutrients can result in developmental orthopedic diseases. 
Treats
Limiting treats is a sure way to prevent issues like diabetes and obesity. A treat should be a reward and not a way to feed your dog. Most dog parent use treats when they have a finicky eater, but instead of resorting to feeding her treats, try making a gruel by adding warm water to her food. 
Dipping your finger in her food and teaching her to lick it off you in the initial stages can also help her take to the food gradually.
Protein
High-quality proteins are crucial for your pup to build the necessary muscle on her body. Feed her between 45 and 55% protein daily to give her enough to build muscle. 
Carbohydrates
Your puppy doesn't really need too many carbohydrates, so stay away from foods with fillers like corn and wheat. Instead, opt for complex carbohydrates, like peas and chickpeas, which are crucial for energy without flooding her system with high sugar levels.
What Is The Best Dog Food For My Puppy? Wet, Dry, Or Raw? 
Overall, it is important to choose the brand of puppy food wisely by focusing on crucial information like the AAFCO label as well as clear descriptions of the ingredients used. 
Wet Food
When choosing wet food for your puppy, opt for a less processed wet food so that the ingredients still have the necessary nutrients intact. Canned foods can be better for a picky eater to ensure the pup is able to get the essential nutrients it needs for growth. 
Dry Food
Kibble helps with oral health and is easy to store, so make sure you choose bite sizes that your pup can easily eat. Look at the expiration date, though, because even kibble has a shelf life that expires, and it can then become dangerous for consumption.
Also look for dry dog food that has natural preservatives as opposed to artificial ones. Artificial preservatives can cause allergic reactions. Avoid kibble that contains fillers like corn and wheat. 
These are common allergens that can trigger food allergies in your pup. Read the label carefully to ascertain that these ingredients are not included. Also, make sure you can recognize the other ingredients on the label and avoid food that mentions vague ingredients like meat byproducts or natural flavors.
Raw Food
Raw food is becoming increasingly popular for puppies. You can consider a diet of raw meaty bones (RMB) or biologically appropriate raw food (BARF) which is made up of 60% raw meaty bones and 40% raw veggies, fruits, and legumes. Make sure the raw foods are high quality and provide the necessary nutrients.
Select lean protein parts of the carcass, like the thighs, and always make sure the meat is fresh. If you buy several cuts, refrigerate or freeze the remaining parts properly for storage. Puppies are more vulnerable to the pathogens in rancid meat.
When choosing raw food for your pup, do not opt for large bones in the carcass. Weight bearing bones are hard and can cause injury to the dog as she eats.
Make sure you choose a variety of meats to feed your pup to break the monotony of one type of meat. There are so many options ranging from lamb to fish, tripe, and organ meat.
How To Feed A Puppy 
Feeding a puppy is an intricate process that must always focus on her developmental milestones to help her become her healthiest.
One To Three Weeks
This period is crucial for the puppy to nurse properly. At this stage of her life, leaving her with her mother is the best way to feed her, because she can nurse on demand. The mother's milk contains vital antibodies that help boost her immunity and protect her from disease.
In cases where the mother is not able to nurse during this period, you can opt for bottles to help with the nursing process.
Four To Six Weeks
At this point, introducing puppy food is acceptable, although she still relies on her mother for milk. The process should be a gradual thing that takes place over the course of two to three weeks. Make sure the puppy food you choose has a high calorie count with excellent sources of protein and minerals.
Place the puppy food in a small bowl and add some milk to entice her. Reduce the amount of milk gradually until she can eat the food in its original form.
Adult Dog Food
Once you have weaned her off milk and she is steadily feeding on the puppy food, wait until she is a year old before introducing her to adult food. Once again, the introduction to new foods should be done over a two-week period by mixing small portions of the new food with the old one. 
How Often To Feed Your Puppy
Your pup needs to be fed three to four times a day. Puppies digest smaller meals better, and small meals keep her energy levels consistent without dipping when she is hungry and spiking when she is full. See the complete puppy feeding chart.
At six months, you can begin to feed her twice a day unless she is a large breed. In that case, I recommend sticking to frequent feeding times to avoid conditions like gastric dilatation volvulus. 
You can learn other interesting facts about puppies in the video below:
Other Important Factors To Consider
What is the best puppy food on the market? That's a question I run into often, and the best answer can only be arrived at after looking at these crucial factors: 
Activity Level
If your puppy is meant to be a service dog or compete in high-activity events, she needs to eat a diet that meets her high energy requirements. Consider a formula created specifically for athletic dogs. Such foods are usually nutrient rich with a good portion of high-quality protein. 
A household dog should be on a less dense diet to ensure she doesn't have weight issues. 
Ingredients For Growth
When choosing a puppy's food, ensure the food has high-quality protein as the primary ingredient. If the food is made from beef, make sure the beef is 95% of the food without the water. If the label of the food has words like "entrée", "dinner", and "platter", it will contain only about 25% of the meat advertised.
Illnesses
Illness can mean a complete overhaul of the type of food your pup eats. For example, dogs that have hip dysplasia need low carb, low calorie food to keep them at their ideal body weight in order to avoid exacerbating their joint conditions. 
In this case, look for foods developed by veterinarians to help the dog deal with the particular ailment afflicting her. Certain ingredients can help in the management of the illness. A good example is glucosamine which helps with bone and joint health.
Conclusion
I'm sure your ultimate goal for your pup is to see her stay healthy and happy all her life, right? All of us would love that for our furry friends, and guess what, it's possible if you start off by first getting her on the right diet. 
Also, learn as much as you can about her diet and nutritional requirements beyond the great points herein. Whichever food you decide to get her, whether wet, dry, or raw, is up to you. But don't forget to consider her age. 
From this selection, Taste of the Wild High Prairie Puppy Formula Grain-Free Dry Dog Food takes the crown and would be a great option to begin with. In addition to being grain free, it's made with novelty meats (reinforced with meat meals for added protein). It's also highly palatable and formulated to meet almost all the nutritional needs of your puppy. 
But if that one doesn't match her needs or yours (say, budget), don't worry. The rest of the products are also great and suited to different needs. Your role is just to figure out which one seems more appropriate for her. 
All the best as you start off on this fun journey!