Updated: October 16th, 2022
This article contains affiliate links. Read the full disclosure here.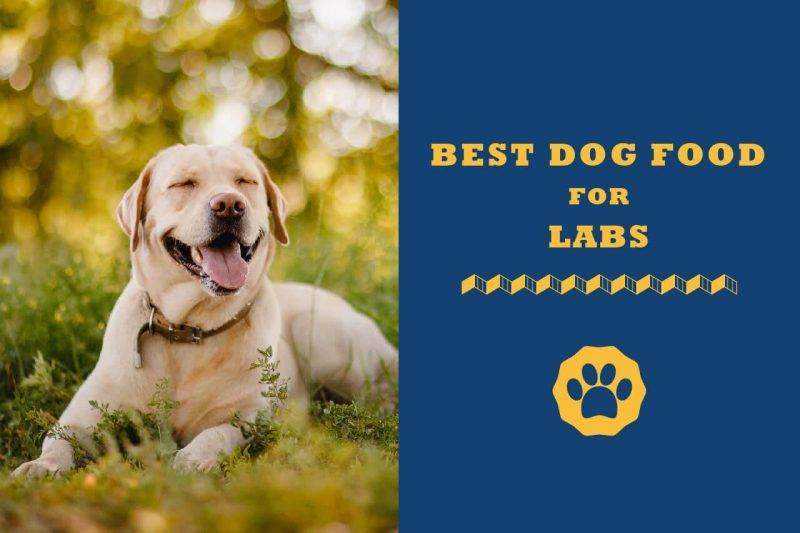 Your dog's well-being says a lot about you as their owner. None of us here would enjoy being looked at as a terrible pet parent, yet that's where you might find yourself if you fail to learn what the best dog food for labs is. It might sound dramatic, but it's true…If she has poor nutrition, your lab will look uncared for and unhealthy.
Labs are energetic, active, but prone to obesity, meaning any food that doesn't complement their attributes and special needs would be an unhealthy option for them. But the best foods for labrador retrievers have what it takes to keep these lovable pups healthy, happy, and at their best.
But even after you've found the best foods, that won't be the end of your troubles. Not every diet that seems good for labs, in general, is great for every dog in the breed (more about this later in the article).
With that knowledge in mind, I was able to narrow down my list to foods that meet the various needs of your lab and live up to their promise. Here they are:
AT A GLANCE:
Our 5 Best Dog Food For Labs
An Overview of the Best Dog Food For Labs
IMAGE
PRODUCT

Has great primary ingredients
Supporting ingredients are equally healthy and high in fiber
Has no soy, wheat, artificial colors, preservatives, or flavors

VIEW LATEST PRICE →

It has high protein content, great for muscle development
Contains EPA and DHA for healthy bones and joints
Features prebiotics that promote your pooch's gut health

VIEW LATEST PRICE →

BEST FOR SENSITIVE STOMACHS

Has several sources of high-quality protein
Includes nutrient-rich veggies such as kale, spinach, and broccoli
Contains salmon oil and flaxseed which provide omega-3 fatty acids

VIEW LATEST PRICE →

Has beef meal, which is more concentrated in proteins compared to beef in its usual form
Contains fish protein for omega-3 and lean muscle
Has no artificial preservatives, colors, or flavors

VIEW LATEST PRICE →

BEST FOR SENSITIVE STOMACHS

Excellent protein sources including lamb meal, chicken, and pork meal for muscle development
High fiber and energy content from barley make it more nutritious
Contains brewer's yeast, packed with minerals and protein for overall wellbeing

VIEW LATEST PRICE →
What Is The Best Dog Food For Labs? (+Reviews)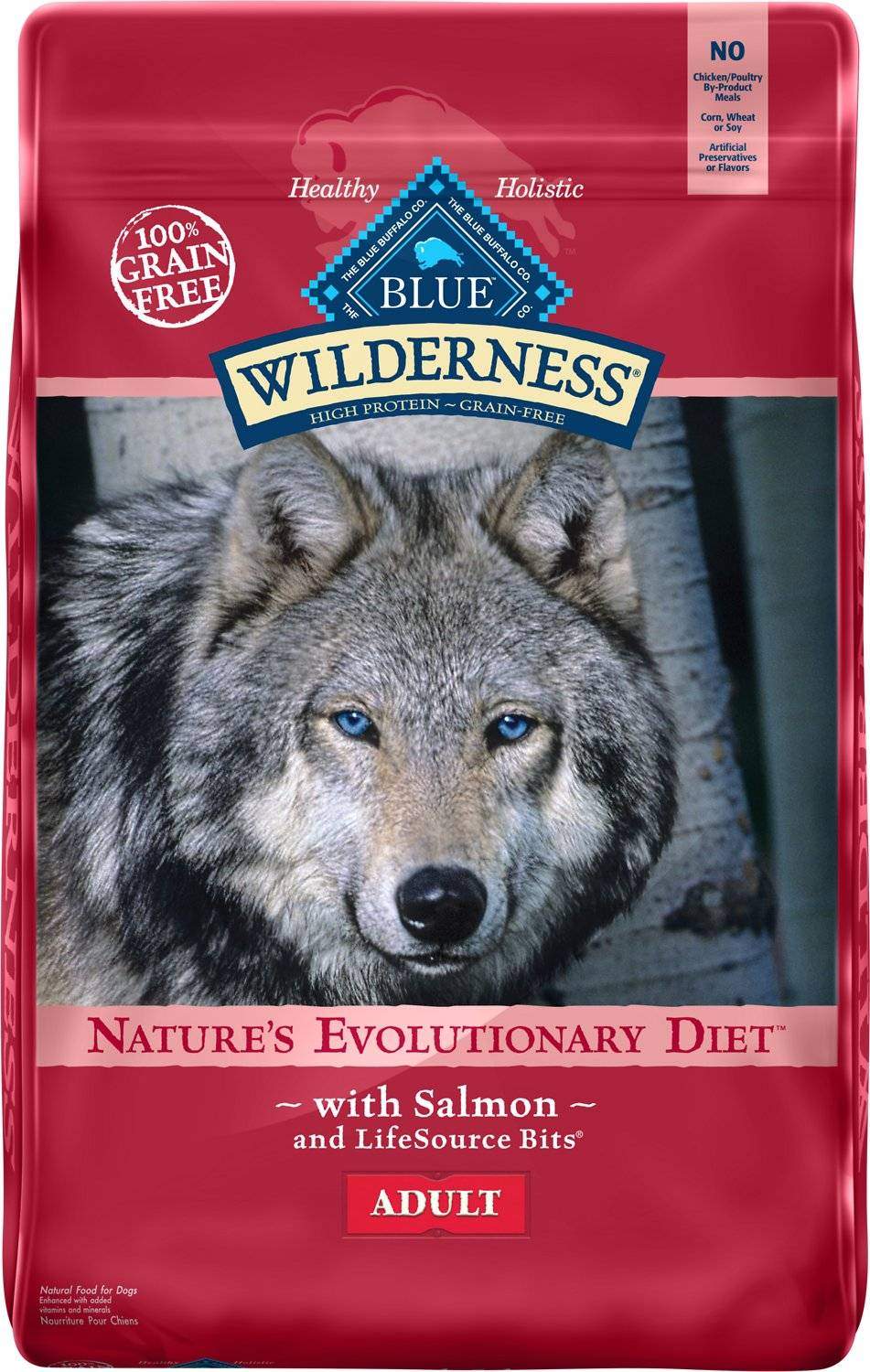 Click Here For Price
Does your lab love fish? If yes, then the Blue Buffalo Wilderness Salmon Recipe Grain-Free Dry Dog Food is the perfect meal for her. Not only is it tasty, it is also nutritious because each morsel is packed with nutritional content similar to that of their ancestral diet.
Key Features
Three lean protein sources
Rendered chicken fat for flavor
Cold-formed ingredients
Apart from featuring flavorful cold-formed bits, ranging from salmon to peas and potatoes, this formula is also infused with ingredients that your pooch's ancestors enjoyed in the wild. These include blueberries, sweet potatoes, and cranberries for a sweet kick and extra antioxidants.
It has several varieties of pea products in the recipe which make peas the most prevalent ingredient in this dog food, followed by the meats. For additional protein, they have included an alfalfa meal.
Pros:
Has great primary ingredients which are lean meats (salmon, chicken meal, and fish meal) , rich in quality proteins
Supporting ingredients are equally healthy and high in fiber (sweet potatoes and peas)
Has no soy, wheat, artificial colors, preservatives, or flavors, making it great for allergy-prone labs
Cons:
Relatively expensive compared to its close competitors like Diamond and Eagle Pack
The use of salmon gives this food a rich, fishy taste that is appealing to picky eaters. Also, it is a highly nutritious blend of meat and carbs, both of which are key in sustaining optimum health in labs. Add in the rest of the features, and you have the best overall product in this review.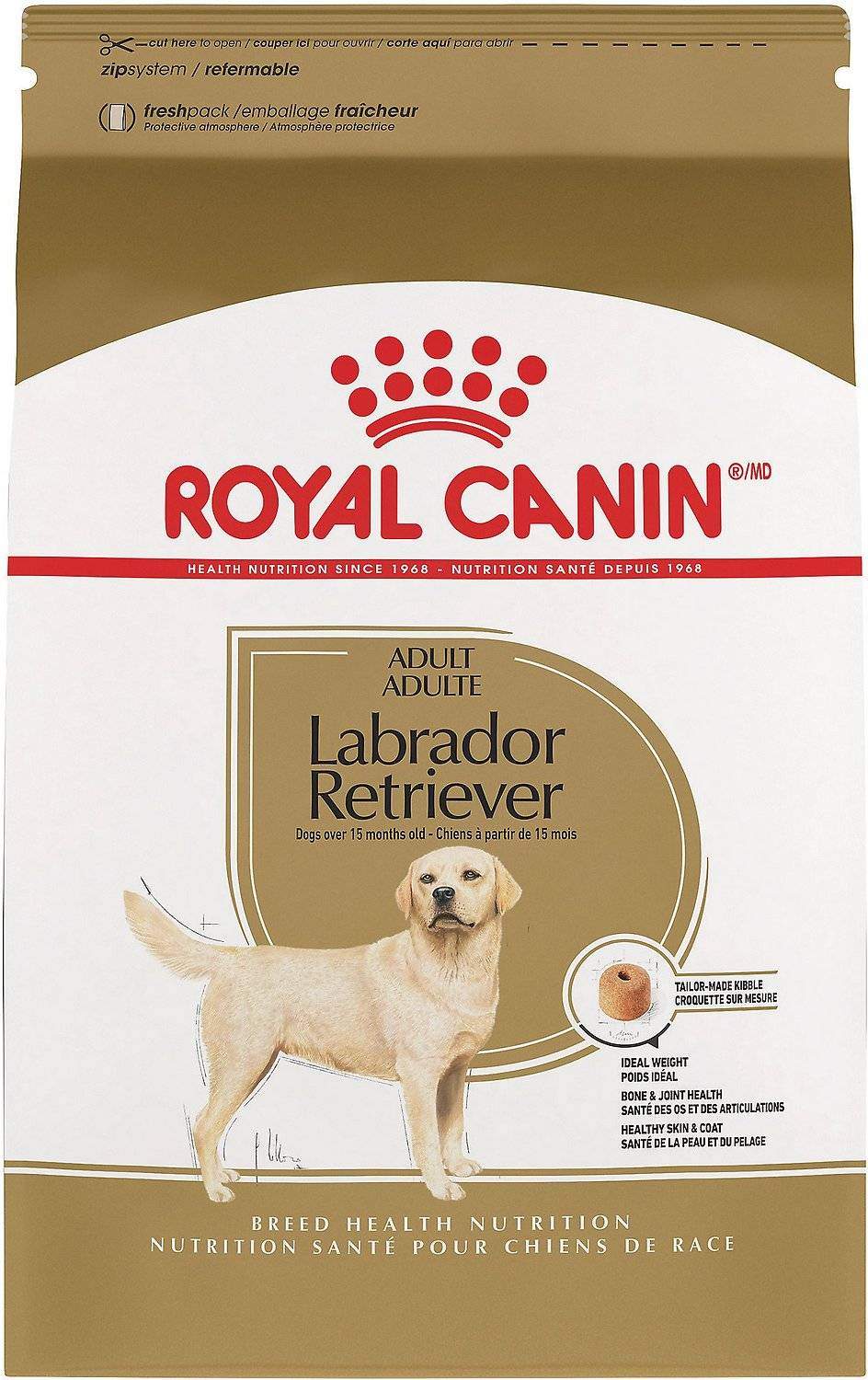 Click Here For Price
For labs that are struggling with weight loss, this is a great option that allows your pooch to still enjoy her meal while losing extra pounds. It is a breed-specific formula that helps labs to shed weight by giving them particular nutrients in measured quantities.
Key Features
Enriched with eicosapentaenoic acid (EPA) and docosahexaenoic acid (DHA)
Chicken byproduct meal provides protein
Doughnut-shaped kibble
Contains fructooligosaccharide (a prebiotic sweetener)
The protein content in this food is from chicken byproduct meal. The company has also used wheat gluten to boost the protein content since it has 80% protein and is cheaper.
Pros:
It has high protein content, great for muscle development
Contains EPA and DHA for healthy bones and joints
Features prebiotics that promotes your pooch's gut health
Has chelated minerals which attach to the protein for the best absorption rate
Cons:
Contains corn, a potential allergen
While this food contains some controversial products, the proof is in the pudding. Dogs love it, and it is healthy, well balanced, and works exceptionally for most labs with allergies.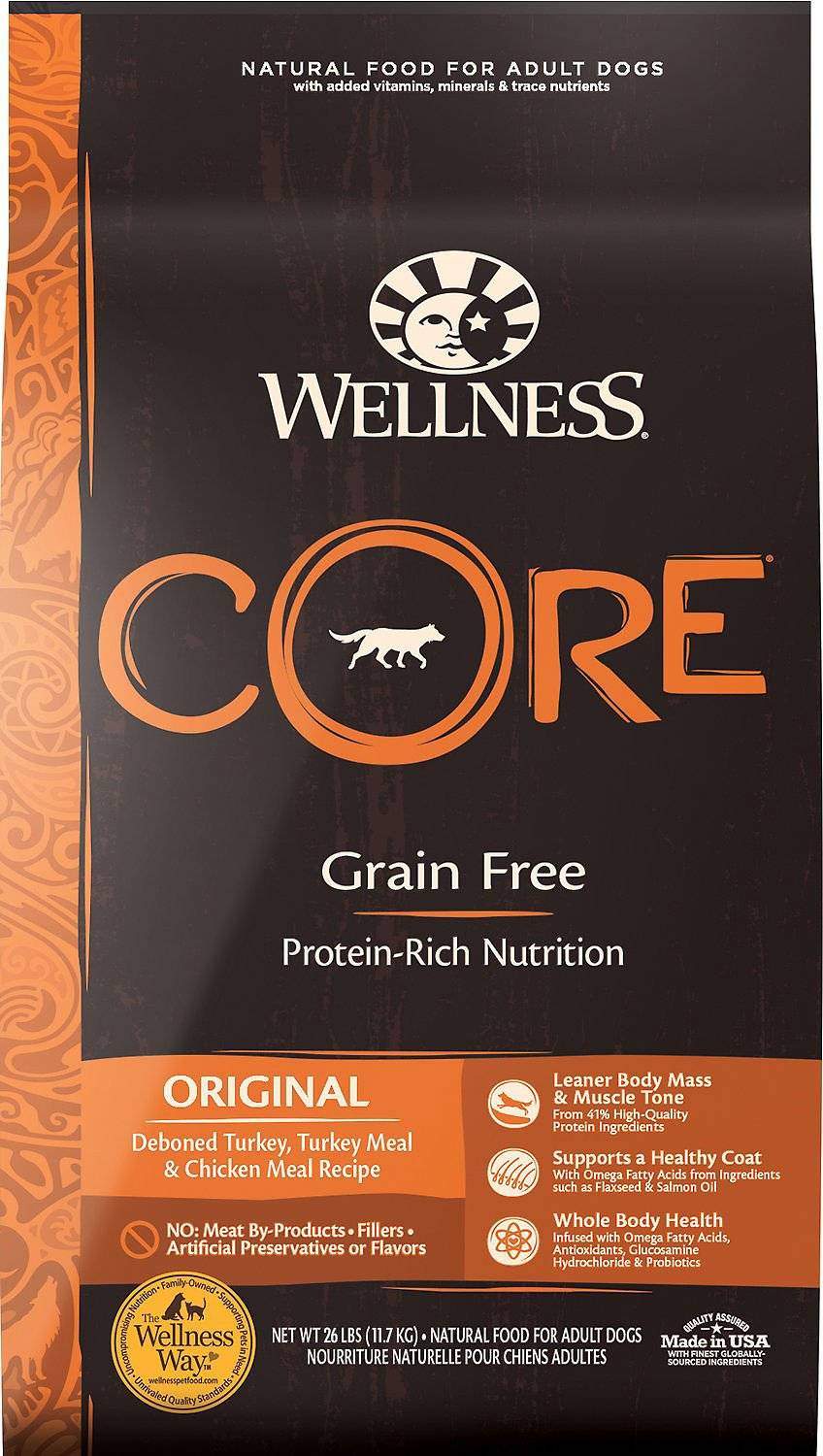 Click Here For Price
Labradors are super friendly and high-energy dogs, so their diet should meet their energy level needs. Unfortunately, food allergies can make their stomachs sensitive, but this formula is developed to meet the needs of dogs with sensitive stomachs.
Key Features
High-quality protein
Coated with probiotics
No meat byproducts
Contains glucosamine hydrochloride
Contains omega-3 fatty acids
By eliminating undesirable meat byproducts, your pooch is guaranteed healthy high-quality protein to help with building muscle. Most users of this product also appreciate the inclusion of probiotics, which assist in promoting a healthier digestive tract, especially for dogs with a sensitive stomachs.
What's more, the food contains chicken meal, which is a meat concentrate containing nearly 300% more protein than chicken in its natural form. Plus, it is a grain-free food that is packed with a significant amount of meat.
Pros:
Has several sources of high-quality protein including deboned chicken, chicken meal, and turkey meal, making it ideal for growing and maintaining good muscle tone
Thanks to the addition of pea fiber from pea hulls, the meal is rich in fiber, which has multiple benefits
Contains salmon oil and flaxseed which provide omega-3 fatty acids for healthier skin and coat
Includes nutrient-rich veggies such as kale, spinach, and broccoli
The addition of glucosamine hydrochloride makes it great for strengthening bones and joints
Cons:
Some reports exist connecting this kind of grain-free dog food recipe with dilated cardiomyopathy, but this is yet to become a really serious issue
This is a delicious dog food that has had excellent results for dogs with sensitive stomachs, according to customer reviews.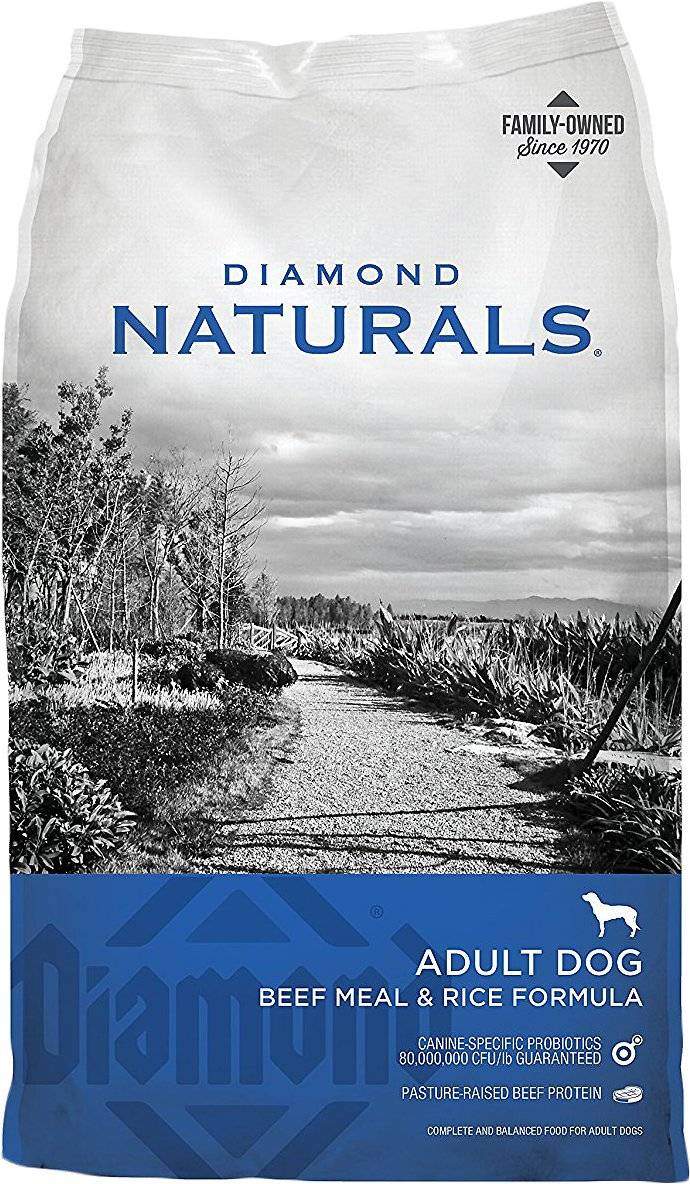 Click Here For Price
An adult dog has different nutritional needs compared to a puppy, and the Diamond Naturals Beef Meal & Rice Formula Adult Dry Dog Food caters to the adult palate and maintenance needs. From superfoods to probiotics, this formula enables your pooch to maintain a healthy and active lifestyle.
Key Features
Packed with lean proteins
Contains a probiotic blend
Has chelated minerals
Has inulin for prebiotics
This dog food formula uses fewer meats, relying on plant-based proteins to increase the volume of the important nutrients. Apart from the meat, it also derives additional proteins from chia seeds and quinoa.
Diamond also included coconut in the food to increase the amount of fatty acids, which aids in maintaining a healthy weight and gives your baby a fantastic, shiny coat. That is in addition to enhancing the cognitive function of your dog.
Pros:
Has beef meal, which is more concentrated in proteins compared to beef in its usual form
Contains fish protein for omega-3 and lean muscle
Has no artificial preservatives, colors, or flavors
Doesn't contain additives like wheat, corn, or soy, making it great for grain-sensitive labs
The addition of coconut helps your pooch combat conditions like canine cognitive dysfunction syndrome as well as skin disorders
Cons:
It contains eggs, which are high on dogs' allergy list
Made in a family-owned-and-run company with very strict safety protocols in place, this is one of the few high-quality affordable meals that lives up to its promises.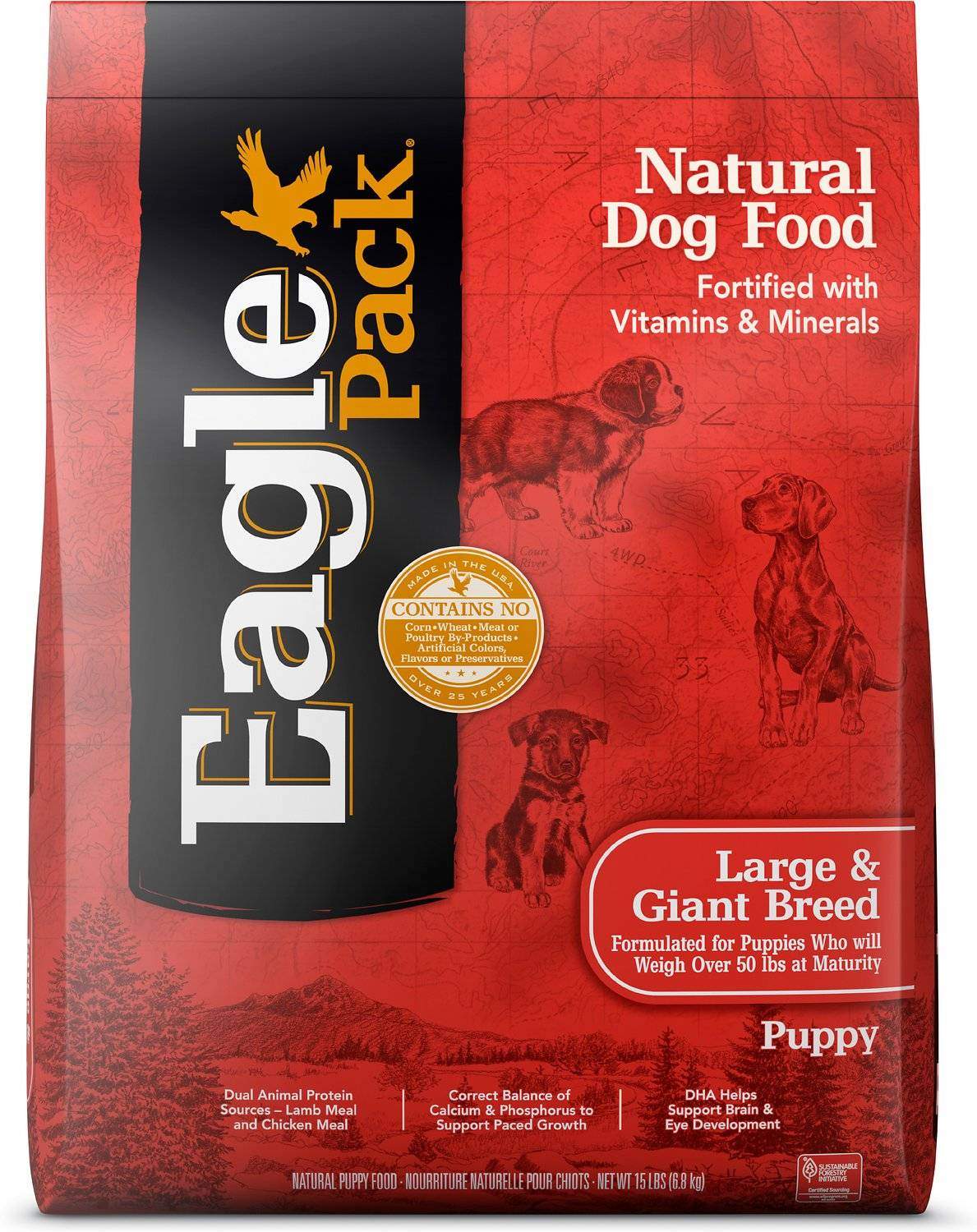 Click Here For Price
Puppies, even the giant breed ones, need the right amount of balanced nutrients to enable them to grow up healthy. Even if they are adult-sized, they shouldn't be eating adult dog food as a puppy. This Eagle Pack food has a perfect combination of proteins, carbohydrates, and other nutrients that support the developmental milestones of growing puppies.
Key Features
Contains glucosamine hydrochloride
Specifically balanced for puppies
Perfect blend of minerals, vitamins, and antioxidants
The Eagle Pack Large & Giant Breed Puppy Dry Dog Food helps large breed puppies stay lean and healthy in their ideal weight bracket while providing the proper nutritional value they deserve.
Also, the inclusion of glucosamine hydrochloride ensures your pup has healthy bone and joints so that she grows up without straining her skeletal structure.
Even though this food is plant-based, with just a modest amount of meats, the addition of brewer's yeast to its main protein sources increases the protein level and makes it great for building muscles in your puppy.
Pros:
Excellent protein sources including lamb meal, chicken, and pork meal for muscle development
High fiber and energy content from barley make it more nutritious
Contains inulin, a natural fiber that has prebiotics to help strengthen the immune system and enhance digestion and nutrient absorption
Contains brewer's yeast, packed with minerals and protein for overall wellbeing
Cons:
Brewer's yeast has the potential to cause allergic reactions despite its healthy benefits
Generally, the formula is developed to give energy to highly active young pups who get up to adventurous antics. It contains energy boosting ingredients, like barley and oats, as well as nutrient-rich ingredients like flaxseed that keep her coat shiny and skin healthy. 
Things To Consider When Choosing The Best Food For A Lab 
Before you look at anything else, make sure that the food you choose has an Association of American Feed Control Officials (AAFCO) Nutritional Adequacy Statement.
AFFCO has guidelines in place to determine how balanced and nutritious dog food is. They have two categories of foods: growth and reproduction foods and adult maintenance.
Labs should eat growth and reproduction labeled foods, because they are good for high energy or highly active dogs. You can learn more facts about labradors in the video below:
Ingredients
Meat should always be the prevalent ingredient in the dog food you choose for your lab. The best diet for labs should contain high-quality protein, which you will find in meat in its natural form as well as meat meal. Protein is useful for helping grow and maintain good muscle tone in dogs of all ages.
As opposed to meat in its usual form, meat meal doesn't contain water and is concentrated, processed specifically to retain the protein within.
Additional ingredients to look for include healthy amounts of fat, whole grains like oats, carbohydrates like brown rice, veggies, and fruits.
For labs with sensitive stomachs, the best diet should contain less fat and more protein. Avoid dog foods that contain meat byproducts or unnamed meat or fat sources. Also look out for foods that contain sweeteners, gluten, and artificial colors, flavors, and preservatives.
Weight
Labradors have a high prevalence of obesity, because they are genetically predisposed to weight gain. And because of their high activity level, you may feel the need to feed them more food in a bid to help them regain their strength. Plus, labradors love their food.
When your pup needs to lose some pounds, it's recommended that you change the diet altogether, and there are some great foods specifically for labs that help deal with weight management. Reducing the quantity of your usual food is not safe, because it means you are also reducing the amount of nutrients your dog is taking in.
In this case, the best labrador food is prescription weight-loss food recommended by your vet. Such foods are not calorie dense, and you can feed your dog the same quantity as usual without worrying about weight gain.
Puppies
When shopping for lab puppies, start them on a large-breed puppy recipe. Within the first 18-24 months, their diet transforms regularly as they hit developmental milestones, but soon after the 24th month mark, they are able to eat adult food. It is imperative to keep their weight healthy during the developmental stage to prevent putting a strain on their joints and bones from quick and excessive weight gain.
Labradors are a large breed, and their puppies eat just as enthusiastically as adults. Choose a dog food recipe that has adjusted levels of phosphorus and calcium to aid in bone and joint development.
Also look for foods that are supplemented with DHA for excellent eye development.
Nutrition
Read the nutritional label on your dog food to ascertain the ingredients your dog will be ingesting. Look for high quality protein like meat and meat meal.
Depending on your stance on synthetic preservatives, you can buy foods that contain ethoxyquin, butylated hydroxyanisole (BHA), and butylated hydroxytoluene (BHT) which helps keep food fresh for longer and is FDA approved in the right quantities.
If you are averse to such ingredients, you can opt for a fresh food subscription service for your dog food or buy foods that use natural preservatives like rosemary.
Some foods list other ingredients like calcium, fat, fiber, and phosphorous. Also look out for labels like "natural" and "holistic" as well as "human grade", and take them with a grain of salt unless it is verifiable.
Sensitivity
Labradors are predisposed to allergies including food allergies to fish, beef, corn, soy, chicken, and eggs. Some of the top-rated dog foods for labs are hypoallergenic formulas, so they are free from all of the above ingredients.
Instead of chicken and beef, they may contain novelty protein sources like pheasant or bison, which your pooch has not developed an allergic reaction towards. To beat stomach sensitivity in labs caused by food, wean your dog off their current food and begin to introduce individual foods gradually to identify the allergy culprit.
Benefits Of The Best Dog Food For A Lab 
By choosing the best food for your lab, you are not only making sure she is healthy and maintains the ideal weight, you are also ensuring she is able to keep up with her exuberant temperament.
The best dog food for your lab is specifically formulated with the breed in mind to give them the best quality of life.
Here are five benefits of using the best diet for a lab:
Excellent Bone And Muscle Tone
Protein is useful for helping grow and maintain good muscle tone in dogs of all ages. It helps the body repair damaged tissue cells and create new ones. A diet rich in high-quality protein enables your pooch to have strong muscles which is why the primary ingredient in the best dog food for hunting labs is meat.
Better Digestion
Good dog food for labs allows your doggie to pass stool easily and the nutrients can be easily absorbed into their system. It contains carbs that are rich in fiber to help with digestion.
But the overall stool from your dog should be minimal, showing that most of the food is properly absorbed and used up. The foods should also include probiotics and prebiotics for increased gut health.
Increased Immunity
The proper diet for your lab helps her body fight disease, and when she does fall ill, she is better able to cope with the healing process. These dog foods for labs contain an impactful amount of vitamins and minerals that help boost your pal's immune system.
Vitamins help the body to repair tissue cells internally from damage caused by aging or any harmful substances the dog ingests, while minerals enable the cells to function normally.
Since minerals and vitamins are from plant or animal sources, they are safe and biologically easy to assimilate.
Coat And Skin Health
One of the signs of a healthy labrador is a shiny coat and healthy skin. The best diet for labs is rich in omega-3 and -6 fatty acids which give your dog a nice sheen to her coat.
Also, such food helps the dog fight irritations to the skin and the resultant itching that may be triggered by allergies or climatic conditions. A poor diet will result in brittle hair that breaks off constantly.
Great Looks
Overall, your lab deserves the best possible dog food you can give her to ensure that she is able to function at her best whether as a pet or a hunting dog. But also, every dog owner wants a good-looking dog because she is a reflection of her doggie parent.
With a well-constituted dog food for labs, your dog ingests all the important nutrients that contribute to bright eyes, healthy teeth and gums, a healthy sheen on the coat, and boundless energy. She is a joy to be around and carries out her roles optimally because of it.
The Importance Of Following Feeding Instructions 
Different dog foods have varying feeding instructions. But most important for any dog parent is to ensure the food is complete and balanced. As we have mentioned above, it is crucial to ascertain what category AFFCO has assigned to the food.
Young pups, pregnant mothers, and highly active dogs are usually given foods in the growth and reproduction category of AFFCO classifications, while adult and senior dogs can be fed the adult maintenance foods. And once the proper food is chosen, following feeding instructions ensures that your lab stays healthy and happy.
Not following feeding instructions can result in two things: emaciation or obesity. However, a dog that is at its ideal weight will have a visible waist and abdominal tuck and the ribs can be felt but not necessarily seen.
Frequency
Pet parents are advised to feed their pooch twice a day, but dogs are comfortable with just one meal a day. With two meals, you are sure your pooch doesn't suffer hunger pangs and she has enough time to digest each meal.
Ensure the meals offer your doggie at least 10% calories from protein, 5.5% fats, and 50% carbohydrates for energy. The carbs should contain between 2.5% to 4.5% fiber to help with digestion.
Read more about how much to feed a puppy.
Treats
Since dog treats are not subject to AFFCO regulatory standards, they may contain ingredients like sugar which increases the chances of weight gain. It is best to limit treats and use them as a reward system as opposed to part of the dog's daily diet. If you love to give treats, opt for those that have fewer calories, like raw veggies such as thinly sliced red and yellow bell peppers or carrots.
Leftovers
For doggie parents who love to feed their baby leftovers, it is important to limit what you give. An occasional nibble is fine but whole carcasses or leftover steak will contribute to obesity and, in some cases, could result in pancreatitis.
Water
Your lab loves to run around and be active, so her water bowl must never be neglected. Your baby needs a half to a full ounce of water per pound of her body weight each day. If your dog doesn't frequent her bowl for rehydration, consider foods rich in moisture content like canned foods. However, training your pooch to drink up more often is best.
How To Make The Switch From Normal Food To Lab-specific Foods
The transition should be gradual so that the dog is receptive to the new food. There are different formulas that work including:
Formula 1
Begin day one by mixing 20% of the new food with the old food. On day two, take the ration up to 40%. Day three, four, and five should see an increase of 20% percent of the new food to the old each day until you completely feed her 100% of the new food.
This formula works best if you are just changing brands but want to maintain a similar recipe to your old dog food.
Formula 2
Feed your dog two staple ingredients: protein (meat) and carbohydrates (potatoes or brown rice). Once she has acclimatized to the food, add something new gradually, like veggies, fruits, whole grains, and vitamins.
This formula works well when you are using a food subscription service for your dog's food. It is also an effective way to go if you are changing your lab's diet from a store brand to natural foods.
During this transition, if your pooch refuses to eat or develops diarrhea or vomiting, stop feeding the new food and revert back to the old one.
Also make sure that you talk to your vet to get suggestions for other brands that may work for your pet pal.
Conclusion
One thing that's clear from this review and guide is that your lab can't be fed just any diet. And as a pet owner, you need to take the time to learn more about your breed, from what is the best dog food for labradors, the food and nutrition requirements, health issues they are prone to, and how to generally make your lab happy and healthier.
You've already had a great start by reading this complete review, but don't forget that she deserves to be fed the best food out there. From this list, that could be the Blue Buffalo Wilderness Salmon Recipe Grain-Free Dry Dog Food. This was my favorite, the best overall, because of  its superior taste, primary ingredients with ancestral qualities, and nutrient-rich ingredients that have the potential to sustain the optimum health of your lab.
Each of the other foods on the list are special in its own way, too. It's now up to you to figure out which one seems to fit your lab well.