Updated: February 13th, 2023
This article contains affiliate links. Read the full disclosure here.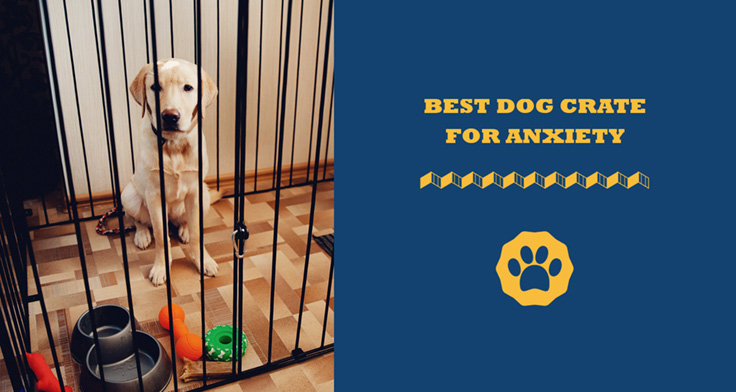 Canine separation anxiety affects 20 to 40 percent of dogs presented to vets. It's not breed-specific and can easily be triggered if a dog is extremely attached to his or her owner. To help your pooch cope with this nervousness, you should consider looking for the best dog crate for anxiety.
Your dog needs a safe space to relax when you're away. The right crate will help create that safe space so they don't feel stressed when you leave the house. To help you find a crate specific to your dog's needs, I've reviewed the top 5 products on the market.
Below, you'll find crates for large and small dogs as well as puppies. There are also crates for indoor and outdoor use. Finally, I've also provided a detailed buyer's guide at the bottom of this post so you know exactly what features to look for when buying your dog a crate.
AT A GLANCE:
Our Top 5 Best Dog Crate For Anxiety
IMAGE
PRODUCT
 

Best Overall

Best Overall

Comes with a soft mat
For indoor and outdoor use
Collapsible

CHECK PRICE →

3 door crate
Collapsible
Soft-sided

CHECK PRICE →

Includes waterproof cover
Powder coated steel frame
Weighs 75 lbs

CHECK PRICE →

Includes two mats
Made with wood
Single-door

CHECK PRICE →

Best Budget

Best Budget

Collapsible design
Aluminum coated steel
Weighs 24.9 lbs

CHECK PRICE →
Dog Crates For Separation Anxiety Reviews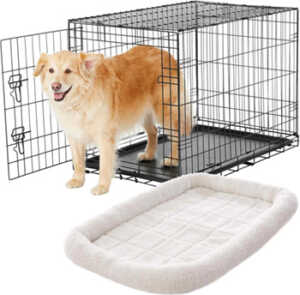 Frisco makes the best crates for high-anxiety dogs. This is a collapsible crate, so you can store it easily when it's not in use. What's more, it comes with a soft mat so your dog always stays warm and comfortable. Assembling the crate is easy and requires no tools.
Key Features
36 inches
Single door
Polyester fiber-filled mat
The crate comes with a convenient divider so you can expand the size of the crate as your dog grows. It's incredibly strong, and the wire is durable so it won't rust or warp. There are also no sharp edges, so your dog will be safe in the crate while you're away.
Pros
Easy to assemble
Can be expanded
The mat is ultra soft for comfort
Cons
The mat might be too thin for some dogs
Some dog owners have stated that the mat is a bit too thin for their liking. If that's the case, you can simply put a blanket underneath the mat to provide more cushioning. Overall, the Frisco crate creates a safe and comfortable space and can be placed outside or inside your home.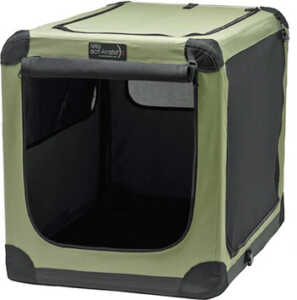 This Firstrax product is the best crate for dogs with anxiety because it has a soft shell that creates a more comfortable environment for your pooch. It also has mesh sides to minimize light which also helps keep your dog calm. You can also give your dog calming treats for anxiety before placing your dog in the crate.
Key Features
3 sizes: small, medium and large
Ventilated mesh panels
Water-resistant base
The Fristax crate is collapsible and has three doors to make it easier for your dog to climb in and out of the crate. It can be placed outside because the crate is waterproof, but I recommend leaving it inside when possible. The mesh panels allow optimal airflow, which makes it ideal for summer.
Pros
Durable
Machine washable
Easy to assemble
Comfortable for dogs
Cons
Some dogs can chew through the soft material
Zippers may not last but can be replaced
Overall, the Firstax crate is comfortable and durable, but it isn't recommended for dogs who love to chew. It can also be used as a pet carrier when taking your dog to the vet.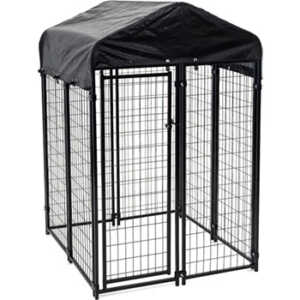 The Lucky Dog Uptown crate is ideal for large dogs such as Golden retrievers or Ridgebacks. It's an outdoor crate so your dog can relax comfortably and safely outside. It comes with a waterproof tarp that you can place over the roof to protect your dog from the elements.
Key Features
48 x 48 x 72 inches
Welded corners
Single-door opening
This dog crate doesn't come with a base, but you can always place a tarp on the floor with a dog bed to make it more comfortable for your pet. There are no sharp edges, so it's a safe environment for your dog. The crate is easy to assemble and doesn't require tools.
Pros
Large floor space
Durable steel that won't rust
Modular and can be assembled in any shape
Cons
May not be best for dogs that don't like being outside
Not suitable for dogs that chew or dig
The Lucky Dog Uptown crate has a single gate that's lockable so your dog can't break through. And lastly, the crate is big enough to place a water bowl and dog food inside so your dog has everything he or she needs while you're away. You can also give your dog toys to play with to keep your pooch entertained.
If you want a high-anxiety dog crate that won't affect the aesthetics of your home, then you'll love the Frisco Broadway crate. It's a crate that resembles a stylish table so you can place it in your lounge or bedroom. The crate also comes with two mats so your dog stays comfortable.
Key Features
Double locks
Metal frame on the inside
Designed for dogs 30 lbs to 50 lbs
This crate is made from dark wood and has bars spaced closely together so your dog can't get through them. It's suitable for medium-to-large dog breeds or puppies in training. You can place a water bowl and food inside the crate as well as toys for your dog to play with.
Pros
Easy to assemble
Can be used as a coffee table
Mats are removable
Can be folded
Cons
Tools not included
Mats may be too thin for heavier dogs
What makes the Frisco Broadway crate ideal for dogs with separation anxiety is that it's spacious and comfortable. You can also place a cloth over the crate to minimize light to help your dog sleep. It's a durable crate that's safe and stylish.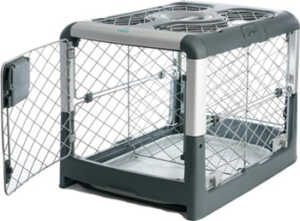 The Diggs Revol wire dog crate is ideal for separation anxiety and for taking your pooch to the vet. It has a handle on the top to make it easy for you to carry the crate. Additionally, the crate comes in gray, white, and black, and it's available in two different sizes for small and medium-sized dogs.
Key Features
36 x 23.5 x 11.8 inches
2-door crate
Divider included
This dog crate comes with a removable base tray so you can easily clean it. The wiring is constructed using a diamond shape to prevent your dog from clawing or chewing the sides. Your dog can climb in and out of the crate easily through one of the two doors.
Pros
Durable
For indoor and outdoor use
Easy to assemble
Removable tray is easy to clean
Cons
Not big enough for large dogs
This Diggs crate is easy to transport and store in your car so you can take it with you on holidays or camping trips. Although it's lightweight, it's made with durable aluminum so it won't rust or warp. You can place a blanket over the crate to keep your dog warm and comfortable during winter.
Buyer's Guide For Dog Crates For Separation Anxiety
I've reviewed 5 different dog crates made from various materials and sizes. So, how do you know which is the best crate for dogs with separation anxiety? In this buyer's guide, we explain when it's time to get a dog crate and what factors to consider when buying one.
Canine Separation Anxiety Explained
Separation anxiety is commonly seen in dogs that are overly attached to their owner or a close family member or friend. When left at home alone, they start to show signs of extreme distress and may:
Cry, howl or bark incessantly
Destroy property such as furniture
Defecate or pee all over your house
Shake or shiver
Refuse to eat
Other signs that your dog has separation anxiety is when they constantly follow you around the house because they want to be close to you at all times. Your dog may also rarely spend time outside alone.
Here are the main causes of separation anxiety in dogs:
Change in family routine
Moving to a new home
Loss of a family member
Loss of another pet
Moving from a shelter to a new home
Change of ownership
If your dog has separation anxiety, there are ways you can help ease his or her stress. For example, CBD or hemp oil can help keep them calm. You can also give them stuffed toys such as teddy bears to sleep with.
Should A Dog With Separation Anxiety Be Crated?
Some pet owners place their dogs in crates to create a comfortable environment where they feel safe. However, you have to train your dog to get used to being in the crate when you leave. Placing your dog in a crate for an extended period of time at first isn't recommended.
Instead, start by leaving your dog in the crate for 5 minutes at a time. You can gradually leave your dog in the crate for extended periods of time to get your pup used to being in the crate. You also want to add comfort items to the crate such as a pillow, blankets, and toys to keep your dog occupied.
How To Help Your Dog Deal With Separation Anxiety
There are other ways that you can help your dog deal with separation anxiety. The first step is to talk to your vet to rule out any medical conditions.
You can also give your dog treats before you leave the house. Puzzle toys stuffed with peanut butter can be an excellent way to keep your dog busy while you're away. You can also leave an item of clothes out or a blanket that smells like you to keep your dog calm.
Alternatively, a crate can help you train your dog to slowly get used to your absence.
How To Choose A Crate For Dogs With Separation Anxiety
Not all dog crates are created equal, and there are many factors to consider when selecting the ideal crate for your dog. Here's what you should keep in mind when shopping for a dog crate.
Size
Buy a crate that's big enough for your dog to stand up and walk around in. You don't want to restrict your dog's movements or make them uncomfortable. You can tell if a crate is the right size at a glance, but you can also check its dimensions before you buy it. Ensure there is enough space to place a water bowl and food inside the crate, too.
Comfort
Make sure your dog is comfortable inside the crate. Some crates come with mats, but you can easily fit your dog's bed inside the crate along with blankets and pillows. If you're placing the crate outside, make sure there is a durable, waterproof cover at the top to protect your dog from the elements.
Style
If you're placing the crate inside your home, you may want to consider the style or aesthetic of the item. Some crates are fashioned to look like coffee tables or cupboards that you can place in a living room or bedroom. Just make sure the crate has excellent ventilation and space.
Material
Dog crates are made of various materials, such as::
Fabric (soft shell)
Metal
Wood
Plastic
Make sure the crate is made with durable material that won't rust, tear, or split. Soft shell crates are ideal for dogs that don't chew or scratch. For dogs that scratch and chew, you'll want a crate that's more durable, such as a wooden or metal wire crate.
Assembly And Storage
There are some dog crates that are foldable or collapsible, which makes it easy for you to travel with them. Other crates need to be assembled using tools. Crates that need to be assembled may not be portable and are only for home use. Consider how easy the crate is to store and disassemble when needed.
FAQs About Dog Crates And Separation Anxiety
Are dog crates safe?
Yes, dog crates for separation anxiety are safe. Get a crate that has no sharp edges or hooks that can injure your dog. If you're worried about your dog getting injured, you can choose a soft shell crate.
Is it cruel to crate a dog with separation anxiety?
Some pet lovers may think that crating a dog with separation anxiety can be cruel. But if you gradually train your pet using the crate, it can become a comfortable space for them when you're away. It's important to monitor your dog's behavior while in the crate and refrain from using the crate if their anxiety gets worse.
Where should you put a dog crate in your house?
There are outdoor crates you can place anywhere in your yard. If you place the crate outside, ensure there is ample coverage in case it rains or hails. The best place to put indoor crates is either the lounge/living room during winter or the kitchen during summer.
Wrapping Up: The Best Crates For Dogs With Separation Anxiety
I highly recommended getting your dog a crate if they show severe signs of separation anxiety such as destruction of property or high levels of stress.
The Lucky Dog Uptown Welded Wire Dog Kennel is ideal for large dogs that stay outside. Alternatively, you can choose the Firstrax Noz2Noz Sof-Krate if you have a small dog or if you need a pet carrier for trips to the vet.
Talk to your vet about using a dog crate for separation anxiety and the best ways to train your pup to get used to your absence. If you get the go ahead from your vet, choose one of the products in this post based on your dog's needs.
If you have any comments or first-hand experiences with crates for dogs who have separation anxiety, please post them below or share your pictures via our social media.