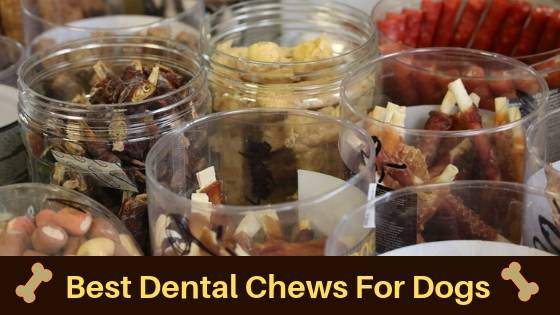 If you have at any point in life felt the pain of having a tooth cavity, I'm sure you would do anything to shield loved ones from experiencing the same. This includes your pet dog.
But, unlike kids who you can direct to regularly brush their teeth, there is a tendency to forget or neglect your dog's tooth care needs.
But perhaps you're asking, "Why should I focus on oral hygiene for dogs when their cousins such as coyotes never brush teeth?"
While it's true that wild canines do not follow oral hygiene, you need to appreciate that most of them also break or lose their teeth resulting in pain, starvation, and even premature death.
Dogs suffer dental issues such as gum disease, plaque buildup, and even halitosis (bad breath). But the good thing is that you can address the problems using dental chews. In this post, I have done the legwork for you and reviewed the best dental chews for dogs and provided a comprehensive guide on picking the ideal option for your pet.
Quick Links: Our Top 7 Best Dental Chews for Dogs
An Overview of the

Best Dental Chews for Dogs
Top 7 Best Dental Chews for Dogs: Reviews
Today, there's a lot of dental chews on the market that often make it difficult to select the right options for pets. The following dog dental chews reviews is a selection of the top picks on the market to help keep your dog's dental system in great health.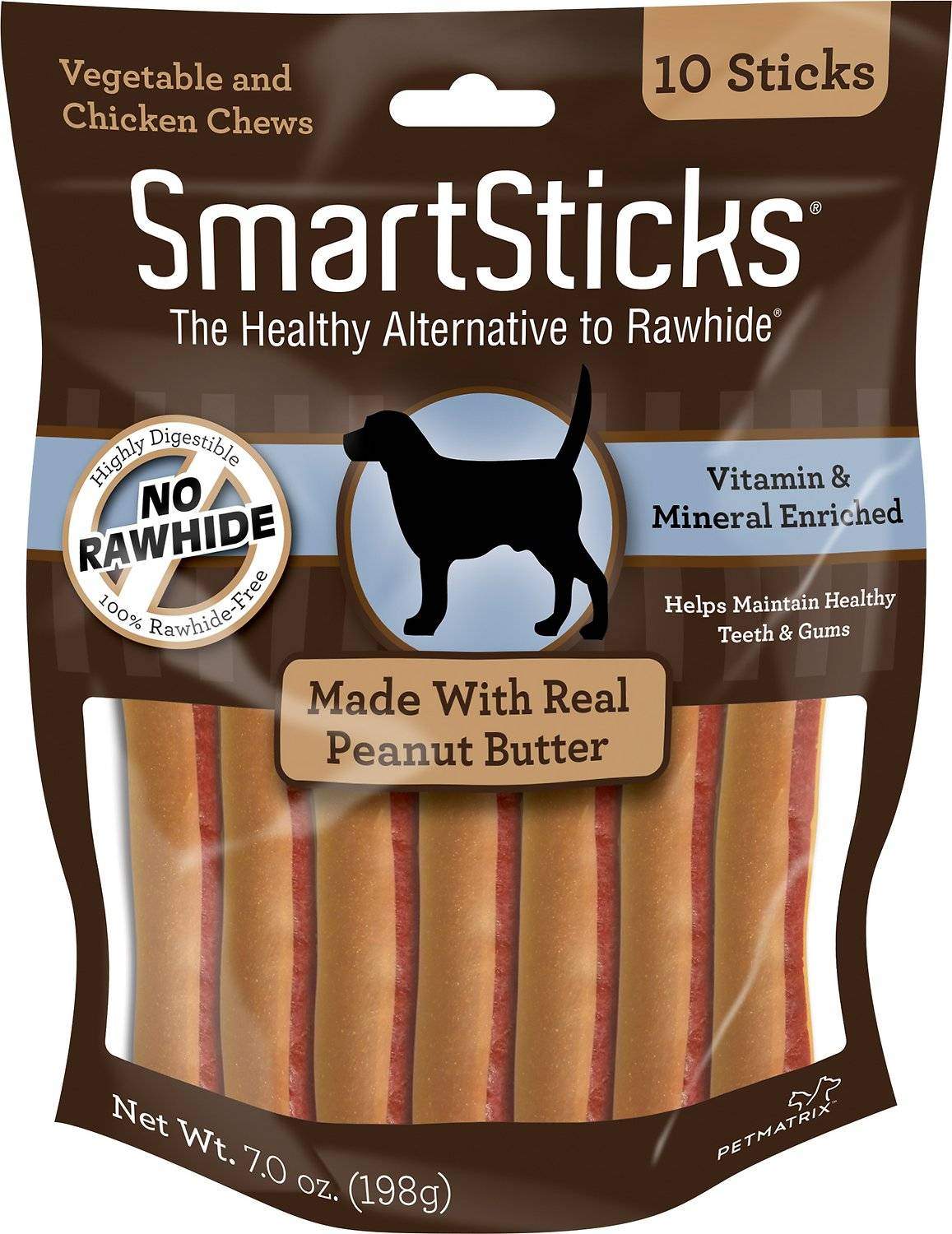 This dog treat from SmartBones takes the top position in this list because it is a product created after years of research. SmartBones wanted to make a product that would stand out from others by guaranteeing dogs better health and owners high value for the money.
The Smartbones SmartSticks Peanut Butter Chews Dog Treats departs from the common formulations that largely include rawhide. Rawhide has often been associated with intestinal blockages.
To make the chews the better option for your dog, they are made with vegetables, chicken and other healthy ingredients such as vitamins and minerals. The ingredients are 99.2% digestible which surpasses the 85% level of the common dog foods.
One thing that I really liked about this treat is that it is tough enough to allow hard-chewers to exercise the teeth and keep them free from plaque buildup. Besides, it is also ideal for both small and large dogs.
I was also impressed by the fact that the chew is affordable and past users also indicated they were satisfied. One client referred to as Terri said, "A great product for a very reasonable price." To make your dog healthy and happy, this is one product you should try.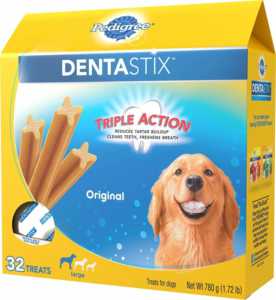 If you want a multipurpose dog treat that can help you with training, better health, and great dental health, this is one great option to consider. The Dentastix Large Original Dog Treats have a unique x-shape design that helps to clean your dog's teeth for fresh breath and prevent the accumulation of tartar.
The chew helps to clean your dog's dental system down to the gum line including the hard-to-reach teeth. Within a few days of using this chew, your dog's breath will be fresh and enjoyable every time it races to hug you.
The design of the chews features large sticks that are meant for large dogs of more than 30 pounds. However, I found this to be a disadvantage because the chew is less suitable for smaller dogs. If you have large and smaller dogs, you will be required to buy a different chew such as Smartbones SmartSticks Peanut Butter Chews Dog Treats for the little ones.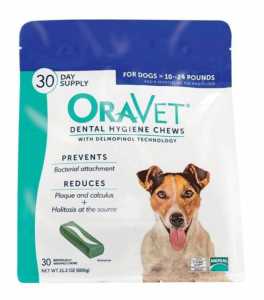 OraVet has demonstrated to doubters that it is possible to keep your dog's teeth healthy and happy using a simple feeding method. The OraVet Dental Hygiene Chews for Dogs are created to help deliver an alternative method of getting your dog's dental system clean without brushing. Note that many dogs do not like brushing teeth.
The tasty chew uses delmopinol that helps to loosen and dislodge plaque that might have built up on the teeth of your dog. Delmopinol has been scientifically proven to provide a safe coating on the teeth, gums, and tongue to prevent the attachment of bacteria that cause bad breath.
This dog treat is made of top ingredients such as alfalfa, parsley flakes, and chlorophyll that help to deliver fast results. This means that you can expect to see the teeth of your dog looking cleaner and their mouth with great breath within a few days of using the OraVet Dental Hygiene Chews for Dogs.
The only setback for using this chew is that it is not recommended for dogs of less than six months. Additionally, many dogs that use it also experience changes in the appearance of their stool.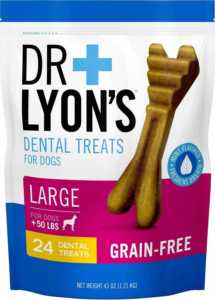 When Dr. Lyon decided to start manufacturing dog products, the market was excited because of his vast veterinarian knowledge. He did not disappoint with this dog chew.
Dr. Lyon's Grain-Free Large Dental Dog Treats are designed to provide an easy and delicious solution for making your dog's teeth healthy and breath fresh. The treats have a unique design that looks like a toothbrush to ensure it reaches even the hidden sections of the mouth.
The bone is made with the shape of a half bone and mint flavor that makes it irresistible to most dogs. Besides, the treat does not have any soy or corn. This means that it is easily digestible to help your dog stay healthy.
One thing that I found impressive about this product that makes it among the best dental sticks for dogs is that you can use it for either big or small dogs. You can select the x-small chews for small dogs of up to 25 pounds (11 kilograms) to large chews for those above 50 pounds (22 kilograms).
The only setback for Dr. Lyon's Grain-Free Large Dental Dog Treats is that it is pricey. At a price of $24.99, it is way above other chews on the market such as the SmartBones SmartSticks Peanut Butter Chews Dog Treats that cost about $6.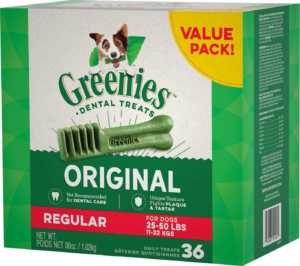 If you are looking for premium dog chews, the Greenies Regular Dental Dog Treat is among the leading options on the market because of its efficiency in keeping the dog's teeth clean and supplying quality nutrients. The treat is made of quality all-natural ingredients that are enriched with vitamins and minerals to help strengthen the teeth, bones, and other ligaments in the dog's body.
This treat is among the leading top dog dental chews because it has a unique shape that makes it easy to reach all parts of the dog's mouth to clear tartar and plaque. Besides, it is also recommended by veterinarians to help prevent gum disease and reduce the frequency of brushing.  
What impressed me with this chew is that you can expect results in just a couple of days. My dog's breath was impressive with the second treat while the tartar continued getting cleared in the subsequent treats.
The only challenge I found with the treat is that it is only available for large dogs. The manufacturer recommends the chew for dogs that are above 25 pounds (11 kilograms). This implies that if you have smaller dogs, you will be required to find a different treat for them.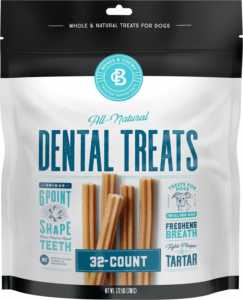 This dog chew is among the leading dog treats for teeth on the market today because of its efficiency in delivering fast results. The treat has a chewy texture that helps clean your dog's teeth and keep the mouth feeling fresh while satisfying your pet's desire to chew.
The treat is designed with a unique six-point shape that helps fight tartar even on the hard-to-reach sections of the mouth. The treat acts as a great complement for regular brushing of the teeth.
The chew is made with all natural chicken flavors to ensure that your dog will like it. Besides, it contains no sugar or artificial flavors and it is easily digestible. This makes it an ideal option for both medium to large dogs. However, you can also break the chews and use them for small dogs.
Even with all the advantages mentioned above such as easy digestibility and ability to deliver results fast, this dog treat is sold affordably for $9.99 for a package of 32. This makes it cheaper than other top dog chews on the market such as Dr. Lyon's Grain-Free Large Dental Dog Treats.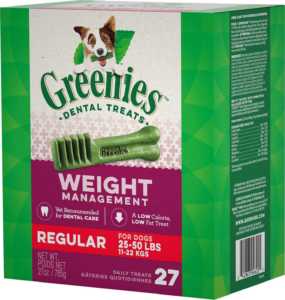 When formulating the Greenies Weight Management Regular Dental Dog Treats, the people at Greenies wanted to provide dog owners with a product that would strengthen dog-owner bonds.
The dental dog treat takes the form of a flexible bone that helps to reach all the sections of your dog's mouth to clear even the most stubborn plaque. Your dog's teeth will easily sink into the bone for easy removal of the accumulated tartar so that you will not need regular brushing.
From the first moment I read the description of the dog treat, there was no doubt that it is among the best dental bones for dogs because it is approved by the Veterinary Oral Health Council. Also, it is also made from all natural ingredients that are easy to chew and is low in fat content. This means that you can use it for weight management of your overweight dog.
A Guide to Choosing the Best Dog Treats for Teeth
Like other consumer products on the market, dog chews vary widely from one manufacturer to another. Accordingly, it is prudent to make a smart decision when picking the right chews for your canine. Here are some useful tips to consider:
Go for dental treats approved by the Veterinary Oral Hygiene Council (VOHC). Products that have been tested and reviewed by VOHC are likely to be more effective in tartar and plaque reduction for your dogs.
Consider going for dental chews sold by a veterinarian. Although many types of dog treats can be bought over-the-counter, there are others you can only buy from veterinarians. Though the vet supplied chews might not necessarily be better than others, your vet will have prescription-rated products. This could be of great help in getting useful insights on dog dental care.
Go for chews with high-value ingredients. The best option should be dog treats with natural ingredients, whenever possible. It is also crucial to stay away from dog treats with a lot of salt or preservatives.
Pick the chews that have positive feedback from past clients. If you can track the past clients' feedbacks either on the manufacturer's website or social media pages, it will be easy to pick the high-performance chews. If a lot of previous users are giving thumbs up for a specific chew, you can also expect to get similar high-level satisfaction.
In a Nutshell
Picking the best dental sticks for dogs is the best treat you can consider to help keep your animal's teeth healthy and safe. The dental treats reviewed above provide your dog with additional nutrients to keep him healthy and his mouth feeling fresh.
When picking the ideal dental treat, make sure to keep in mind the age of your dog because there are some that are only meant for older dogs. It is also important to identify the treat with a flavor that impresses your dog and that has been approved by the Oral Health Council. If you want more from your canine, get the best dental chews for dogs.
Last Updated on