Updated: October 13th, 2022
This article contains affiliate links. Read the full disclosure here.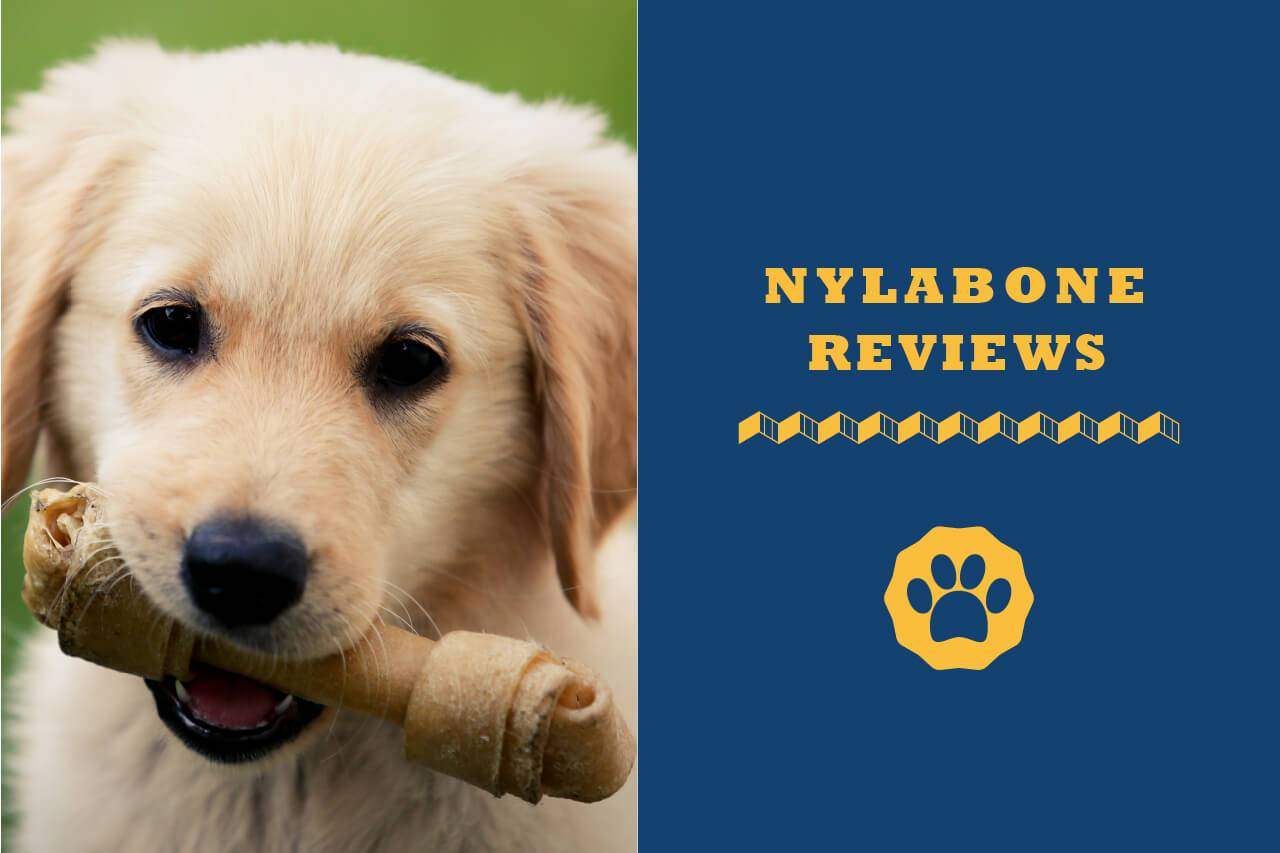 Good and nasty things have been said about dog chew toys and you are probably wondering, 'Do I even need them?
Maybe you are hearing about them for the first time or you bought one for your pooch before and the experience left you doubting their value.
Whichever the case, I bet you would not want to miss a chance to learn of a brand that could possibly live up to your expectations.
Meet Nylabone, a brand committed to making reliable dog chews and healthy edibles. Nylabone dog toys are made to prevent destructive behavior, anxiety, and to strengthen your pet's teeth.
Their treats, on the other hand, are natural, delicious, and created to last longer for your chewing dog.
In the rest of this article, you will get to know whether these Nylabone dog chew toys are safe for your pet, what they are made of, what to consider before making a selection, plus a roundup of the best Nylabone products.
Ready? Great. Let's get right into it.
AT A GLANCE:
Our 5 Best Nylabone
An Overview of the Best Nylabone
IMAGE
PRODUCT

Chicken-flavored
Tough enough to last longer and withstand aggressive chewers
Great for large dogs

VIEW LATEST PRICE →

An assortment of flavors in one pack
Bone-shaped, making it attractive to dogs
Great for aggressive chewers

VIEW LATEST PRICE →

Assorted dinosaur shapes such as T-rex, Stegosaurus, and so forth
Bristled texture aids in cleaning teeth
Can stand up to powerful chewers

VIEW LATEST PRICE →

Highly digestible
Bacon flavor is tasty for dogs
Suitable for use as food

VIEW LATEST PRICE →

Tough and durable
Comes in an X-shape, making it ideal, regardless of the paw grip strength of your dog
Comes in beef flavor, which most dogs love

VIEW LATEST PRICE →
Can Dogs Eat Nylabones? Are They Safe?
Your dog will more likely chew any great dog toy you throw at it as hard as they can. Some pups do that just to see if they can break it.
Now, to reply to your question on whether your dog can eat Nylabone, the answer is yes, provided the toy in question is edible.
It's important to note Nylabones toys come in both edible and inedible forms.
Obviously, your dog isn't supposed to eat the inedible Nylabone chew toys because the outcome could be fatal.
Nylabone edibles, on the other hand, are safe enough to be chewed and consumed by your dog because they are just treats made in the form of a dog toy.
What Are Nylabones Made Of?
As mentioned earlier, Nyalabone makes both inedible and edible varieties of dog toys. Ingredients obviously aren't the same for each because of the intended purpose.
Here's what each is made of:
1. Nylabone inedible chew toys: These ones are usually made from either nylon, plastic, or rubber. All are dangerous if ingested, meaning inedible chew toys are only meant for chewing and not consumption.
When shopping for one, make sure you pick the correct size for your pup.
2. Nylabone healthy edibles: Because they are meant for consumption, ingredients differ from one variety to the other, just like with most of dog treats.  Expect to see proteins, carbs, fruits, minerals, flavorings, you name it.
Always ensure you've read the ingredients carefully before adding the treat to your cart.
What To Consider
Size

–

Nylabones inedible and edible products come in different sizes; make sure you are purchasing the right size for your pup

Dog's chew personality

Dog's chew strength
Consider watching the video below by Nylabone as they talk about how to select the right chew toy for your dog:
Top 5 Best Nylabone
:
Reviews
Thanks to all the information discussed so far, as well as pet owners' reviews, and input from vets, I was able to gather a few Nylabone for dogs chews that I believe would be the best for you to give a try.
They include:
Click Here For Price
Getting your large hound(s) Nylabone DuraChew Textured Ring Flavor Medley Dog Toy is a sure way to keep them happy and occupied and to channel their need to chew towards the toy instead of your shoes!
One of the unique features this toy takes pride in is that it's built to last and withstand aggressive chewers.
That aside, it comprises a textured surface designed to rub off the plaque while being chewed, thereby promoting your dog's dental hygiene. Due to the toy's toughness, and the dog's need to frequently chew, it helps build stronger teeth and jaws.
If your furry buddy is an aggressive chewer, she is bound to love this toy as it can last much longer than any other chew toy you can think of. Also, the size of this toy is adequate for big dogs and just enough for them to hold it down with their paws on one end while chewing on the other end.
What's more, the toy is flavored with dog-favorite tastes such as chicken or beef, which should be a great incentive for your little furry friend. Most probably, they'll love the Nylabone DuraChew Ring toy even more because of that.
You can get this product from popular online stores for pet foods such as Chewy.com.
A summary of benefits you will enjoy from this dog toy and the drawbacks to take note of include:
Pros:
Chicken-flavored
Tough enough to last longer and withstand aggressive chewers
Great for large dogs
Cons:
Your dog has to have good teeth. Otherwise, she'll be prone to breaking her teeth from chewing this tough toy.
Just like humans, dogs have a palate that takes to certain flavors more than others. So, your pooch may have a special preference for chicken, beef, or bacon flavor.
What better way to explore different flavors than to get your pooch a Nylabone DuraChew triple pack. Not only would you be addressing an inherent chewing need, but you would also be encouraging good chewing habits.
Aggressive chewers, although cute, can be destructive around the home by chewing everything in sight, from shoes to furniture. This Nylabone chew bone toy is purposely built tough and safe for your pooch to gnaw on without reservation.
Built from nylon and with flavors that dogs love, they keep your pooch coming back to them for more chewing and playtime.
Most dogs have a short attention span and quickly get bored with a toy or activity. Nylabone chew toy has been designed in a way that keeps your dog interested in it for a long time.
The bone shape is good for your pooch as it makes it easy for her to hold the toy with paws while gnawing at it.
Something else worth mentioning is that it's not uncommon for a dog's teeth to snap and break while chewing Nylabone puppy toys. So, it's recommended that you only give this to your dog If you know she has healthy and strong teeth.
Currently, the toy is available at Chewy.com and other well-known online stores.
Here's a summary of the good and bad side of Nylabone DuraChew Triple Pack Dog Chew Bones:
Pros:
An assortment of flavors in one pack
Bone-shaped, making it attractive to dogs
Great for aggressive chewers
Tough and durable
Bristle raised for dental hygiene
Cons:
Dogs must have strong healthy teeth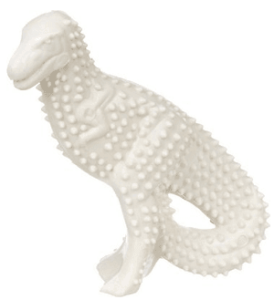 Click Here For Price
A bit of behavioral understanding is what every pet owner needs in order to keep their canine friends happy and satisfied.
Dogs, just like humans, go through phases of anxiety and boredom. Unlike humans though, their coping and self-soothing mechanism involves chewing. That's why it is a healthy idea to get your dog a chew toy that can last.
This nearly indestructible chew toy is purposely built for the aggressive chewers.  If none of the chew toys you've tried has the ability to stand up to your hound's chewing prowess, try the Nylabone dinosaur. Your pooch will have met its match.
The dinosaur shape is great for arousing curiosity in your pooch. On top of that, it's holdable, making it easy for your dog to set its paws on it and chew. Because it is also flavored, this makes play time and the chewing experience even tastier.
Nylabone has anticipated the inevitability of dogs ingesting non edible bits and pieces that are likely to fall off from the chew toy. But this shouldn't worry you a lot and I'll tell why in the cons section.
Meanwhile, if you'd like to place your order, visit a reliable online store such as Chewy.com as they have them in plenty.
Next, let's look at the pros and cons:
Pros:
Assorted dinosaur shapes such as T-rex, Stegosaurus, and so forth
Bristled texture aids in cleaning teeth
Can stand up to powerful chewers
Satisfies your buddies natural urge to chew
Chicken-flavored
Cons:
Bits and pieces will eventually break off the toy and are likely to be ingested. However, Nyalabone claims that the material used is neither digestible nor harmful and will be excreted whole with no harm done.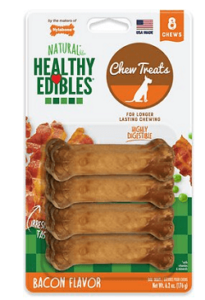 Any good dog deserves a treat when he has done a good deed or just for the heck of it. For a doggy parent looking to reward their pups or just make them feel good, there's nothing that quite does it like an unexpected treat, especially if it is bacon flavored.
Nylabone Healthy Edibles Dog Chew Treat Bones are the perfect healthy treats for your pooch because they contain no artificial preservatives, salt, or added sugar. Instead, they are laden with the good stuff which includes, minerals, vitamins and bacon flavor, not to mention that the bone itself is made from real bone, which your pooch is likely to find irresistible.
Note that this treat is edible for your pooch and comes complete with highly digestible ingredients, meaning not only will your dog enjoy a healthy snack, but he can also chew and gnaw on it for longer while savoring the bacon flavor.
According to Nylabone, this edible chew treat is best suited for pooches that have developed all teeth and are preferably at 15 pounds or below.
Major online stores like Chewy.com already have this chew well-stocked. You can head over there and place your order right now.
Here's a summary of what makes it special and another drawback you might want to note:
Pros:
Highly digestible
Bacon flavor is tasty for dogs
Suitable for use as food
No artificial preservatives
Cons:
Some dogs may be allergic to artificial flavors such as bacon.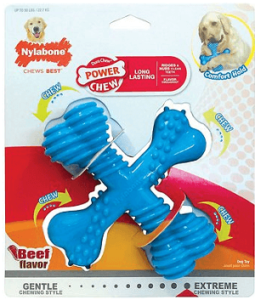 An important observation I've made so far is that the shape of a chew toy plays an important role in the overall chewing experience of a dog. Does an X-shaped dog toy make a great chewing companion?
Absolutely yes. Many users of this product admit that the X shape offers a comparatively better paw grip when the pup is chewing.
Also, because the toy is beef flavored, your dog will most likely keep coming back to it. And with four textured ends to work on and a savory taste, your doggie is set to be busy gnawing at it while having great playtime.
Looking at the construction, there's no doubt it was made for longevity. Even powerful chewers will take awhile to destroy this chew toy.
But despite being tough, it is intended for dogs that are no more than 50 pounds for best results.
Also worthy to note is the textured surface which helps with the dog's dental hygiene by cleaning off plaque and tartar during the chewing motion.
If you are wondering where to get this product, check out the major online stores for pet products, Chewy.com included.
In brief, here's what makes Nylabone DuraChew X Bone Beef Flavored Dog Toy worth a try:
Pros:
Tough and durable
Comes in an X-shape, making it ideal, regardless of the paw grip strength of your dog.
Comes in beef flavor, which most dogs love
Able to last relatively longer than other chews
Cons:
The nylon can produce noise when your dog is chomping on it.
Conclusion
For dogs, the urge to chew comes naturally and given that their way of play and self-soothing might involve chewing, you should see to it that your furry friend has a safe and lovely chew toy.
As you've probably noted in the Nylabone reviews, the brand's chew toys are made for this task and not just with rich flavors that dogs love, but also with a tough material that can stand up to your dog's gnawing abilities.
Naturally, chewing aggression differs from one dog to another. With that in mind, Nylabone has gone out of their way to create something for just about every dog, including the meanest chewer out there.
Take this chance to give Nylabone's creative dog toys a try and don't hold back on your experience because I look forward to hearing about it.