Updated: October 13th, 2022
This article contains affiliate links. Read the full disclosure here.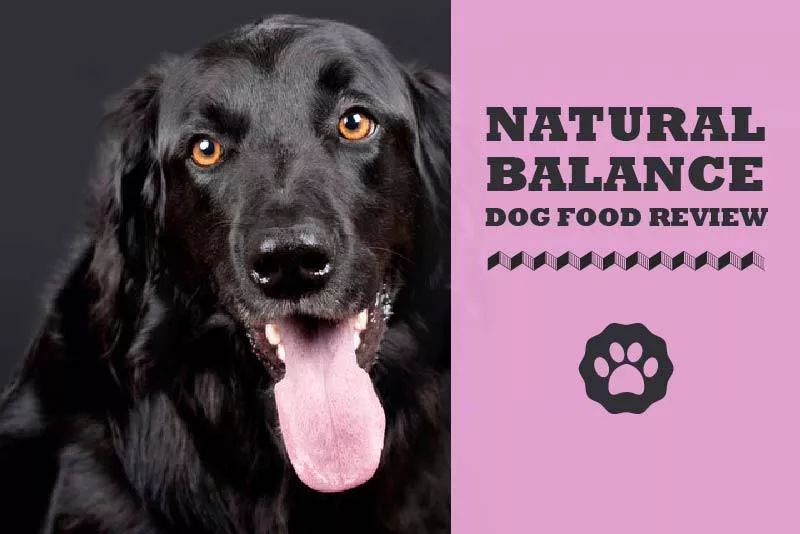 Introduction
When Natural Balance was first founded in 1989, Dick Van Patten knew that his pet food brands and limited ingredient treats would provide quality food based on science and nutritional truths, according to their website.
Wildly important to the company, finding low-calorie dry formulas and pure balance dog foods that were based on scientific research and knowledge of nutritional needs for every type of dog was at the top of Natural Balance's mind, each and every day.
Natural Balance Dog Food reviews prove that customers love this dry dog food as much as the company who makes it. The taste, the quality pet supplies, and the general service that Natural Balance Dog Food provides to its customers are second-to-none.
Let's dive a little deeper into reviews of Natural Balance Dog Food to help you decide if this is the perfect fit for you and beloved pup or whether you should look at other pet food brands!
AT A GLANCE:
Our 5 Best Natural Balance Dog Food
IMAGE
PRODUCT

Grain-free
Great for all stages of life
Infused with Omega-3 & Omega-6 fatty acids

VIEW LATEST PRICE →

Grain-free
Limited carbohydrates
Inclusion of Omega-3 fatty acids from flaxseed

VIEW LATEST PRICE →

Grain-free
Smaller bites perfect for small puppy mouths
Infused with Omega-3 fatty acids from flaxseeds for optimal shiny coats

VIEW LATEST PRICE →

No artificial flavors or coloring
Carrots are used for vitamin A source and beta carotene
Fresh potatoes used for potassium source

VIEW LATEST PRICE →

Best For Small Breed Dogs

Grain-free
Limited protein and carbohydrates
Small bites for small mouths

VIEW LATEST PRICE →
An Overview of the Best Natural Balance Dog Food
Natural Balance Dog Food reviews prove that customers love this dog food from the largest to the smallest breeds out there. The market is full of choices for your dog and Natural Balance is an absolutely great choice for your pup! Ingredients are of top quality, even though some of the top ingredient choices aren't ideal for every dog.
Overall, our review of Natural Balance Dog Food proves that you and your pup will be thoroughly glad you chose this dog food.
Pros:
Great Taste
Dogs can be just as picky as humans, right? Well put aside those picky eating fears when you purchase Natural Balance—even the pickiest of eaters love this pet food! Customers all across the board report that their fur babies LOVE the taste of this delicious formula.
No more tummy issues!
While being a picky eater is one thing, having a sensitive tummy as a pup is an entirely different thing. Dogs can have easily upset stomachs if the formula and ingredients are not top-notch. But reviews of Natural Balance Dog Food prove that tummy issues are no longer a problem for your sweet pup!
Perfect for all ages and stages
Whether you are buying the puppy food for the senior dog food, the formulas and bite sizes are perfect for every dog at every stage of life! If you have a small breed fur friend, you will be pleased with how well your pup can chew the food, no matter the age!
Cons:
Top Ingredient
Upon further review of a variety of different formulas offered by Natural Balance, it was clear that one of the top ingredients used was potato—usually a great source of digestible carbohydrates. The only issue here is that there really is no nutritional value in a potato, which means that the top ingredient equals volume in the formula. The more potato used, the less nutritional value your pup is receiving.
Canola Oil
While canola oil is perfectly fine us humans, it is quite a touchy subject in the dog food world. This oil is most commonly genetically modified from grapeseed, which means that it is not a pure substance that is going into your pup.
Top 5 Best Natural Balance Dog Food: Reviews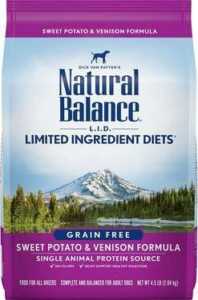 I've seen lots of doggie parents get frustrated by the many ingredients listed on the labels of dog foods, most of which are hard to recognize, let alone pronounce. But the Natural Balance LID Sweet Potato & Venison Formula Grain-Free formula is an exception. Because of the limited ingredients, you know exactly what your pitbull is eating.
Key Features
Grain free

Uses novelty meat

Limited ingredients

No artificial additives
Because it features one specific, novel protein source, the chances of allergic reactions and stomach sensitivities are drastically reduced. That aside, using venison gives the food a unique taste, and venison is a great lean protein.
Apart from combating allergies with a limited range of ingredients, this food also contributes to a shiny coat for your pooch and better digestive health. Additional ingredients like brewer's yeast and taurine make it even more nutritious and healthy overall.
Pros:
Excellent dog food for dogs with sensitive stomachs and allergies

Contain helpful minerals and vitamins to promote overall health

Has a specific novelty meat as the primary protein source

Contains recognizable food ingredients and minerals 
Cons:
The food has an odor that may be off-putting for some people
Eating an interesting food is just as fun for dogs as it is for us. With the Natural Balance LID Limited Ingredient Diets Sweet Potato & Venison Formula Grain Free, your dog will have a taste of deer and expand her palate.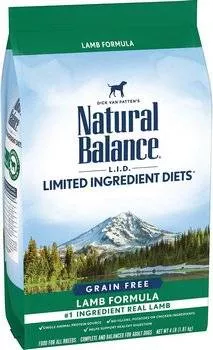 In addition to being a delicious option to most dogs, this lamb recipe also has a high protein content of 32% from single sourced from lamb.
Doggie parents with pups that are prone to food sensitivities will appreciate the limited ingredients in this formulation. In fact, it's among the best food for dogs with diabetes. This is because the carbs are from two primary sources, peas and chickpeas, which have a low glycemic index.
The diet has been made more nutritious with the inclusion of flaxseed and menhaden oil, both of which pair well to form a rich profile of omega fatty acids that help in reducing inflammation as well as promoting healthy skin.
The rosemary extract in this recipe acts a natural preservative and is part of the powerful antioxidant blend that aids in a stronger immune system.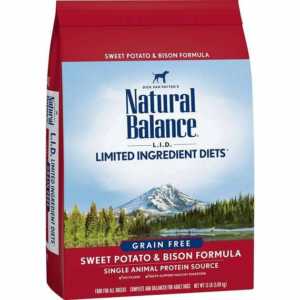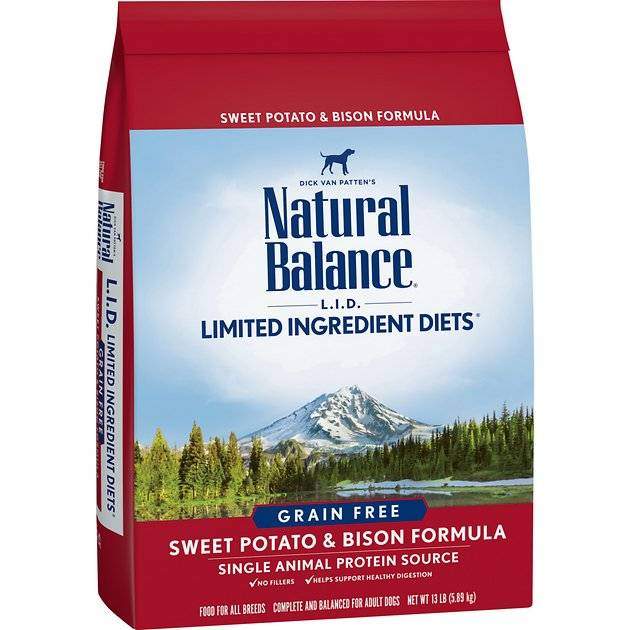 For a dog that has an allergic reaction to regular meat products like beef, chicken, or pork, this option from Natural Balance, which limits the ingredients in the food, is an excellent choice. Being a dry food, it is a bit more affordable compared to the subscription services dog foods.
Key Features
Grain-free formula

Single animal protein

No fillers included

Several dog food bag sizes
Not only is it limited in grain, but it also doesn't contain any preservatives, artificial colors, or flavors. By minimizing the number of ingredients in the food, manufacturers ensures that there is little likelihood for dogs to suffer from an allergic reaction.
Bison is a high-quality protein with a signature taste that is packed with amino acids. Combined with sweet potatoes for healthy carbohydrates and peas, the overall meal is healthy and hearty without risking the dangerous symptoms that accompany food allergies in your dog.
Pros:
No allergy causing filler ingredients, like wheat and soy

Bison contains

DHA

to help your dog's brain development and health

Few ingredients and simple recipe to prevent incidences of allergic reaction
Cons:
Some users reported concerns regarding the state of the product when it is shipped, specifically mentioning a slight decline in the quality of some ingredients.
If a simple best limited ingredient dog food formula that works is what you are looking for,  you will find it in the simplicity of this nutritious and balanced sweet potato & bison formula grain-free dry dog food.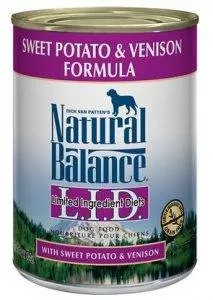 Natural Balance is one of the most popular and highest quality dog food manufacturers operating in 2021. This particular formula is designed for dogs with dietary sensitivities and allergies, so it has minimal ingredients. It's also nutritionally complete and full of natural flavors.
Pros:
Free from grains, artificial flavors, colors and preservatives
Complete, balanced nutrition
Comes in lots of different flavors: Chicken & Sweet Potato, Duck & Potato, Fish & Sweet Potato, Venison & Sweet Potato, Buffalo & Sweet Potato, and many more
Minimal ingredients: great for allergies
Contains Vitamins A, B6, B12 and D3
Meets the AAFCO standards for nutrient profiles for all life stages
Natural Balance has been established since 1989
Cons:
Although moist, the consistency of the food errs marginally on the dry side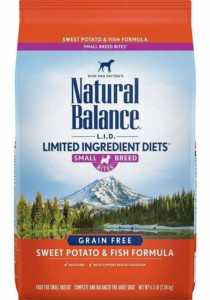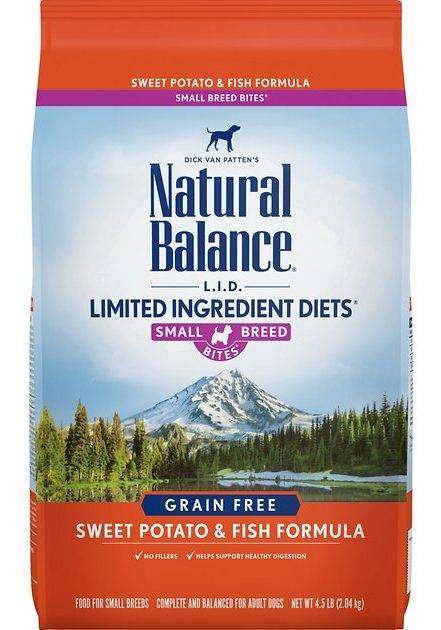 Sweet potatoes and fish are an excellent combination that most dogs will find hard to resist. If your pooch has food sensitivity issues, this recipe might just be what you've been missing.
The recipe is grain-free, with sweet potatoes as the carb source.
This is a highly digestible carb that is rich in fiber and energy for an active dog.
Salmon, the star ingredient in the recipe, is an excellent source of the animal protein your dog needs for lean muscle development.
Fish oil, salmon, and flaxseed work in tandem to form a potent omega-6 and -3 fatty acid profile that promotes healthy skin and a shinier coat while boosting immunity at the same time.
Diet-sensitive pooches are likely to benefit from this recipe, as it gentler on the stomach and contains limited ingredients that are highly digestible. And it's oh-so tasty for them!
Ingredients Analysis
When you take a look at the ingredient lists for a majority of the dog food formulas, you will find that the most common top ingredient used is potato.
As previously stated, reviews of Natural Balance Dog Food prove that pups love the taste and formula of Natural Balance Dog Food.
However, potatoes are not high in nutritional value, which means it should not be used as the top ingredient (this means it has the most volume in the formula).
But the other ingredients that are used are quite standard and some above standard.
For instance, some formulas use duck meal which is typically 300% higher in protein than fresh meat (fresh and raw meat loses protein after cooked).
Overall, reviews of Natural Balance Dog Food ingredients show there are no immediate causes for concern and all ingredients are safe for your furry friend.
Recall History
There are no recent recalls listed for Natural Balance Dog Food listed on the FDA website.
Conclusion/Wrap Up
Natural Balance Dog Food is a great choice for any age, stage, and breed of pup who might have taken up residence on your very comfortable couch! Reviews of this relatively new dog food prove that customers love this food and pups are wolfing it down every day. There is really no way to go wrong with this dog food in your pup's bowl.