Updated: October 14th, 2022
This article contains affiliate links. Read the full disclosure here.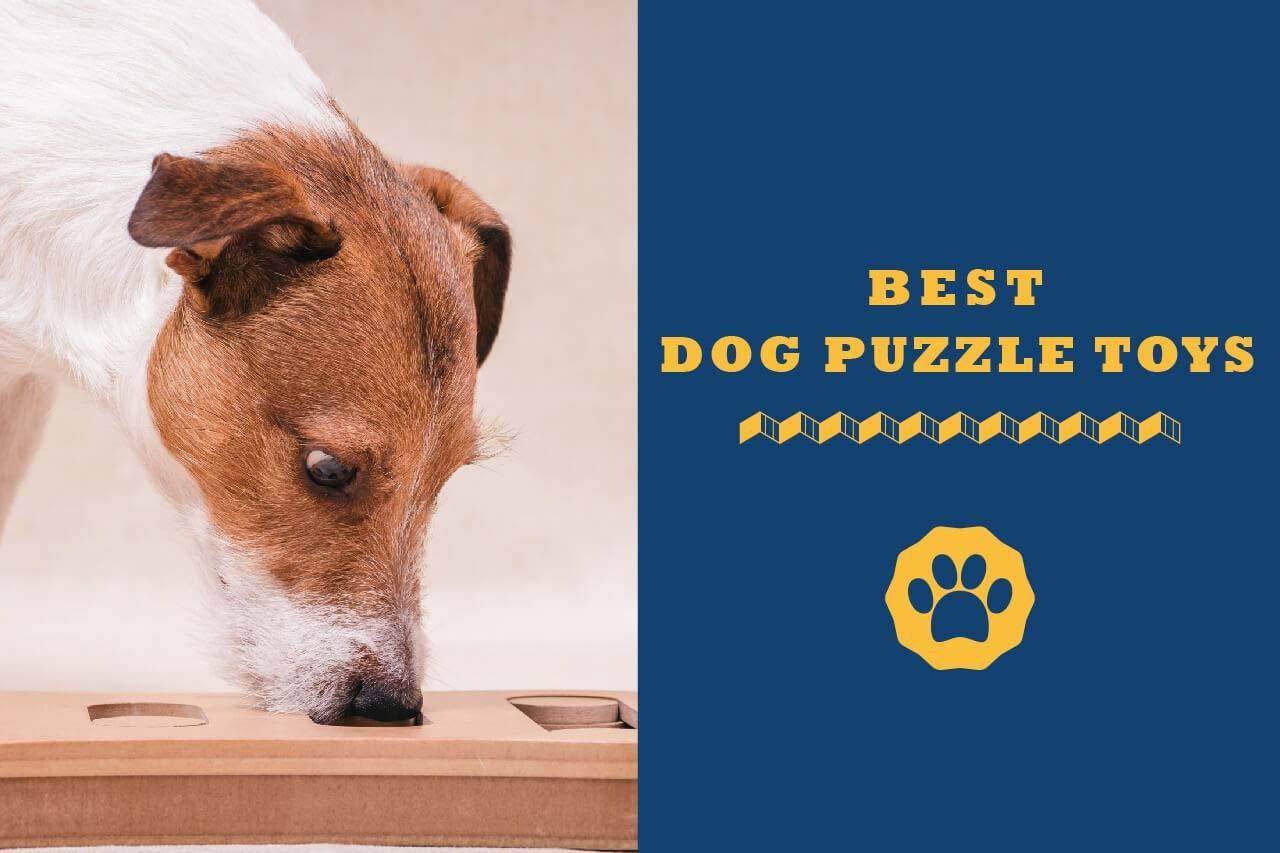 [five_sixth_last]
Ever heard of pet boredom? It's actually easy to tell what that means from the name itself. Animals, including dogs, do get bored once in a while, particularly when left alone for a long period of time.
What should worry you, in regards to pet boredom, is that it can take a toll on your pup, even if she's the most well-behaved in your neighborhood, leading to destructive behavior, unusual attention-seeking, uncharacteristic aggression, tail and ankle chasing, among other unusual traits.
Is there a way to help her out of that state of insufficient mental stimulation? Yes, plenty of them actually, but the most common and trusted method remains to be the use of best dog puzzle toys. I'll be introducing you to them later in the article.
To ensure your golden retriever has fun with the puzzle, it's important to find one that your golden retriever will succeed in cracking. For example, interactive and food puzzles work extremely well in aiding a golden retriever to grow its memory and problem-solving intelligence.
Below, you will learn how to narrow down on one plus more compelling reasons why you need to seriously order one sooner than later.
AT A GLANCE:
Our 5 Best Golden Retriever Puzzle Toy
An Overview of The Best Dog Puzzle Toy
| IMAGE | PRODUCT | |
| --- | --- | --- |
| | Small, medium & large breeds | VIEW LATEST PRICE → |
| | Small, medium & large breeds | VIEW LATEST PRICE → |
| | Small, medium, large & giant breeds | VIEW LATEST PRICE → |
| | Small, medium & large breeds | VIEW LATEST PRICE → |
| | Small, medium, large & giant breeds | VIEW LATEST PRICE → |
 Why Get A Dog Puzzle Toy?
A golden retriever puzzle comes in handy when you are dealing with a golden retriever that is very energetic and constantly needs a distraction in order not to be destructive. Not only do these toys challenge your dog's thinking; they also train your golden retriever to patiently solve problems.
Here's an overview of the benefits:
Keeps Dementia Away
The mental stimulation arising from play with puzzle toys has been linked to keeping dementia away in dogs. Dementia is fairly common in senior dogs, and while most golden retriever owners will notice a change in their canine behavior, they do not associate it with this condition.
Continuous games with mentally stimulating toys will help you identify the early symptoms, like learning and memory problems. This can help you get your furry friend the help he needs much sooner.
Keeps Your Dog Fit
Another great reason for a puzzle toy is to keep your doggie pal fit. Food puzzle toys, in particular, involve the golden retriever running after the puzzle and opening it to retrieve the treat inside.
This provides exercise for the pooch and enhances its problem-solving skills while helping it retain its hunting instinct. These toys can be used during a game of fetch with a reward at the end.
Elimination of Destructive behavior
The best dog puzzles also help your pooch eliminate destructive behavior as they stay focused on their toy, which revolves around interactive play. To get the best results for your dog, you should get involved in the play as well. Play releases happy hormones in dogs. The scent of food releases dopamine in your pooch's brain, making it relaxed and better able to take instruction.
Coping With Your Absence
These toys also quickly become your dog's best friend and they are never far from them. They are able to better deal with your absence when they have these toys because they are mentally and physically occupied.
For very energetic dogs, this is an excellent way to help release their pent-up energy so they (and you) can rest better.
Please note that dogs that suffer from conditions like arthritis are not ideal candidates for puzzle toys. Always consult your vet in case you have such suffering from serious health conditions before investing in a puzzle toy.
What To Consider Before Buying A Dog Puzzle Toy
In order to get a dog treat toy puzzle you will enjoy, the following factors should be considered:
The Needs Of The Dog
Seeing that different breeds play differently with puzzle toys, it's important to identify the specific needs of your pooch first.
Animals that eat too fast and end up bloated need food puzzles to help them slow down their eating process. Retrieving the food from the puzzle slows them down thereby training them to eat at a much slower pace.
A picky eater may just need the thrill of the hunt offered by the puzzle to pique their appetite.
If your dog is an energetic type that is on the move constantly, a mentally stimulating toy is exactly what they need. Normally, energetic dogs thrive on problem solving and exercise. Examples of such dogs include service dogs, herders, guard dogs, among other outdoor oriented breeds.
For dog owners who are training their dogs to sleep in their crate den or kennel, these puzzle toys can be the motivator for her to stay put in their space. Use the toys to keep the golden retriever occupied so they do not feel confined in the space.
The Size Of The Golden Retriever
Your large breed furry pal is definitely going to need a bigger toy and here's why. A small toy can easily become a choking hazard, especially if he's a strong chewer, not to mention the toy doesn't even stand the chance of surviving a day.
Smaller breeds, on the other hand, need appropriately-sized small to medium toys depending on how tenacious they are. I've seen some golden retriever parents assume that their small breed is a gentle chewer until they are proven wrong. So, consider what type of chewer your small dog is to ensure the toy remains safe.
To learn more about this, check out the video below by TopDogTips showing how to choose the right size dog toys:
Adjustability
Start your golden retriever off with the basics then work your way to the advanced levels of the puzzles with training and rewards. Most interactive puzzles always have adjustability so that the toy not only captures the intelligence level of the dog but also leaves room for growth.
Cleaning And Safety
Your golden retriever needs a clean toy to keep it healthy. Choose an easy-to-clean option that can be washed to remove traces of the food treats. This is important as it means you have no moldy and stale food that can harm your pooch. Make sure the materials used on the toy are non-toxic and well-constructed. The last thing you want is a toy that breaks into pieces that cut or choke your dog.
Top 5 Best Dog Puzzle Toys: Reviews
Based on all I've discussed so far, here's a round up of dog puzzle toys I found to be the best, effective, and well-spoken of: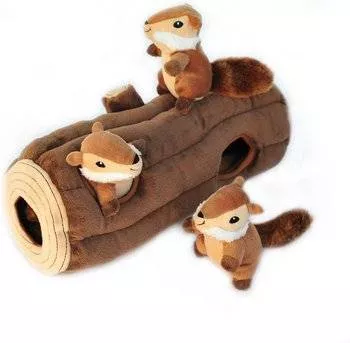 Zippy Paw's puzzle toy is an ideal option for dogs that love play and trying challenging stuff. Your golden retriever will love burying its face in the burrow as it tries to get to the chipmunks hidden in the log, which is a pretty good challenge for them. Even better, there's a squeaky sound to up the ante for your dog's pleasure.
You can keep stuffing the burrow with the chipmunks to keep the game going. The burrow comes with three holes for each of the critters. You can opt for your critters to be hedgehogs or birds.
The toy has been designed to be ideal for medium to large dogs that are not aggressive chewers. Also, it's machine-washable, making cleaning it easy for you and hygienic for your pooch.
Generally, it's an excellent puzzle toy for crate-training because it engages your golden retriever for hours on end.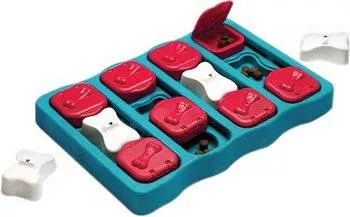 Your search for an excellent learning tool that can help keep your pup mentally-challenged ends with this toy. Nina Ottoson, the creator of this toy, recently received an award as a Pet Age Icon for developing treat puzzle toys that help keep dogs healthy through mental stimulation.
Not only is it fun and colorful, it also has nooks and crannies where you can hide food treats and let your dog learn to retrieve them.
Making the adjustability level less complicated makes it easier for your pup to find the treats under the blocks that are placed on the nooks. What's more lovely about the adjustability feature on this toy is that it's been designed to help your dog grow from basic problem solving to advanced skills with ease and safety.
To make it safer, the blocks have been made large enough so as not to be a choking hazard. Any dog owner will find this toy easy and fun to use as it allows excellent interaction with your furry pal.
Also, the Nina Ottosson by Outward Hound Dog Brick Interactive Dog Toy is easy to clean, even with the nooks and moveable parts. It works well for fast and picky eaters although any dog will enjoy having this as part of their playtime repertoire. It's ideal for dogs of all sizes.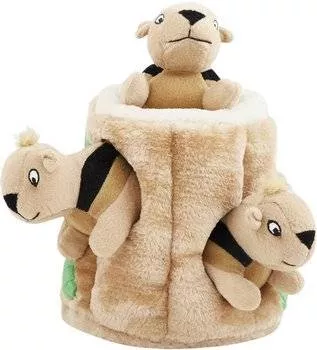 Squirrels and dogs are an excellent combination as far as play is concerned. If you've ever been out for a walk in the park with your pooch and he spots a squirrel, then you know how playful the chase can get. That is no different from how your canine will behave when you unpack this toy.
The squirrels stuffed in the tree will quickly become a favorite pastime for your golden retriever as he retrieves them and you stuff them back again. In the process, he will hone his problem-solving skills and have lots of fun.
This game of hide and seek features a plush tree trunk and six squirrels in the ginormous set. The squirrels are large enough to fit in the mouth without posing a hazard. There are other options as well, including junior, large, and jumbo each of which includes three squirrels.
Whereas the ginormous trunk features five holes, the junior and jumbo have three and two holes, respectively. Also, the squirrels are squeaky, which appeals to the hunter instinct in the dog.
Another thing you are sure to love about this puzzle toys is the variation of animals available. So, if your golden retriever doesn't love squirrels, you can opt for birds, hedgehogs, or bees.
This could also be the perfect puzzle toy when you are crate-training your dog as you can spend time playing with her or leave her with the toy. Unfortunately, if your dog is a chewer, they can end up with bits of this in their mouth.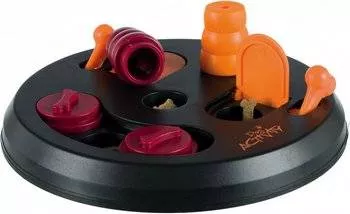 Trixie Activity Flip Board Interactive Dog Toy is ideal for intermediate dogs that get quickly bored by challenges that they can easily surmount. It requires your dog to open various treat compartments, allowing it to learn to forage for treats and food.
The flip board features knobs and slide disks which the golden retriever maneuvers to retrieve the treats you have placed underneath. A unique aspect of its design is the cones, which have been designed in a way that they cannot be knocked over by your golden retriever during play.
Also, it's fitted with a non-slip rubber rim to keep it firmly in place so that the golden retriever can concentrate its efforts on getting the treats. I also admire the fact that it comes with a manual showing you how to design different training programs to advance your pooch's problem-solving skills.
The toy also takes pride in being an excellent mental stimulant that is easy to clean and maintain. It's made out of plastic that is sturdy and easy to wash with warm water and soap. This is crucial because of the element of food.
Dogs of all sizes can enjoy playing with this dog treat toy puzzle owing to its accommodative dimensions. Fast and picky eaters will enjoy it the most.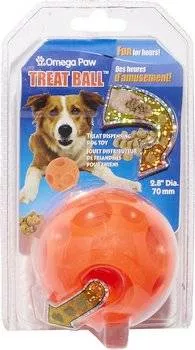 Balls always do well with dogs because they allow the dog to engage their mind and body at the same time. Combining playtime with a treat is a great way to keep your dog mentally and physically challenge while buying yourself a few hours of playtime as well.
This treat ball is easy to fill up and the golden retriever gets to enjoy the treats it leaves behind as it rolls. The concept of the ball is easy to understand for just about any dog. It won't take long before she begins to roll it all over the place to dispense the treats inside.
The material used is soft and easy to grip and the sizes are large enough so that the ball doesn't disappear under the couch and out of reach of the dog.
It comes in small, medium, and large varieties with a sizeable opening from where the treats fall out. The dogs can go for at least half an hour trying to get the treats to fall out.
What I found interesting about these toys is that dog owners have used them for years with their little pals without having to order a replacement. Fast feeders and energetic dogs are sure to enjoy it the most.
Conclusion
Doggy ancestors never had to think about toys to keep them sharp because their survival depended on their ability to learn and think fast. Modern day pets do not have to worry about surviving because their parents can take care of that.
But having these skills as part of their repertoire is a huge plus because nature can be unforgiving to anyone trapped in it who doesn't learn; golden retriever or man.
Even the most obedient dogs will benefit from the best golden retriever puzzles as they can stimulate their mind, whether they are bored or not, and these also come in handy in case they ever have to forage for themselves.