Updated: October 14th, 2022
This article contains affiliate links. Read the full disclosure here.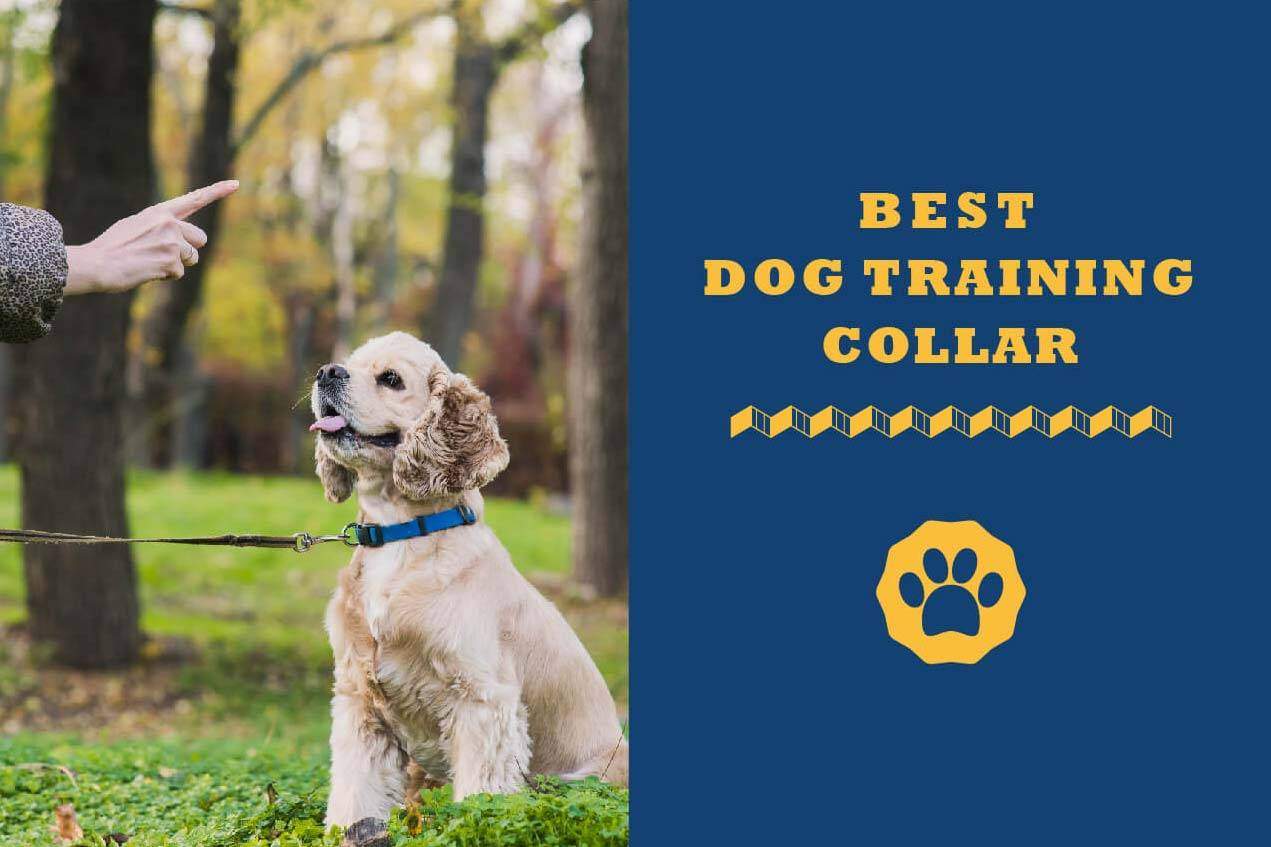 Your naughty or stubborn pooch should definitely not be left to their own devices—unless you want to count losses, endure angry outbursts from strangers or your neighbors, and miss out on the magic that the best dog training collar can bring to such situations.
So much has been said about these training collars, especially the shock type…good,  bad, and ugly. But in the hands of a dedicated pet owner or great trainer, this tool can be invaluable in improving pet behavior.
You'll learn about other varieties of training collars shortly.
Meanwhile, here's your chance to check out what we found to the best and most reliable dog training collars in the market today, keeping in mind type, build, size, features, and other factors.
You may be surprised by what turned out to be the best overall!
AT A GLANCE:
Our 5 Best Dog Training Collars
An Overview of the Best Rated Dog Training Collars
IMAGE
PRODUCT

Safe and durable
Offers a secure connection for the leash
Can replace the links regardless of the collar size

VIEW LATEST PRICE →

Best For First-Time Dog Owners

Offers 100 levels of stimulation
Waterproof and impact proof
Has an LCD display that shows you the correction level 

VIEW LATEST PRICE →

Correction scales as your dog continues to bark incessantly
Has intuitive bark technology to identify your dog's unique bark
Reconfigurable

VIEW LATEST PRICE →

Gentle
Linked design is aimed to accommodate various breed sizes
Patented, humane design

VIEW LATEST PRICE →

Best Training Collar With Remote

Can be used indoors and outdoors
Waterproof
an accommodate dogs of all sizes and breeds

VIEW LATEST PRICE →
Best Dog Training Collar Reviews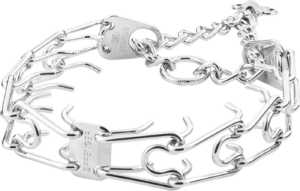 Click Here For Price
For dog parents who are skeptical about prong dog collars, Herm Sprenger Ultra-Plus Prong Training Dog Collar helps you see how effective such collars can be. Not only is it safe since the prongs are blunt, but it is also effective and practical. The prongs are not painful, but they act as the point where the correction communication is delivered. In other words, they are only uncomfortable enough to get the message across.
Key Features
Chrome prong collar
Fastener plate
Blunt prongs
The biggest issue with prong collars has always been a concern for the safety of the dog's neck. But with this collar your dog is not only safe, it feels no pain as the prongs have rounded edges.
The collar is ideal for stubborn dogs who are strong pullers or large, over-excited dogs. It helps with behavior correction, especially when out in public or around other dogs.
The Herm Sprenger Ultra-Plus Prong Training Dog Collar, like other Herm Sprenger collars, has a standard length that you can build on for the correct fit by adding or reducing links.
Pros:
Chrome does not rust, making it safe and durable
Fastener plate is solid to offer a secure connection for the leash
Can replace the links regardless of the collar size
Cons:
Customers with dogs that have a hairy neck encountered problems with the fit of the collar
In this Herm Sprenger Prong collar, you have a no-shock device that is ideal for your large dogs and strong pullers and which doesn't pose a danger to their neck. All its features combined make it the best product overall in this review.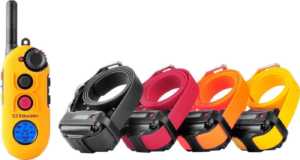 Click Here For Price
E-collar Technologies has developed some of the safest and most humane dog training collars to help reinforce obedience in your dog, solving stubborn behavioral problems. Because they have a myriad of collars, it is crucial to choose the right one for your pooch. The E-Collar Technologies Easy Educator comes highly recommended
Key Features
Wide-pulse stimulation
100 levels of correction
Lock-and-set feature
Expandable to train multiple dogs
LCD Display
Rechargeable batteries
Water and impact proof
Night tracking LED lights
E-collars, or electric collars, are highly effective, and this one works great. The collar is made using patented BioThane, which is polyester webbing covered with a polymer. This coating makes it highly durable and easy to maintain while remaining waterproof.
Its transmitter weighs 4.2 ounces, and it can control as many as four dogs as long as you purchase extra receiver collars.
Using the lock-and-set feature, you can set the correct level for different dogs, and the transmitter remembers each individual setting. It uses blunt pulse stimulation, which is also commonly referred to as wide stimulation.
This is the same stimulation used by chiropractors and physical therapists and is considered medical-grade muscle stimulation and more humane. Other collars use the sharp pulse.
Pros:
Offers 100 levels of stimulation compared to 10-15 levels on other collars
Can train multiple dogs when necessary
Has powerful LED lights to help you identify your dogs in poor visibility or at night
Waterproof and impact proof as well, making them ideal for active dogs
Has an LCD display that shows you the correction level
Cons:
Limited  collar color options
Relatively expensive
Looking at all these features, this collar is an excellent option for first-time dog parents trying out dog collar training and those who are looking for the most human collar on the market.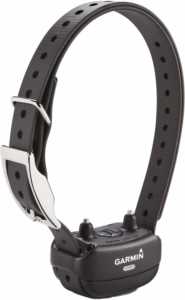 Click Here For Price
From integrated contact points made from stainless steel to a rechargeable lithium battery, this collar from Garmin is widely considered one of the top dog training collars on the market today. Apart from the collar and the battery, expect to receive an AC adapter, instruction manual, and USB cable
Key Features
Lightweight
Rechargeable lithium battery
Adjustable correction levels
Built-in bark counter
Intuitive bark collar technology
The design of the Garmin BarkLimiter Deluxe collar is lightweight and compact. It serves several purposes, including containing your dog, tracking her activity level, and training her as well. Most reviewers appreciate that it is compatible with the Garmin Canine app that you can install on your smartphone.
Pros:
Rechargeable battery can run for three months
Has intuitive bark technology to identify your dog's unique bark, reducing the chances of false correction
Correction scales as your dog continues to bark incessantly
Reconfigurable
Cons:
No warning beep before correction is sent
Garmin's BarkLimiter Collar will provide you with fast and effective results that ensure your dog is not a nuisance in your home or neighborhood. It's also a great collar for a dog that will ignore the first correction signal, since it scales the correction intensity with continued barking. Given all it's able to deliver and the reasonable price, this is the best value collar in this review.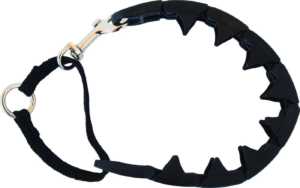 Click Here For Price
This is an affordable collar that does a good job of controlling lunging and pulling behavior. It is a great fit for a pup that is growing, because you can buy additional links to enable the leash to easily accommodate the growth of your dog.
Key Features
Martingale collar design (designed for dogs with narrow heads)
Comes in three sizes
Adjustable link snap
Watch band design
The Starmark Pro-Training Dog Collar is a gentle, no shock collar for your pooch. This collar also gives you reinforced grip on your doggie, since it has the main loop and a smaller loop for your leash.
The design is uncomplicated, and even first-time users can easily learn the art of putting it on and removing it from their pooch's neck. This collar is among Starmark's training tools specifically developed by their professional behavior and training specialists.
Pros:
Gentle enough to use on small breed dogs and puppies
Linked design is aimed to accommodate various breed sizes
Patented, humane design
Cons:
May not be effective for dogs weighing 70 pounds or more
The Starmark Pro-Training Dog Collar is the perfect leash for gentle correction of pups and small breed dogs. The collar stops your dog in her tracks without causing injury to her neck.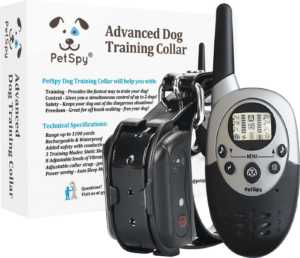 Click Here For Price
This collar will teach an older, stubborn dog to obey commands and a younger pup to toe the line, steering her away from trouble. It is fast and effective, works remotely, and is affordable as well.
Key Features
Remote capabilities
Three training modes
Eight adjustable stimulation levels
Waterproof collar
Movement sensor
The collar is designed to help first-time owners as well as experienced dog trainers to reign in their pooches. It has eight adjustable levels of static stimulation, and both the collar and the remote use rechargeable batteries.
If you are a doggie parent to multiple dogs, you can use it to train up to three fur babies simultaneously. Reviewers also had excellent things to say about PetSpy customer service representatives who willingly assist with your questions when you call in.
Pros:
Can be used indoors and outdoors within a 1100 yard range
Collar is waterproof, making it ideal for dogs engaged in outdoor activities
Comes with a warranty if you purchase from an authorized retailer
Transmitter signal goes through walls and doors, so you can reach your dog wherever they are
Can accommodate dogs of all sizes and breeds
Cons:
Expensive
Some users report that the collar and remote lose sync sometimes
With the PetSpy M86 Advanced Dog Training Collar, you have multiple control options and enhanced functionality, both of which make this a very effective dog training collar overall.
Important Factors To Consider Before Making A Purchase
Before adding that collar to your cart, there are a number of factors you'll want to look at first. They include:
Size
Obviously, an ill-fitting collar will not work effectively to train your pooch, and it may even result in serious injuries. Most collars are adjustable, but even then, it is imperative to buy the right fit for your particular dog. There are collars specifically made for smaller breeds and larger breeds.
Build
Larger breeds tend to be more muscular, so you may need stronger stimulation to correct your large dog's behavior. This doesn't mean using an inhumane correction level, just a slightly more powerful jolt than you would use on a smaller dog.
Puppies are the exception. Even if a puppy is already large, it only needs moderate stimulation because it is still in the developmental stages.
Scent
There are dog anti bark collars that utilize strong scents to deter your dog from indulging in excessive. When she acts up by barking nonstop, the collar releases odors like citronella which is irritating to your pooch, making her immediately stop barking.
Note that spray collars are special-use collars. They work to control excessive barking but may not be 100% effective when exposed to high-pitched barking, so you won't find any on this list. Check out some more Anti-Barking Devices we recommend.
Vibration
Vibration is a great warning signal before a shock stimulus is released. Some dogs are sensitive to sound, so opt for a collar with multiple signal modes to warn your pooch before being shocked. Apart from vibration, the collar can use light as well. These modes can be fine tuned to suit the correction level you prefer for your pooch.
Special needs dogs especially can benefit from the vibration setting instead of shock stimulus. These include dogs that are deaf. Since they cannot hear you, the buzz will alert them of their boundaries. Also, senior dogs or chronically ill dogs should use this setting.
Shock
Make sure that the collar has processors and sensors that allow you to set the perfect stimulus intensity for your pooch. A great dog training collar has up to 100 levels of intensity to allow you to customize it collar to your training needs. Strive to find the best device that can accommodate your pooch for the best results.
Remote And Range
Look for a collar that has great range, whether you walk your dog in a park, around the neighborhood, or on your acreage. Dogs love to roam and sometimes can cover long distances away from your watchful eye before you realize. Having a collar with remote capabilities and long range allows you to correct your pooch's behavior and return her to safety even when she goes rogue. This is especially crucial if you have a hunting dog or live in a rural area. A range of half a mile is adequate in a neighborhood, but opt for a longer range when on expansive land.
Waterproof
Waterproof collars allow you to keep track of your doggie even if she loves to play in water or puddles. This also enables you to track and train your dog regardless of the weather. Plus, it saves you the hassle of removing the collar every time your pup has to have a drink of water for fear of it getting destroyed.
Collar Features
Features like lock and set, LCD screens, and LED lights for better night visibility should also be on your list of considerations, because they enhance the effectiveness of the collar and the experience when you use it.
Types Of Collars 
The four most common varieties of collars you'll run into include:
Variable Mode
A variable mode collar can use any of the following signals to correct your pooch: a sound, vibration, tone, or shock. What you decide to use is entirely up to you. The majority of doggie parents seem most comfortable with this type of collar. In addition, the modes are all adjustable, and you can go up or down in the correction level to suit your needs.
Shock Collars
This is the most controversial collar, because it uses static shock stimulation to correct behavior.
Those against shock collars talk about how it causes pain and encourages aggression in some animals, while those for it show how fast it works, situations where it's most appropriate, and the effective results it's able to deliver.
Ultimately, using this type of collar boils down to preference, although I must reiterate that the stimulus is completely harmless and can be scaled down or up according to the preferences of the dog owner.
Remote-Controlled Collars
These collars allow you to correct your dog even from a distance. In reviews of electronic dog training collars, users speak of how behaviors like digging and chasing cars can be easily done away with using this type of collar. You can send a shock to your pooch to make her stop in her tracks, as long as she has an electronic collar that is effective.
No-Shock Collars And Training Devices
As the name suggests, this is a collar that does not use static shock stimulation to correct your dog. These can be in the form of spray collars, vibration collars, or dog whistles. They are ideal for dog parents who refuse to subject their animals to the discomfort of shock stimulation.
How E-Collars Work – And Whether They Are Safe For Your Pet
Electronic collars are an excellent tool for bringing about positive behavior change in your pooch. I know you might be afraid of the word "shock", associating it with electrocution. However, an e-collar doesn't impart a powerful, life threatening jolt to your pet.
In some models, the e-collar uses blunt stimulation which is a more general and wide stimulus, while others use a sharper stimulation, penetrating the muscles of the dog in very measured and safe proportions. 
These collars also feature adjustable stimulation levels, and you have absolute control over how much stimulus you impart to your baby when she misbehaves. To test the power of the jolt, you can try it on yourself by placing your finger as the contact point between the collar and the dog's skin.
E-collars should only be used when in training and should not be left on for 24 hours daily. Remember, they are just training tools. It's actually recommended that they should not be used on your pooch for longer than eight hours a day.
Also, make sure to check the collar every hour it is on to ensure the fit is not too snug. Finally, never use these collars on a regular dog collar or with a leash.
For more information on how to properly use an e-collar to train your dog, watch the video below:
Benefits Dog Training Collars Offer
Training a dog is not easy. Our furry friends have a mind of their own and hunting instincts that are pretty strong. Sometimes what we consider misbehavior in our pooch is just their natural reaction to nature and their environment. But training is vital nonetheless, and here is why a training collar comes in handy.
Helps Curb Aggression
Dogs can become aggressive for a myriad of reasons. Rescued dogs, in particular, come with a history that sometimes may be violent. In such cases, the dog needs retraining to help integrate into your household, especially if you have other pets.
Using a dog training collar, you can train your pooch to not bark at other dogs when out in public and prevent issues like dog fights that can result in your dog getting injured.
However, never use an e-collar on an aggressive dog because the shock may escalate the aggression. Keep in mind that some dogs become aggressive when abused, like fight dogs, while some become introverted and meek needing a less aggressive approach.
Prevents Leash Pulling
If your pooch loves to pull away when out on walks, using a dog training collar is the best way to reign her in and prevent such behavior. Sometimes it is exuberance that can be curtailed with a gentle reminder to toe the line.
The best part is that even when the dog is away from you, the correction is still ongoing if you have an automatic dog collar or one with remote capabilities. In most cases, the pooch may revert back to bad behavior away from the presence of the owner.
Behaviors that you can prevent using the collar include chasing cars, ripping through hanging laundry, digging, or chasing other animals.
Train Defensive Behaviors
Some of the best e-collars for dogs can also help train your pooch in defensive behaviors. For example, dogs naturally love to sniff in holes in the ground looking for something to chase.
However, using the collar, you can send a stimulus to the dog every time she ventures towards a hole to teach her to stay away from such holes that may harbor snakes or porcupines. Pretty soon, she will associate a hole with unwanted stimuli, ultimately keeping her safe.
Shock collars can also be used to train dogs to keep silent on a hunt, especially where they can easily become the prey. When in the wild, you need your dog to be alert and focused, not barking and attracting unwanted attention to you.
Fast Results
With a dog training collar, your dog will learn faster, because she will cease to indulge in bad behavior as soon as she realizes that the reward is a startling jolt of static shock or the other forms of correction communication, like the pinch of metal prongs.
In the case of electronic stimulation, after using it for a while, say a week or two, you may be able to revert to using only the warning beeps and vibrations.
Who Should Buy A Training Collar? 
Looking at the benefits mentioned above, you can see that a dog training collar is an ideal option for dog parents whose babies are strong pullers, incessant barkers, or indulging in other distracting and dangerous behavior. But note that you must understand the temperament of your dog before considering a training collar.
A rottweiler with a sweet temperament may not need a training collar, as opposed to an over-excited Labrador with aggressive tendencies. In cases where a docile dog needs a collar, opt for a less firm material or even a flat buckle collar. This is the basic dog collar with a metal buckle.
The most important thing is not to completely rely only on no-shock or e-collar dog training to get your dog to behave. Rewarding your pooch with treats when she acts appropriately and praising her efforts must be included as well. Verbal commands must also be used, especially around the home.
You can use a training collar to prevent leash aggression, lunging at bystanders, or picking a fight with neighborhood dogs. Just make sure you've picked the right type based on the behavior you want to control.
Here are the best candidates for a training collar:
Strong pullers
Young, excitable puppies
Guard dogs
Dogs that bark all the time
Conclusion 
My hope is that you've found the collar that is best suited to your needs and for training your dog. After reading this review, you now have the opportunity to experience the magic behind different training collars, from the no shock and variable mode type to the remote-controlled, best e-collars for dogs.
Remember, a training collar is still a behavioral tool to retrain a dog struggling to obey your commands. If you are hesitant to get one, just imagine how much better your life and that of your pooch will be with the crucial training these collars offer.
Consider the Herm Sprenger Ultra Plus Collar, which is the best overall product in this review. In addition to being simple and very affordable, Herm Sprenger collar is also completely safe, practical, and designed to correct bad behavior and help with obedience training. Wouldn't you want that?
Even the rest of the collars are special in their own way as well and would work well for the various needs your dog may have.