Updated: October 14th, 2022
This article contains affiliate links. Read the full disclosure here.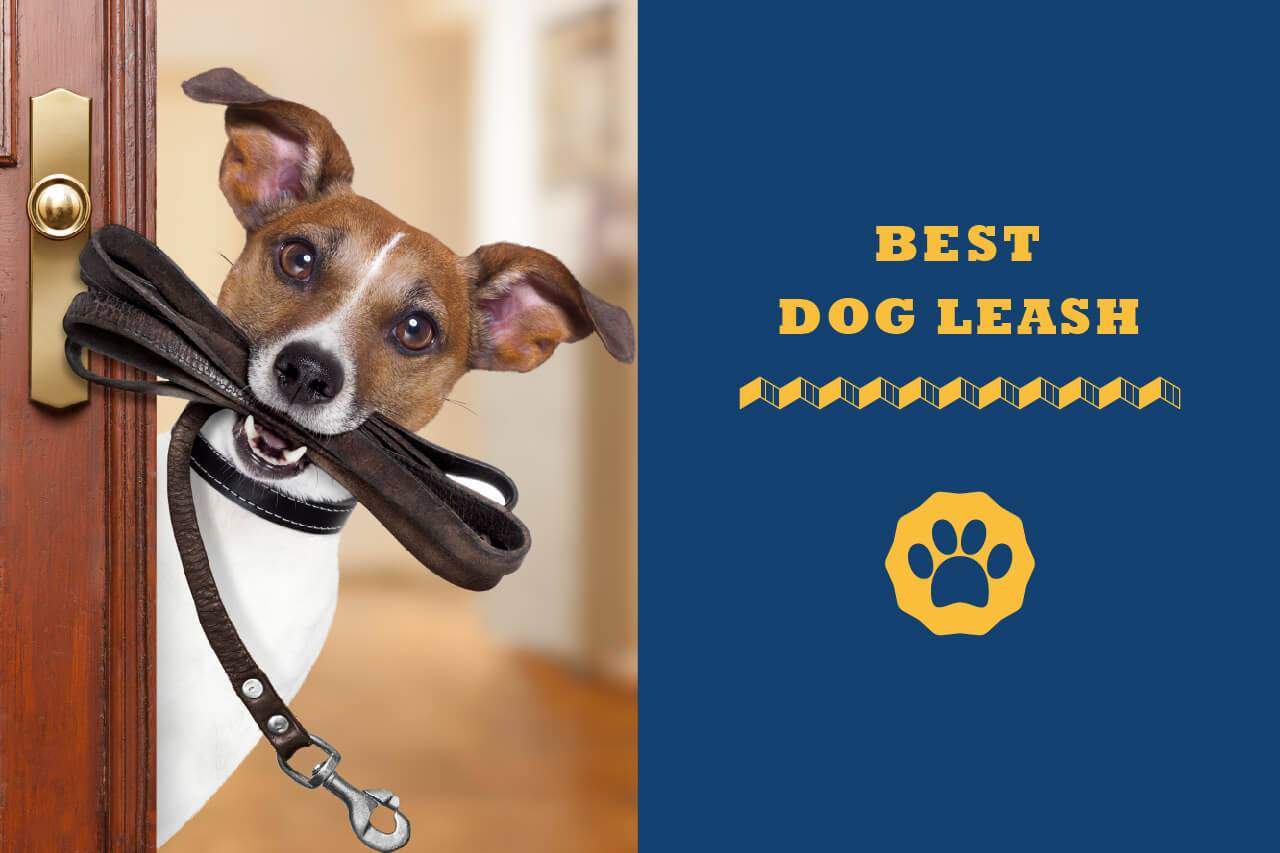 Walking your dog can be a moment of great pleasure and bonding, but it can also be quite stressful and painful if they have a tendency to pull on the leash and try to drag you after every small animal and child that they see. Combined with proper best dog leash training, the right dog leash can make a huge difference. But with so many dog leashes on the market, how can you know which is the best dog leash for you and your dog?
Read on for our list of the eight best leashes that you can currently buy and what type of dogs they are best for. Also check out our buying guide to help you judge the quality of any lead, and check out our top tips for making dog walking easier and more fun.
AT A GLANCE:
Our 8 Best Dog Leashes
An overview of 8 Best Dog Leashes
IMAGE
PRODUCT

Standard style
Reflective nylon material
Neoprene padded handle

VIEW LATEST PRICE →

Retractable leash
Extends up to 16 feet
Nylon ribbon with belt feeder

VIEW LATEST PRICE →

Standard leash
Nylon fabricNylon fabric
5 ft standard length

VIEW LATEST PRICE →

BEST STANDARD FOR BIG DOGS

Durable nylon leash
Two neoprene padded handles
5 feet long

VIEW LATEST PRICE →

Standard leash
Mountain climbing rope
Heavy-duty snap

VIEW LATEST PRICE →

Standard leash
Leather
Stainless steel clasp

VIEW LATEST PRICE →

Dual leash
Nylon reinforced with bungee
Stainless steel double-ringed swivel

VIEW LATEST PRICE →

Bungee lead
Two padded handles
360-degree rotating clasp

VIEW LATEST PRICE →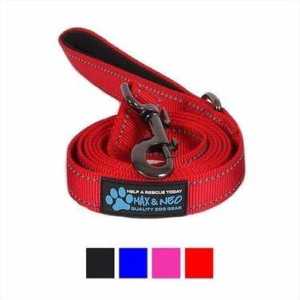 If you are looking for a high-quality standard leash ideal for city walking and training, then this reflective leash from Max and Neo offers excellent value.
Product Features
Standard style
Reflective nylon material
Neoprene padded handle
The leash is made from top-quality nylon, which has been padded to make it more comfortable on the hands. It also has reflective stitching on both sides so that it is easier to see you and your dog at night. This leash should be tough enough to deal with the strongest dogs. In fact, the manufacturer is so confident of this that they have offered a lifetime warranty.
This leash comes in a variety of different colors and lengths, and also has a double handed option, so there are options for every dog. It also features a D-ring near the top of the leash for securing necessary dog walking accessories. If this leash lacks anything, it is that it could be more versatile in terms of enabling extensions or for use in the car. But really, for what this leash is designed for, it is perfect.
You can also get a good fuzzy feeling inside when you buy one of these leashes, as for every leash bought, the company will donate a leash to a rescue dog.
Pros:
Made from strong nylon
Reflective, so you and your dog are visible at night
Padded handle for comfortability
D-ring clip at handle
Lifetime warranty
Charitable support when you make a purchase
Cons:
If you are looking for a standard, affordable leash that does the job excellently, then this quality leash from Max and Neo is your best bet.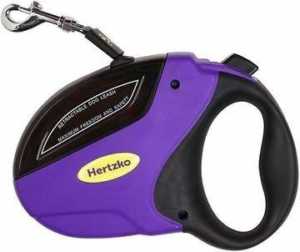 If your dog is a bit more adventurous, give them the space to explore with this retractable lead from Hertzko.
Product Features
Retractable leash
Extends up to 16 feet
Nylon ribbon with belt feeder
When you are going on longer walks in nature and want to give your dog a bit more freedom, this leash offers up to 16 feet via a nylon ribbon with belt feeder that prevents tangles. The retracting system also features a break and lock button so that you can bring your dog in close quickly if required. The mechanism is also very strong and can handle dogs up to 110 pounds.
This leash is a bit more expensive than the other leashes on this list, but this is not unexpected considering the retractable mechanism. While the manufacturer has gone out of their way to create an ergonomically designed comfort handle, it is bulky and adds weight to the lead. It does need to be gripped throughout your dog's time on the leash and can't simply be hung from your hand.
Pros:
Retractable feature adds versatility
Durable enough to stand up to the toughest dogs
Strong mechanism that won't budge when dogs pull
Cons:
Handle not ideal as it needs to be gripped for the entirety of the walk
Expensive
Not reflective
If you are looking to give your dog freedom on the leash, while still being able to keep them under control in case of emergency, this retractable leash from Hertzko is a great choice.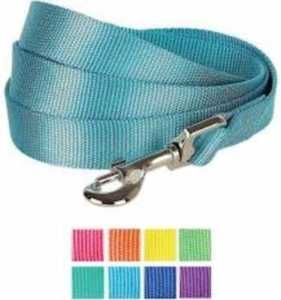 If your dog is your mini-fashionista on a budget, then you'll be able to find them the perfect lead from Blueberry.
Product features
Standard leash
Nylon fabric
5 ft standard length
Coming at a five-foot standard length (though other options are available), this leash is great for training and city walking. It is made from a soft nylon fabric that is durable, and it comes with a nickel coated snap for reliable collar attachment.
What really sets this leash apart, however, are the options, as it comes in eight different solid colors, as well as more than 10 attractive prints. It is also possible to buy matching collars. These leashes and collars are also machine washable so that it is easy to keep them clean and stylish in the long-term.
The main drawback with this leash is that it can't do everything. You won't be using this leash for your dog to run alongside your bike or for securing them to a post when necessary. The leash also doesn't include any reflective features for good night visibility.
Pros:
Nylon fabric, making the leash durable
Variety of colors
Machine washable
Affordable
Cons:
Not reflective
Could be more versatile
Despite these small drawbacks, this leash from Blueberry is a great option if you are looking for something that is stylish and functional. It is also highly affordable, so you can splurge and get your pup more than one.
If you are looking for extra comfort and confidence when it comes to walking a large dog, then the Leashboss is designed for you.
Product Features
Durable nylon leash
Two neoprene padded handles
5 feet long
The lead is made from durable nylon, which is coupled with a neoprene padded handle to offer maximum comfort and control. It includes a second handle 18 inches from the clasp so that you can keep your dog close in high-traffic areas or high-stress situations.
The lead comes in four different colors, and five feet as standard, which is ideal for most walks and for training. It also has a durable metal clip that will hold up just as long as the leash itself.
This leash is definitely on the expensive side, but it should last the distance. Also, while the five-foot length is great for normal walking, it does not offer versatility if you want to take your big dog into open spaces or want to pin your dog to a post.
Pros:
Durable as the handle is made from nylon
Easy to control larger dogs
Cons:
When it comes to walking your big dog on the city streets, this lead from Leashboss will let you stay in control.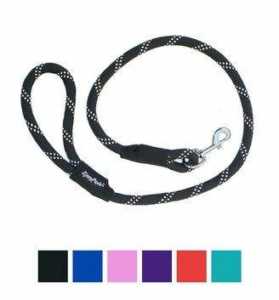 We trust mountain climbing rope to hold the weight of a fully-grown human 100 feet up, so this mountain climbing lead from ZippyPaws is just as strong.
Product Features
Standard leash
Mountain climbing rope
Heavy-duty snap
This leash uses a ⅔ inch thick mountain climbing rope with a tensile strength of 3,791 pounds and a heavy-duty snap hook to provide one of the strongest leads you will encounter. The rope is also relatively comfortable on your hand, so it is easy to keep a strong and comfortable grip when you are out on long walks or run together.
While this leash is available in five different colors, it only comes in four- or six-foot lengths, which seems quite limiting for a strong lead designed to be used in the great outdoors. I would like to see longer options available as well.
Pros:
Strong as it has a tensile strength nearly 3,800 pounds
Durable leash as it is made from mountain climbing rope
Durable snap that ensures the lead stays secure to your dog's collar
Cons:
Limited length options
Not reflective
If you are looking for an extra strong leash to keep your dog close and secure on walks, then this mountain climbing rope leash from ZippyPaws ticks a lot of boxes.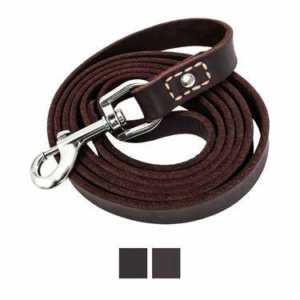 If you are partial to leather leashes in terms of both style and comfort, then this leash from Leatherberg is for you.
Product Features
Standard leash
Leather
Stainless steel clasp
This leash does not try to do anything fancy; it just tries to make the best quality standard leash using the best quality material. It is made from 100 percent real latigo leather, which gives just the right amount of give for comfort. The leather is also comfortable on the hand.
The leach combines its high-quality leather with a high-quality stainless steel clasp with riveted ends that provides an extra layer of durability when connecting to the collar.
Understandably, it is more expensive than the nylon leashes on this list because it is made from such quality materials. Choose from brown and black, but this leash is only available in the six-foot length, which means that it is only really appropriate for medium and large dogs.
Pros:
Durable lead with good give
Soft on your hand
Stylish as it is made from leather
Cons:
Limited length options
Not reflective
If you are looking for a leather leash that is both stylish and functional, then this leash from Leatherberg meets all the criteria.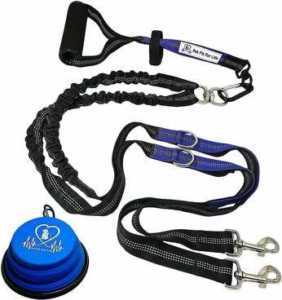 When it comes to walking multiple dogs, having the right tools, like this dual leash from Pet Fit For Life, can make all the difference.
Product Features
Dual leash
Nylon reinforced with bungee
Stainless steel double-ringed swivel
Trying to take two dogs out on separate leashes can compromise both comfort and safety. This convertible leash can be used for one dog or two. It uses super strong nylon for the lead itself, and reinforces stress points with bungee absorbers for optimum durability.
It features a soft foam handle, which is easy to use, even with two heavy dogs. The double-ringed swivel keeps the leashes from tangling, which is essential when walking multiple dogs with their own agendas.
The length of the leads are adjustable, so you can give your dogs 64 inches, or bring it down to 34 inches when needed. This leash is really designed for medium and large dogs and is not ideal for walking your team of small pooches.
Pros:
Dual leads that won't tangle
Strong and shock absorbing leash
Convertible lengths
Durable as it is made of nylon
Cons:
Not ideal for smaller dogs
Not reflective
If you want to take two dogs out comfortably, it is definitely worth investing in a quality dual leash, like this one from Pet Fit For Life.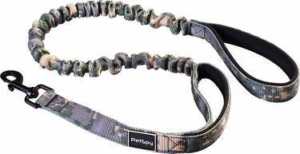 While this lead is new to the market, it already stands out as one of the best and most affordable bungee dog leads.
Product Features
Bungee lead
Two padded handles
360-degree rotating clasp
This leash starts with a shock-absorbing bungee lead that protects your pup when they pull or jerk, and is also easier on your arm when they do. It couples this with two padded handles, one at the top and one further down for when you need to exert a bit of extra control. These also feature a waterproof neoprene lining for comfort and durability. The leash also features a 360-degree rotating clasp, which will ensure your dog never gets tangled up.
The leash comes as four-foot standard, but with the bungee extension extending to six-feet, it really is designed for keeping your pooch close and not for more adventurous outings. It comes in either green or blue camo style.
Pros:
Shock absorbing
Multiple handles for control
Rotating clasp to reduce tangling
Waterproof handle
Affordable
Cons:
Limited lengths
Not reflective
If you like to be at the cutting else, and are looking to limit the shock when your dog pulls, then try this new lead from PetSpy.
Dog Leash Buying Guide
As you can see, there are loads of excellent dog leashes on the market, and which one is right for you depends very much on your dog and you and your particular walking needs. Even though there is no one-size-fits-all approach for selecting a leash, there are a few fundamental considerations that can help you make your decision.
Type of Leash
There are many different types of leashes, and you can probably find a leash for every function. For example, there are leashes that you can specifically use to secure your dog to your bike if they enjoy running alongside you, or that you can use to secure them in the car so that they can't move around the space too much.
While these specialist leashes are now ubiquitous, there are still probably only seven main types of dog leashes.
Standard dog leashes are the most common, and probably the best and easiest when it comes to training and daily walks. Generally about four to eight feet long, they give dogs enough space to roam a little, but are tough enough to get even the strongest dog under control pretty quickly. While this kind of 'no-frills' leash may seem a bit basic, Annie Grossman, owner and co-founder of the School for Dogs reminds us that:
The equipment, much like the seat belt in a car, should be there in case of an emergency, and not something that you're using to control your dog.
Retractable leads are great if you want to give your dog a little bit of extra space to explore. Offering and range of between four and 30 feet, you decide how much leeway to give your dog depending on where you are. The handle comes with a strong locking mechanism so that you can set the distance.
Adjustable leashes offer your dog a bit more freedom than a standard leash, but aren't quite as free-ranging as a retractable leash. You can generally extend a standard leash by three to six feet by adding additional loops. Some owners with stronger dogs prefer this to a retractable leash, as they worry that the retractable mechanism may not be up to the task. In case you are using a bark collar, make sure the leash fits the collar in a way that doesn't interrupt its activity.
Multiple dog leashes allow you to walk more than one dog comfortably. It generally comes with a single handle with multiple leashes attached.
Martingale leashes are a little controversial. They are designed to discourage your dog from pulling on their leash, as when they pull, it tightens around their neck, making them uncomfortable and discouraging the behavior. While some people don't like the idea of this, it is recommended by a variety of training experts.
Bungee leashes have a bit more give in them for when your dog pulls as they have a portion of the leash that absorbs the shock on your arm. However, these leashes shouldn't be used to deal with dogs that pull. According to animal behavior specialist Erin Askeland:
Flexible leashes or leashes with a bungee-style rope will not help your dog stop pulling on the leash and can actually encourage it.
Dogs need to be trained how not to pull on the leash, using methods as described in our No More Pulling guide.
Double-Handled leads are specifically designed for large dogs that can be a bit more difficult to control. Instead of bearing all of their weight on one arm, the leash has two handles so you can distribute the weight across your body and exert more strength if needed.
Size
Once you have selected a type of leash, the next thing to consider is its size. This refers to both length and width, and which you need basically depends on the size of your dog.
Generally speaking, a leash shorter than four feet will not give your dog the freedom that they need to move around comfortably. Much longer than six feet is not really ideal for city or suburban areas where you are likely to encounter other dogs, or people with a fear of dogs, and you will want to be able to keep your dog close to you.
Longer leashes are obviously designed to give your dog more room to roam and are great for open spaces where you still want to keep your dog on the lead. Shorter leads of around eight to 10 feet are used mostly for obedience training, when you want them a bit further away from you to respond to commands but still want them under control.
In terms of thickness, smaller dogs need thinner leads for their comfort, while stronger dogs, or dogs that like to chew on their leads, need thicker leads to stand up to the wear and tear.
Material
Leashes can be made from a variety of different materials. Some are specifically heavy-duty for stronger dogs, but they should all be strong enough to do the job.
Nylon leads are probably the most common lead material as it is strong, durable, lightweight, affordable, and versatile. It is important to choose one that comes with padding, as Nylon is notorious for causing leash burn.
Cotton leashes are strong and have quite a bit of give in them so they will not tear easily. Cotton holds up well in the wet, so they are good for dogs that will be walking in the rain or love swimming. They can cause lead burn if they are not well designed.
Leather may be the best material for dog leads, though it is more expensive than nylon. It is strong while being gentle on your hands.
Chain leads are a good choice if you are looking for something super durable. They should really only be used when absolutely necessary as the metal can be harmful to your dog. For example, if they bite on the metal, it can hurt their teeth. The lead also has no give, so it can easily hurt your fingers.
Clip
Of course, a leash is not particularly useful if it does not stay securely attached to your dog's collar, which is where the clip comes in. Clips should usually be made of brass or stainless steel, as these hold up best under a variety of weather conditions and won't corrode.
There are two main types of clips. Bolt snap clips come with a little spring located inside the shaft that you slide open to attached to your dog's collar. While these are generally strong, they can weaken over time, so they do need replacing fairly regularly.
Trigger snap leads work in the same way, but you simply push on the lever to open it, and it will snap shut automatically. These clips are generally tougher and more reliable.
Other Considerations
Leashes may also include a variety of other features that make them more attractive as a tool for you and your dog:
They may include reflective elements that make it easier to see your dog in low light.
Handle-buckles that allow you to secure the least to a post if desired.
A 'hands-free' option, which allows you to attach the leash to your waist.
With built-in collars, rather than attaching to your dog's-own collar.
Quick Tips for Leash Training your Dog
Teaching your dog to properly walk on the leash takes training, just as everything does, and is best done when they are still puppies, when the first thing to do is get them used to wearing a leash and collar. For comprehensive advice on how to leash train your dog, check out this video from Zak Geroge's Dog Training Revolution.
Meanwhile, here are our top tips for leash training your dog.
Practice Makes Perfect
The only way that your dog will become accustomed to walking on the leash is by practicing. Remember that when training your dog, be consistent when taking them out. Start by taking them on the same route, even walking on the same side of the street. Also make sure that rules are consistent so that they do not become confused.
Use Treats
Treats are used as a method of positive reinforcement to show dogs when they are behaving as desired. Use treats on the go when your dog is walking well on the leash in order to reinforce that they are doing it right. Try some of these great treats for training.
Discourage Pulling
While we might think of pulling as a natural behavior as dogs are interested to explore the world around them, it is a behavior that should be discouraged. Not only can it be painful to you and your arm, but it can be dangerous for them too as it can cause their collar to damage their airway. If your dog pulls, stop immediately to indicate the negative behavior, recall your pooch to you and give her the command to sit. Your dog will quickly learn that pulling means an end to their fun.
Avoid Punishment
Products that are designed to train your dog through punishment, such as a pinch or a shock, should only be used in extreme cases following the advice of a professional trainer. These can hurt your pet, and they can quickly learn to associate walks in general with punishment, which may just make their behavior worse.
Quick Tips For Walking Your Dog In The Leash
When it comes to actually walking your dog, there are a few tips that can make the experience better for both of you.
Let your dog sniff around
Walks aren't just about physical exercise, they are also about mental stimulation, so don't try to control your dog too much and deprive them of the mental stimulation that they need. This means that when something catches their attention, let them explore and sniff it out as long as it is safe.
Beware hot pavements in the summer
Walking on hot pavement in the summer can do damage to your dog's paws. Test the pavement by placing your hand or barefoot in the pavement for five seconds. If it is uncomfortable for you, it will be uncomfortable for them. On hot summer days, get them on some nice grass as quickly as possible, and walk earlier or later to avoid the worst of the sun.
Bring plenty of water
If you and your pup are walking for more than half an hour in moderately hot weather, chances are that they will need a water break. Dogs are not as good at regulating their temperature as humans and it is easy for them to overheat. Watch out for signs of overheating and give water regularly. It is possible to buy special bottles with an incorporated bowl for dogs.
Always pick up your dog's poop
While this won't necessarily make the walk more fun for either you or your dog, it is legally required, and will reduce the chances of an angry passer-by yelling at you for not doing your civic duty. Picking up dog poop is not just about the smell and pedestrians accidentally treading in it. Pet feces can contain harmful organisms, such as E. coli and worms, that can spread to other animals and even humans.
FAQs
What is a good length for a dog leash?
Six feet is the most common length for dog leashes and is ideal for walking in the city streets as it gives them slack to move about, but you can still keep them close.
What side should a dog walk on?
When leaving and entering the house, your dog should always walk behind you to demonstrate that you are in control. They can walk at your side on the street. For most sports, dogs are taught to walk on their handler's left side, but for regular walking it doesn't really matter, perhaps which hand you prefer to hold the leash in.
Is a harness better than a collar for a dog?
Even the best harnesses might be too bulky and uncomfortable for dogs to wear all day, but they are better for walking dogs that pull during walks as a collar can increase their risk of neck injury.
Can a choke chain hurt my dog?
Yes, choke chains can cause physical damage to your dog's neck as they can apply constant pressure. This can be problematic with dogs that pull even with flat collars.
The Verdict
What dog leash is right for you depends on the size and strength of your dog, and what you intend to use the leash for. Will you be using it for city walks and training, or more adventurous outings? Will you be taking more than one dog out at a time? Fortunately, the dog leash market is very wide and there is something for everyone, and you should have few problems finding the perfect leash for your specific needs.
If you are looking for just a good quality standard leash that does the job, then you can't do much better than the standard nylon lead from Max and Neo. If you like a standard leash, but are looking for something a bit more stylish that is still affordable, you can probably find what you are looking from Blueberry, which offers 19 different colors and prints, or go for the stylish leather leash from Leatherberg.
If you want to give your dog a bit more freedom on the leash, they try the retractable leash from Hertzko. If you are walking multiple dogs, consider the Pet Fit For Life dual leash, which features bungee cord. If you are looking for a stylish bungee lead for a single dog, then consider the new bungee lead from PetSpy.
When it comes to something durable for big and strong dogs, then try Leashboss' heavy-duty lead, or a mountain climbing leash from ZippyPaws.
Whatever leash you choose, remember that dogs need proper training to walk and run on the leash effectively. Take the time to show them how to do it right, and you'll both have a better time when out and about.