Updated: October 14th, 2022
This article contains affiliate links. Read the full disclosure here.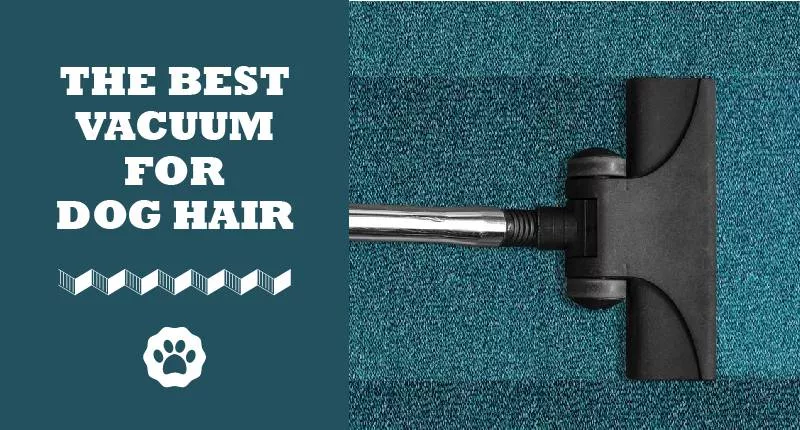 We get dogs because we dream about the wonderful things they can bring to us: cuddles, comfort, and companionship.
What we often don't realize we are signing up for when we get a furry friend is all the messes they are going to make!
As much as we adore them, nobody enjoys the constant cleaning you need to do if you want to keep your home free of pet hair.
It doesn't matter if you have carpet or hard floors, vinyl or fabric sofas – you know that dog hair will find a way to make a home and refuse to leave quietly.
There are lots of ways to remove dog hair from your home, but let's face it – it's a never ending, very hard job! Getting a good quality vacuum that's specifically designed to tackle this problem though, really can help.
AT A GLANCE:
Our 5 Best Vacuums For Dog Hair
An Overview of the Best Vacuums For Dog Hair in 2020
IMAGE
PRODUCT

Designed with HEPA and anti-allergen complete seal technology
Designed for hard floors
Good value for money

VIEW LATEST PRICE →

HEPA filters stop allergens escaping during cleaning
Three channels of suction
Easy to assemble

VIEW LATEST PRICE →

Great suction
Attachments are included
No filters in this vacuum that need removing and washing

VIEW LATEST PRICE →

AirClean Filter Bag helps minimize issues with dust and allergens
Easily maneuver around furniture
Electro brush self-adjustsfor great suction

VIEW LATEST PRICE →

Specialized pet tools are included
Easy to carry
This model is light weight

VIEW LATEST PRICE →
Top 5 Best Vacuum for Dog Hair in 2020: Reviews
Have you been wondering what is the best Shark vacuum cleaner for pet hair? This is the one!
The Shark Navigator Lift-Away Professional is one of the most stylish vacuum cleaners, with the fantastic option of lifting out the canister to allow you to easily access and clean areas above floor level (like curtains and stairs).
Things we love:
The large capacity of this vacuum means it's a great option for larger homes
It's designed with HEPA and anti-allergen complete seal technology
A floor attachment designed for hard floors can be included
Swivel steering means you can access hard to reach areas
The long cord allows you to move around without changing plugs
It's low price makes it really good value for money
What could be improved:
The floor brush is slightly narrower than some other vacuums, so it may take a bit more time to cover large areas
The large canister means it doesn't always fit under low objects, so you may need to use the attachments to get at all the nooks and crannies
The design means it can be easy to tip this vacuum over if you pull too much on the hose when you are cleaning, so you need to make sure you bring the vacuum along with you rather than over-stretching
The Hoover WindTunnel 3 comes in at a really fantastic price, but still works much better on pet hair than a standard vacuum. This is a great 'all-rounder' that can tackle all different surfaces that need cleaning.
Things we love:
A whole host of attachments come with this to make sure you get the best cleaning experience possible
HEPA filters stop allergens escaping the vacuum during cleaning
Three channels of suction rather than one, means you can continue to clean even if one area becomes clogged
It's nice and easy to assemble, so you can get on with cleaning straight away!
What could be improved:
The heavier weight of pushing this vacuum (especially on carpets) means it might not be suited to everyone
The hose length isn't particularly long, so you'll need to take the vacuum round with you when you're cleaning more hard-to-reach places
Suction to the hose and attachments is less than to the main vacuum, so it may take longer to remove all pet hair from sofas and curtains
3. Everyone Loves a Dyson – Here's Their Best for Pet Hair: Dyson Cinetic Big Ball Animal
Yes, just the name of this trusted brand keeps millions of happy customers returning to their products time and again. This Dyson Cinetic Big Ball Animal Vacuum is no exception, and it has much more than just the brand name going for it.
Things we love:
There are no filters in this vacuum that need removing and washing, so that's one less cleaning job to add to your list!
The cleaner head self-adjusts as you move from carpets to hard floors
Attachments are included to help you make the most of your vacuum
HEPA filtration helps ease issue with allergies
The design means it has great suction, and particles that would clog up many vacuums are easily dealt with by this one
What could be improved:
The name is a giveaway here…the 'Big Ball' means it's on the larger side, so means you may have problems if you have a small space to store it when not in use
While it's light to push, you do need a little more strength to maneuver round tight corners
This model doesn't make it as far under objects like sofas as some of the other Dyson vacuums
4. Extremely High End, Stylish Pet Hair Vacuum: New Miele Dynamic U1
If budget is less of an issue for you, you might want to consider splashing out on the New Miele Dynamic U1 vacuum. While it's price is considerably more than some other products available, this really is an investment, and will keep your home clean and free from pet hair for years to come.
This vacuum is so great at getting dog hair out of everything that you could even call it a robot vacuum for pets. If your dog sheds, don't skip over this option!
Things we love:
The electro brush self-adjusts to make sure you get great suction, no matter what surface you are cleaning
An AirClean Filter Bag helps minimize issues with dust and allergens
Tools are included to make sure you can remove pet hair from all areas of your home with ease
The long cord length means you can move from room to room without unplugging
This vacuum is designed with a swiveling handle to help you easily maneuver around furniture and other objects
What could be improved:
As with many vacuums, its weight isn't a positive feature…with it being a fairly heavy model, it may not suit everyone, particularly if you need to carry it up and down stairs regularly
You need to make sure you change the bag regularly, as letting it get too full will lower the suction level, but they aren't cheap to buy if you want to get more
This is the top priced vacuum in our listed models, so you do need to be willing to invest in this cleaner if you think it will suit your needs
If you're only looking to vacuum small areas in your home, or maybe need something to keep your car clean after outings with your dog, then this is a great option for you.
Even if you have a larger home, this price of the Bissell Cordless Handheld vacuum means you may even want to keep one of these to hand for times when you don't want to get you main vacuum out of the cupboard!
You might even say that this is the best cordless vacuum for pet hair!
Things we love:
It's cordless, so you can take it anywhere and get small areas cleaned without the fuss of finding a plug
Specialized pet tools are included
This model is light weight, so it's easy to carry to areas that need attention
Powerful suction means it is easy to remove pet hair
What could be improved:
To make the obvious point…this is designed to clean smaller areas, so you'll need to empty it fairly often as the canister is only small
The battery life does fairly well on this vacuum, so you should get a good few rounds in your car and on your sofas before you need to worry about it. You'll just need to make sure you charge it if you don't want to be stuck with a chair full of dog hair, and no cleaner ready to go!
What To Look For
The market's full of pet hair vacuums, and it can seem like a job in itself to try and wade your way through the endless lists of products.
Here's how we can help:
We've created a 'top 5' review for you, to help you get the best product for your money.
So let's put an end to having to push and pull your current pet vacuum cleaner over the same spot over and over again to get rid of pet hair – we've pieced together all the top tips and information you need to consider when you're looking for your new pet vacuum, and your back-breaking cleaning days will soon be over!
The Difference Between a Normal Vacuum And One Designed For Pet Hair?
For the most part, standard vacuums are designed with a 2 part brush and hose mechanism, meaning they're brilliant at picking up normal house-hold dust and dirt. The brush is there to stir up any particles, which the hose then sucks up into the hoover bag or dust compartment.
But here's the catch:
The problem with this design when it comes to pet hair is that instead of the brush stirring up the hair, it actually makes the situation worse by pushing it into fabrics and carpet even further.
And even if you do manage to get any of the hair up, the most likely outcome is it will get caught up in the head of the brush rather than going into the hose.
Vacuums designed specifically for pet hair are different:
They are much more efficient at removing fur from fabrics and carpets because they come equipped with silicon brushes instead of the more common soft brush on a standard vacuum.
Better filtration and more powerful suction are also a big plus for the specialist vacuums, because they're great at removing dander from the air expelled by the cleaner, meaning it's much easier to keep a house with pets nice and clean.
Which Vacuum Is Best For Pet Hair?
Yes, buying a new vacuum is a fairly big purchase for most pet owners, but the thing to remember is – you'll be using it on a regular basis for many years to come!
To help you make sure you get the best product for your budget and circumstances, here are the most important points to consider according to the comprehensive guide to the best vacuums for pet owners at LabradorTrainingHQ.com:
How Big is the Area You Need to Vacuum?
Big houses need larger vacuums that can get round the space quickly, and can store a lot of dirt so you don't need to empty it after every clean.
If you're in a smaller space, you can look for products that get into tight spaces with ease, and you might want to search for models that aren't too big and bulky to store.
What Surfaces and Fabrics Will You Vacuum?
If you've decorated your house with all carpets, or all hard flooring, then your job is much easier here! There are vacuums specially designed to clean different surfaces, so you can save a lot of time by focusing on one that will best suit your home.
Remember: different floor types need different treatment.
Floor cleaning is one of the biggest reasons people get floor vacuums, and that extends beyond just sucking up dog hair. You want to be able to handle other pet messes and people messes, too!
Most people however, have a mixture of hard floor and carpet throughout their house, and an even wider variety of fabrics if you consider sofas and curtains that may collect pet hair.
If you have a range of surfaces in your home, you'll need to focus on a vacuum that's designed to be an 'all-rounder', and can move easily from one area to another.
What Style of Vacuum do You Prefer?
Handheld, canister and upright vacuums are all very popular, but they're designed to meet totally different needs. The pet hair vacuum for your home could be any one of these types, as long as it has the right suction power.
The best vacuum for dog hair will depend on your specific needs, but there's some things to consider.
Recent leaps in the technology used in vacuums means there's less of a difference in performance between the different types now than if you compare it to 10 years ago, so if you have a preference, stick with it!
As a general rule though, consider the following when choosing the best vacuum for pet hair.
Upright vacuums work best in larger spaces, as they're more powerful, and have more space to store the dirt collected. It does mean though, upright vacuum cleaners are harder and more bulky to store away when not in use.
Canister vacuums are a great 'middle-ground' option, with many now offering similar suction power to an upright, but without the heavy and hard-to-maneuver machine to have to deal with. Their suction is often surprisingly strong.
If you're looking to clean smaller spaces like a car, curtains, or maybe a fabric sofa in a hard floor room, then handheld vacuums can make life much easier. They're so easy to store, and are quick and simple to use – they're a great option for cleaning the hard to reach crevices where dog hair always manages to settle.
With or Without the Extras?
There are quite a few 'extra' things to consider when buying a vacuum, so have a think about the following areas before you start looking at models:
Do you want corded or cordless? Or a detachable power cord? Cordless are more popular, but they will blow your budget more than corded models.
Are extra attachments a must-have, or do they get in the way?
Are you happy to buy and change the bag, or would you rather go bagless? Bagged or bagless is a huge choice you need to make.
Will you need a longer hose length to reach everywhere in your home?
Do you need a lightweight model, or are you able to easily lift a vacuum around your home and up the stairs?
What is the brush roll like? Will it pick up a lot of allergens?
Does it work well on carpeting and other types of flooring?
Are there tricky areas in your home that might need a vacuum designed for flexible maneuverability?
Do you need a model with an HEPA anti-allergen filtration? If you suffer from any form of asthma or breathing difficulties, this is a must have for pet owners.
Is the length of warranty something you want to look out for? Just in case anything does go wrong, it's good to know how long you are covered for parts and free repair!
From a bagless upright vacuum to a canister model with an above-average brush roll, everything you could want is out there for you.
What About a Budget?
As with any big purchase, make sure you set yourself a clear top budget, and make sure you don't go over it. When you have a pet, budgeting is always important.
Vacuums can be expensive (especially if you want a bagless vacuum) but they really are an investment. Cheaper models are a good short-term fix, but if you can afford a more expensive model, it will last longer, and clean your house more efficiently.
The advice on this one tends to be, work out your budget, and then get the best model you can within your price range. Whether that is a canister vacuum or an upright vacuum cleaner to handle dog hair, it needs to be in your price range.
Trust me:
Don't ignore the price tag!
Once you have made the key decisions about what style cleaners will suit your needs, take a look at our reviews below to help you decide which cleaner could help make your home a pet hair-free environment!
Conclusion
If you're still vacuuming over the same spot time and time again to try and remove the embedded dog hair from your home, now is the time to invest in a specialist model that can do all the hard work for you! Forget your allergy problems, and move on!
Remember to consider what style of vacuum suits you and your home before you buy – buying a vacuum is an investment, so you don't want to be 6 months down the line and stuck with a model that you hate because you didn't consider all the options before you took the plunge.
The best vacuum cleaner for your home looks something like this:
Work out your budget, and go for the best vacuum you can find, and you'll soon find that removing pet hair from your home is no longer the long and laborious task it used to be.
Product images: © Chewy.com, Amazon.com
Please be aware this page contains affiliate links and TotallyGoldens receives a small commission if you make any purchases through any such links. This has absolutely no effect on the eventual price that you pay and we are very grateful for your support.