Updated: January 13th, 2020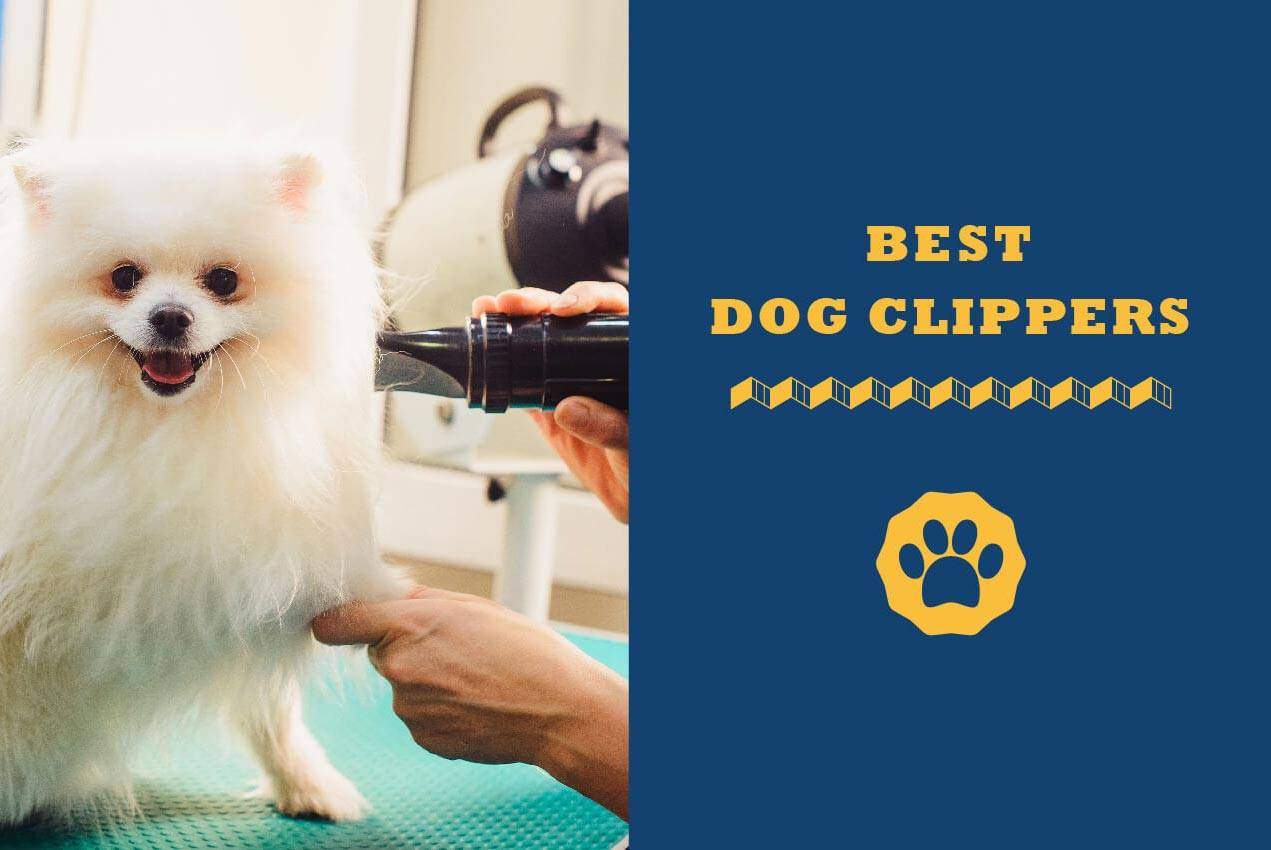 A neat, stylish, spiffy looking pet! Isn't that how you'd like your canine pal to look? You probably take weekly or monthly trips to the groomer or have been tempted to use your human clippers on her, just to achieve that look. But the best dog clippers might just be the simplest and safest way to spiff up your dog!These smart tools have what it takes to make your little friend look extremely nice, and they do so without taking away her comfort or yours.
AT A GLANCE:
Our 13 Best Dog Clippers
Overview of 13 Best Dog Clippers
IMAGE
PRODUCT

Cordless/corded
Lithium battery
Five-in-one blade technology

VIEW LATEST PRICE →

Cordless
Five-in-one blade technology
Two NiMH rechargeable batteries

VIEW LATEST PRICE →

7200 SPM motor
Steel blades
Seven attachment guide combs

VIEW LATEST PRICE →

BEST FOR PROFESSIONAL GROOMERS

Two-speed rotary motor
Detachable blades
14-foot cord

VIEW LATEST PRICE →

BEST FOR SINGLE COAT DOGS

3800 SPM motor
Six-foot cord
Four attachment combs

VIEW LATEST PRICE →

Dual purpose cordless/corded
LED battery indicator
6000 SPM motor

VIEW LATEST PRICE →

BEST FOR ALL TYPES OF HAIRS

Two-speed motor
Detachable blade system
4000 SPM

VIEW LATEST PRICE →

Lightweight construction
Vibration isolators
Three speed settings

VIEW LATEST PRICE →

BEST FOR DOUBLE COAT DOGS

10-foot cord
Ridged finger grips
Two attachment combs

VIEW LATEST PRICE →

BEST FOR HEAVY, CHICK COATS

3700 SPM motor
12-foot cord
Rotary motor

VIEW LATEST PRICE →

Five-speed rotary motor
CeramicEdge blade
Detachable blade

VIEW LATEST PRICE →

Seven guide combs
Gel finger inserts
Two color variations

VIEW LATEST PRICE →

120-volt direct current motor
Five cutting settings
Self-sharpening blades

VIEW LATEST PRICE →
Now, the important thing to remember when investing in a pair of dog clippers is their suitability to the breed of dog you own. There are clippers for large dogs and smaller breeds, and each is constructed to suit the specific needs of your pooch, depending on how hairy she is. 
You'll also run into two major varieties of them. Each will serve you well based on your specific needs. 
In this guide, I'll be letting you in on some of the clippers I found to be the best for your furry friend, after a thorough look into their performance, reviews, and suitability, among other factors. 
You may want to sit down for this one, as some of the options aren't what you may have expected!
Best Clippers For Dogs – Reviews 

The sleek design on this Wahl clipper is quite aesthetically pleasing. You have five gunmetal colors, including turquoise, berry, purple, gunmetal grey, and pink. 
Does color matter when it comes to your clippers? Of course it does. Colors motivate you to be creative, plus it doesn't hurt that your equipment looks as spiffy when trimming as your dog does when you're done. 
Key Features
Cordless/corded

Lithium battery 

Five-in-one blade technology

5500 strokes per minute (SPM) motor speed
This clipper can come in handy in a farm setting where you need to give your livestock, cats, horses, and, of course, doggie a trim. It is a powerful unit that can withstand consistent use without giving out. 
The overall construction is lightweight, but the materials used are durable and hardy. It needs little maintenance, except checking the blade teeth and oiling the blade before, during, and after using the clipper.
The Wahl Bravura Lithium Ion cordless clipper is accompanied with six attachment guide combs, a charge stand, charger, cleaning brush, instruction manual, blade oil, five-in-one detachable blade set, and soft storage case. The blade technology can adjust the blade to size #40, #30, #15, #10, and #9. 
Pros:
Features a top speed motor that makes it effective in trimming all types of hair 

No noise or vibration, which is great for noise-sensitive dogs

Doesn't overheat easily

Several designs that come with a variety of blades

Can be used as a corded or cordless clipper
Cons:
Has only a single, fast setting
The leading editor at PetFashionWeek.com Gail Ramirez says in her roundup of the best dog clippers here: Because it works with animals that are even more sensitive to sound, like horses, you can rely on this clipper around your dog. The option to use it in cordless mode or plugged in to an electricity source also contributes towards making this clipper the best overall.


Wahl's popularity doesn't seem to be waning anytime soon when it comes to grooming products for both man and man's best friend. This little clipper weighs less than its counterparts, the Wahl Bravura and the Wahl Figura, but that doesn't impact its ability to deliver precise cuts effectively. 
Key Features
Cordless

Five-in-one blade technology

Two NiMH rechargeable batteries 

Four attachment combs
Weighing only 7.9 ounces, it is a very lightweight unit that doesn't even hint at hand fatigue when in use. Apart from the clippers, the package also includes a charger and charging stand, the soft storage case, an instruction manual, cleaning brush, blade oil, and guide combs ranging from 1/8, and ¼ to 1/3 and ½ inches. 
Users are really impressed by the long sessions of grooming you can have with this clipper without feeling overwhelmed. You can flip from length options varying from #9, #10, #15, #30, and #40 so your cuts are precise and neat. 
It has a heavy plastic casing which users feel is too delicate, especially if the unit falls hard, but Wahl hasn't shied away from using plastic on several of their other models, and the units always work to the expectations of users. 
It may be a bit of a concern for some users, but it seems Wahl is quite satisfied using the plastic casing.
Pros:
Very sturdy construction that is able to withstand heavy use

Cheaper compared to similar clippers maybe because the batteries use older technology

Very quiet and smooth during operation

Lightweight, allowing you to use them for longer

Not prone to overheating (blade or unit) even after consistent use for hours
Cons:
Old-school NiHM batteries do not last as long as lithium batteries
The easy-to-maintain construction of these clippers make them the ideal option for first time groomers or pet owners. 
There is nothing complicated with these Wahl clippers, and they are very simple to use. They are highly recommended if you are a DIY groomer on a budget with a few dogs to tend to. Plus, they give you excellent maneuverability.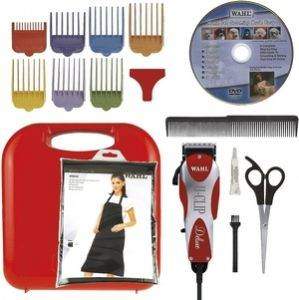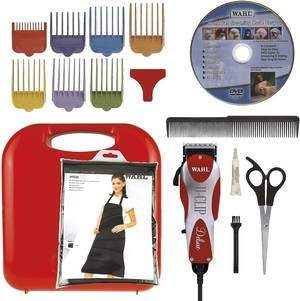 Within the past century that Wahl has been in existence, they have found a way to produce the best grooming products for both home and professional use. This clipper is developed with fine- to medium-haired pooches in mind, which include Greyhounds, Doberman Pinschers, Rottweilers, and French Bulldogs, among other breeds. 
The Wahl Deluxe U-Clip offers you more than just a professional tool, expect a stress-free experience as well while you operate it.
Key Features
7200 SPM motor

Steel blades

Seven attachment guide combs

Stainless steel scissors

Eight-foot cord
The U-Clip clippers from Wahl come in an impressive package that even includes a grooming apron. You will also get a storage case, scissors, styling comb, cleaning brush, blade oil, a multilingual instruction manual (Spanish, French, and English), and a red blade guard. 
Because dogs with smooth coats only need occasional grooming, this is an ideal unit for pet parents who love to indulge in periodic sessions and want an efficient clipper every time.
The adjustable blade system for this clipper is the #10, #15, and #30 set. I also love the instructional/tutorial DVD which comes in handy for first-time users but is also a great tool for troubleshooting when something goes amiss. 
Pros:
Price point is reasonable considering the attachments and accessories you get with the unit

Despite the body being made primarily of plastic, it's strong and sturdy

Provides excellent cuts with incredible precision

Silent and has no vibrations that spook the dog during grooming

Blade doesn't get uncomfortably hot or overheat to cause burns

Included scissors are efficient, with rounded edges to protect your dog's delicate areas
Cons:
Cord is only eight feet long, which can be restrictive and doesn't leave a lot of room for maneuverability

Some users have reported quick dulling of the blade
The name Wahl has long held an esteemed place in the grooming world precisely because they offer value for your money. Each of the accessories included in this kit is useful and adds value to the grooming process. From the inclusion of the stainless steel scissors and apron to the attachment combs, the unit has been developed to enhance the grooming experience for both the pooch and her parent.

Animals can get spooked by the appearance of a heavy clipper compared to smaller, more compact unit. Professionals know this, and that's why they prefer smaller, compact units that also allow them greater maneuverability. With cool colors, like the burgundy on this one, your dog will be none the wiser when she sees the clipper coming her way.
Key Features
Two-speed rotary motor

Detachable blades

14-foot cord

4400 SPM Motor
Considered the most efficient clipper from Andis, this slim design is great when you want to cover a lot of ground, like having many dogs to trim. That is why it is loved by professional groomers and pet owners alike. 
But the clipper is heavy, weighing 17.5 ounces, although that doesn't necessarily mean it will give you hand fatigue. The weight comes primarily from the rotary motor inside the unit.
The motor can give you either 3400 or 4400 SPMs, giving you options as you trim your furry pal. The motor speed allows you to make fast cuts so that you can go through multiple furry friends quickly and effectively. 
Because of detachable parts, you can clean this clipper fast as well, without interfering with the overall construction.
Pros:
Two-speed rotary motor effectively cools on its own

Detachable blades and removable drive cap for easy sanitization

14-foot cord is heavy duty and durable with enough maneuvering room

Overall construction is maintenance-free and break-resistant, so no need for messy oiling or greasing of parts

Works with CeramicEdge, ShowEdge, and UltraEdge blades as well as Oster A-5 blades

Very powerful motor with two excellent speeds

Sharp blades that hold sharpness for longer

Silent and smooth operation because of the air vents 
Cons:
Heavy for first time users or when grooming small dogs
Just like most users in dog clippers reviews, I love how it uses high-quality carbon blades to get the job done. And since it is compatible with several other blades, you have the option of trying out various blades including some from other brands. With this clipper, you will not only get power and performance but also a comfortable fit for most hands.

A doggie parent with a breed like an Afghan hound, Chihuahua, or Saluki knows by now that their baby has a single coat, also referred to as hair coats, while parents of breeds like Newfoundlands know of their baby's fur coat (double coat). The Andis Gentle Groom Adjustable blade dog and cat clipper caters to the single-coat dogs with curly hair or silky, long hair.
Key Features
3800 SPM motor

Six-foot cord

Four attachment combs

Blade care tools
Single coat dogs are easier to groom compared to their double coat friends. Having said that, it is imperative to find a clipper that is easily adjustable to prevent issues like overheating, because your baby's skin is more vulnerable. The manufacturer has provided an instructional DVD to mitigate such issues and train users to safely use this unit.
You can create the hairstyle you like for your pooch using the four combs which come in varying sizes: ¼, ½, ¾, and 1 inch. Plus, the unit comes with a blade guard, brush for the blade, and oil. All these are housed in a trendy, soft, zippered case.
Pros:
Lightweight for easy maneuverability

Includes useful accessories like combs, brushes, and oils, especially nice for beginners 

S-foot cord allows you room to move the clipper around as needed

Blade adjusts to sizes #10, #15, and #35

Comes with blade oil to keep the blade conditioned for the next use
Cons:
B

ody is made of plastic which may not be able to withstand the wear and tear of lots of dog grooming

Removing the blade is hard, but with practice you can perfect a changing technique
For dog parents who are beginning their grooming journey, this is a great option, because it's cheap enough and simple to use. Keep in mind that it works for single-coat doggies. The inclusion of an instructional DVD takes the guesswork out of grooming and keeps your pooch safe. 

A mini pet trimmer can be taken on the road so that your pet still looks great while on vacation. Over the years, Wahl has made a name for themselves in grooming beards and moustaches with their incredible barbering equipment, so it is no surprise that their pet grooming tools are equally effective and popular. The Wahl Mini Arco pet trimmer ensures that Fido keeps up his looks to match his master's manicured facial hair.
Key Features 
Dual purpose cordless/corded

LED battery indicator

6000 SPM motor

Detachable blade

Two attachment combs
The versatility of this unit makes it a favorite, especially with doggie parents who love to travel with their baby. You can trim your pooch on the go using the cordless settings, and for an elaborate trim, plug it in for better power and speed. Another lovely thing about this unit is the lightweight construction and compact size, which makes it easy to pack and move around with.
The motor and blades are free from the vibration that makes dogs uneasy about grooming. With a 6000 SPM motor, you have a great deal of power regardless of the tiny size of the unit. 
If you are using the cordless version, you have 45 minutes of runtime, which is better than some larger models that only offer 30 minutes of run time. It comes with a #30 trimmer blade, dual-sided guide comb, blade brush, charger, instructional manual, and blade oil.
Pros:
No overheating issues keeping your doggie's skin safe from burns

Small size makes it ideal for reaching delicate spots on the dog 

Can be used for all breeds and sizes of dogs

Gives you the best of both cordless and corded use
Cons:
Plastic construction has raised questions about the quality of the clipper especially when dealing with wear and tear
When you think of Wahl products, the established quality of their products and the resulting popularity come to mind. While users may question the use of plastic material on this unit, Wahl has used plastic before with excellent results and durability. With the Mini Arco pet trimmer, they live up to their brand's expectations.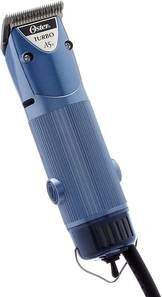 Professionals will recognize the power and speed in the Oster A5 Turbo. They are created with consistent, heavy use in mind, making them the ideal professional dog groomer clippers. 
Does that mean individual pet owners can't use them? Not at all! In fact, pet owners who are grooming savvy or who have several dogs may find these clippers more convenient and effective than clippers created for home use.
Key Features
Two-speed motor

Detachable blade system

4000 SPM
The universal motor allows this clipper to run on both alternating- and direct-current power sources. This allows you to use it wherever you are. You can use the clipper to trim hair on goats, dogs, cats, and other livestock. 
The package comes with the durable CryogenX blade which works on all types of hair. Users have reported using this clipper on horses as well with excellent results. It also includes a blade guard, blade oil, grease, cleaning brush, and instruction booklet.
Despite its powerful motor, this clipper is silent and discreet which is a huge reason why it works on noise-sensitive animals like horses. Plus it cuts at 3000 or 4000 strokes per minute which matters when you are handling an ox or a dog…Because of such a powerful motor, you have more speed regardless of the size of your animal, meaning you can get the grooming over and done with quickly.
Pros:
Doesn't get clogged with hair because it has adequate power

Compatible with all Take Down Quick and Oster A5 blades

Blades have AgION antimicrobial coating to keep them sanitized

Vents on the bottom cool the blades and prevent burning
Cons:
Too bulky for use on small breeds like

toy dogs
Vets and professional groomers who are used to the weight and electric buzz of such clippers highly recommend this clipper for the simple reason that it's effective. Granted, it may not be every pet owner's cup of tea and may even feel cumbersome for some people, but when looking for something that works fast and efficiently, the Oster A5 Turbo is an excellent option.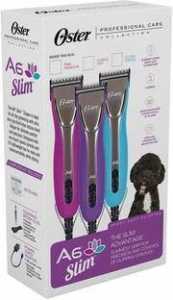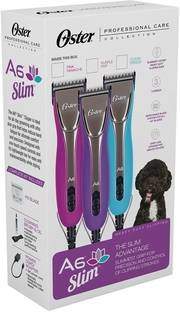 When dealing with your dog's grooming needs, it doesn't hurt to have a lightweight clipper to make the work easier. Weighing 0.81 pounds, it is an ideal clipper if you have several dogs to attend to.
Key Features
Lightweight construction

Vibration isolators

Three speed settings

4000 SPM motor

Corded
The zinc alloy technology is primarily responsible for its lightweight yet durable construction. It can be set to three precise settings depending on the needs of your doggies: 3100, 3600, and 4000 SPM. You can work through several doggies with ease because of the power and speed from its heavy-duty motor.
What's more, the Oster A6 Slim 3-Speed clipper is the quiet type, which helps reduce grooming anxiety in pets. It uses vibration isolators to quiet its operation. These patented vibration isolators absorb the vibrations of the unit's heavy motor, giving it a smoother experience. 
Most pet owners also agree that the use of the isolators has changed the overall experience of the clippers for their doggies, making grooming easier overall.
Pros:
Handles intricate cuts and longer hair with ease

Blades do not clog up 

Quiet and smooth operation

Lightweight construction allows you to easily maneuver the clipper

Adjustability of settings allows you to use the best setting for your doggie 
Cons:
Some users have reported that the clipper heats up too quickly

Not suitable as professional dog clippers because of overheating
From the precision-calibrated motor to the zinc alloy technology, this clipper is meant to make trimming your pet's hair easy, gentle, and fun. However, overheating is a huge concern, but you can mitigate it by having several blades that you change periodically. Overall, using this clipper is easy on both the doggie parent and dog.

Here is a perfect clipper for breeds with thick coats like Alaskan Huskies, Siberian Huskies, and Pomeranians. A double coat consists of an under and outer coat, which is dense fur. The undercoat guards hairs on the outer coat. 
The Wahl SS Pro Clipper Kit can get to the fluffy coat underneath that is usually more tangled and also sweep up the longer cleaner lines of the topcoat.
Key Features
10-foot cord

Ridged finger grips

Two attachment combs

3200 SPM motor
The package comes with two blade guards, a storage case, blade oil, drive tool, replacement drive tips, and a cleaning brush. For a beginner, this is a great clipper to build your trimming skills on. 
The lack of noise levels with this clipper ensures that your dog is not scared when you are trimming her fur. And considering that there is a lot of fur to work through with your double-coated pooch, a quiet unit comes in handy in keeping her relaxed and the process smooth.
The quality of the cut from this clipper is clean, and the unit is efficient, even with moderately matted hair. However, do not use it on very dense hair or overly matted fur. 
The cord is long enough for easy maneuverability, allowing you to move about with ease.
Pros:
R

idged finger grips give you a comfortable grip on the unit during use

Long cord makes it easy to work around your animal

Compatible with Wahl Ultimate competition series blades #10

Attachment combs are made from durable stainless steel
Cons:
Included blade guards are not very different for a variation in the cut
You may need the smaller size clipper for a close cut, but these are super efficient for dogs with thick fur like poodles. Most doggie parents love the fact that these do not overheat even though that has been a problem with other Wahl clippers. Overall, this is an effective clipper to help you maintain your dog's thick coat before it gets out of hand.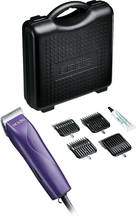 What's probably going to catch your eye first with the Andis package is the heavy storage case that houses the clippers. The hard case makes it possible for you to travel with the set if you and Fido take long trips together. 
That aside, the Andis Pro-Animal 7-Piece Detachable Blade Pet Clipper Kit is considered a great fit for breeds like Pomeranian. Pomeranians are well-known for their double coat, toy breed dimensions, and small, neat features. 
Key Features
3700 SPM motor

12-foot cord

Rotary motor

Four attachment combs
The combs included range from 1/8, ¼, 3/8, and ½ inch, giving you the best cuts for your pom or similar breed. 
The overall construction takes into account the wear and tear clippers experience because of constant use. As such, the company has made the exterior hardy and break-resistant with an ergonomic fit to sit comfortably in the groomer's hand.
The unit is a single-speed clipper fitted with a rotary motor. But for a rotary motor, it is quiet enough to prevent grooming anxiety in your furry pal. With the four attachment combs and blade oil, you are guaranteed a lot of fun with the cuts you can experiment with on your pom. After all, that is the beauty of a toy dog—dressing her up and grooming her to perfection.
Pros:
Durable exterior with a break resistant case

Includes interesting accessories and attachments 

Hard case is excellent for travel and storage

Cheaper than other similar clippers
Cons:
Single-speed motor means it is not as powerful as other available options
Now, if you have other pets in the home, say a cat, this clipper can work for them as well. I love the fact that the blades do not overheat if you have lubricated them properly before, during, and after use. Plus, you can dip them in Andis Blade Care Plus or Andis Clipper Oil to disperse the heat. The rotary motor is excellent for dogs with heavy, thick coats.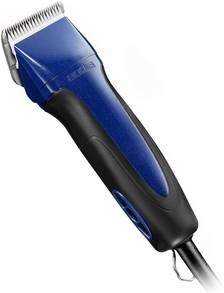 A clipper that is both classy and efficient is a great addition to your dog grooming equipment. Many dog parents, for a myriad of reasons, prefer not to rely on doggie salons to keep up their baby's appearance. 
That is why this clipper from Andis has such a huge following, as it works efficiently and is simple to use at home. The colors options make it trendy and give the clipper more sass.
Key Features
Five-speed rotary motor

CeramicEdge blade

Detachable blade

4500 SPM motor

Anti-slip housing
This clipper gives you the option of using lower speeds when working around the more delicate areas of your pet and higher speeds to create an overall well manicured coat. With the CeramicEdge blade, you are guaranteed a sharp blade that lasts (as long as you prevent drops). 
That aside, the corded unit gives you 14 feet of cord to work with, so you can reach around your furry friend with the utmost ease. The long cord is also safer for you, because it prevents entanglement that can lead to injuries.
Above everything else, this clipper gives you 2500 and 4500 strokes per minute of power, which are both efficient speeds when dealing with different breeds of canines. In the package, you will also receive a tube of blade oil. 
Pros:
Blade is detachable for easy cleaning and sanitizing 

Five-speed rotary motor gives you power and versatility 

#10 Ceramic Edge blade is highly effective

Outer casing features a soft grip anti-slip construction so the clipper stays comfortably in your hand

4 x 4 blade drive gives this clipper more power, making it ideal for tough cutting jobs

Exterior is made from polymer which is more durable than plastic

Power is from an electric source, making the unit lighter and allowing it to remain cooler for longer

Extremely quiet,  ideal for pets that are sensitive to noises 
Cons:
Some users have reported a design flaw where the switch goes off randomly
Andis remains one of the oldest creators of hair trimmers and clippers in the United States. Their products for pets are just as well developed as those that cater to humans. Plus, they offer customers a one-year warranty covering all repairs needed within that year. The clipper can cut through any type of fur, from double-coat dogs to single-coat pals without causing any discomfort.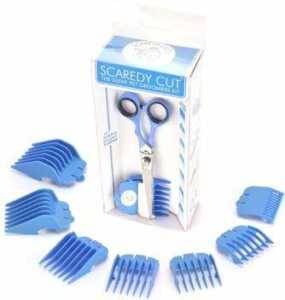 Silence is golden in a pair of clippers, and the Scaredy Cut Silent Pet Grooming Kit keeps it quiet, preventing your pooch from being spooked during the trimming process. 
Key Features 
Seven guide combs

Gel finger inserts

Two color variations

No vibration

No noise
The silent nature of these clippers makes them an excellent choice for dogs that suffer from noise anxiety. If your furry friend doesn't like the doggie salon because of the constant buzzing of the clippers used by professional groomers, you can use these clippers at home for her comfort.
In dog clipper reviews, users love the two-year money-back guarantee. If you find the grooming process to be difficult with these clippers, the company will refund your money. The attachment combs range from 1 to 6 inches, giving the same options you get with a traditional electric dog clippers.
Pros:
Lack of noise and vibration lessens grooming anxiety

Gel finger inserts make it possible to keep grooming for longer

Tension levels in the scissors can be adjusted 

Precision trimming is possible with different attachment combs
Cons:
Some users report poor grip because of the one finger hole which results in numbness in the finger and thumb
This is an ideal option for doggies that get aggressive and snap at electric clippers. The process of trimming will be less stressful for the dogs and you too. The bonus is that you can use these clippers on your cat as well if you have a multiple pet household.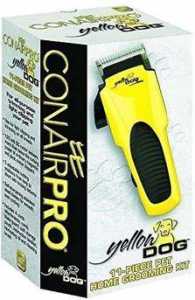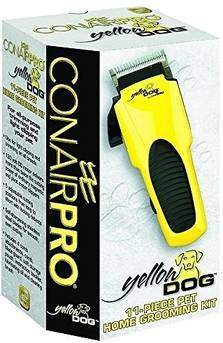 When shopping for a grooming kit, it always helps to buy one specially formulated for home use. This usually means the unit is simple without missing out on the essential features. Also, it comes with other additions that make it easy to use and safe. Well, that's where ConairPRO Dog 11-Piece Home Grooming Kit thrives. 
Key Features
120-volt direct current motor

Five cutting settings

Self-sharpening blades

Four comb attachments

Corded
Apart from the clipper itself, you get an instruction booklet, blade oil, blade brush, blade guard, and metal comb, as well as a storage pouch. With this clipper, you can cut your pooch's hair from five different positions, giving you lots of maneuverability. You may not get a full trim with this clipper, but it is ideal for light trims and clipping. 
New users love the convenience that the self-sharpening blades provide for them. You do not have to work with dull blades or look for a way to sharpen them like you might with other clippers. Also, the blades are stainless steel, holding their sharp edges for longer, and the result is an even cut and smooth operation. 
Just like most users, I'm sure you'll also love the burst of yellow color on the unit and the ridges on the top of the unit for better grip. It is aesthetically pleasing compared to the more bland colors of other units.
Pros:
Self-sharpening blades make it easy to use the clippers at any time

Five adjustable cutting positions allow you to cut both long and short hair for all breeds

Direct-current motor provides excellent power for an efficient cut
Cons:
Replacement blades are usually sold separately, unlike other similarly priced clippers 
The ConairPro home kit is just perfect for pet parents beginning to get into the groove of grooming their own fur babies. You can tailor the grooming to your dog's needs or the current trends with the adjustability of this clipper. 
Important Features To Consider Before Buying The Best Dog Clippers 
So, you've decided to buy your pup the best dog grooming clippers. Well, don't go any further before looking at these important features. After all, this is the best way to ensure your pooch will be safe and that you'll enjoy a smooth clipping session:
Blades
To ensure that you and your dog are safe when using clippers, make sure you buy the correct size blade for your pooch. When buying a clipper, the professionals at the store will ask you about the size of your dog or how furry she is, and this will determine the blade they recommend. 
Before you go shopping, you can refer to an online size and dog coat guide to have an idea of the type of blade that will suit her needs.
The blade should be made from hard stainless steel that can be sharpened to maintain a sharp edge. It should also be the correct fit. A tight-fitting blade will stay in place during the clipping, making it more effective. 
If your dog needs several sessions a month to keep her looking groomed, I recommend brands with interchangeable blades that have a smooth transition over each other for dependable cuts and longer duration of sharpness.
Materials
Ceramic blades are highly recommended, although they can be very expensive. They do not heat up during the clipping process, making them very comfortable to use on your pooch. Unfortunately, they are very delicate and will shatter if they fall. 
Hard steel is the most popular option available because they can be sharpened several times, and the material is durable.
Speed And Power
The torque of the clipper is crucial in the resulting cut, especially when dealing with a hairy pet or a large one. Buying a less powerful clipper is a disservice to yourself and your dog, because it requires more effort on your part and more patience from your dog which may be impossible. Invest in a clipper that will maintain speed regardless of the load.
Kits Or Sets
You can opt to buy a kit which includes the bare minimum equipment required for clipping. This includes the clippers, a brush, a charger, and a few attachments. A set, on the other hand, comes with nail trimmers, grooming scissors, tweezers, and nail files along with the clippers, brushes, and charger. 
Cordless Or Corded
The choice of a cordless or corded clipper is determined by your grooming set up. If you groom Fido outdoors, a cordless clipper is your best option. Also, if she is playful and you have to run after her during grooming, you should consider a cordless pair of clippers. 
However, for parents with a small grooming space like a bathroom and a trained dog, a corded pair of clippers will suit you better. 
Accessories
If you are starting to learn how to groom your dog at home, you only need the basic accessories like brushes, nail clippers, and nail files. As you get more familiar with the grooming process as a whole, and even the hair trends for your dog, you can invest in length attachments to help you achieve the specific lengths and looks you want.
Noise Level
Buy a clipper that has low noise levels to prevent your dog from getting scared of the clipper. Dogs that have visited doggie salons may be more used to the sounds of clippers, but newbies can easily be spooked by the sound and hurt themselves or you.
Spare Parts
Opt for brands that are easily available and have available spare parts. Because of constant use, clippers experience wear and tear rather quickly. So that you do not have to buy a whole new unit, invest in a brand that has great reputation and parts that are easily replaced. 
Best Dog Hair Clippers: Cordless Vs Corded
To make the right choice between cordless or corded clippers, you must answer a few pertinent questions:
Are you a dog owner or professional groomer?

How many dogs do you have?

What breed(s) or size(es)?

How trained are the dogs?

What is your budget?
Cordless clippers are excellent if you do not like to be stuck in one place as you tend to your dogs. These clippers are lightweight and easy to use as you move around with more ease. Unfortunately, they do not give you much power for long, as the batteries can run out faster especially when dealing with dogs with lots of fur or large dogs. To have longer run times with your cordless clippers, make sure the battery is lithium.
Corded clippers give you unlimited run times and have more power, since they are powered by electricity. They are also customizable to different lengths regardless of the blade length. The disadvantage lies in the obstruction caused by the cord, which makes it harder to maneuver around your pooch.
When it comes to the price, you can expect to spend more on cordless clippers compared to cordless ones despite the fact that they offer you less power and speed. 
How to Safely Use Your New Dog Trimmers
Dog trimmers are tools that fundamentally come with the risk of cuts, and they heat up as well, putting your doggie at risk of burns. So, begin by reading the manual that comes with the clipper for the right instructions on how to use them. The manual gives you specific directions on how to change settings and what to do before you begin trimming.
Once you have started trimming, focus on the direction that the hair grows which may change from one part of the body to another. This gives your dog a neat finish. The trimming should not be forced or hurried and should progress from part of the body to another. 
Start with the neck and run the clippers all the way to the back leg. Using this method prevents the unsightly lines that run from the front to the back of your pet.
Periodically, swap the blades to prevent overheating which will burn your dog. If you only have one blade and it gets hot, let it cool first before you continue using it. 
Understandably, full knowledge about trimming her coat does not come only by reading the manual. Spend some time at the local dog salon, and see how the professionals do it before your give Fido a cut. 
Not only will you be more comfortable, but you will also likely avoid the mistake of not cutting the hair according to what your breed should look like.
You can begin by watching the video below to learn more about trimming shaggy-haired pups:
5 Super Tips For Using Dog Clippers Properly
There are a few dos and don'ts when trimming your dog's hair. Here's a quick summary to get you started: 
Use Shears For Detail And Delicate Spots
You must use shears to trim the hair around the face, ears, and paws. Gather the hair using a comb, and trim away at the excess without going in too much to expose her skin to the cold. You must always strive to leave a protective layer of fur even in summer months. 
Do not forget to clip the hair around her tail so as to leave more hair towards the tip of the tail. Clipping the hair around the rear is important, as it prevents particles from sticking to her fur when she has a bowel movement. 
Bath Before Shave
Before you give your pup a trim, make sure she is well bathed and dried. This removes any debris from her skin and fur and detangles the hair. Comb lightly through her hair using a brush in gentle strokes (your doggie will love this part, by the way). If her fur is taking too long to dry, try blow-drying her with the warm setting.
Trim And Clear
Always clear your dog's hair away as you trim. This gives you the correct picture of the parts you have trimmed and those that still need your attention. Also, keep checking the temperature of the blades to ensure that the blade doesn't burn the dog's skin. Always keep a reassuring hand on Fido as you clip away especially in areas like the stomach and where the stomach meets the legs.
Learn About Your Dog's Standard Hair 
Every breed has a way that the hair should be clipped, and while some may be similar, the last thing you want is to make your Golden Retriever look like a poodle. You can learn the specific haircuts from professional breeders and groomers in your area or even the breed's website or club. 
In case of a bad hair day caused by the wrong cut, don't worry. It will grow out, and you will get it right next time. However, it is crucial to learn the correct cuts to ensure you do not over or under clip, making your dog uncomfortable in the hot or cold months ahead.
Conclusion
Let's admit, the beauty of a dog lies in grooming. Think about when you encounter a dog with matted fur, foul breath, and talons for nails. It's hard to see her beauty, right?
As a pet owner, know that the appearance of your dog is a direct reflection of your pet parenting skills. But thanks to the clipper sets and kits above, you have an excellent, cost effective way to keep your furry friend looking spiffy at all times.
Make the Wahl Bravura Lithium Ion Cordless Dog & Cat Clipper Kit, which is the best overall clipper on this list, your foremost consideration. It is versatile enough to trim different types of pet hair, it's silent, durable, and when it comes to functionality, you can use it either indoors or outdoors due to its dual-purpose design. 
The rest of the options listed are also special and just as good, depending on your needs. For example, if you are looking for a budget option that provides great value, the Wahl Deluxe U-Clip Dog & Cat Clipper Kit would be a great fit for you. 
Good luck as you set off on this journey of making your furry friend the neatest and sharpest looking canine in town!