Updated: February 13th, 2023
This article contains affiliate links. Read the full disclosure here.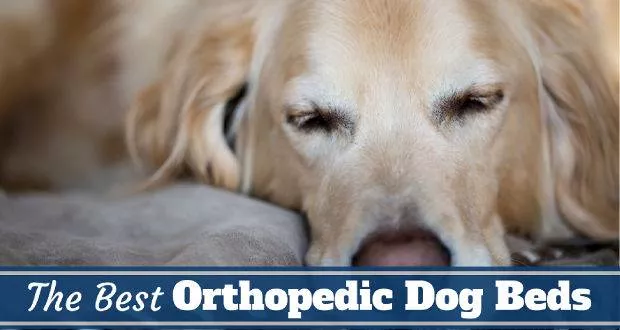 © Depositphotos.com / yobab
But thanks to my wonderful bed, I can flop my aching bones down at night and rest easy as I watch television, or read a book. Then I can close my eyes, secure in the knowledge that I will wake in the morning refreshed and ready to start the process all over again.
Your Golden has had a busy day, too. Chasing balls, barking at squirrels, maybe a game or two of tug-of-war; it takes a lot out of a dog! Having the right bed to recuperate in will help to ensure another active day tomorrow.
AT A GLANCE:
Our 5 Best Orthopedic Dog Beds
An Overview of the Best Orthopedic Dog Beds
IMAGE
PRODUCT

7 Inches. Of Foam
Handmade in the United States
Machine washable

VIEW LATEST PRICE →

4 Inches thick composed of memory foam
Comes in 3 different colors
Bang for the buck

VIEW LATEST PRICE →

5 inches thick
Soft and comfortable cover
Easily removed for laundering, while being naturally hypoallergenic

VIEW LATEST PRICE →

Super comfy and super cozy
100% memory foam
Fully supported

VIEW LATEST PRICE →

Has wraparound bolster for extra support
Shredded memory foam filling
Multiple sizes available

VIEW LATEST PRICE →
*Some of the above links lead to current prices and customer reviews on Amazon.
Carry on reading to discover why we made these choices, and lots of tips and buying advice to ensure you get the right product.
Top 5 Best Orthopedic Dog Beds: Reviews
Even after reading this article, choosing the right orthopedic dog bed for your Golden Retriever can be a daunting task.
Since all of us at Totally Goldens want what's best for you and your dog, we happily present what we consider to be the shortlist of the best orthopedic dog beds on the market.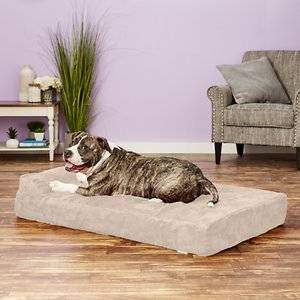 Why we love it: 7 Inches. Of Foam. Hello??? Oh, and it's handmade in the United States and it's pretty much the highest rated dog bed available.
This BigBarker orthopedic bed It has an easily removed, machine washable 100% micro-fiber cover so hygienic maintenance is a breeze.
Big Barker only makes beds for large breed dogs, with both flat and bolstered models available.
They are so confident in the quality and fact it last and hold it's shaped that they offer a 10-year warranty!
Dimensions: 3 sizes are available – best fit for a Retriever would be 48" X 38" X 7"
Material: Micro Fiber cover over a sandwich of foam – 2" of comfort foam above 3" of support foam with an additional 2" of comfort foam below.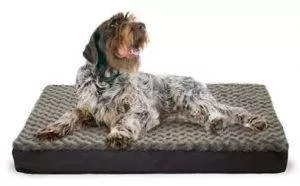 Why we love it: This bed is a good 4 inches thick composed of memory foam laminated on polyurethane for support.
It also comes in 3 different colors. and has a silky faux fur cover.
And all this at a reasonable price!
Dimensions: 3 sizes, biggest is Jumbo which measures 44 x 35 x 4 inches.
Material: Memory foam laminated on medical grade polyurethane.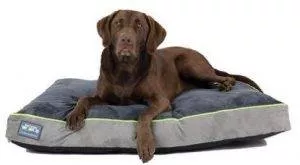 Why we love it: This dog bed is a great size for a Retriever, and it's 5 inches thick!
It has a non-skid bottom and an incredibly soft and comfortable cover that is easily removed for laundering, while being naturally hypoallergenic.
Dimensions: 4 sizes, largest is 46 x 36 x 5 inches.
Material: Densely packed shredded memory foam and waterproof cover.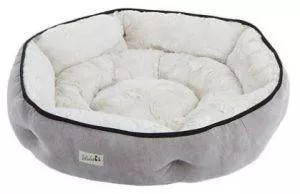 Why we love it: This is a very highly rated product from Petlinks, this nest bed is super comfy and super cozy.
4″ thick of 100% memory foam ensures your dog is fully supported and the bed will keep its shape well into the distant future.
Like all the beds in our list, the covers are easily removed for machine washing
Dimensions: Larger size is 32 x 31 x 8 inches.
Material: Shredded memory foam, cooling gel beads, plush and corduroy cover.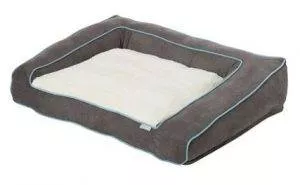 For myself, the crowning achievement of civilization is the bed. It seems that every other invention ever devised serves the sole purpose of making me tired and sore at the end of a long day of commuting, working, and commuting again.
Why we love it: Nice and thick at 5″, with 3 layers offering softness and support, plus a wraparound bolster for extra support.
Plush cover is super-soft, offering the best in comfort, while the foam affords easy air-flow throughout to maintain a good sleeping temperature.
Cover is removable with non-clip bottom, making cleaning easy and keeping the bed in one spot if on a slippery floor.
Dimensions: Multiple sizes available, the largest being XX-Large with dimensions 48 x 36 x 9 inches.
Material: Shredded memory foam filling.
Varieties of Dog Beds
If you haven't really investigated the topic before, you might be surprised to hear there are many kinds of dog bed available.
They range from simple fleece mats, to cots, to caves, and even heated beds. There's a type of bed suited to every kind of dog, regardless of size, or age.
For the purposes of this article, I'll be focusing on, of course, a type of bed perfectly suited to Golden Retrievers, the Orthopedic dog bed.
Why Choose an Orthopedic Dog Bed?
When you see the word "orthopedic", it may bring to mind thoughts of older dogs, or dogs which are physically infirm in some way?
The truth is, orthopedic beds are a great choice for a large breed dog of any age or condition.
Orthopedic beds offer excellent support for larger dogs, utilizing thick, high-density foam to keep them up off the floor.
Even if your Golden isn't showing signs of bad joints or hip dysplasia, remember that these are common ailments in large dogs, and Retrievers in particular. By separating your dog from the floor, you're keeping them away from the coldness that might affect their joints.
While it's true that an over-heated dog might enjoy lying on a cool, bare floor, I know from personal experience that my dogs will always move to their beds when they decide to turn in for the night.
Simply being able to stretch out on a padded surface and being off the hard floor is also a relief for aching joints.
Being such a large dog, Goldens will flatten a standard dog bed in fairly short order, leaving them right back on the floor again. The thick foam of an orthopedic bed should last longer.
And on the subject of lasting longer, orthopedic dog beds are ideal for when your dog reaches old age and really needs the extra support. If your senior pooch has always slept on a couch or in a people bed, an orthopedic bed will provide the same level of comfort without the need to jump up.
Choosing the Right Bed
A quick search of a major online pet retailer yielded over 140 results for "orthopedic dog bed." How, then, to whittle it down to a few good choices?
Make Sure It Measures Up
First and foremost, this is one of those occasions where size DOES matter.
If the bed is built for a smaller or even medium size dog, your Golden is not going to fit comfortably on it. Yes, dogs like to curl up tight sometimes, but there should be sufficient space to stretch right out if that's what feels comfortable at the time.
Measure your dog's length, and then add about 12 inches to determine the optimal size for a bed. (Bearing in mind where the bed is going to fit in your home.)
For readers of this site with a golden retriever, 'large' dog beds will be the right size every time. For any readers with other breeds, our friends over at 'Thoroughly Reviewed' have a great size and buying guide for dog beds suiting dogs of all sizes.
Thickness is also a Key Consideration.
Orthopedic dog beds start at 3 inches thick, but this would be inadequate for a large dog. If the foam is too thin, the weight of the dog will compress the foam down to the floor.
Look for at least 4 inches, and preferably more, for a dog the size and weight of a Golden Retriever.
Consider A Bolster
If your Retriever likes to snuggle into a corner, lies against a couch or finds some other support, or uses a pillow, try a bed with a bolster.
This gives your dog the option of finding just the right position in his own comfy bed.
Get More For Your Money
If you've ever cheaped out on a mattress for yourself, then you know that you generally get what you paid for. More than likely you ended up buying another mattress within a short time, probably the same higher-priced mattress you decided against previously!
The same goes for dog beds. Bargain beds come with bargain features, and they're not always obvious.
Feel the mattress before you buy, if you can. If not, check reviews and specs online before ordering. You'll want to know if the foam inside the mattress is a solid piece, or shredded in some manner. A solid piece of foam will provide even and consistent support for your dog.
Check the thickness of the fabric surrounding the foam. If it seems thin and insubstantial or has a loose weave, odds are your Golden's claws are going to pull it apart, or it will simply wear out from repeated use and being moved around.
You may save money in the short term with a low-cost dog bed, but you'll likely be shopping again before long. Spend a little extra and make the investment in a quality product, and you'll save in the long run by not needing to buy a new bed, hopefully, for many years.
Can It Be Cleaned?
One of the reasons you bought a Golden Retriever is the beautiful coat of hair (the envy of short-haired dogs everywhere!). But cleaning up the hair it sheds is a never-ending task.
Needless to say, a lot of hair ends up on a dog bed. Think about whether the bed you're considering can be cleaned easily. Does the cover come off for washing? Is the fabric prone to attracting and trapping hair? (On that note, I have found microfiber to be very difficult for removing fur. Faux suede is much easier.)
If you have an elderly dog that's prone to incontinence, look for a bed with a waterproof covering. Some beds actually have two covers, with the inner cover being waterproof.
Nothing To Sneeze At
One last issue is allergies. Generally speaking, foam dog beds shouldn't cause any allergy problems as they are filled with man-made material. There are, however, some dog beds that use duck feathers, or a mixture of foam and feathers.
My research turned up one orthopedic dog bed that had a pillow top of duck feathers capping the foam mattress. While the K&H Feather-Top Orthopedic Pet Bed appears to be a good product, owners should be aware of the risks of introducing a known allergen to their home, both for dogs and people.
Conclusion
Even with this list of buying tips and best orthopedic dog beds in mind, you should still do a little research of your own. Read product reviews, talk to other owners, and do some shopping.
A quality orthopedic dog bed is a great investment in your dog's comfort and health. Rest assured that both of you will sleep better – you might even be jumping onto your Golden's bed for a change!
Product images: © Chewy.com
Please be aware this page contains affiliate links and TotallyGoldens receives a small commission if you make any purchases through any such links. This has absolutely no effect on the eventual price that you pay and we are very grateful for your support.