Updated: October 19th, 2022
This article contains affiliate links. Read the full disclosure here.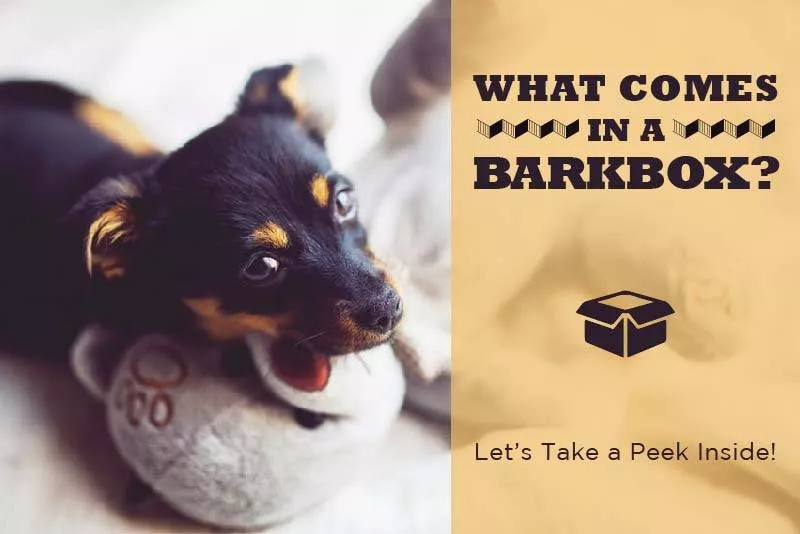 Can I make a confession? I've never been very good at delegating responsibilities. It's something I'm working on. So, when I was asked to give a monthly dog subscription box a try, I was a little bit leery but eager to know what comes in a BarkBox.
After all, it's giving someone else my hard-earned dollars and then trusting them to shop for my fur kids. Talk about giving up control! Would they pick something my dogs liked? Would they give them high-quality products?
I'm just supposed to pay for a box filled with unknown items—and trust them?
Hold on a second. I've got to do some deep breathing into my paper bag.
Okay, I'm good now!
In the spirit of personal growth, I decided to delegate the pet purchases I normally handled myself, and let someone else give it a try.
What Does BarkBox Promise?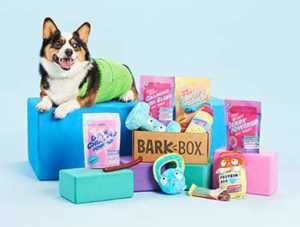 The BarkBox website tells us that each box will contain treats, toys, chews, and occasionally hygiene products that follow a theme of some kind. It's not like you're going into the purchase completely blind.
They also promise that all of their dog treats will be made from high-quality ingredients free from soy, wheat, or corn. They even offer allergy-friendly options if your dog is allergic to beef, chicken, or turkey.
If you need further assurance of what the contents will cover, the company has a Puppy Feed where past recipients of these mystery boxes show off their contents.
If you want to check out their toys, BarkBox has an online store for people who want to reorder the same toy they received in a shipment. It's highly likely that among your dog's gifts will be one of the many toys featured in BarkShop.
The Subscription Choices
BarkBox gives you several subscription options so you can match the BarkBox toy sizes to your dog's size, dietary needs, and chewing level.
Upon ordering, I was asked if my dog was small (0 to 20 pounds), medium (20 to 50 pounds), or large (over 50 pounds). I was also asked to give my dog's name to add a more personal feel to the order.
You could then choose a one-month subscription for $29 per box, a six-month subscription for $25 per box, or a year's worth of doggie box goodness for $21 per month.
I was also given the choice to add a free premium toy upgrade to my order for an extra $9, which I declined.
None of our pups are too hard on their toys, but I was also given the option to upgrade to a free Heavy Chewer subscription for more durable toys.
If this wasn't enough toy toughness, I was promised wolf-tested toys if I upgraded to their Super Chewer subscription. A one-month order would set me back $39 per box, with six-month plans going for $34 per month, and 12-month commitments dropping to $29 per month.
They also guarantee that if your dog chews through their Super Chewer toys, they replace them for free.
I decided to stick with the regular subscription option. It could only get better from there, right?
The company did offer one huge bonus: Ordering toys sight unseen is just a little more comforting when you know that if your pup doesn't like something, they will replace it for free.
What Comes In A Barbox?
I ordered their basic one-month box for a large dog. I wasn't ready to commit to more than this before trying the first box, even with the savings found in longer-term plans.
I must admit, it was kind of exciting getting that box on my doorstep, not knowing what to expect. My dogs smelled the treats in the box right away and were sniffing the cardboard like they could inhale the contents through the packaging.
Upon opening it, I was greeted with a New York-themed box of doggy goodies. BarkBox is based out of New York, so this hometown homage was very appropriate.
Apparently, they change themes each month and promise to always provide new toys and treats in their boxes so you don't get the same item twice. Of course, all treats and toys have been thoroughly tested, and approved, by the employees' own dogs.
Here's what our BarkBox contained: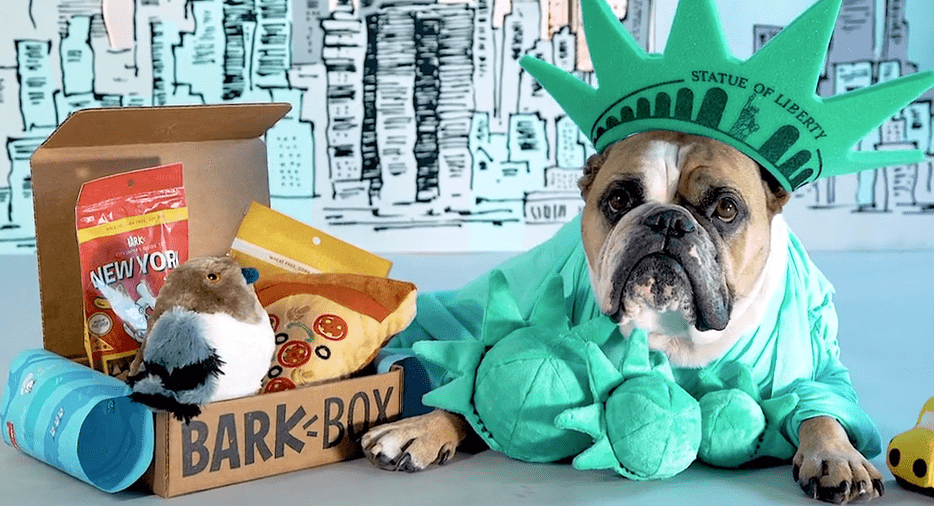 1) A Lady Liberty Ball
This ball was meant to resemble Lady Liberty's head. My dogs especially enjoyed the squeaker inside.
The ball had some type of bumpy material under the cloth that made it very easy for the bigger dogs to carry. Even our smallest dog, who couldn't fit her mouth around the ball portion, could pick it up by the crown.
I love a toy where no pup feels left out!
2) A Pretzel-Shaped Tug Toy
Our German shepherd loves to play tug, so this cute toy was perfect for him. It had a durable fabric that covered a harder inner material. The pretzel provided plenty of interactive fun for both of us, and it made me hungry for carbs!
3) A 12-Inch Long Deer Chew
We have an allergy dog; so I appreciate single-ingredient treats and chews. There's just less for him to potentially react to that way. This deer chew also had no preservatives, coloring, or artificial flavors. Bonus! And of course, the deer meat was a big hit with the canine crew!
4) Bacon Cheddar Flavor Sojos Treats
Our allergy dog scored again, as these 100% natural treats had no soy, wheat, or corn, no preservatives, or anything artificial. BarkBox makes sure all of their treats follow this principle, and that meant all of our dogs could enjoy them!
5) Plato Pet Treats: Hundur's Crunch Fish Treats
Our pups adore fish, and this was the only ingredient in these treats. Again, they contained nothing artificial and had no grains or byproducts. The only ingredients on the list were Icelandic oven-baked cod skin and golden redfish skin.
All of these goodies came wrapped in cute packaging with fun cards explaining the contents and theme to finish out the BarkBox experience.
Here's a humorous unboxing video:
What Are BarkBox Monthly Themes?
While the classic BarkBox contains two toys, two treats, and one chew, no two boxes are the same. Each monthly box is unique in its way and specially crafted to keep you and your pooch wondering what's going to be delivered the next month.
Each month's BarkBox varies based on the current monthly theme. And while my dogs ended up playing and chewing New York-themed toys, there's no way of telling what your pooch will get if you subscribe to BarkBox today!
The only thing I can tell you for sure is that each monthly theme is designed to be immensely fun and provide endless adventures for our canine friends. 
Themes will usually depend on a season or a holiday in the following month. So it's highly likely that your pooch will receive Easter, Halloween, Thanksgiving, and Christmas-themed BarkBoxes at some point.
But don't think for a second that that's it and that there are no more surprises left in the BarkBox! There are many themes that don't follow any holiday or season and are just designed to be super fun for your dog.
While you may never know what awaits in this month's BarkBox, it's safe to assume that your dog will be excited to go on another adventure and chomp new deliciously flavorful treats and chews.
What Size BarkBox Should I Get?
As mentioned earlier, the BarkBox comes in three sizes: small, medium, and large. Even if you aren't sure which size you should pick for your dog, don't worry! They all cost the same, and you can always go back and update the size for future deliveries.
Still, if you're having a hard time deciding between a medium vs. a large BarkBox, I recommend sizing up. Your pooch won't mind playing or chewing a slightly larger toy, but a smaller one may pose a choking hazard.
BarkBox also suggests sizing up if your pooch is a heavy chewer or has naturally large jaws. A Golden Dox may be perfectly content with a medium BarkBox, but if you own a pittie or a Staffy, a large box is just the right thing for your dog.
The Giving-Back Bonus
While BarkBox produces great puppy packages, that's not the only reason I love this company.
Like many other dog owners, my heart often breaks for the plights of shelter dogs. I like that BarkBox also feels the same way, and they put their money behind their concern. The company gives 10% of their profits to over 3,000 rescues and shelters across America and Canada.
You can also recommend a local rescue representative reach out to benefit from this program by going to their Rescue and Shelter program.
Knowing this company gives back to less fortunate dogs makes me feel so much better when we spoil our own. I know a portion of that money is helping another pup find a forever home.
FAQs About BarkBox
What Kind Of Toys Come In A BarkBox?
Each monthly BarkBox is full of new surprises for your dog and contains an innovative plush, squeaky, or stuffed toy. All plush toys are different and specially designed for chewing, pulling, tossing, and other strange things dogs do to have fun.
All toys follow a monthly theme, so there's no way of knowing what type of toy your dog will get. The Super Chewer BarkBox comes with rubberized toys that are made to withstand some rough handling and heavy chewing.
Is BarkBox Worth The Money?

Yes, BarkBox is absolutely worth the money, regardless of what subscription plan you decide on. If you were to buy all individual toys, treats, and chews separately, you would spend a lot more money than if you decided to purchase only a one-month subscription.
Can I Just Get One BarkBox?
Yes, you can purchase just one BarkBox if you aren't certain whether your dog will like the toys in it, or as a one-time gift for your canine-loving friend. However, in order to receive just one BarkBox, you will need to pick a one-month subscription and patiently wait for the box to get delivered to your doorstep.
Is BarkBox Ok For Puppies?

BarkBox toys are designed in a way that makes them suitable for dogs of all sizes and ages, including puppies. The plush and stuff toys are great for still growing and teething pups, but you shouldn't leave your puppy unsupervised with any type of toy.
Puppies can get overly enthusiastic and rip the toy to shreds, at which time you should be there to pry the damaged toy from your puppy's mouth. For a puppy, it's best to start with the smallest BarkBox and make updates to your subscription as your pup grows and gets older.
Can You Skip A Month Of BarkBox? 
In order to skip a month or change your BarkBox subscription to every other month, you will need to contact their Happy Team. The good news is that BarkBox has friendly and very responsive customer service. So there is a big chance they will meet you halfway and give you a chance to skip a month's subscription.
Did BarkBox Deliver As Promised?
I'm pretty picky about what we give our dogs, but I can honestly say I would have purchased every single one of these items for them had I been pushing my own cart down the aisle. I took a chance and, without knowing what comes in a BarkBox, I got one. This turned out to be, hands down, the best blind buy ever!
Every toy was high quality, fun, and interactive. The treats and chews were made from healthy, whole ingredients without added preservatives, fillers, grains, or artificial flavors.
BarkBox exceeded my expectations and also taught me that outsourcing isn't as scary as I had once thought—That's the other thing that comes in a BarkBox. Maybe this experience will help me become a bit more open to the concept.
Our pup pack certainly couldn't tell the difference between a BarkBox and the high-quality treats and toys we usually purchase for them. And this time, I didn't even have to travel past our front door to get them! This pet parent and her pup pack are sold!