Updated: October 13th, 2022
This article contains affiliate links. Read the full disclosure here.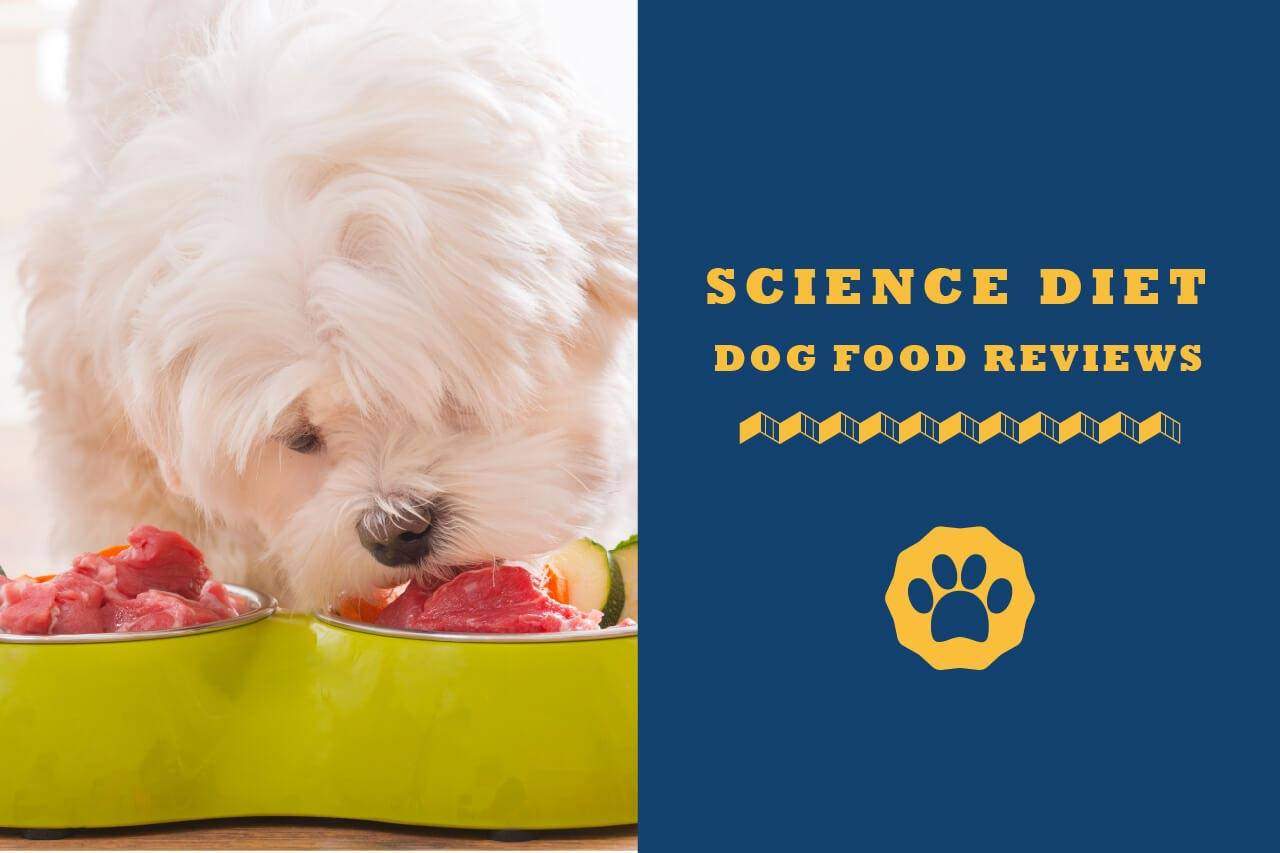 Given a chance to choose between a dog food brand that makes biology-based formulas and one that talks big game but can't give the scientific basis behind their recipes, almost all of us would go for the former.
Even though they are few, such brands are an option you will hardly go wrong with. Nearly everything about them, from the ingredients used to the manufacturing process, meets the standards set by regulating authorities, like the Food and Drug Administration (FDA).
Hill's Pet Nutrition is a perfect example of a brand that would fit this description. If you have suffered disappointment in the past as a result of dog foods that promised heaven and delivered the exact opposite, then you might want to try out Science Diet and see if their claims are true.
Looking at what fellow dog parents, vets, and other pet experts have to say about it, it's unlikely that you will be disappointed. Later in this guide, I will take you through some Science Diet dog food reviews so you can see firsthand why this brand is a cut above the rest.
Meanwhile, here are a few things about the brand you will want to know.
AT A GLANCE:
Our 5 Best Hill's Science Diet Dog Food
An Overview of the Best Hill's Science Diet Dog Food
IMAGE
PRODUCT

Fresh food made with restaurant-grade ingredients
Gluten-free
Packed with energy and potassium

VIEW LATEST PRICE →

Promotes lean muscle growth and muscle repair
Whole grain
Contains a well-balanced diet

VIEW LATEST PRICE →

Best grain-free dry dog food
Maintain muscle development
Comes from quality protein sources

VIEW LATEST PRICE →

Grain-free
The recipe is packed with animal protein
Affordable

VIEW LATEST PRICE →

Best For Sensitive Stomach

Grain-free
Promotes healthy skin
Contains limited ingredients that are highly digestible

VIEW LATEST PRICE →
Brand Overview
Hill's Pet Nutrition takes pride in having been around since 1907 and maintaining consistency in food quality to date. It's probably one of the oldest pet food manufacturers in the industry right now whose formulas have a solid basis in science.
Founded by Burton Hill, Hill's Pet Nutrition is an affiliate company of Colgate Palmolive. A notable contributor in the founding of the company's quality foods is Dr. Morris, a vet who was asked by a friend to help him out in treating his pooch that suffered kidney disease. Part of this meant formulating a special diet that had no phosphorus (because it's not beneficial for an ailing kidney) and loaded with nutrients.
This is what started the pioneering dog food prescription formulations at Hill Science. Their diets compromise both dry and wet pet foods catering to dogs and cats.
Hill's line of products is extensive. In fact, they have something for just about any pooch. Their main product lines include:
Hill's Science Diets – Includes diets for different life-stages
Hill's Prescription Diets – Comprises formulas designed to address specific conditions such as kidney care, weight management, urinary care, skin sensitivities, and so on
Hill's Bioactive Diets – A collection of diets whose nutrition is in sync with your pup's biological set up
Healthy Advantage Diets – These are diets with multiple nutritional benefits made for dogs all sizes
Below is a short video by the company itself showing how they've evolved and continue to transform the lives of pets and their owners:
Hill Science Diet has not been spared by food recalls, the most recent being the March, 2019 voluntary recall. However, of the five recalls they've had so far, only two were issued by the FDA. The rest were voluntary, which should be reassuring, as it shows they value the safety of their products and are committed to making quality products.
Is Science Diet A Good Dog Food?
With more than 220 vets as well as a team of nutritionists, Hill's Pet Nutrition is uniquely positioned to find diet solutions for your mutt.  That partly explains why it's among the most recommended dog food brands for pets by vets and doggie experts.
Hill's Science Diet reviews speak to their effectiveness in delivering quality nutrition to dogs and cats.
For formulas whose recipes are crafted with quality ingredients that are nutritious and tasty, that's not hard to believe. In fact, they are so confident that your mutt will love their formulas such that they offer a full money back guarantee in the event she ends up not satisfied by their recipes.
Another lovely thing about Science Diets is that they are appealing taste-wise and nutritionally beneficial to dogs that are healthy as well as those with special dietary needs arising from conditions such as digestive issues, kidney problems, allergies, etc.
Note that in managing conditions like diabetes, mobility and digestive issues, pancreatitis, or a myriad other health issues that your pet may be facing, a prescription from your vet will be needed before the diet is released to you.
What most consumers seem to appreciate a lot about this brand is that their recipes are made with high fiber, minerals, and vitamins, in addition to having the right proportion of animal proteins for lean muscle growth and optimal body mass. Expect grain-free recipes, as well and delicious formulas that even the most finicky of eaters will find hard to resist.
Irrespective of which Hill's Pet Nutrition product line you opt for, you can be assured of seeing the following tangible benefits across the board:
Fewer indigestion issues
Stronger muscles
Smoother and shinier coat
More energy and better mobility
Faster and more robust physical development
Fewer infection issues
Given the broad variety of recipes Science Diet has to offer, you are more likely to get overwhelmed with the enormous amount of choices at your disposal. The upside is that their pet foods will rarely disappoint. Nevertheless, I rounded up a few that I think you and your little furry friend will love.
Top 5 Best Hill's Science Diet Dog Food: Reviews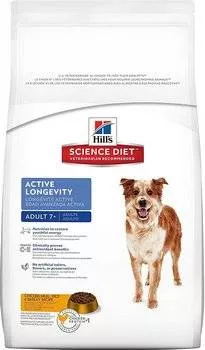 Your canine buddy who is seven years and above has a lot to gain from this recipe. Savory chicken meal, which tops the ingredient list, enables the diet to meet your dog's protein needs. In addition to promoting lean muscle development and maintenance, this dehydrated protein concentrate generates minerals, specifically calcium and phosphorus, both of which are vital for bone health and teeth.
Chicken meal is also a source of glucosamine, whose main function is to enhance mobility in older pooches. The addition of low-fat carbohydrates, like rice and barley, as well as gluten meals,  make the diet rich in fiber, which your pup could use for better digestibility. Besides, those two ingredients combine well with pork fat to make this food healthy and tasty.
Also worth mentioning is the inclusion of dried beet pulp, an ideal source of naturally occurring probiotics that your dog needs for better gut health.
L-carnitine is also present to help burn off any excess fat so that your pooch maintains her optimal weight effortlessly while still feeding healthy. Veggies such as carrots, broccoli, and peas, in addition to fruits such as apples and cranberries, round up this recipe, making it a balanced diet.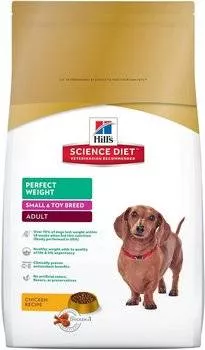 I believe you are aware that your pooch is better off when she's at her optimal weight, as opposed to when her weight is more than usual. Overweight dogs are normally prone to lots of avoidable health issues that could make their life miserable.
So, if your buddy is getting heavier by the day, it would be great if you got her on a diet that will steady her health while assisting her to lose the excess pounds.
With this Science Diet formula, you are guaranteed results within 10 weeks. You are probably used to the idea that losing weight is a boring and taxing endeavor, but this diet has managed to make that process a hustle-free tasty affair. Real chicken, the principal ingredient in this recipe, makes it delicious and efficient in building lean muscle.
What's more, the protein content is reinforced by the addition of chicken meal, which is also a rich source of glucosamine and chondroitin, both vital components for mobility and bone strength respectively.
The tomato pomace in the recipe provides additional fiber for better digestion and bowel movement. Other helpful ingredients included include low carbohydrates, from peas to brown rice to provide adequate energy; L-carnitine to help burn off any excess fat in your pup's system; beet pulp, a rich source of the probiotics your Canine friend needs for a well-functioning gut.
Expect your dog's skin and coat to also be healthier, thanks to a healthy dose of omega-3-and-6 fatty acids from flaxseed. Veggies and fruits balance out the recipe for better taste, as well as digestive benefits.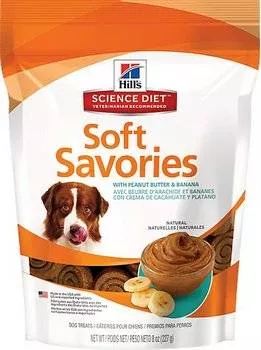 In my experience, no pooch ever resists a savory treat.  In fact, you stand a chance to enhance your bond with your mutt when you offer him a treat for no reason at all or as a reward system for good behavior.
This Science Diet treats are soft textured and feature peanut butter and banana for a savory taste that your dogs will love.
If your furry buddy has a sensitive stomach or is prone to allergies, you can rest easy knowing that these treats do not contain corn, artificial flavors, colors, or preservatives.
Other ingredients include cane, wheat flour, and potatoes as well as mixed tocopherols for maintaining freshness.
Ideally, these treats are recommended if you have active puppies that are 9 weeks and above.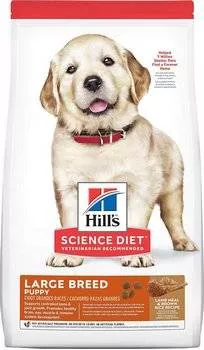 Large breed puppies are just gorgeous to behold. To keep them that way and ensure their happiness and growth, a dietary recipe that caters to their unique physiology is a must.
With this Science Diet puppy recipe, your pooch is assured of lean muscle development as well as optimal body mass from lamb meal, which is the chief animal protein source.
The recipe is also rich with the right amount of calcium and phosphorus ensuring that their bigger skeletal frame develops properly. The presence of glucosamine helps with their joint mobility, ensuring better movement of their bigger frame.
Whole grain wheat, as well as sorghum and corn, form part of the carbohydrate profile that's responsible for high energy provision. For as long your pooch is not gluten-free or allergic to grains, they are likely to love this recipe. The dietary fiber is reinforced by dry beet pulp for better digestion and absorption.
For a luxurious coat and healthy skin, flaxseed pairs with fish oil to form a rich omega-3-and-6 fatty acid profile that nourishes your pooch's skin and coat.
A well-rounded formula such as this also promotes a stronger immune system through the presence of a powerful blend of vitamin E, C, and antioxidants.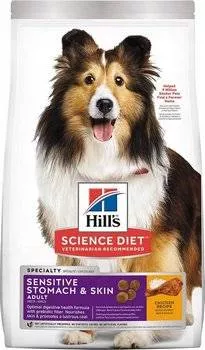 Let's face it. it's really agonizing when you have to helplessly watch your pooch suffer stomach sensitivities as a result of something she ate. This can be in the form of allergies, bloating, diarrhea or flatulence, just to name a few.
The good news is that this discomfort can be eliminated by opting for a diet that is gentle on canine stomachs. This particular Science Diet comes highly recommended for mutts with sensitive stomachs.
It contains no artificial flavors, colors or preservatives that are notorious for causing stomach and skin sensitivity issues in most pooches.
Chicken and chicken meal have been used as the top ingredients. In addition to helping build lean muscle, both help in maintaining strong bones, teeth, and mobile joints.
Complex carbs are catered for by brewers rice, yellow peas, and barley, all of which are tasty and rich in fiber that your little canine friend needs for better digestion. The presence of dried beet pulp adds to the dietary fiber, thereby promoting ease of digestion, better bowel movement, and quality feces.
Veggies such as carrots, broccoli, green peas, together with apples and cranberries help with the taste profile and in aiding digestion as well.
Conclusion  
Expect to meet lots of other highly-rated and popular Science Diet's dog formulations, in addition to these five top picks. I actually suggest that you take your time to peruse through all their product lines in order to get a better idea of the array of healthy tasty dog food options at your disposal.
Right now, you have no reason whatsoever to doubt the value this brand's formulations offer, given all the great things that continue to be said about them by pet parents, vets, and pet experts.
What's even better is that you can stick with this brand all through as they have all the recipes your dog will ever need at her different life stages or whenever she faces the common health conditions that affect dogs today.