Updated: April 27th, 2023
This article contains affiliate links. Read the full disclosure here.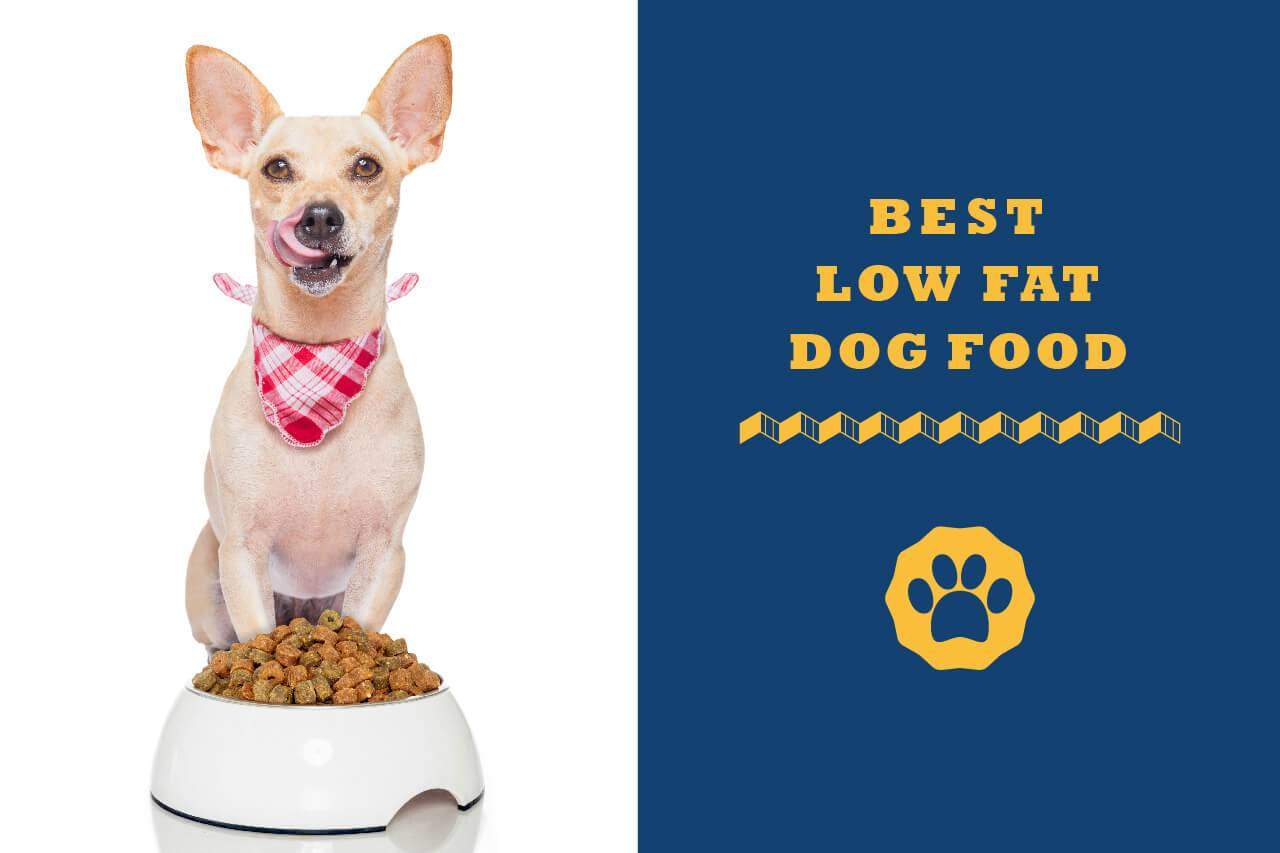 Not even dogs have been left behind in the wake of this low fat trend. Eating low fat diets appears to be the healthiest thing you could do in your commitment to enhance your well-being.
You've probably come across those shakes and formulas at every corner store that purport to be low in fat with an ability to help you shed a few unwanted pounds, right?
Well, the doggie world seems to have caught on, and your canine is not going to be left behind on this trend.
Just like with human food, there is more to low fat dog diets than meets the eye. You will learn about all that in a few minutes and later on get to meet some of the best low fat dog foods available today.
AT A GLANCE:
Our 5 Best Low Fat Dog Foods
An Overview of the Best Low Fat Diet For Dogs
IMAGE
PRODUCT
 

Ground turkey, eggs, brown rice, carrots, & spinach

VIEW LATEST PRICE →

Best for Sensitive Stomachs

Ground turkey, pumpkin, turkey thigh, liver, gizzard & heart carrot lentils, kale, & blueberries

VIEW LATEST PRICE →

Chicken meal, peas, tapioca, pea fiber, tomato pomace, chicken fat, & ground

VIEW LATEST PRICE →

Best High Protein Low Fat

Chicken by-product meal, brewers rice, chicken fat, powdered cellulose, rice hulls, & etc

VIEW LATEST PRICE →

Deboned turkey, turkey meal, chicken meal, potatoes, peas, dried ground potatoes, pea fiber, & etc

VIEW LATEST PRICE →
Top 5 Best Low Fat Dog Food: Reviews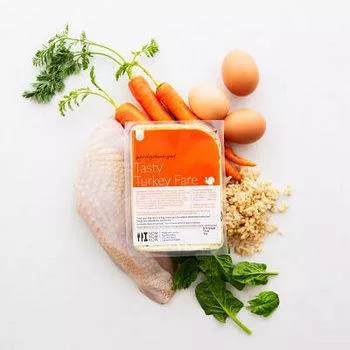 A new and fresh concept of made-to-order dog food is now here; dogs in need of a healthy wholesome low fat diet now have a fresh food option.
Nom Nom was founded by Alex Jarrell almost by accident when her vet recommended that she would need to home-cook her pooch's meals in order to help manage her doggies compromised immune system. Those recipes and the ensuing positive results on her pooch from the fresh homemade diet inspired the brand.
Nom Nom has become one of the few very low fat dog food brands that deliver home cooked fresh food to your doggie door.
Orders are made online. Deliveries to the West Coast are shipped weekly while the East Coast gets theirs once a month. This brand now delivers in all the 48 states in the US.
In addition to being delicious, the meals are healthy. For instance, take one of their best seller, the Tasty Turkey Fare Recipe.
The recipe comprises of lower fats and high protein from quality ingredients such as ground turkey, eggs, brown rice, and veggies such as spinach.
Such a fresh wholesome diet is what an overweight dog, a pancreatitis pup and those with a sensitive stomach would benefit from.
In case your mutts fancies a different flavor, the brand offers, Chicken Cuisine, Porkalicious Potluck, and Heartland Beef Mash. And guess what! You can order a variety pack with all four recipes of 150g each just to check it out and see if your mutt will relish the home cooked goodness.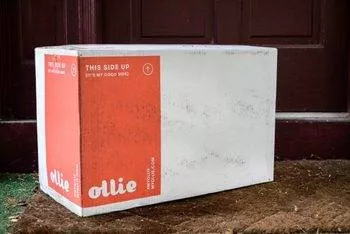 Looking for something different to try on pooch's menu? Then Ollie will wow your furry buddy's taste buds. By simply providing the age, weight, allergies, and breed of your mutt, Ollie will recommend a customized dog food just for your mutt.
All their recipes are made using fresh restaurant-grade ingredients and delivered right to your doorstep. Ollie deliveries are frequent and flexible enough such that you do not run the risk of running out of their delicious and nutritious meals.
Ollies Chicken Goodness Recipe is one outstanding recipe, especially as a healthy low fat diet option for mutts that are overweight, suffering from pancreatitis, or simply have a sensitive stomach that cannot readily absorb fats.
With wholesome ingredients such as chicken, chicken gizzard, and chicken liver as sources of protein and long grain as well as potatoes for carbs, you can already tell that formulation is healthy. It is then balanced out by veggies such as spinach and carrots which offer dietary fiber for better bowel movement.
The minimum fat content on this recipe is five percent. Ollie has a variety of other low fat healthy diet recipes, including Healthy Turkey Feast, Hearty Beef Eats and Tasty Lamb Fare.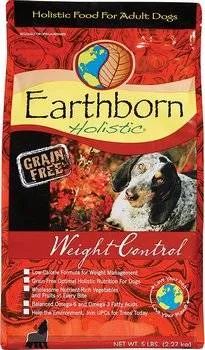 The idea behind a low fat diet is to reduce caloric intake. This recipe is formulated to achieve just that while providing a proper level of nutrients on other important fronts such as protein, carbs, veggies, and fruits.
The first ingredient in this formula is chicken meal, which sees to lean muscle development. It is further reinforced by the inclusion of dried egg.
Strong bones and healthy joints are supported by the chondroitin and glucosamine richly found in chicken meal.
High carbs for an energetic mutt is supplied by peas and tapioca, while flax contributes to omega acids that nourish the skin and fur. Flavor and dietary fiber for a more frequent bowel movement are ensured by the presence of tomato pomace as well as veggies such as spinach and carrot.
Your pooch is bound to feel fuller for longer, thanks to the tasty apples and blueberries that round up this low fat diet.
Other than being healthy, wholesome, and low fat, this recipe is grain free, which makes it an excellent option for pooches with sensitive stomachs.
Its low-calorie content as well as the inclusion of L-carnitine helps in burning fat and promoting lean muscle mass. Overweight pooches would benefit from this recipe as it can help shed unwanted pounds without compromising your mutts health. So would those mutts that have an inflamed pancreas.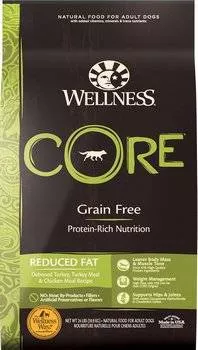 Sometimes, the thought of a low fat diet can be misconstrued to mean a boring diet that is bland and without taste. This is absolutely not true, and this recipe effectively bursts that myth.
With deboned turkey as the first ingredient, lean muscles is assured. The protein content is further reinforced by the inclusion of chicken meal and turkey meal, both of which are rich sources of chondroitin and glucosamine that promote healthy joints and strong bones.
This dog formula is also grain-free and utilizes alternative high energy carbs like potatoes and peas. With the help of tomato pomace to supplement dietary fiber, easier digestion and frequent bowel movement, as well as quality fecal matter, are assured.
Since this formulation is also gluten-and grain-free, a doggy parent looking for a low fat diet with these options is bound to feel at home with this choice.
Flaxseed and salmon oil form a rich pair of omega acids sources that promote a healthy immune system, in addition to a vibrant healthy skin and coat (and here are some more great supplements for your dog's skin and fur).
This diet is balanced out by veggies and fruits such as parsley, carrots, and spinach, as well as apples and blueberries for a delicious meal that is low in fat.
If your pooch is overweight, suffering from pancreatitis, or has a sensitive stomach that struggles to digest fat, this might just very well be the recipe that makes a difference for your pooch.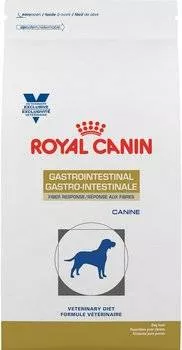 This is indeed a special low fat formula that can address a myriad of problems including:

Pancreatitis
Enteropathy
Bacterial overgrowth
Bile acid deficiency
For pooches that suffer from the above conditions, digesting commonplace dog foods can be a challenge. But this low fat dog food with a 14 percent minimum fat content has been crafted to ensure that your pooch gets a diet that does not stress her digestive system.
This Gastrointestinal low fat dry dog diet features highly digestible protein for lean muscle development. The inclusion of probiotics helps in maintaining proper gut health by promoting good bacteria in the gut.

Your pooch will still have a good supply of energy from the complex carbs formulated in this recipe together with chelated minerals for better absorption. This low fiber dietary profile content also helps your dog's digestive system not to be stressed out.

Why Should I Get My Dog a Low-Fat Dog Food?
Usually, most formulations will contain a good dose of animal protein, as well as fats. So right off the bat, we need to establish that the fat is not bad for dogs, unless your furry buddy has a medical condition(s), which I shall explore with you in a bit.
But first things first, it's worth noting that most adult dog foods will tend to contain a good portion of fat content of about 10 – 15 %.
Your dog's body is set up in a way that she has very little to worry about when it comes to cholesterol, unlike us humans. So, a decent amount of fat in their diet is not harmful.
In fact, only such levels of fats can promote healthier skin and coat and a more robust immune system. When your pooch is not receiving adequate fat, she can end up suffering from diseases such as diabetes and heart disease.
It is for such reasons that doggie parents should be very picky when they decide to go for low fat diets. If possible, seek the help of your vet in making a selection.
If Your Dog Is Overweight
One of the more common reasons why your dog might need a low fat diet is if she's exceeded the recommended weight.
At this point, you have a good reason to swap your dog's regular chow with a low fat diet. This is to help her regain an optimal weight without jeopardizing her health.
Specific Health Conditions Like Pancreatitis
If your mutt suffers from pancreatitis, then it is very probable that your vet will recommend a low fat diet, amongst a cocktail of other solutions, to manage the condition. This condition usually occurs as a result of an inflamed pancreas in your pooch, which often affects the digestive system negatively.
The inflammation may cause your mutt's digestive system to malfunction, rendering it unable to digest fats. When this happens, the ensuing symptoms will include vomiting, diarrhea, loss of appetite, lethargy, and stomach pains.
There really is no clear answer as to why your pup may develop this condition. Whereas any mutt may develop pancreatitis, it appears that certain breeds, such as the miniature schnauzer, cocker spaniel, and miniature poodle, seem to be more susceptible.
Middle-aged and overweight dogs can also easily develop the condition, which should be a reason enough to get your overweight dog under control with a commercial low fat diet.
If you prefer a homemade one, the video below shows you how to make one. Note that the recipe is specific to dogs that suffer from pancreatitis:
Sensitive Stomachs
Last but not least, dogs with sensitive stomachs can benefit greatly from low fat diets, given that fats are harder to break down compared to proteins. Too much fat in your pup's diet, especially one with a sensitive stomach, usually induces an eruption of frequent loose toilets, which can be utterly distressful even to the most loving doggy parent.
Things To Consider When Choosing Low-Fat Dog Food?
You may have noticed that there are so many companies out in the market today that claim to be the best low fat dog food brands. The unfortunate truth is that a good number of them use questionable approaches to come up with their low fat dog food formulations.
Note that the nutritional balance of a low fat diet is extremely crucial and cannot be arrived at by cheating the process to justify an end. I will explain.
Some manufacturers jeopardize the process of arriving at a low fat diet by simply reducing the meat or animal protein content in a given formulation to make it low fat.
This approach is certainly not the best for the reason that your pooch needs that animal protein for proper lean muscle development amongst other benefits such as the promotion of a robust immune system, which should not be compromised.
Although finding the right low fat diet for your pooch, might not be easy, it certainly is not impossible if you know some of the right things to look out for.
Here are a few pointers to make your search more informed:
1. Read The Ingredients Label
Just because the package or can says the dog food is low fat does not necessarily mean it is the right one for your pooch. By glossing over the ingredients you will be able to see what sort of first ingredients have been used as well as the carbohydrate sources. This helps you quickly determine whether this is the right low fat diet for your pooch or not.
2. Protein Source
A low fat diet does not mean the absence of protein. In fact, an option whose first ingredient is not an animal protein source, such as whole meat or a distinguishable meat meal such as lamb, chicken or turkey meals, is not an option you will want to go with.
3. Carbohydrates
Carbohydrates are vital for providing energy to your furry pal. So, you will want to look out for low fat high carb dog foods. If you know your dog well enough, you may not mind carb sources such as grains.
However, if your pooch is prone to stomach sensitivities as a result of grains, then you can always opt for a low fat diet with alternative carbs sources such sweet potatoes, oats, brown rice, potatoes, or even legumes, such as peas or chickpeas.
4. Omega Acids
A low fat diet that comprises of flax or fish will no doubt be rich in omega acids that are beneficial in boosting immunity as well as promoting healthy skin and coat.
5. Veggies
Veggies and fruits in a low fat diet do a great job of adding dietary fiber to the mix, as well as enriching the taste of the recipe.
To make your search even easier, I have rounded up some of the best dog food with less fat in order to give a great head start into using these kinds of diets.
Conclusion
As you can see, there is so much to a low fat diet than most reviews let you in on. To sum up, a low fat diet should not be compromised in terms of nutrient levels on major fronts such as protein, carbs, veggies, minerals, and antioxidants, neither should it be a tasteless meal.
All the above mentioned low fat diets are some of the best you can hope to find in the market because they tick all the boxes. Thanks to them, your search just got a whole lot easier.
It's worth noting that if your pooch has some medical condition such as pancreatitis, obesity, or a very sensitive stomach, it is always prudent to work closely with your vet to find the best possible solution.