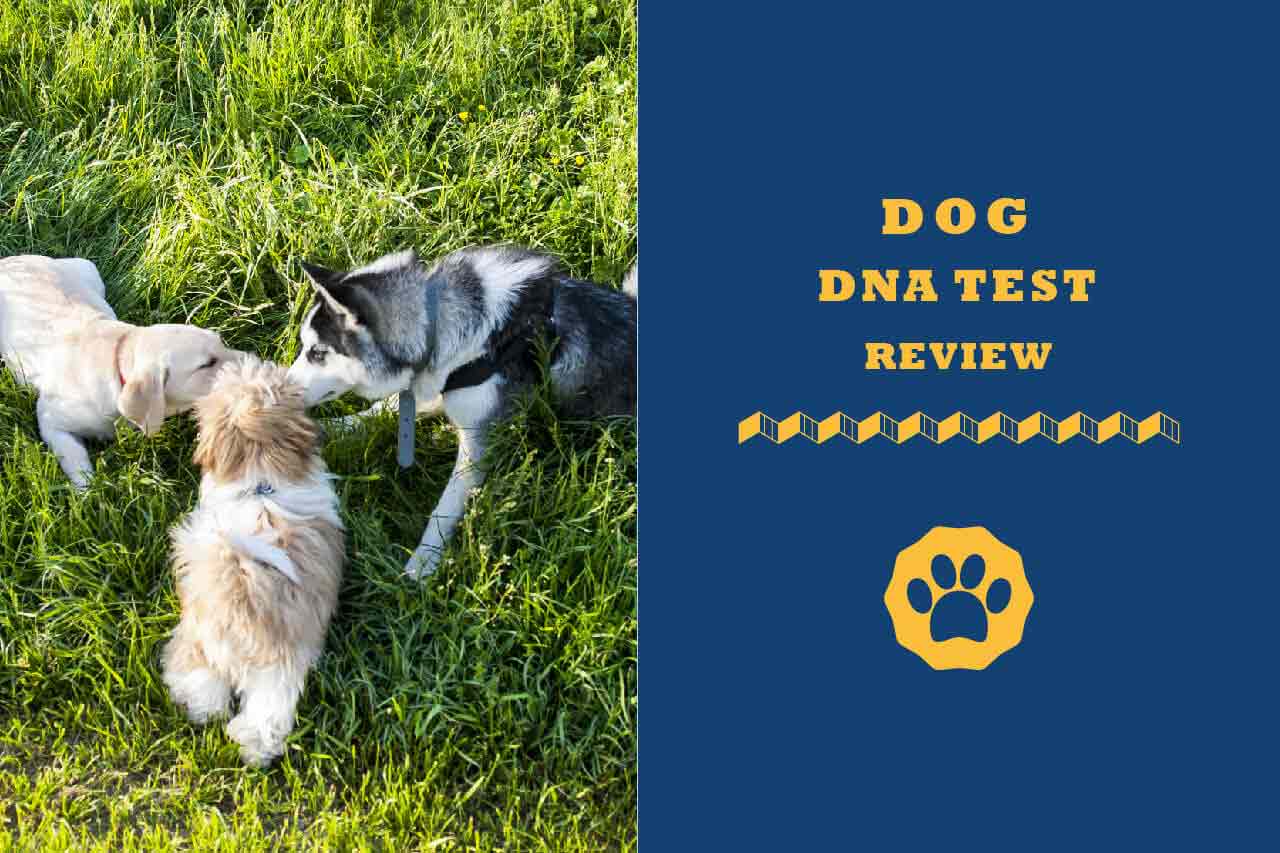 Your dog is your best friend and an invaluable companion. However, you may be surprised to learn that your dog may be more unique than you thought!
Here's what I mean:
Unless your dog is a purebred, the chances are that it depicts the traits of multiple breeds. So, to know more about your dog's traits such as its family history, its skin appearance and coat, as well as its temperaments, you need dog genetic testing.
By understanding your pet's behavior and breed, it becomes easier to provide better care and keep it happy. In this post, I'm going to take a closer look at dog DNA testing to establish its benefits and provide you with a few top dog DNA test reviews to help you select the best testing option.
AT A GLANCE:
Our 2 Best Dog DNA Tests
An Overview of the Best Dog DNA Tests
IMAGE
PRODUCT

The kit is competitively priced
Dog owners get expert support from top geneticists and vets
The results are generated fast and accurately

VIEW LATEST PRICE →

The DNA testing is done with an accuracy of more than 98%
Provides users with impressive online resources
Helps promote research in conjunction with Cornell University

VIEW LATEST PRICE →
Dog Genetic Testing – An Overview
DNA (deoxyribonucleic acid) is made up of a sequence of nucleotides that carries the entire genetic blueprint of every living organism. Segments of DNA are referred to as genes and carry specific biological codes that play a crucial role in building, maintaining, and reproducing cells.
Dogs have between 20,000 – 25,000 genes that are stored in 78 chromosomes (humans have only 46 chromosomes).
The notion of dog DNA testing was first brought out in 2005 by researchers at MIT'S Broad Institute, when they described the canine genome sequence. Since then, dog scientists, dog owners, and breeders have used the DNA testing as a crucial tool to understanding dogs and how to take care of them.
So, how does the DNA testing work?
It's probably much simpler than you would expect! All that a pet owner has to do is order the test online, take a simple cheek swab from their dog, and mail it back to the testing firm.
Then, the results are sent in a few weeks detailing your dog's DNA results.
Benefits of Dog DNA Testing  
The obvious benefit of using a dog DNA kit is that you can finally learn about the type of canine you have. This implies that you will have a direct answer when a friend or stranger asks you about your dog's breed.
Understanding your dog's breed goes beyond establishing just its color. No matter how beautiful your dog appears, DNA testing can help you improve the quality of the animal's life.
Unless your dog is a purebred, the chances are that it has some traits that are hidden. These are things you'll uncover when using DNA testing.
Other benefits of testing your dog's genetic makeup include:
Health: DNA testing helps dog owners understand their animal's instincts, making it easier to tell when they are suffering. This is important in alleviating pain and maintaining a happy animal.
Diet: The dog's genetic makeup will determine  its dietary needs. Completing the DNA test will, therefore, help you to understand the best diet to keep your animal healthy.
Selecting the right exercises: The genetic code of your dog's breed can tell you the ideal exercises to engage in. For example, though Saint Bernards dog is larger in size compared to Jack Russel Terrier, it requires less exercise.
Understanding potential health problems: When you get the dog DNA test report, it will detail the potential health problems you need to be on the watch for. This helps you adopt appropriate preventative measures and seek assistance on time.
The dog behavior: Some dog breeds exhibit specific behavior such as being energetic, friendly, or aggressive. By understanding different strains in the dog's genetic heritage, you will be able to understand why the dog is behaving in a specific way.
Top 2 Best Dog DNA Test: Reviews
Now that you know the importance of dog genetic code testing, the main question is: "Which are the best DNA tests on the market?"
The following are the top two dog DNA test on the market, chosen because of their ease of use and ability to generate precise DNA results.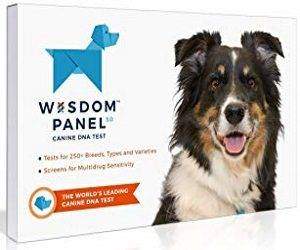 This dog DNA test kit from Wisdom Panel is my first recommendation, mainly because of its efficiency. The kits have tested more than one million dogs and generate top-notch results.
The genetic kit is designed to simplify DNA testing and educate dog owners about their pets. For example, you can reach their genetic specialists and expert veterinarians for assistance about the conditions revealed by the DNA results.
To get the DNA of your dog tested, you are required to send two cheek swabs for comprehensive analysis. The main features of this test include:
A comprehensive canine database: To ensure that you get the right info about your dog, Wisdom Panel maintains a comprehensive database of more than 250 breeds, types, and varieties.
Speedy testing: To guarantee faster results, the Wisdom Panel test uses an advanced algorithm that runs over 17 million calculations on your dog's genetic info. This helps to complete the testing faster and more accurately.
MRD1 testing: As mentioned earlier, some conditions can be discovered via DNA testing. Wisdom Panel provides dog owners with information on whether your animal suffers from MRD1 mutation.
Pros:
The kit is competitively priced.
Dog owners get expert support from top geneticists and vets.
The results are generated fast and accurately.
Cons:
Low genetic markers, that at times, may generate contradicting results.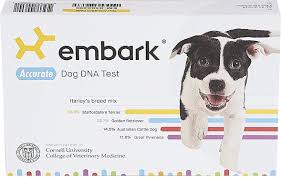 Embark dog DNA test is among the most common kits on the market today.
Its popularity stems from the manufacturer's commitment to quality and top-notch customer support. This commitment edged a notch higher after partnering with Cornell University College of Veterinary medicine. Therefore, when you use their services, there is no need to worry about quality.
Here is a closer look at the main features of Embark Dog DNA test kit.
A large database: Embark maintains a big database of more than 175 dog breeds. Note that this database goes beyond dogs to include coyotes, wolves and wild dogs.
Ancestry accuracy: The guiding principle of Embark is to provide precise information to every client. This is achieved by tracing back paternal and maternal groups in the dog's ancestry. The analysis will go beyond simple DNA analysis and provide you with other reports, even if the breed mix is different.
Disease scanning: When you send in the dog's cheek swabs, Embark will test them for the presence of more than 160 diseases. These include potential genetic conditions and drug sensitivities.
Testing intensity: Embark uses more than 250,000 genetic markers to accurately pinpoint your dog's breed.
To make the testing easy, Embark also provides clients with an interactive interface on their website. This means that you can follow the testing progress, check for delays, and share the results on social media with ease.
Pros:
The DNA testing is done with an accuracy of more than 98%.
Provides users with impressive online resources.
Helps promote research in conjunction with Cornell University.
Cons:
The DNA test is expensive.
Processing takes a long time, up to 6 weeks.
The Final Take
If you love your dog, keeping it happy requires gathering as much information about it as possible. This includes its genetic details, which can easily reveal its breed, behavioral traits, and risk of disease.
The two DNA test kit options reviewed above present you with reliable options to run comprehensive genetic tests for your dog.
To pick the ideal DNA test, you should consider the precision of the results, its ability to provide health information, the speed of getting your results, customer support, and cost.
You don't know your dog without its DNA test report. So, go for the best dog DNA test that gives as much info about your dog as possible!
Last Updated on