Updated: October 14th, 2022
This article contains affiliate links. Read the full disclosure here.
The best invisible dog fences can be a lifesaver when it comes to properties that are difficult to fence off, or dogs that are particularly good escape artists.
But are invisible dog fences safe and effective, and which of the many of the market are the best?
AT A GLANCE:
Our 10 Best Invisible Dog Fences
When I first got my current pup, I thought I would have no problem, since my property is pretty well fenced. I had not anticipated the cunning of my little Houdini. I also hadn't given enough consideration to the places on my property I wanted to keep safe from my dog, such as my flower beds and my kids' play area. Since turning my property into a maze of fences did not appeal, I needed an alternative solution.
Invisible dog fences make a great alternative. They allow you to temporarily or permanently cordon off sections of your property in a way that is more or less invisible. They offer a cheap and effective way to contain your pup without turning your house into a prison.
Invisible dog fences have taken the market by storm in recent years, and there is now a wide variety of products available to choose from. Read on to discover the ten best invisible dog fences currently on the market for different dog breeds. I have also provided a comprehensive buying guide to give you all the information you need to both choose the right invisible dog fence and use it safely and effectively.
10 Best Electric Dog Fences Reviewed
If you are looking to invest in an invisible dog fence but aren't sure which to buy, here are ten of the best products currently on the market and what sets them apart.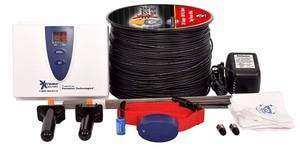 Extreme Dog Fence has staked its name on reliability, and they have come up with one of the most effective invisible dog fences on the market.
Product Features
Covers five acres, expandable to 15 acres

Combines wired and wireless elements

Collar sizes 10 to 30 inches

Rechargeable collar battery
The Extreme Dog Fence is made with some of the strongest and sturdiest wire on the market, so the underground wire that creates the enclosed area is less likely to break or become damaged. This means that you are less likely to find yourself digging up your garden again to find the source of any problems.
While the basic fence covers about five acres, this is expandable to up to 15 acres using wireless flags, which can be purchased as additional items. Just as the area covered is large, the collars are also large, starting at ten inches. This does mean that it is not really appropriate for smaller dogs.
The collar that comes with the Extreme Dog Fence has been designed to be comfortable and waterproof. It also only weighs about one ounce, so it won't weigh your dog down. You can safely keep up to five dogs within the containment area without worrying about the system failing.
As this is one of the top-end invisible dog fences on the market, it also comes with quite a hefty price tag. However, it does not seem overpriced considering what you can do with it. Extreme Dog also prides itself on being US made and owned, and when you call for assistance, you can be sure that you will be put through to a local call center for help.
Pros
Durable design

Waterproof collar

Collar designed for comfort

Can contain up to five dogs

US made and owned
Cons
Expensive

Not appropriate for smaller dogs
If your priority is reliability, and you are keen to buy US made and owned, then the Extreme Dog Fence is what you are looking for.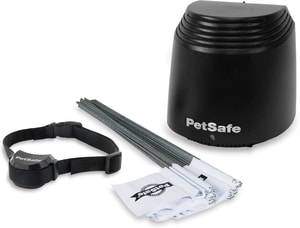 PetSafe is the market leader when it comes to invisible dog fences, and the Stay+Play model offers flexibility in its wireless design.
Product Features
Covers 0.75 acre, expandable with extension

Sound and five levels of static correction

Collar sizes six to 23 inches

Collar battery life three weeks
With this system, there is no need to lay wires, just use the digital flags to mark out your perimeter. This also makes it portable, so you can take it with you to your holiday home or campsite.
The collars that come with this product have a wide range of sizes available, and offer better sizes for smaller dogs than many competing products. They can fit neck sizes as small as six inches. The collar warning system starts with a sound and then has five progressing levels of static correction. This means that you can be sure that you are inflicting the minimum pain and trauma on your pet if they do tend to stray too close to the boundary.
The main drawback with this system is that it is one of the more expensive on the market, but you are paying for quality. It also comes from a trusted brand that offers a large range of products, so it is possible to buy additional equipment as needed. For example, you could expand the enclosed area from 0.75 acres to up to five acres with additional flags.
Pros
Portable

Good for smaller dogs

Graduated correction system

Trusted brand
Cons
Expensive

Relatively short collar battery life
If you are looking for a flexible invisible fence system for almost any type of dog, then this system from PetSafe should certainly be on your list.
If you are looking for an electric fence system that is affordable for use at your home, then PetSafe offers another great alternative with this basic in-ground system.
Product Features
Covers ⅓ of an acre, expandable to five acres

Collar sizes six to 28 inches

Tone only option and four levels of static correction

Collar has two-month battery life
This basic system from PetSafe is the brand's cheapest model. The basic system covers a third of an acre with underground wires. It can be expanded to up to five acres, but this does mean additional investment and expense. The main downside with this system is that the underground system is relatively difficult to install, and if you need professional help, that will add to the price. It also means that once it is in the ground, it is difficult to move and repair.
This collar is great if you are worried about the effects of electric shocks on your pet. The collar offers both sound correction, and four levels of static correction. But you can choose to use sound protection only if you prefer.
Pros
Affordable

Long collar battery life

Variety of correction options

Trusted brand
Cons
May be difficult to install

Basic package is limited
This is one of the best quality affordable systems on the market. It also comes from a trusted brand, giving you lots of options when it comes to expansions, collars, and so forth.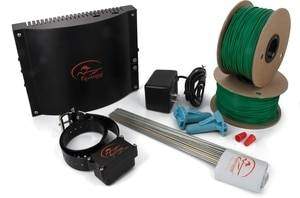 This electric fence from SportDOG is relatively new to the market, so it does not have the same brand recognition as other fences on this list, but it is still a quality product.
Product Features
Covers 1000 feet, expandable to 100 acres

Four static correction levels and anti-linger feature

Wall mountable transmitter

Wire break alarm
This system is designed to work in big open spaces of up to 100 acres, giving your dog room to roam. However, this does mean that the system is designed for larger dogs, and is not appropriate for pets less than 10 pounds.
The collar starts with a sound warning to correct your dog's behavior if they approach the perimeter, only advancing to harder static warnings if required. The collar also features an anti-linger feature that helps ensure your dog does not run down the collar battery by linerging close to the fence boundary.
This system is also relatively easy to monitor with a wall mountable transmitter that also has a wire break alarm to let you know when and where something has gone wrong. This is good news with an in-ground system, as it can save you digging up half your yard looking for the problem.
Pros
Covers a large area

Sophisticated warning system to protect your dog and conserve power

Multiple correction levels
Cons
Expensive

Lesser known brand, more limited in buying additional accessories

Only appropriate for dogs over 10 pounds
While this brand is not as well known as some others on the market, I'm sure that it will quickly find its way into the market leaders list.
If you are looking for flexibility and something portable that you can take with you when you travel with your dog, then the PetSafe Wireless system is your best bet.
Product Features
Covers half an acre, expandable

Wireless

Five correction levels

Collar sizes six to 28 inches
This system is entirely wireless, as you create your perimeter entirely with digital flags. This makes the system highly portable. It takes one to two hours to set up, depending on how experienced you are. While this makes it too complex for most day trips, it is ideal for setting up perimeters at a holiday home or campsite.
While the system is expandable, the basic set up is pretty limited covering a roughly circular area of about half an acre. This means that this system is not ideal if you are dealing with an odd-shaped space.
The system claims to be able to manage an unlimited number of dogs with the purchase of additional collars. The collars are waterproof, and they have options for all sized dogs. The collars have five correction levels, starting with tones and building up to static.
Pros
Quick and easy to set up

Highly portable

Waterproof collar

Good for multiple dogs
Cons
Expensive

Basic coverage is limited
If you are looking for something portable and easy to set up that you can use at home and when travelling, then the PetSafe Wireless is a great choice.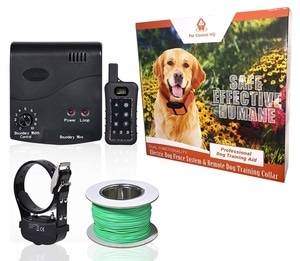 Product Features
Expandable to up to 100 acres

Combines underground wire with training flags

Ten levels of vibration correction and three levels of static correction

Collar sizes eight to 27 inches
The Pet Control HQ system is designed to help you train your dog and keep them in order with minimal discomfort and pain. It offers 10 levels of vibrational corrections which should be sufficient to bring a properly trained dog under control. However, it also has three levels of static correction that the system will use only as the need arises.
The system uses a combination of wires and flags, and in this way is expandable to up to a massive 100 acres. Considering this range, it is little surprise that this fence is at the pricier end of the spectrum but is by no means the most expensive system on this list. If you have water on your property, no problem, as the collar is also fully waterproof, and they can swim for up to 30 minutes with the collar on.
The collar also weighs 4.5 pounds, which means that it really is designed for larger dogs. But if you have multiple dogs on your big property, this system can handle up to three dogs.
Pros
Covers an enormous area

Combines vibrational and static warnings

Can manage up to three dogs

Waterproof collar
Cons
If you have a big property and want to leave your dog free to roam safely, then the Pet Control HQ is heavy duty enough to meet your needs.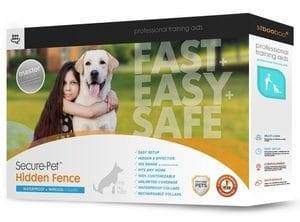 This particular invisible dog fence has primarily been marketed for training rather than as a fence alternative, but it more than does the job and is surprisingly affordable.
Product Features
Covers one acre, extendable to five acres

Underground wire system

Seven levels of correction using sound, vibration, static, and electric shock
The standard kit from Sit Boo-Boo covers 1.2 acres, but the transmitter can cover an area of up to five acres if additional wire is bought.
The accompanying collar is fully waterproof and has five levels of correction that range from sound and vibration to static and electric shock. This means that you can tailor the correction element to your specific dog, with no need to advance to electric shock for well trained and obedient pets. 
The collar is relatively heavy at almost three pounds, so this system is best for larger dogs rather than small pooches. Also keep in mind that this system is designed to work with one dog only and cannot accommodate multiple dogs.
The Sit Boo-Boo should also be on your list if you live in colder climates, as it has been specifically designed to work in sub-zero temperatures and shouldn't act up when the snow starts to fall.
Pros
Waterproof collar

Works in colder environments

Adjustable correction levels

Affordable
Cons
Heavy collar

Designed for single dog use only
The Sit Boo-Boo offers great value if you are looking for an affordable but effective in-ground invisible fence for a single dog.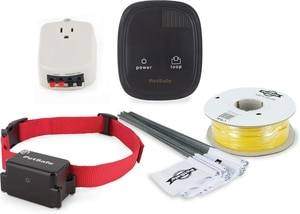 If you are a multi-dog household and you are looking for a reliable fence for all your pets, then consider the Stubborn Dog from PetSafe.
Product Features
Covers ⅓ of an acre, expandable to 25 acres

Collar sizes six to 28 inches

Four adjustable static correction levels with high-intensity levels available
This system is specifically designed to work with multiple dogs and cats, if you so wish, with the purchase of extra collars. It is also designed to work for the most stubborn dogs, with high-intensity correction levels available if needed. It also offers tone and vibration correction which makes it great for training.
The basic system is wired, but digital flags can be purchased to expand the system to as much as 25 acres as needed. The underground system can be quite difficult to install and professional help may be required.
Pros
Waterproof collar

Works with multiple dogs

Also works for cats
Cons
Expensive

Underground system relatively difficult to install
If you are looking for an invisible fence for multiple pets or particularly stubborn pet, then the PetSafe Stubborn Dog Fence has been designed with you in mind.
Most invisible fences are designed for larger dogs that need space to roam, and the collars can be too big for smaller dogs. If you are looking for something for your smaller dog, consider the PetSafe YardMax.
Product Features
Covers ⅓ of an acre, expandable to 10 acres

Collar sizes from six to 23 inches

Five levels of static correction and tone
The PetSafe YardMax is safe to use with dogs as small as five pounds, you can cover up to a third of an acre with the basic system, and it is expandable to up to ten acres. The basic system is wired, so it will require some digging to get yourself properly set up.
The small collar, which starts at six inches, offers tone correction and five levels of static correction to manage your dog's activity. The collars are rechargeable and waterproof.
As one of the market leaders, all PetSafe products are at the more expensive end of the spectrum, but you are paying for reliability.
Pros
Good for small dogs

Waterproof collar

Multiple correction levels
Cons
Expensive

Requires some initial set up
If you are looking for the benefits of an invisible fence for a smaller dog, then start your search with the PetSafe YardMax.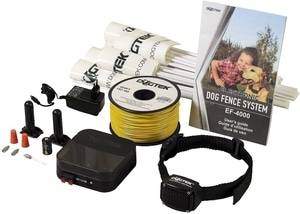 If you are looking for flexibility, the DogTek system is sophisticated enough to meet your needs.
Product Features
Wired and wireless

Collar has up to six months of battery life

Eight levels of static correction

Adjustable warning zones
What sets the DogTek apart from its competition is that it is possible to set up two adjustable zones. This makes it ideal for training and great if you have an area that you want to restrict your dog's access to just some of the time. The only drawback with this is that the system can be quite complex to set up and manage. You will need to dedicate some time figuring out what you are doing.
It comes with a fully waterproof collar that offers eight levels of static protection. Moreover, the collar has a battery life of up to six months, making it much more long-lasting than most of the other collars featured on this list. However, when it comes to replacing the battery, you do need to get a special battery from the company which can be expensive.
While far from the cheapest fence system on this list, considering the complexity of what it can do, the DogTek offers good value for money.
Pros
Affordable

Long battery life

Waterproof collar

Multiple zones
Cons
Complex

Need to purchase replacement batteries from the company
If you need flexibility with your fence, creating changing zones, then the DogTek offers the sophistication that you need.
Invisible Dog Fences: The Basics
Before diving into more detail, let's have a quick look at the basics of invisible dog fences: how they work, how safe they are, and the benefits and disadvantages when compared with more traditional fences.
How Do They Work?
Invisible dog fences work by forming an energy barrier, much like a traditional fence, but using electricity. This barrier is achieved either by burying an electric wire, or using small digital flags at regular intervals that are connected by a transmitter. This fencing structure is coupled with a collar that your dog wears. The collar has sensors that can detect when they are approaching the perimeter. If they come too close, they receive a signal that they can be trained to understand means that they should retreat back into their safe space.
The signal that your dog will receive depends on the product. Generally the signal is either a sound, at a pitch that only dogs can hear, or a small electric shock that is not designed to hurt your dog but rather to get their attention quickly and jolt them out of their behavior. The best fence systems start with a sound signal and only progress to a small shock if that does not prove effective in stopping your dog's behavior.
Also remember that while invisible dog fences will keep your dog in, they cannot keep other dogs, people, and animals out.
Are Invisible Dog Fences Effective?
Invisible dog fences have been shown to be effective in containing dogs within a certain space, but they are only as effective as the training your dog receives. Your dog needs to understand that the signal that they are receiving is a call to retreat, otherwise there really is nothing to stop them from bolting.
Also, out of sight should not mean out of mind. It is important to maintain your system, monitor power levels and battery life, and keep an eye on elements such as the digital flags that could be moved by nature, man, or your dog. If all the components aren't functioning, you cannot expect the system to be effective.
Are Invisible Dog Fences Safe?
A big question with Invisible dog fences is whether they are safe. This mostly relates to the mild shock that your dog may receive. This shock will not cause them any physical harm, it is really only strong enough to cause a physical tingling on their skin. However, be aware that your dog may perceive this as a form of punishment. This needs to be taken into account in terms of how you choose to train your dog.
The second question of safety concerns whether the electromagnetic field produced by the fence is dangerous to you or your pet. The answer is no, you are probably more at danger from the electromagnetic field being produced by your refrigerator. Nevertheless, you might want to avoid them with pregnant female dogs, elderly, or sick dogs, just to be on the safe side.
Benefits And Disadvantages
According to dog trainer Steve Reid:
Nothing beats a solid and secure wood or vinyl fence. With that said, electric fences tend to be: less expensive, easier to install in certain geographic landscapes where other fences are impossible to install, and they are suitable for use where solid fences are against town or condo community lines.
But what are the specific advantages and disadvantages?
Advantages
Cheaper than physical fences—though take into account the cost of professional installation if this is required

Easier to install in certain terrain

Flexible in terms of making changes to your fence line, which can often be challenging with physical fences

Effective on large properties and give your dog the ability to roam

Can be more aesthetically appealing than physical fences
Disadvantages
While an electric dog fence will keep your dog in, it will not keep other animals (or people) out

Require appropriate training to be effective

The shock, while not designed to be painful, can be perceived by your dog as a form of punishment, which may affect their behavior generally
According to vet Jenny Coates, the main problem with invisible dog fences is: 
Wild animals, cats, other dogs, or even people (especially children) can easily wander into your yard, which can result in injuries to everyone involved. Invisible fences also do little to protect dogs from being stolen or harmed by people with bad intentions.
So you really do need to decide whether you have the right context for an invisible dog fence. Ask yourself the following questions:
Is the area I am containing within an enclosed area that acts as additional security both in terms of keeping my dog in and keeping other animals and people out?

Do I have other animals or children that may inadvertently wander into the dog containment area and place either themselves or my dog in danger?
Invisible Dog Fence Buying Guide
As you can see from these top ten products, there are a lot of features to consider with every invisible dog fence. To help make it a bit easier here are the seven main features to look at when considering a fence, consider the following.
Type Of Perimeter 
There are two basic types of invisible dog perimeter, underground and above ground digital flags. Which is best for you will depend on how flexible you need your system to be. 
The underground system is more reliable and less likely to have issues caused by heavy winds or passing walkers but is harder to install. And once it is in place, it is there to stay. It is ideal if you are looking to permanently cordon off a specific area.
The flag system is much more flexible, as you can move the flags as needs change, and you can even take them with you if you are taking your dog somewhere else with you like to a friend's property on holiday. The downside with the flags is that they are more susceptible to damage. They can be blown away, picked up by passing walkers, or chewed up by other dogs.
Size Of Containment Area
Depending on the product, you will be able to contain different sized areas. Some systems cover as little as a third of an acre, while others might cover as much as 25 acres. Lots of basic systems are also expandable if additional equipment of the same brand is purchased. What size is right for you depends on the space that you are working with.
Power
These electric fences generally run off batteries. In some cases, underground wires and transmitters that will be in place permanently can be connected to your mains power, but often they too are battery run. Your dog's collar will certainly be powered by battery. This means that power usage and battery life are very important. You want something low power enough not to break the bank but powerful enough to do the job.
These days, most quality dog collars have a battery life of about two months, and I would be wary of buying anything with a significantly shorter battery life.
Also remember that batteries need to be recharged or replaced. As a rule of thumb, replaceable batteries should be changed every four months. Make sure you take into account the price of a good quality battery recharger or new batteries when considering the cost of a system.
Collar
As with any collar, it needs to be the right size and weight for your dog, and it needs to be comfortable. In general, the collars that come with electronic fences are designed for medium to large size dogs. But if this is not the right size, most companies offer a variety of different collars that can be purchased separately.
In order to deliver the shocks, the collars do have small metal points that make contact with your dog's skin. It is important to make sure that the collar does this in a way that is comfortable.
Be aware that dogs should not use these collars all day but only when they are active in the relevant containment area.
Collar Warnings
As well as collar comfort, how the collar warns your dog off passing the boundary is important. In general, warnings are given either as a sound that only your dog can hear or a small shock—which is harmless to your dog—but is still a form of punishment so should be avoided as much as possible. 
These days, most quality brands use a combination of the two, starting with a sound and only progressing to a shock if the sound is not effective. They also generally have different levels of shock, starting with a light shock and only progressing if your dog continues to ignore the warning. Whatever method you choose, your dog will need to be trained to recognize the signal and respond appropriately.
Tips For Training Your Dog To Use An Invisible Fence
Regardless of how good a fence you buy, it is useless if you do not train your dog to respond appropriately to it. Exactly how to train your dog may depend very much on their temperament, but here are the basic steps to follow.
1. Show your dog the boundary
The first thing you need to do is teach your dog the area that they are allowed to use, and the spaces that they cannot enter. This can be done by using the flags that come with the system, or other clear markers such as cones. Walk your dog on their leash around the boundary of the area so that they become familiar with the space.
2. Show your dog the signalling system
Next they need to learn what happens when they approach the boundary. To do this, activate the invisible fence and continue to walk them around the boundary on their leash. This allows them to hear the warning tone and associate it with a limit. You should probably do this daily for about a week.
3. Allow your dog to occupy the space
Place a stake in the center of the permitted area and tether your dog to the stake using a retractable lead that will not allow them to wander outside of the permitted area. Let them explore the full space alone and see what happens when they approach the perimeter. Again, it is probably a good idea to do this every day for a week.
4. Monitor your dog's behavior
If your dog appears to be responding to the tone and static correction to return to their permitted space, you can start taking away the visible indicators of the perimeter (if they will not be a permanent feature). If it seems that your dog is not responding, you may need to return to the earlier steps.
5. Using a portable fence
If you plan to use a portable fence to take your dog to open spaces and other properties, always use the flags that you will be using as part of your training so that they become familiar with these as a signal of a barrier that they should not cross.
It is always useful to use treats when training, so check out our list of training-approved treats.
For more information on training your dog to use an electric fence, check out this video from dog trainer Steve Reid.
FAQs
How do electric dog fences work?
Electric dog fences create an invisible radio boundary, and your dog uses a collar that will react when s/he approaches the boundary. If your dog comes too close to the invisible fence, a transmitter detects this and signals that they need to retreat, using either sound or a small electric signal that your dog will need to be trained to recognize and respond to.
Do electric dog fences really work?
Invisible dog fences can be highly effective if you train your dog to recognize the perimeter and the signals that they are receiving.
Do electric shock fences really work?
The electric shock that dogs receive when they approach their fence will not harm them. It is only enough to cause a tingling sensation on their skin to get their attention quickly but is not dangerous. It is not like touching a wired electric fence; the charge is generated by the small battery on their collar.
Are electric dog fences legal?
Electric dog fences are legal in the United States. There are some restrictions if the fence is to run along a frontage row or prime highway.
Do electric dog fences work in the snow?
Electric dog fences are not as effective in the snow. This is because they rely on your dog learning both visual queues and laying down their scent track on the perimeter. Both of these can be covered up by snow.
How old does my dog have to be to use an electric dog fence?
How old your dog needs to be to use an electric dog fence depends on the dog. As the fence requires training, they need to be able to follow basic commands such as sit, stay, and come. As a general rule of thumb, dogs under eight weeks old should not use electric dog fences.
Are electric fences safe for humans?
Quality electric fences are completely safe for humans and pets in terms of the radio transmissions that they give off. Be wary of cheaper fences, as they may pose similar health risks as overhead electrical lines.
The Verdict
If you are looking for the most reliable invisible dog fence on the market, then you can't look past the Extreme Dog Fence system, a US-made product that is designed to be durable. It is matched in quality by the PetSafe Stay+Play. PetSafe is the leading invisible dog fence brand for a reason, and the Stay+Play offers both durability and flexibility. If you are looking to something on a budget, then PetSafe also offers an affordable Basic System.
If your dog is on the large size, then SportDOG offers a great fence specifically for larger dogs. If your dog is small, then the PetSafe YardMax is safe for pups as small as five pounds. For multi-dog households, consider the PetSafe Stubborn Dog, and if you need to turn your space into different zones, then DogTek offers you the flexibility that you are looking for.
When investing in an invisible dog fence, remember that these fences only work through training and that your first priority should be to teach your dog how to engage with the system.