Updated: October 17th, 2022
This article contains affiliate links. Read the full disclosure here.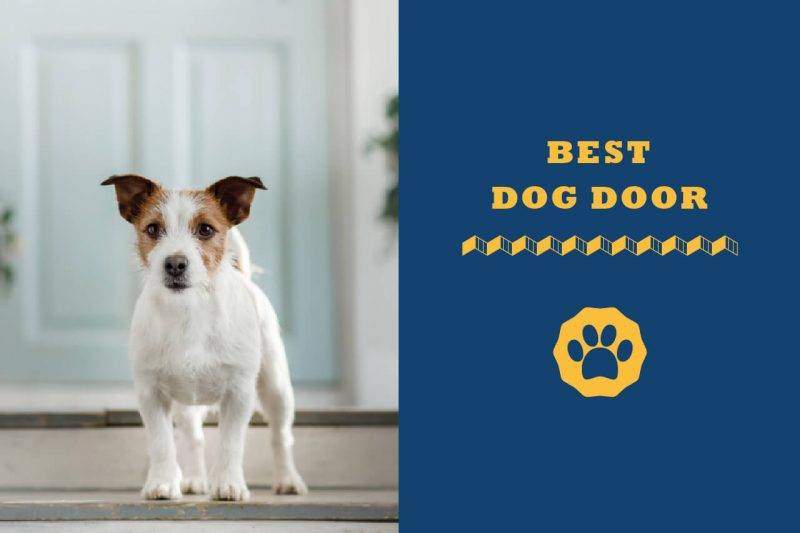 Imagine leaving your pet alone in the house only to get a call later in the day that there's a fire outbreak inside and no way for him to escape? Or you personally not being able to stay out late or take a trip unless your pup is safe alone, or how about your dog lacking the freedom to explore and exercise unless you are present? Not cool, right?  What if there was a solution? Actually, there is – the best dog door!
AT A GLANCE:
Our 8 Best Dog Doors
Overview of the Best Dog Doors
What these doors do is save you the hustle and pain of having to cancel an errand, rush home from work, or halt an activity you were busy handling to come to help your pet answer a call of nature, escape a fire or other disaster, or leave the house for a breath of fresh air.
Today, there are plenty of golden retriever doors for you to choose from, but not all of them would be a great fit for you and your dog unless you know what to look for before making a selection. 
Luckily for you, I did all the homework and the outcome is a list of doggie doors you'll not want your canine friend to miss out on. Take a look: 
Best Golden Retriever Doors Reviews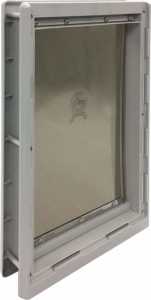 Click Here For Price
Ideal Pet has over the years perfected the art of creating excellent all-weather pet doors that will cater to your pet's needs regardless of the weather you experience all year round. Design-wise, it's aesthetically pleasing and will suit anyone who has doubts about how the door will affect the overall look of their house.
Key Features
Four size options

Double flap 

Magnetic flap closure

Plastic and vinyl material
You can install this unit on your regular door or into the wall. And to easily do that, you may have to purchase the installation kit separately, specifically the Ideal Pet Products Designer Series Ruff Weather Pet Door Wall Kit. 
That aside, the double flap design of the door makes it energy efficient. Also, it is fitted with a sliding security cover, making it secure should smaller animals try to get in. 
What's more, Ideal Pet provides a sizing chart to ensure you purchase the correct door for your golden retriever . The sizing chart shows the measurements for flap sizes ranging from small and medium to extra large and super large. 
The vinyl tinted flaps give the door a nice aesthetic compared to a clear flap and the tint protects the flap from warping when exposed to the sun.
Pros:
Excellent insulation because of the double flap door

Sliding security cover can be used on the interior and exterior of the frame for protection

Has magnetic seals on the bottom of the flap to keep it closed when not in use

Caters to all sizes and breeds of golden retrievers

Comes with a cutting template for ease of installation
Cons:
You have to buy the installation kit separately, which is an additional cost
With this door, Ideal Pet has created a product that not only fits most budgets but also different tastes, making the best overall. I also love the fact that it comes with a one year warranty from the company, giving buyers confidence when purchasing it. As a bonus, the door is strong and well developed for strong breeds as well as being gentle on smaller dogs.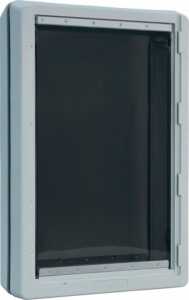 Click Here For Price
Ideal Pet rarely disappoints when it comes to pet doors and this unit is our first proof. It's a super reliable dog door that comes with a consistent one year warranty and is ideal for a multiple pet household that includes cats. The sturdy frame, combined with the double flap design, enable it to work better in  climates free from extremes.
Key Features
Clear flap

Four size options

Plastic material

Magnetic flap closures
You can control the entry and exits of your pup with the rigid lock-out sliding panels to help train her about using the door. This is especially helpful for parents who have an alpha dog that likes to come and go as he pleases. You can use the lockout panels to create a schedule for him and with time, he will stick to it even when you are not there.
Meanwhile, this frame is a good fit with the regular standard door and fits in doors ranging from 1 ¼ inch to 1 ¾ inch thick. It has four size options, including small, medium, large, and super large. Unfortunately, the company discontinued the large version, but you can give them a call to see if it is still available directly from them.
Pros:
Has magnetic closures at the bottom to close the flap when not in use making it energy efficient

Hardy plastic material that can withstand consistent use 

A lock out system keeps your golden retriever in or out when needed

Easy to install
Cons:
The installation kit is sold separately, making it an additional cost

Can only be used in mild weather
Like most users in dog door reviews, I appreciate how this door caters to both dogs and cats with ease. Also, despite being made for a mild climate, it still has an energy-saving design so the temperatures in your house are not compromised by its presence. It is quite affordable and it is hard not to appreciate the easy installation, despite being extra.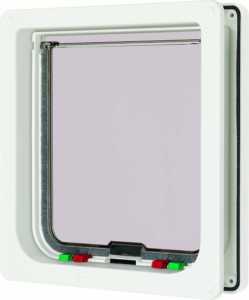 Click Here For Price
Strong yet lightweight may seem like an unlikely combination in a golden retriever door, but Dog Mate has done it so well! This golden retriever door caters to all sizes of dogs and the company provides a sizing chart to help you find the correct door for your furry friend.
Key Features
Four-way locking system

Magnetic closures

Weatherproof flap

Three size options
Dog Mate earned itself a great reputation through making durable, accommodative, and high-quality dog doors. For this model, there are three size options: small, medium, and large. This means that all dogs of all breeds and sizes are catered to by this model.
The large and medium doors catering to large and giant doggies come with an extra robust locking panel to keep it even more secure against your baby's bulk. 
As for the installation, it is easy because you do not need too many tools and the guide is precise and easy to understand. 
Pros:
Four locking modes that help you control your golden retriever's movements and also prevent intruding creatures from accessing the house

Features a minimalist design that makes it discrete

Can be installed on a door or in a wall

Easy to maintain and clean the flap

Excellent for a multiple pet household
Cons:
Some users reported that their toy dogs find the flap a bit heavy
Despite being only available in white, the door still blends well with other colors that you may have in your home. Also worth mentioning is that Dog Mate have paid proper attention to detail with this door by making it work in all weather conditions and designing it to be an option for all dog owners with varying breeds and sizes of dogs. Best of all, it's very affordable.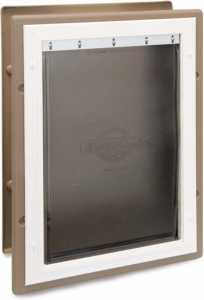 Click Here For Price
What you are going to love the most about this unit is that it's a wall golden retriever door that is without the annoying frames that can spoil the look of the wall. It promises easy installation and easy use for your pet, giving her the freedom she needs. 
Key Features
Double flap

Slide-in closing panel

Several size options

Aluminum frame
Because the door caters to multiple golden retriever households, the cut out in your wall may be substantial depending on the breeds you have at home. Just ensure that your location doesn't interfere with any electrical wiring that runs through your walls. Note that the wall door may be a bit more discreet compared to the one on the door.
Pros:
Very energy efficient because of the double flap system

Can be installed in any wall, making it versatile

Provides a template for the do-it-yourself (DIY) pet owners

Installation guide from PetSafe is included 
Cons:
You have to buy the installation kit separately 
PetSafe is a reliable pet products company that you can depend on for high quality, safe, and durable pet toys and other products. With the PetSafe Wall Entry Aluminum Pet Door, they give you a chance to have a discrete door hidden from view, which is easy to install. 

Click Here For Price
Here comes another PetSafe golden retriever door, but this is a fancier version sure to make your furry pal feels like a king because it is installed on sliding doors. One of its lovely features is the availability of multiple colors to make it blend in with your door and decor.
Key Features
Five size options

Glass material

UltraSeal flap system

Aluminum frame

Different color options
When you receive the package from PetSafe, it will include weather stripping, a glass sweep, and the closing panel. Since no cutting is required and the additional pieces are minimal, most users are confident that the installation process is simpler compared to other offerings in the market. 
To put up the door, you only need to slide the panel into the end of the sliding door track and make sure it is secured to the frame. Add the weather stripping and voila! Baby can go in and out as she pleases.
Unlike the other flap doors, which are easier to use, this door may require an extended time of training to avoid injuries. The best place to install it is at the end of the door because of less traffic. The five size options include small, medium, large, large and tall, and extra-large.
Pros:
Can accommodate large and small-sized dogs

An energy-efficient UltraSeal system that makes it ideal for different climates

An excellent option for apartments and condos due to its design 

You can move with it anywhere

Easy to install
Cons:
If you have small children, they can easily use it to get out of the house
This is an easy door to install and it is also easy for your dog to use once she gets the hang of it. The combination of aluminum in the framing and weather stripping means you have a door that can withstand daily use by large dogs and still protect your house temperatures throughout the year. Remember, durability and versatility are important for a dog door to be effective for any pet household.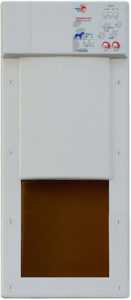 Click Here For Price
This is the predecessor to the High Tech Pet Products PX-2 Power Pet Fully Automatic Pet Door and it's just as efficient and spectacular. The construction and the features are excellent for a parent with a full schedule who wants her canine friend to be independent and free when she is not around.
Key Features
Four-way locking system

Deadbolt lock

Motor-driven door
This door can run on a gel-cell or the AC adapter provided in the package. Expect it to go for twenty days at least on the gel-cell. Also, the door is transparent and made of Lexan, a strong material that can withstand intruders like raccoons. 
The door comes in eight varieties: a door mount, wall mount, and different versions for sliding doors.  
Pros:
The golden retriever doesn't have to push the door to get through

Compatible with both the AC charger or gel batteries

Dual range controls allow adequate opening time as the golden retriever approaches the door

Deadbolt locking system keeps the door secure 

Has one of the best environmental seals on dog doors in the market 
Cons:
In some doggie door reviews, users report that the collar is a bit large for smaller breeds

Collar lacks key coding, meaning any dog with a similar transmitter can open the door
Of the many great things this door boasts of, versatility stands tall. You have a whopping eight different versions to work with. Plus, it accommodates all types of homes and is sturdy to withstand doggie traffic without giving way. Even with an improved version in the High Tech Pet Products PX-2 Power Pet Fully Automatic Pet Door, this door still remains a favorite and the best overall because it has proven itself to be efficient.

Click Here For Price
Remember, High Tech isn't just any other company that makes dog doors. It was the first company to introduce fully automatic pet doors nearly two decades ago and they have scaled up their invention and are now the largest developers of electronic pet doors compared to anyone else in the industry. 
With the High Tech Pet Products PX-2 Power Pet Fully Automatic Pet Door, the company has once again provided your dog with a door that effortlessly lets her through like a boss.
Key Features
Motor-driven door

Bulletproof resin

An automatic deadbolt locking feature

Four-way locking way system

Weatherproof 

Adjustable activation distances
When you receive this beauty, the package will include a pet transmitter collar, an outside frame, a 110 volt AC charger, and the required hardware for installation. These components are sufficient for a door installation but you will need to add the WA-2 large Wall Adapter for the wall installation.
How does it work?  Well, this door utilizes a high-pitched frequency emitted by the transmitter collar to open the door. Expect an MS-5 ultrasonic waterproof collar key as well. This key is used to open the door as your golden retriever approaches it.
For the correct size of the door, the company provides customers with a sizing chart for medium and large dogs. 
Pros:
Operates using a motorized process, making it quick and easy to operate

Opens automatically so your pet doesn't have to push through the door 

A four-way locking system is excellent for controlling your dog's movements and keeping intruders out

A deadbolt lock that doesn't open unless manually activated or using the pet collar to open it

Door retracts if there is an obstruction preventing it from closing, guaranteeing your dog is not trapped in the door
Cons:
Sizing chart only caters to medium and large dogs

Only one MS-5 collar key is included 
This windproof and waterproof door is ideal for any weather and climate. It is not only safe because of features like direct ultrasonic sensing and metal deadbolt locks; it is also highly intuitive and easy to work with. 
I'm sure you'll also love the range controls that provide adequate opening distance when your golden retriever is approaching the door. If she is in danger from the outside, she has ample time to open the door and make it through before being attacked.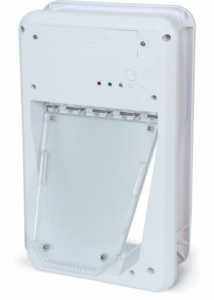 Click Here For Price
The battle of the electronic doors is not just over yet. Here's another unique option – a flap option instead of a sliding door. With the PetSafe Electronic SmartDoor, as your pup approaches the door, the flap unlocks and lets your golden retriever through and then automatically closes behind her.
Key Features
Waterproof collar

UV protected insulated flap

Four-D cell batteries

Three-way locking system
In addition to the door, you will receive an operating guide, a battery, and a pre-programmed smart key. Essentially, the collar acts like her key to the house and she can come and go as she pleases. 
However, when you need to control her movements, you can apply the three-way locking system to keep her indoors or outdoors. 
Here's how it works: The door reads the unique signal on the collar key, which triggers the door's flap to open. It will automatically close when it doesn't read the signal anymore. Because the signal is unique, only the pet wearing the collar can use the door, which ensures strays don't come in and other pets also don't leave the house. The company provides a sizing chart for small and large-sized doors.
Pros:
Simple to program the collar key, making it easy to use

Flap is insulated, guaranteeing you energy efficiency all year round

Easy to install 
Cons:
You have to buy extra smart keys
Compared to the High Tech fully automatic dog doors, this door is a close second, but it lacks a lot of features that would otherwise make it incredible. Having said that, it is a safe option and your dog doesn't have to push through the door to make her way through. It is efficient enough without having too much going on.
Factors To Consider When Buying A Dog Door 
Before you add a dog door to your cart, here are a few things you'll want to know first:
Mode Of Operation
However simple it sounds, it can be a bit challenging for a new dog owner – and even a seasoned one – to decide which door to choose between a manual and electric dog door. Each operates differently and has situations where they fit best.
For example, if you want absolute control over the movement of your golden retriever, location, and access, an electric dog door would be a great option. This is because it has extra functionalities that allow better control of those aspects. 
A manual dog door, on the other hand, would be an ideal option if you are looking for a unit that can last longer, has a low maintenance cost, better weather insulation, or variety. 
Size
Choosing the correct size of the door is important to prevent injury to your golden retriever. Make sure you fit the doggie's measurements to the door size. Now, if you have several dogs, use the measurements of the one that is the biggest. 
The correct measurements feature the height and width of your pooch and all the dimensions should be increased by at least one inch for a comfortable fit. Find your baby's widest part for the width measurement and this is her shoulder breadth. For the height measurement, take the paw to shoulder dimensions. 
The sizing charts are usually accurate, but if your golden retriever is still growing, choose the larger-sized dog door for an adequate fit even when she is fully grown.
Location
The dog door can face either the front or back yard. You also have the option of placing the door on your regular door or on the wall of the house. Placing it on the door is more convenient as it leads to either of the yards. As for the door in the wall, that is better for a home that doesn't have a yard, but you still need to let your dog out. 
Installation
When installing your door into the wall, make sure you look out for wiring and other elements in the wall that contribute to the structural integrity of your building. There are differing opinions about the installation of dog doors, with some people saying it is easy and others saying it is hard. 
While a basic understanding of the job at hand is important, the right tools and expertise are even more crucial. If you find the job demanding, you can hire a professional to install the door. 
DIY lovers can hop onto the internet and find tutorials that show you exactly how to install all types of doggie doors. The ease of installation will depend on: 
The materials used in the dog door

The materials used on your regular door or wall

Location of the dog door 

Programming
Electronic doors give you programming options, including the unrestricted movement option or the complete shutdown option where she can't go out at all. There is also the option to restrict movement to a specific direction (in or out) for a specific number of hours. These are the best doggie doors because they are versatile and can be very useful in training your poochie.
Frames
You have the option of metal and plastic frames on dog doors. The choice comes down to how active and playful your pup is and how big she is as well. 
A smaller dog that is more likely to stay indoors and is gentle can have a dog door made from plastic. However, larger breeds that are more vigorous need a metal frame on the dog door to withstand the abuse. Metal doors are more expensive but they are also more sturdy and hardy.
Weather
The dog door is an opening that can let in the elements and cause your temperatures to soar or dip. Depending on where you live, you should choose a flap or cover that can protect the interior of your house from the temperature outside.
Multiple flaps ensure the door is energy-efficient and is sealed properly from the elements. Consider doors with magnetic seals that keep out gusts of wind. 
Electronic doors are excellent because they shut securely when not in use. All-weather doors are the ideal option regardless of where you live.
Benefits Of Dog Doors
When you finally find the best doggie door, here's how it could benefit you:  
Emergency Escape
A dog door is a great escape route for your pooch if she is caught up in a hazardous situation, like a fire in the house or attack by a wild animal from the outside. The pet door can also be an emergency exit for other pets and even family members small enough to fit through it. 
Provides Freedom
Dogs love the outdoors for exploring and exercising. The easy access to the outside world eliminates the feeling of boredom and restlessness that contributes to dogs becoming destructive. 
She also has the freedom to go for bathroom breaks whenever she needs to, including nighttime potty visits. Even well-trained dogs that have a bathroom schedule may need emergency toilet breaks. 
Convenience
A dog door will facilitate you enjoying late nights and you can even take a trip because you do not need to rush home to cater to your baby. With a pet door, your pooch is able to have a life outside the house even when you are away as long as you have placed enough fresh food and water for her. 
Reduces Behavioral Problems
An independent dog is a healthy and alert dog! The outdoors provides your dog with the mental stimulation that is missing indoors. 
When she is mentally stimulated, she is alert, which is an added bonus for your security in the home. She is also confident and active in keeping her trim and fit since she is exercising throughout the day. 
The more she is engrossed in her everyday activities, the less likely she is to behave badly, like chewing your furniture, barking excessively, or having accidents all over the house.
Safety
In case of an intruder, your golden retriever can easily pass through her door and scare the creature or person of. In this case, you do not have to open your door to check out unusual noises outside your house.
Tips For Installation
To begin with, make sure the hole you cut in the door is the correct size. Measuring your pup for the right dimensions is crucial before any sawing begins. The usual size of pet doors is between five by eight inches (the smallest) and 13 by 23 inches (the largest). 
Depending on the breed of your furry friend, you can choose something in between as well just to ensure it has an allowance of an inch or two on top of the dimensions for ease of use.
It is a relief that installing a pet door is not entirely left to you to figure out. Most doors come with a template showing the proper placement. And since your template is your guide, you can paste it on the area you want to install the door and then work around it. 
But if DIY isn't your cup of tea, there are exterior storm doors that come already fitted with pet doors. If you are game about changing your door to accommodate your pup, this is a safe and time-saving way to end up with a dog door.
How To Install The Dog Door
Step 1
Just as I mentioned earlier, stick the template to the door where the pet door will be located. Use a pencil and trace the outline of the template and ensure you mark the screw holes with the pencil. Once that is done, you can remove the template. Also, mark the four drilling spots inside your outline.
Step 2
Using a ½ inch drill bit, make holes on the four marked drilling spots. Keep the holes neat and they make sure they do not fall outside of the outline. 
Step 3
Next, drill the screw holes using the correct drill bit according to the instructions of the manufacturer. Some screws require a 3/8 drill bit by default but confirm first before you begin drilling.
Then cut the opening using a saw, dissecting along the pencil marks outlining the area. Begin from one of the ½ inch drill holes you had made at each corner of the outline and go round until the area is completely carved out.
Step 4
Place the outer frame that doesn't have the flap into the carved out opening from the outside of the door. The frame and the interior of the door should seamlessly merge into each other. Sometimes, the frame doesn't fit so you have to continue making adjustments to it (cutting off bits) until it does.
Once the frame fits, you can screw it onto the door to fasten it in place. Make sure you do not overtighten to ensure the golden retriever can comfortably move through the opening.
You will need to remove your regular door off its hinges to facilitate the installation. Call your family member or buddy or even neighbor to come and assist you to prevent injury or time-wasting.
You can learn how to do this better by watching the video below by Petsafe on how to install a dog door:
Here are a couple of tools you will need for the installation:
Jigsaw

Drill and drill bits

Tape measure

Pencil and tape

Screwdriver

Hammer

Wirecutter

Scissors
Who Should Buy A Dog Door?
I have a door to my house so why does my doggie pal need her own door? That is the question that most doggie mommies and daddies ask when they hear about a dog door for the first time. 
Since you are not home all the time and your furry pal needs to have access to the yard from the house, a dog door makes it easy for her to easily go in and out of the house whenever she wants. Even when you are home, you do not have to get up to let her out every time she wants to go outdoors.
So, do you need a dog door? If the following questions apply to your household then you probably need a dog door:
Your doggy spends long periods at home alone

Your pal goes potty outdoors 

You or a member of your family has limited mobility

Your dog needs training not to run out of the front door every time it is opened
Those in favor of dog doors have made quite a case for the pet doors as outlined above, but here are a few things you should also know to make an informed choice.
If you live in an area with wild animal traffic, like coyotes straying into your space, a dog door may not be a good idea. The last thing you want is your pup coming under attack from the wildings (yes, like in the Game of Thrones) when she goes into the yard and even being followed into the house. 
You also should not invest in a dog door when you have a multiple pet household with cats and rabbits in the mix. Without a doubt, they will find their way outside. Plus, a dog door requires a permanent alteration to the house aesthetics so if you are not ready for a different look, this may not be for you. 
Conclusion
Clearly, at least every pet owner needs a golden retriever door, for any of the reasons mentioned earlier, especially freedom, convenience, and behavioral problems. What's even better is that the market boasts a variety of these doors to match your diverse needs. 
Make this day the start of a new exciting experience for you and your canine friend. Take advantage of the incredible capabilities and functions that Ideal Pet Products Designer Series Ruff-Weather Pet Door or High Tech Pet Products PX-1 Power Pet Fully Automatic Pet Door boast of. Being all-weather proof, aesthetically appealing, versatile, pocket-friendly, and accommodative are among the features and qualities that qualify them as the best overall in this list.
But this model aside, the other best dog doors are just as great and come equipped to meet your expectations and needs. Remember to spare some time to consider the factors I mentioned earlier before making your purchase.