Updated: October 17th, 2022
This article contains affiliate links. Read the full disclosure here.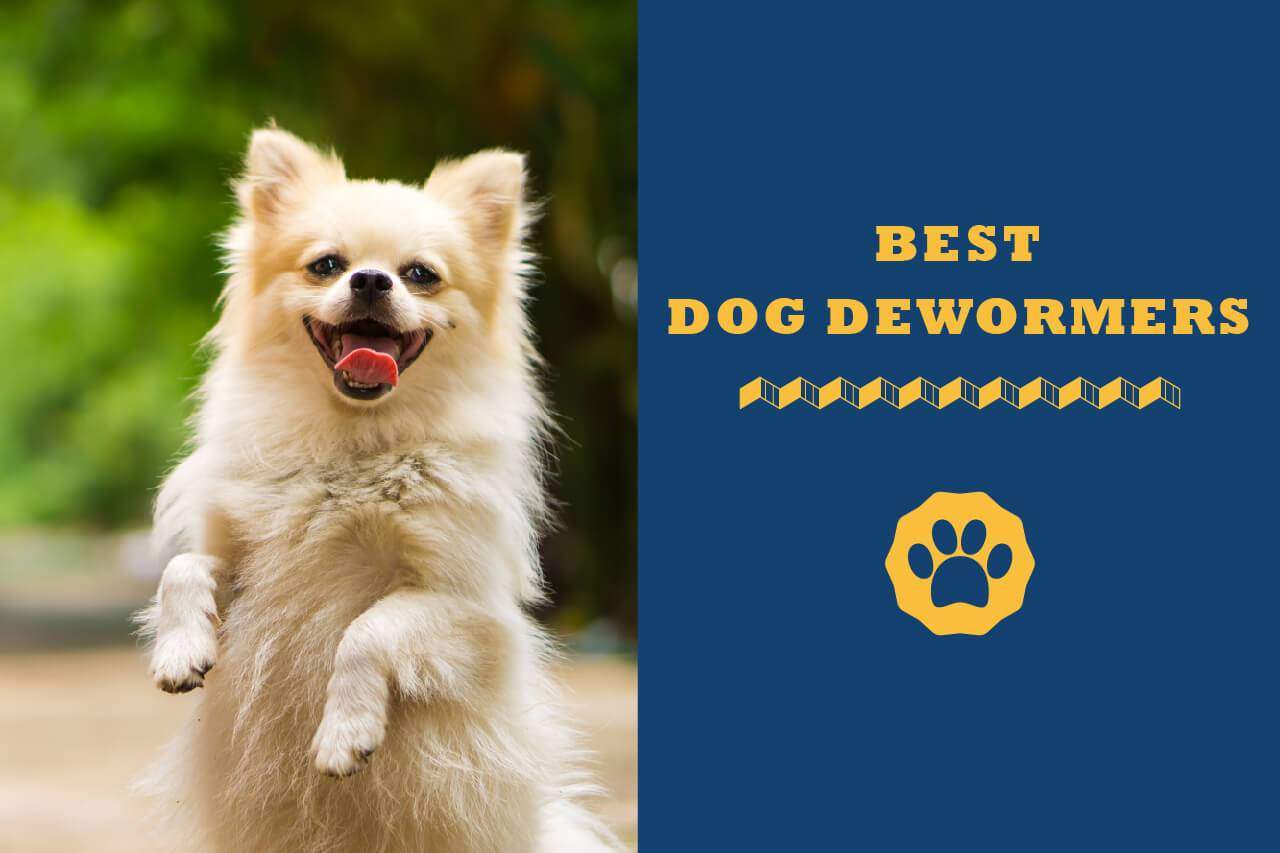 Worms! Quite a familiar term but a horrible one for a dog owner, right? If this parasitic infection happens to your dog, his digestive track won't be spared, causing nasty symptoms…unless you have the best dog dewormer. 
AT A GLANCE:
Our 6 Best Dog Dewormers
Overview of Best Dog Dewormer
IMAGE
PRODUCT

Available in granule form
Contains Fenbenzandole
Available in three four-gram pouches

VIEW LATEST PRICE →

BEST FOR HEARTWORM PREVENTION

Available as a chewable tablet
Beef flavored
Contains Ivermectin

VIEW LATEST PRICE →

Available in liquid form
Serves all breeds and sizes
Prevents reinfestation

VIEW LATEST PRICE →

BEST FOR INTERNAL & EXTERNAL DEWORMING

Available as chewable tablets
Contains Spinosad and Milbemycin oxime
Beef flavored

VIEW LATEST PRICE →

Topical or oral medication
Single dose
Contains Selamectin

VIEW LATEST PRICE →

BEST FOR ALL-ROUND PET HEALTH

Available in powder form
Organic and chemical free
It doesn't expire when properly stored

VIEW LATEST PRICE →
But what is the best dewormer for dogs? Here's a clue: one which works fast, is easy to administer, and has zero side effects on your pooch. 
As soon as you find out about a worm infestation, you main goal should be to eliminate the parasites fully as fast as possible. But if you choose the wrong treatment, you'll end up paying a high  price but having no guarantee of a cure. 
Actually, the key here is prevention. Preventing a worm infestation is the best way to ensure that your dog leads a healthy, parasite-free life. 
So, I set out to find best dog dewormer made to help you achieve that, basing my selection on age, weight, types of worms, side effects, and so on, and to my surprise, the winning products turned out to be what I least expected. Have a look: 
Best Dog Dewormer Reviews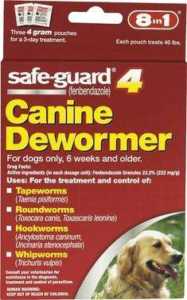 This is arguably one of the favorite dewormers for dogs on the market right now, if the user reviews are anything to go by. It is effective in killing off specific types of parasitic worms including tapeworms, hookworms, whipworms, and roundworms, among others.
Key Features
Available in granule form

Contains Fenbenzandole

Available in three four-gram pouches
The three-day treatment must be given only to weaned pups above the age of six weeks. The younger pups can be treated at six, eight, 10, and 12 weeks to ensure they are able to fully absorb the nutrients in their food. Older dogs should be dewormed twice a year.
Pros:
Comes with a guide to help you measure the correct dosage for your pooch

Contains Fenbenzandole, which is also found in the prescription for the best dog dewormer

Works in only three days

Easily assimilates in dog food, masking the taste

Can be used on pregnant and lactating dogs 
Cons:
Only works for parasites in the Taenia species
You will love that this is a fast and easy best dog dewormer to work with. The results are visible as soon as your pooch finishes her dose.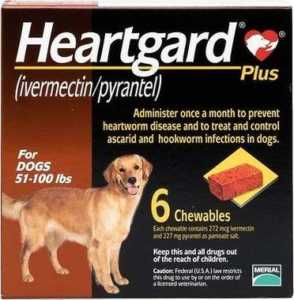 Heartworms are a scare to almost every dog parent. I worry about it too. Thankfully, you can use Heartgard to keep this deadly disease at bay and guarantee your pooch the very best health possible. 
Remember, heartworm disease is preventable, but the worst thing about it is that it causes damage to the arteries, faster than the body can heal, once the disease progresses. 
Key Features
Available as a chewable tablet

Beef flavored

Contains Ivermectin
Apart from combating heartworms, this best dog dewormer also gets rid of hookworms and roundworms, among other intestinal worms. It has Ivermectin, which is a broad-spectrum anthelmintic that prevents a myriad of worm infestations. 
Heartgard Plus is safe enough to be used in puppies as well as adult dogs. Since it is a medication that is taken on a monthly basis, it is also very efficient in keeping your pup healthy at all times. 
Pros:
Can be used on lactating mothers

Tastes like a treat, making it easily palatable for all dogs

Works on other worms as it prevents heartworm 
Cons:
Not effective against fully grown heartworms
From the many satisfied customers using this medication, it is clear that it is an effective deterrent against a heartworm infestation.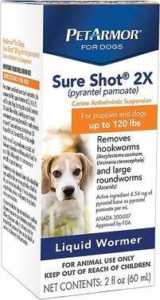 When your dog suffers from large roundworms, you can be sure she is not receiving all the nutrients her body needs when she eats. PetArmor is literally armor for your dog, keeping away harmful worms that she can pick up from her walks or even from her food.
Key Features
Available in liquid form 

Serves all breeds and sizes

Prevents reinfestation
It keeps away both roundworms and hookworms, and most importantly, it prevents the reinfestation of these worms. Because it is safe for lactating mothers, these doggies are able to keep healthy and give birth to and nurse healthy puppies. Of course, the presence of worms should be confirmed by proper testing at the vet. 
To ensure it works effectively, it is recommended to begin giving the medication to your pups at two weeks, followed by consistent two-week intervals until they are 10 weeks old. 
Pros:
The liquid formula is easy to ingest for dogs

It is tasty for better palatability

Treats even large breed dogs up to 120 pounds 

No fasting required before or after treatment

Convenient one-time use dosage
Cons:
Some dogs find the taste distasteful (pun intended), but this can be combated by diluting it in food
Most dogs tolerate this medication well, and doggie parents have reported very satisfactory results. It is also not as expensive as other products, which makes it effective when you have several pups to take care of.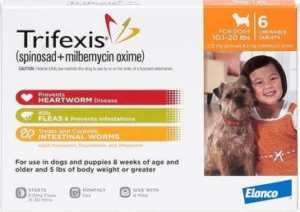 Sometimes you may have more than a worm problem afflicting your furry friend. In those instances, when she is losing her battle with fleas externally and worms internally, Trifexis chewable tablets are the best solution. 
Key Features
Available as chewable tablets

Contains Spinosad and Milbemycin oxime

Beef flavored
These beef-flavored tablets taste more like a treat than medicine to your pooch, making it easy to ingest. The tablets are excellent for preventing heartworm, and they also prevent a re-infestation of other worms like hookworms, roundworms, and whipworms.
Doggie parents appreciate the medication's ability to combat fleas as well, since fleas affect humans as well as dogs. 
Pros:
Effective in preventing heartworm 

Available over the counter and even online

Contains Spinosad, a natural product with extremely low levels of toxicity

Works both on external and internal parasites simultaneously
Cons:
May cause skin irritation and vomiting in pups under the age of 14 weeks
This is an effective two-in-one solution for your pup that helps with both internal and external parasites at one go. That makes it cost effective which is a huge plus for dog parents on a budget.
The color associated with Revolution Topical Solution for Dogs is usually pale yellow or completely colorless, and it comes as a single dose to be used topically or orally. The best part is you can use the same medication for your cat as well to keep her healthy.
Key Features
Topical or oral medication

Single dose

Contains Selamectin
Before using this medication, it is imperative to ensure that your dog has been tested for heartworms. This gives your vet the chance to treat that condition even as the Revolution Topical Solution clears the fleas, guaranteeing your dog excellent overall health. 
This treatment should only be used on pups above six weeks old. It can be used topically and can also be orally ingested so long as your dog is at least five months old.
Pros:
Easy to apply topically in all breeds

Option of oral ingestion or topical application gives doggie parents at least two avenues to administer the medication, helpful for finicky animals
Cons:
Can cause adverse skin and eye irritation in humans who come in contact with the medication
The versatility of this product when it comes to administration, and as a medication for both dogs and cats, makes it a flexible solution worth a try.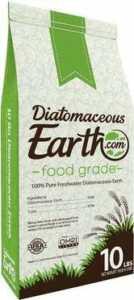 You've probably heard, read, or watched videos about the great things that diatomaceous earth boasts of. Now there's food-grade diatomaceous earth for your dog to eat. 
DE, as it is commonly known, is only needed in small doses to keep your pooch in excellent health and free from parasites.
Key Features
Available in powder form

Organic and chemical free
This is the solution that will not only appeal to those who value a green environment for their dog but also for pet parents conscious of what their dog ingests even when it's medication. In addition to clearing parasitic elements in your doggie, it also eliminates odors and moisture in your pooch's kennel.
Pros:
It doesn't expire when properly stored

Also promotes good skin health and a vibrant coat on doggies

Dosage ranges between half a teaspoon and two tablespoons, which makes it extremely cost effective
Cons:
Made with silica which some users do not consider pure diatomaceous earth
Diatomaceous earth food-grade powder is a great option when you want a safe, chemical-free medication for your pooch. It also results in an organically treated environment for your pooch.
Important Things To Consider Before Buying The Best Dewormer For Dogs
There are some key things to keep in mind when looking for the best dog dewormer. They include: 
Types Of Worms
Unless the vet specifically classifies the best dog dewormer as a broad-spectrum drug, you must buy the specific dewormer for each type of worm. The best place to start is by identifying the type of worm infestation your dog has through a visit to the vet and proper testing. 
The stool usually tells which type of worm she has, and the best treatment can commence. Do not buy over-the-counter dewormers without having the correct information about the type of worm infestation you are treating.
Age & Weight Specifications
The best dog dewormer has a specific age to administer the drug. Stay away from medications with vague instructions, and always follow your vet's instructions. Also, make sure you have a guide about the weight specification to administer the drug appropriately based on your dog's weight.
Most dog parents who overdose their doggies do so because they do not know their weight. They end up giving more than they should per pound of weight. Be sure to know how much your pup weighs, so you can dose him appropriately.
Side Effects
While you may not expect any side effects in deworming, it is always prudent to be prepared for them. The side effects are usually short lived and self limiting, but they can be scary. You may see vomiting, diarrhea, and even dead worms in their stool. In severe cases, your dog may have an allergic reaction which can include seizures and labored breathing. Take her to the vet immediately if these symptoms occur after you've administered the medication.
Form Of Medication
You know your pooch best, so depending on her eating habits, choose the dewormer that is most palatable for her. You can choose from chewable tablets, liquids, granules, or powders. Puppies, for example, may easily take to liquid or powder dewormers mixed into their food as opposed to chewing a tablet. Also, opt for flavored tablets if you have a finicky eater so that they can think it is a treat instead of medication.
Who Needs Dog Dewormer?
All dogs need to be dewormed for their overall health. Dogs are unfortunately excellent candidates for worms and other parasitic infestations, because they love to slurp, lick, and gobble up suspicious items in their path. Some of the things they eat are contaminated with parasitic elements, resulting in worm infestations.
The most common worms found in dogs include hookworms, roundworms, tapeworms, and whipworms. 
The vet will take a look at your pooch's stool to ascertain which worms are present and then treat them using a broad-spectrum drug that targets multiple worms simultaneously. 
Since all dogs need deworming, it is crucial to know when to deworm your dog at every life stage. 
Puppies
Puppies should be dewormed before their first vaccination. This is why the dosage for deworming pups begins at as little as two weeks for some dewormers to six weeks for others. The medication is given in intervals of two weeks until the pup is 10 or 12 weeks old.
Deworming your pup when she is so young is vital even if she doesn't go outside yet. Contact with other dogs that go outside can result in a worm infestation in your puppy, and in some cases, a pup already has worms from her mother.
Adult Dogs
Adult dogs generally need deworming every six months. But if they live in a rural area where they roam around and can eat anything undetected, you should bump up their deworming schedule to every two months. 
Dogs that live in an urban area may be less likely to have a severe worm infestation, because they live in more controlled environments. However, they still need to be dewormed to keep them healthy, so stick to the six month schedule.
Lactating Dogs
Deworming a pregnant or nursing mother dog is crucial to not only her health but also the health of her puppies. Deworm her approximately 10 days before she is due to give birth. Continue with the treatment every three weeks for as long as she is lactating to help prevent worms from reaching her pups through nursing. 
Always check with your vet about the best over-the-counter dog dewormer for pregnant/lactating mothers. 
Why Is Deworming Important? 
Deworming is important because it not only contributes to excellent general health of your pooch; it also prevents transference of the parasites to other members of your household, from humans to other pets. 
Worms are intestinal parasites which can be transmitted via vomit and fecal matter. Here's why it's important to get rid of these little monsters:
Protect Your Dog's Immune System
Worms can placate existing diseases while enraging others, because they affect the immune system of your dog. They can deactivate some immune system cells. But through deworming, your dog's immune system becomes more resistant to parasites and some of the diseases they cause. 
Prevent Allergies
In most cases, because the worms themselves contain allergens, they end up triggering severe allergic reactions in your dog. 
Activate Immediate Response To Vaccinations
Remember when I said that doggie parents must deworm their puppies before they have their first vaccination? Well, that is because parasitic worms weaken the body's immune system, making it hard for your pooch to respond well to a vaccination. 
Combat Worm Infection
Double deworming (i.e. deworming with double or triple the recommended dosage dosage) is the best way to completely combat worm infestation. Dogs are susceptible to worm infestation even from natural tendencies like sniffing at infested fecal matter. And in pregnant mothers, the closer she gets to her due date, the more active the parasites become, so she is vulnerable to significant parasitic infestation at this time. 
Unfortunately, a nursing mother can transmit parasites to her pups through her milk. It is important to ensure that even as you deworm your furry friend to get rid of internal parasites, you also treat her for external parasites like ticks and fleas. 
Topical treatment options are readily available on the market, ranging from specially treated deworming collars, shampoos, and sprays to a liquid treatment placed at the back of your dog's neck.
Types & Symptoms Of Worms 
Worms can enter your dog's body when she sniffs, licks, or ingests matter infected with the parasite. 
Here are the types of worms you can expect, how they infect your pooch, and symptoms of infection:
Types Of Worms
Roundworms
Roundworms are found in fecal matter. They are prevalent in nursing and lactating mothers, so there is a high chance of being transferred to pups through her milk. Symptoms include a bloated stomach, anemia, weight loss, and pale gums, among others.
These worms eat the host's food, so she doesn't get enough nutrients while causing her to have severe diarrhea. They can be fatal in puppies, and unfortunately, they can also find their way into humans with lethal effects. Unless you are using the best roundworm medicine for dogs, the effects could be devastating. 
Hookworms
These worms are found mainly in the small intestines of your dog. Hookworms are blood suckers, taking blood from their hosts and causing them to be weak and malnutritioned. The result can be death in young puppies. Symptoms include loss of appetite, weakness, and lethargy, as well as vomiting and diarrhea.
Dogs get hookworm infestations from eating the carcass of an infected animal. You can get infected with hookworms if your dog has them. Also, eating unwashed vegetables can result in hookworms in humans. Your dog will need double deworming to effectively get rid of hookworms.
Heartworms
Heartworms are caused by a simple mosquito bite, and unfortunately, there is no way to tell if the mosquito carries the infection. This is the reason vets advise that you make sure your pet is taking dewormers to prevent heartworms. 
The gestation period for heartworm larvae to mature into adult heartworm is seven months after the initial mosquito bite. The adult heartworm makes its way into the heart and lodges in the arteries and blood in the heart.
Symptoms include coughing, lethargy, inability to exercise, and even unconsciousness. Unfortunately, these symptoms begin to manifest only when the heartworms have overcrowded you dog's heart and lungs, which is why the disease can become fatal seemingly very quickly. 
After the initial bite, the dog will not show any symptoms, and sometimes even regular checkups with the vet may not show any heartworm. Because of this, vets recommend that dog owners give their pups monthly heartworm dewormers from a young age as a preventative measure.
You can prevent heartworm by giving your dog monthly deworming tablets, using topical medication that deters mosquitoes, and also using an  injection every six months. 
Whipworms
You will find whipworms at the junction of the small and large intestine. They are blood suckers as well, and your dog can get infected with whipworms from contaminated soil. Their symptoms are very severe, with your dog having bloody diarrhea and vomiting, as well as severe weakness.
These worms grow exponentially in a short period of time compared to heartworms, causing a lot of damage in a short span of time. Heartworm dewormers are very effective against whipworms, but you can also opt for the usual oral dewormers if you catch the infestation in the initial stages.
Tapeworms
Tapeworms are found in the intestine of your dog where they attach themselves and block the intestines. These worms infect dogs when they swallow fleas and lick themselves when they have a flea infestation on their coat. Fleas are carriers of tapeworm larvae which they transfer to the dog.
The symptoms of tapeworms include moving segments of the tapeworm around the anus, in the stool, and even on bedding. Also, you will notice your dog licking her anus a lot or dragging her hind quarters along the floor to minimize the irritation. Another symptom is acute weight loss even though your pet is eating normally.
A shot or tablets are effective in curing a tapeworm infestation. Once administered, the medication destroys the worms, and you will not see them pass through the stool.
Ringworms
While these are not actual worms, ringworms can be treated with a dewormer. They manifest as dry, itchy, scaly patches on the dog's skin, and dogs get infected from contact with the spores of the fungus that causes ringworm. Cats are known carriers of these spores, so make sure you treat your dog and cat as well as yourself, since ringworms from dogs can infect humans. 
The symptoms include itching in the affected area, and treatment can last two months. Oral medication is effective, but you also need to use shampoos and ointments on the skin. Also clean and disinfect her bedding to prevent a recurrence.
In the video below, you can learn how to identify these worms:
Conclusion
A dog suffering from a worm infestation can suffer for years from the parasites unless she is diagnosed properly and put on the correct regimen of drugs. But the great news is that this best dog dewormer review consists of the best solutions that can alleviate the discomfort once and for all. 
For instance the 8in1 Safe-Guard 4 Canine De-Wormer (a 3-day treatment), which is the best worm treatment overall, has the capacity to effectively deal with the most common types of worms. It's also fast and comes complete with a guide to make your work easier. 
The rest of the dewormers on this list are also special in their own way and will serve you well if they match your specific needs. 
Of course, make sure you do the basics for the best results including getting the timing of the dosage correct and using the best dog dewormer for the type of worms your dog has.