Updated: August 13th, 2022
This article contains affiliate links. Read the full disclosure here.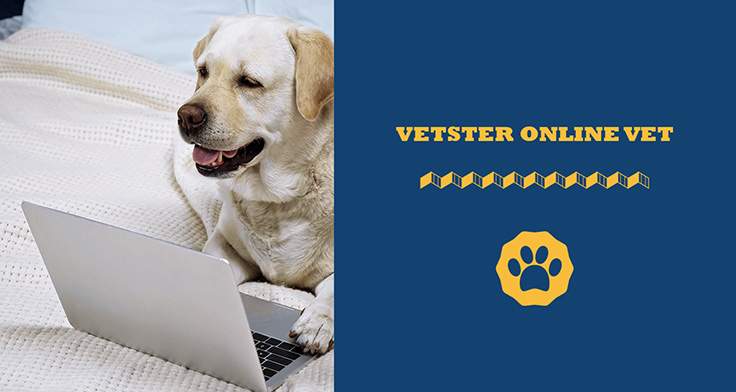 With the global pandemic in the full swing, nothing is the way it used to be! Taking your golden retriever to a clinic or getting a veterinarian to make a house call seems like an impossible feat. But thanks to the wonders of the internet, you can book your golden retriever an appointment at Vetster online vet and have them examined by a licensed professional.
As someone whose dog is terrified of veterinary clinics and vets, I'm glad that I can take full advantage of modern technology. Thanks to Vetster, my pooch can get the help that he needs without getting an anxiety attack or leaving the comfort of our home. Also, my mind is at ease knowing that veterinary assistance is at my fingertips at all hours of the day and night.
Whether your regular vet has changed the way they practice due to pandemic or you have a skittish dog, Vetster gives you access to high-quality pet care anytime and anywhere.
In this article, I'll tell you everything you need to know about this online vet site and give you the full scoop on what sets Vetster apart from other vet telehealth sites.
What Is Vetster Online Vet?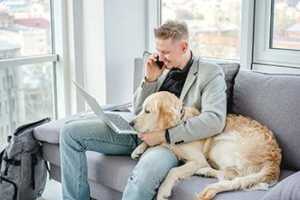 Vetster is a pet telehealth site that connects pet parents with licensed veterinarian professionals all over North America. With a network of over a thousand licensed veterinarians online, Vetster offers you a chance to book an appointment with the vet of your choosing 24/7.
You have the freedom to pick a vet based on your geographic area, specialty, pet owner reviews, breed, or type of pet you have. Their vets are available to provide help and to treat all sorts of health problems, or give advice regarding nutrition, wellness, training, and preventative care.
Best of all, all vets registered with Vetster go through extensive background checks. Knowing that your beloved golden retriever is in capable hands will give you added peace of mind.
Besides helping you connect with a licensed veterinary professional, Vetster also gives you access to veterinary technicians if you just need advice about caring for your Golden. Their vet technicians are either licensed, registered, or certified, and can be immensely helpful especially if you are a first-time owner.
Vetster online vet works by allowing you to book an appointment with a licensed vet of your choosing, using a mobile phone, tablet, or PC. You have the option to connect via voice, video, or chat, and all of your telehealth sessions will remain recorded on your pet's Vetster profile.
This way, you will have unlimited access to your golden retriever's medical history and can always go back to refresh your memory about a particular treatment and doses.
Vetster Pet Vet Review
Compared to other pet telehealth sites, Vetster offers a huge number of veterinary professionals who are available 24/7. This makes Vetster a highly convenient and easy-to-use resource for pet parents who can't leave their home to take their dogs to a vet.
Pros:
Signing up is very easy and completely free
You can choose a licensed vet based on your needs
You'll have 24/7 on-demand access to virtual pet care
Connect with a licensed professional through video, chat, or voice
The service allows you to create separate profiles for all your pets
Cons:
The service is higher priced than other online telehealth sites. But the extra cost is worth it if you want to have freedom to pick which vet to use.
Armed with all this information, let's proceed with the Vetster review and see what distinguishing features set this pet telehealth site apart from the competition.
Easy Sign-Up Process
One of the greatest things about Vetster is that signing up and creating an account is very easy and free. To create an account, you will need to enter your email address and personal information, and tell them more about your pet.
Vetster will ask you to fill out your pet's information including name, gender, weight, breed, date of birth, and whether your golden retriever is spayed or neutered. Once you fill that out, Vetster will need your address and credit card information. You can opt to let Vetster pair you with a local veterinary professional or you can choose one yourself.
Once you set up your account, you will have access to your pet's profile, which you can edit or add pictures to at any time. If you have several pets and need to book an appointment for one of them, make sure that you do it from that pet's profile.
Booking An Appointment With A Few Clicks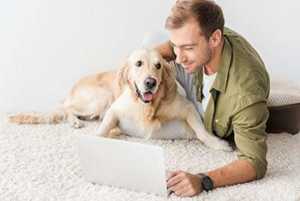 Booking an appointment with Vetster is also very easy and just a few clicks away. You'll need to select the pet profile for the dog or cat that needs an appointment and click on a "Book a Vet" button. At this point, Vetster will ask you whether you want to book an appointment with a veterinarian or a technician.
Once you choose, just type in your location and hit search. At this stage, you will get a list with profiles of all veterinary providers in your area that you can choose from. Each health provider will list their specialization, the cost, and their available appointments.
When you pick a veterinarian and book an appointment for your pet, the Vetster will tell you how much everything costs including tax and fees. You will also need to state the issue your pet is having before you click on the "pay now" button and officially book your appointment.
It's worth noting that you can change your mind and cancel the appointment or make any adjustments completely free at any time.
Vetster Medical & Vetster Health 
Vetster offers two types of services for pets: medical and preventative health care. If your pet has a medical emergency, you can always book an appointment with a licensed vet, who will give you advice and prescribe treatment.  But, you can also schedule an appointment for general health and wellness queries with a licensed technician.
Here's everything Vetster has to offer to you and your golden retriever in their online sessions:
Veterinarian Session Cover
If you have any concerns about your golden's health and need advice or prescription medicine, booking an appointment with a licensed vet is the way to go. You can explain your dog's symptoms or just ask for advice through live video, voice call, or chat.
The entire appointment will be saved on your profile, and you can even send it to your regular vet to be included in your dog's medical chart. During an online session with a Vetster veterinary professional, you can get help for the following health problems:
Minor cuts and wounds
Infections
Skin issues and allergies
Stomach issues such as vomiting and diarrhea
Nutritional concerns
Sudden lameness or limping
Wellness and general health concerns
Bug bites
Toxicity concerns
Technician Sessions Cover
If you are a new dog parent or have any questions about your dog's overall health and care, you can book an appointment with a licensed technician.
Please note, prescription medicine isn't available through Vetster health appointments. So if you think your golden retriever will need some type of prescription meds, book a veterinary appointment instead.
During technician sessions, you can get a consult for any of the following issues:
Behavioral issues
Diet and nutrition
Training
Exercise
Weight management
Preventative wellness care
Care and grooming
Please note, while Vetster offers top-of-the-line medical help, it can't be used as a replacement for veterinary assistance in a case of emergency. In cases of serious injuries, take your golden retriever to an emergency clinic where they can be checked out by a vet and offered the help they need.
Where To Buy & Cost Of Vetster Online Vet
If you are interested in everything Vetster has to offer your dog, visit their official website and sign up for a free account here.
When it comes to price, Vetster is more expensive than other online vet telehealth sites, but the extra cost can be worth it if you want to choose a licensed professional on your own. Vetster medical appointments with a licensed vet start at $50, while technician appointments start at $30.
Conclusion
Vetster online vet is an on-demand telehealth service that can give you peace of mind when you can't physically take your golden retriever to the vet. Developed to give pet parents access to high-quality online health care for their pets, Vetster is available to you anytime and anywhere.
With the largest marketplace of licensed veterinary professionals, this telehealth service gives you a chance to stay on top of your dog's health right from the comforts of your home. And while higher priced than competition, an appointment with an online vet can be more affordable than an unnecessary trip to an emergency clinic.
And if your golden gets an anxiety attack whenever they have to go to the vet, an appointment with an online vet can keep your dog at ease. It will  also save you the hasse of begging them to get in the car.