Updated: June 30th, 2022
Golden retrievers are one of the most popular dogs in the United States for many good reasons. For starters, they are friendly and intelligent, outgoing and playful, and they make energetic life companions.
While it is certainly possible to find lovable golden retriever pups in shelters in need of a good home, you may also choose to buy from a breeder for a number of reasons. If you opt to buy from a breeder, it is important to make sure you only buy from a respectable breeder.
Why is finding the right breeder so essential? Well, bad breeding practices may see you caring for an unhealthy pup with a questionable temperament. Plus, buying from bad breeders encourages them to breed further, usually in unsafe conditions with little regard for their pups' health. This, in turn, can mean more pups growing up in an environment that isn't good for them.
How do you find a reputable golden retriever breeder? Read on to learn more, get recommendations, and find out what to look out for when deciding whether or not a breeder is trustworthy.
Find out everything you need to know about Golden Retriever puppies here.
Why Finding A Reputable Breeder Matters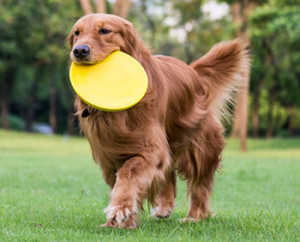 You may be asking yourself if finding a good breeder is really important when it comes to adopting a golden retriever. After all, pups from less reputable breeders need good homes as well. However, there are a few very good reasons to look for a reputable and reliable breeder.
First, it's important to know that your dog's health is largely inherited. If your pup comes from healthy parents that have been screened for the conditions common to golden retrievers, you'll likely have a healthy pup. On the other hand, if you buy from a not-so-good breeder, not only may your pup not have been screened for certain conditions, but inbreeding is also likely.
Natural temperament is also largely inherited from parents. This means intelligent, friendly, and trainable dogs are likely to have pups with the same characteristics. Again, reputable breeders will often pick parent dogs specifically for their temperament, while other less responsible breeders will often just put any dogs together.
Moreover, the socialization that pups receive during the first eight weeks of their lives when they are still with the breeder can make a big difference in how quickly and smoothly the pup you eventually adopt fits into your home. If the puppy isn't treated well early on, they can develop behavioral issues before you even get them home.
Finally, when it comes to cheaper breeders just out to make a buck, once you take your pup home, they are your problem. If your dog does develop any unpredicted health or behavioral conditions, you are on your own. Reputable breeders will be there to help you solve problems that may occur, and they will often even take their puppies back if it turns out that you can't care for them.
How Do You Find A Good Breeder?
Since golden retrievers are such popular dogs, fortunately, there is a lot of support out there to find a good breeder.
Your first step should be to contact your local Golden Retriever Club and ask them to refer you to good local breeders. You'll find a complete list of breeder contacts by state below.
Alabama – GRC of North Alabama (Huntsville)
Alaska – Midnight Sun Golden Retriever Club (Anchorage)
Arizona – Valle del Sol Golden Retriever Club (Phoenix)
California – Golden Retriever Club of Greater Los Angeles (Los Angeles)
Golden Retriever Club of San Diego County (San Diego)
Norcal GRC (San Francisco)
Colorado – Mile Hi Golden Retriever Club (Denver)
Connecticut – Connecticut River Valley GRC (Enfield)
Southern Berkshire Golden Retriever Club (Hartford)
Florida – Everglades GRC (Palm Beach)
Florida Gulf Coast Golden Retriever Club (Tampa)
Mid-Florida Golden Retriever Club (Orlando)
Georgia – Atlanta GRC (Atlanta)
Hawaii – Golden Retriever Club of Hawaii (Honolulu)
Illinois – Land O'Lincoln GRC (Peotone)
Golden Retriever Club of Illinois (Chicago)
Indiana – Southern Indiana Golden Retriever Club (Evansville)
White River Golden Retriever Club (Indianapolis)
Iowa – Des Moines Golden Retriever Club (Des Moines)
Kansas – Wheatland Golden Retriever Club of Wichita (Wichita)
Kentucky – Greater Louisville GRC (Louisville)
Maine – Maine Golden Retriever Club (Lewiston)
Maryland – Chesapeake Golden Retriever Club (Rising Sun)
Potomac Valley Golden Retriever Club (Washington)
Massachusetts – Yankee Golden Retriever Club (Boston)
Michigan – Fort Detroit Golden Retriever Club (Detroit)
Marshbanks Golden Retriever Club of S. Cen MI (Ann Arbor)
Mid-Michigan Golden Retriever Club (Midland)
Minnesota – Greater Twin Cities Golden Retriever Club (Minneapolis)
Missouri – GRC of Greater St Louis (St Louis)
Kansas City Golden Retriever Club (Kansas City)
Montana – Treasure State Retriever Club (Helena)
New Jersey – Garden State Golden Retriever Club (Morristown)
New Jersey Pine Barrens Golden Retriever Club (Medford)
New Mexico – Rio Grande Valley GRC (Albuquerque)
New York – Autumn Valley Golden Retriever Club of South Tier (Vestal)
GRC of Central New York (Syracuse)
GRC of Western New York (Batavia)
Hudson Valley GRC (Brewster)
Long Island Golden Retriever Club (Central Islip)
Northeastern New York Golden Retriever Club (Albany)
North Carolina – Tarheel Golden Retriever Club (Raleigh)
Ohio – Cuyahoga Valley Golden Retriever Club (Cleveland)
Golden Retriever Club of Greater Toledo (Toledo)
Golden Retriever Club of Columbus Ohio (Columbus)
Greater Cincinnati GRC (Cincinnati)
Oklahoma – Central Oklahoma GRC (Oklahoma City)
Oregon – Pacific Rim GRC of Oregon (Salem)
Pennsylvania – Greater Pittsburgh GRC (Pittsburgh)
Lenape Golden Retriever Club (Quakertown)
South Carolina – Sandlapper GRC (Greenville)
Texas – Austin Golden Retriever Club (Austin)
Dallas-Fort Worth Metro GRC (Dallas)
Greater Houston GRC (Houston)
Washington – Evergreen Golden Retriever Club (Seattle)
Inland Empire GRC (Spokane)
West Virginia – Appalachian Golden Retriever Club of West Virginia (Parkersburg)
Wisconsin – Badger Golden Retriever Club (Milwaukee)
Northern Flyway GRC of Wisconsin (Appleton)
If your local club can't refer you to a breeder near you, then do a bit of research online and ask for referrals. Quality breeders should have good relationships with their clients and therefore be able to refer you to someone willing to discuss their experience.
Prefer to adopt from a rescue? Read our guide here.
What To Ask Your Breeder
When you find a likely breeder, there are a few things you should be asking them to ensure they are above board and their pups are likely to be healthy and happy.
Ask to meet the pup's parents. Not only does this help you get a feel for what your pup will be like when they grow up, but the openness of the breeder in showing you their dogs can be a significant indicator of trust.
Both parent dogs should have received OFA clearances for the most common golden retriever health issues, specifically their hips, elbows, and heart. They should also have clearance for their eyes, which needs to be renewed annually. Ask to see their clearances.
Additionally, ask the breeder at what age they start breeding their dogs. Be wary if the breeder claims to start breeding their dogs before they are two years old. You can also ask them how many litters the dog has had. Responsible breeders will breed their females a maximum of once a year. It also helps to ask whether the breeder provides AKC registration papers.
Next, ask to see the contract before buying your dog. This should cover costs, returns and refunds, and even the responsibility of the breeder in certain circumstances. If this contract is not in place or you notice any red flags, consider it a major warning sign.
You'll also need to ask the breeder for information about how their puppies are born, raised and socialized. Generally, responsible breeders won't have any issues if you ask to see where the puppies live, for example in their home or in a back shed. They should be able to speak at length about how they socialize the pups if they have experience doing this.
Also, pay attention to the questions that the breeder asks you. Breeders who care about their dogs will want to make sure they go to a good home, so they will want to verify that you are up to the task. Common questions include whether you have had dogs before, what breeds of dogs you've owned, how much experience you have with them, and so forth.
You can also expect questions about your lifestyle, such as the size of your home and how many hours everyone is out of the house each day at work or school, for example. They might also ask if you have an active lifestyle, since goldens need lots of exercise.
If the breeder you've selected isn't asking these key questions, it can show a lack of concern for the future of their pups.
Irresponsible Breeder Warning Signs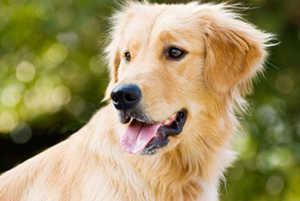 Aside from not being concerned about the future living situation of their pup, there are a few other warning signs that can alert you that a breeder isn't above board.
First, if they push too hard with the sale and are over-the-top when they describe the qualities of their dogs (for example, calling them "rare" or "award-winning"), then watch out. You should expect them to speak principally about the health and temperament of their dogs.
Next, if the breeder you've selected has a lot of puppies available or they always seem to have puppies available, this is another red flag, since it probably means they are overbreeding their dogs and don't have time to care for them properly.
Also, if the breeder is unwilling to provide the proper paperwork, be wary. They may say that certain important paperwork is "just red tape" and that you only need the papers if you want to put your dog in shows or competitions. In reality, these papers help you verify the quality of the pup as well.
Finally, if the breeder doesn't want you to visit their premises, meet your pup's parents, and speak to references, this is another huge red flag. A responsible breeder will have no issues with you meeting your pup's parents, checking out their facility, and speaking to their references, as they have nothing to hide.
How Much Does A Golden Retriever Cost?
When you do decide to adopt a golden retriever from a respectable breeder, how much should you expect to pay?
Most golden retriever puppies cost between $500 and $3,000. However, you will still want to ask questions if your pup is too close to the bottom or the top of the range.
If pups are very cheap, it might mean that the breeder is inexperienced and just getting started or that they are cutting corners on things such as food and veterinary services.
On the opposite side of the spectrum, breeders should really only be charging thousands of dollars for their dogs if they are selling pups from a championship bloodline and have the paperwork to prove it.
Aside from this, supply and demand where you live also can push prices up or down.
The Verdict
Bringing a golden retriever into your home can be an incredibly fulfilling addition to your family. However, you'll need to make sure you are getting the dog you expect and supporting healthy breeding practices by purchasing from reputable breeders near you.
Remember, when looking for a breeder, keep these criteria in mind:
The breeder should allow you to meet your pup's parents and visit their breeding facility
Your pup should have OFA clearances for common golden retriever health problems
The breeder should be willing to both answer detailed questions about their pups and how they are raised and socialized as well as ask you questions about how you intend to accommodate your new dog
Do you have experience purchasing from a breeder? What's your best advice? Share your thoughts with the community in the comments section below.