Updated: August 1st, 2022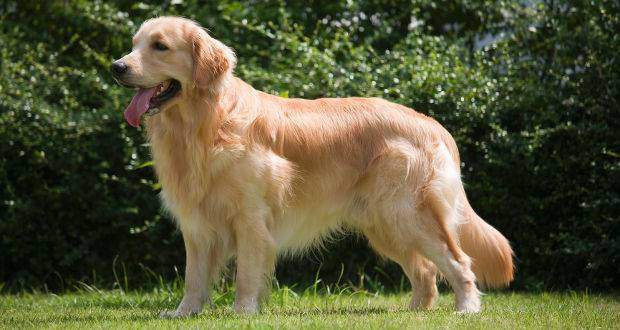 © Depositphotos.com / tanatat
A breed standard is a blueprint that describes how an ideal dog of a particular breed should look, how it should move and carry itself and it's temperament and personality.
It's a set of rules made to try to ensure that a breed has consistency, stays true to it's origins and is fit for the purpose for which it was originally bred.
The breed standard is the set of rules that breeders try to emulate in their breeding programs, that judges in show rings use to judge the breed and basically governs everything to do with the breed.
The Golden Retriever Breed Standard Around The World
I've checked through a few and Generally speaking, the Golden Retriever breed standard is consistent around the world with the main differences being just the way they're worded and the detail they go into.
Reading through the descriptions, you can see that they are ultimately the same, describing the same breed, though there are some minor differences.
However, if you compare side by side an American and British Golden Retriever, there are obvious and quite striking differences!
The British one is heavier, with a thicker skull and stockier build than it's American counterpart that looks more slender and athletic, even though their respective countries breed standards are essentially the same.
Confusing? Yes, it can be sadly. The only way to think about it is to say that the breed standard is a blueprint that is open to a little interpretation. There's room for a little movement, but not so much that there could be any confusion of the breed being described.
The Golden Retriever Breed Standard From The UK Kennel Club
The following is the UK Kennel Club Golden Retriever breed standard, copied word for word from the KC website and the original can be found by following the link at the end of the description.
I've chosen to show this as it's the most summarized and 'to the point' and the AKC and CKC standards are very similar, just more lengthy and detailed. If you wish to read these standards, please follow these links:
AKC Golden Retriever Breed Standard
CKC Golden Retriever Breed Standard
General Appearance
Symmetrical, balanced, active, powerful, level mover; sound with kindly expression.
Characteristics
Biddable, intelligent and possessing natural working ability.
Temperament
Kindly, friendly and confident.
Head and Skull
Balanced and well chiseled, skull broad without coarseness; well set on neck, muzzle powerful, wide and deep. Length of foreface approximately equals length from well defined stop to occiput. Nose preferably black.
Eyes
Dark brown, set well apart, dark rims.
Ears
Moderate size, set on approximate level with eyes.
Mouth
Jaws strong, with a perfect, regular and complete scissor bite, i.e. upper teeth closely overlapping lower teeth and set square to the jaws.
Neck
Good length, clean and muscular.
Forequarters
Forelegs straight with good bone, shoulders well laid back, long in blade with upper arm of equal length placing legs well under body. Elbows close fitting.
Body
Balanced, short-coupled, deep through heart. Ribs deep, well sprung. Level topline.
Hindquarters
Loin and legs strong and muscular, good second thighs, well bent stifles. Hocks well let down, straight when viewed from rear, neither turning in nor out. Cow-hocks highly undesirable.
Feet
Round and cat-like.
Tail
Set on and carried level with back, reaching to hocks, without curl at tip.
Gait/Movement
Powerful with good drive. Straight and true in front and rear. Stride long and free with no sign of hackney action in front.
Coat
Flat or wavy with good feathering, dense water-resisting undercoat.
Colour
Any shade of gold or cream, neither red nor mahogany. A few white hairs on chest only, permissible.
Size
Height at withers: dogs: 56-61 cms (22-24 ins); bitches: 51-56 cms (20-22 ins).
Faults
Any departure from the foregoing points should be considered a fault and the seriousness with which the fault should be regarded should be in exact proportion to its degree and its effect upon the health and welfare of the dog.
Note
Male animals should have two apparently normal testicles fully descended into the scrotum.
The above standard was copied, word for word, from the official KC standard found at the following link: The UK Kennel Club Golden Retriever breed standard