Updated: June 30th, 2022
So, you have your heart set on a golden retriever, but you have decided to adopt from a rescue to help a dog in great need of its forever home.
If you live in Colorado, you're in luck! Below, you will find details about the three best golden retriever rescues in the Colorado area.
In addition, I'll take you through the details of what to expect from the adoption process to make finding your perfect canine family member an even more enjoyable process. Read on to learn more so you can find the perfect golden retriever in need of a loving home!
Best Golden Retriever Rescues In Colorado
First, let's go over the top three most responsible and ethical golden retriever rescues in Colorado. I'll cover some details about their history as well as where you can contact them.
Keep in mind you will also find golden retrievers in rescues that work with all dog breeds, but it is often a good idea to adopt from a breed-specific rescue. Why? Different breeds have different needs in terms of their potential health issues and temperaments. By focusing on a single breed, the rescue is able to provide more specialized care and support for their dogs.
Find out everything you need to know about Golden Retriever puppies here.
This volunteer-run golden retriever rescue is based in Phoebe's Place in Arvada, Colorado. Founded in 1996 by Laura Terroux, the organization rescues and rehabilitates dogs that have been abandoned or surrendered and seeks out appropriate forever homes for them. They rehome around 300 dogs each year.
While some dogs stick around long enough to have a profile on their website, most of their dogs tend to be adopted quickly. This is why it is best to contact them and put in an application so they can promptly contact you when a suitable dog becomes available. Most dogs are kept in foster homes in the Denver area and can be visited by appointment. They do not place dogs out of state.
Their dogs typically cost between $250 and $600 to adopt depending on their age, and they all come with chip registration. Additionally, their puppies are all spayed or neutered prior to adoption.
RROC was founded in 2006 by a group of volunteers experienced working with single-breed rescues who wanted to provide a shelter for all retrievers in the Colorado area. They started out with no budget and the ambition to save just 30 dogs a year. Today, they save more than 200 dogs annually.
RROC is located in the Evergreen area, and you can see some of the dogs available to adopt on their website, but you may have more luck if you contact the agency with your interest. This way, they can let you know when a likely pup becomes available.
You will need to complete an online adoption form, and when a dog becomes available, you will then be invited for a phone interview to see if you are an appropriate match. Before finalizing the match, a RROC volunteer will also make a home visit to make sure you have an appropriate forever home for the dog.
Expect to pay $400 to bring a RROC puppy home and a little less for adult dogs. Fees include spaying or neutering, microchipping, and all age-appropriate vaccinations.
This rescue is based in Denver and has rehomed almost 4,000 dogs since they opened in 2001. At this completely volunteer-run organization, dogs spend time in foster care to help the team determine their temperament so they can find a good match for the dogs' forever homes.
To adopt, complete an online application form to help GRFR determine what kind of dog would be best for you. Once an appropriate pup becomes available, you can expect a phone interview and home visit before the adoption is finalized.
What To Expect From The Adoption Process
While the process of adopting a dog isn't overly complicated, it is still more involved than many first-timers expect. Here is what to expect from the adoption process.
1. Prepare To Be Disappointed.

While there are many dogs out there in need of homes, you should be prepared for disappointment. Puppies and attractive dogs like goldens are popular and get snatched up quickly. Usually, by the time you see a dog on a website, the rescue is already in the process of rehoming them with another family.
So, while it is a good idea to browse sites and get in touch quickly when you find a dog that you connect with, you should register your interest with local golden retriever rescues. This way, they will contact you when an appropriate dog comes into their care and you can be at the top of the list. Most shelters will keep your adoption application on file for 3 to 6 months.
2. Be Prepared To Answer Questions About Your Living Situation.

Rescues know how hard it is for dogs to thrive when they are in homes that are inappropriate for them. Because of this, they aren't just concerned with finding their pups homes, but also the right homes. For this reason, you should be prepared to answer quite a few questions about yourself as part of the application process.
They will want to know about your experience with dogs and your living situation. For example, they will probably ask about the size of your home, whether there is outdoor space for the dog to use, how many hours of the day the house is empty with everyone at school and work, if there are children and other animals in the home, and whether you have an active lifestyle. Goldens need lots of exercise, so do best with owners who are already quite active.
There may also be a few financial questions to ensure that you have the resources to provide the appropriate care for a golden retriever.
Some of these questions will come up on the initial application, while others are commonly addressed in a phone interview. Many shelters will also want to organize a home visit to see your home and make sure that it is as you described and that it will be appropriate for the dog.
3. There Will Be An Adoption Fee.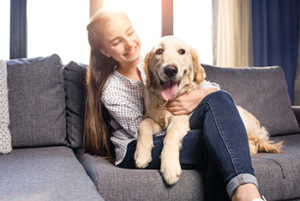 Some people are surprised that they need to pay to adopt a dog. You might be thinking, "Aren't these dogs in need of a home?" After all, you'll be taking financial responsibility for the dog going forward anyway, right?
The fee you will be asked to pay helps to cover the costs of the rescue, both in general and for your dog specifically. You can expect your dog to have undergone medical checks, to be chipped, and to have received all relevant vaccinations. The fee can also be a measure of your seriousness. Families that are willing to make a financial commitment tend to look after their dogs for longer.
You can expect to pay between $400 and $800 for a puppy, and a bit less for older dogs. Senior dogs can cost as little as $100 to adopt.
4. Expect Some Contact With The Shelter Post-Adoption.

Most shelters don't simply place their dogs and then wash their hands of the pup and move on to other dogs in need. Good shelters will follow up with you to make sure you and your pup are getting on well, and they can offer you support and advice if you have any questions about the health or care of your new dog.
Get advice on training your new golden retriever here.
FAQs About Adopting Golden Retrievers
How long does it take to adopt a golden retriever?
Once you have been matched with a dog, you should expect the adoption process to take between two weeks and one month to finalize.
How long do golden retrievers live?
Golden retrievers have a life expectancy of roughly 10 to 12 years.
How much does it cost to adopt a golden retriever in Colorado?
You can expect to pay between $400 and $600 to adopt a golden retriever puppy in Colorado. Adult dogs cost a little less and are typically around the $300 mark. Adopting a senior dog can cost as little as $100.
Is it hard to adopt a golden retriever puppy?
Golden retrievers are very desirable dogs, so puppies in rescues get adopted quickly.
However, because the demand is so high, there is also a steady supply of goldens available from breeders all over the US. Optimize your chances by registering with various rescues and being proactive about staying in touch.
The Verdict
If you are in the Colorado area and you are keen to adopt a golden retriever, there are a handful of great Retriever rescues in the area that may be able to match you up with the perfect pup.
However, don't expect the adoption process to be easy. Golden retrievers are popular dogs, so expect there to be quite a bit of competition for dogs.
Keep these things in mind both during and after the adoption process:
Be prepared to answer questions about your living situation
There will be an adoption fee, which will vary depending on the rescue and the age of the dog you select
Stay in contact with the shelter after adopting your dog in case you have any questions about your pup's health, temperament, etc.
Remember, the rescue will want to know quite a bit about you to make sure you are a good match for the dogs in their care and that you will be able to look after them in the long term. The last thing they want is to see their pups returning to the rescue.
Have you worked with any of the rescues in the Colorado area? Share your insights with the community in the comments section below.