BREED INFO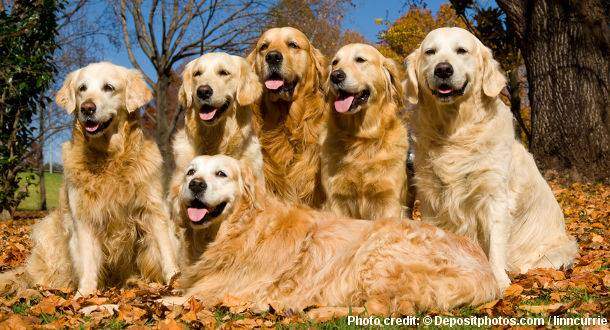 This section of Totally Goldens is home to all the general information on Golden Retrievers that I've written.
If you're looking for facts and figures, or frequently asked questions, the breed standard, history of the breed or even researching how Golden Retrievers perform many important, life enhancing or life saving jobs for us, this is the section for you.
Frequently Asked Questions About Golden Retrievers
First of all, I am compiling an article to list the most frequently asked questions about Golden Retrievers.
This article will continually grow as more questions are asked both here and on the TotallyGoldens Facebook page. So check back often…and please suggest a question and answer to add to the article if you think it will be helpful to others:
The History And Origins Of The Golden Retriever
For those of you interested in the history of this beautiful breed, I've briefly covered the main facts here:
The Golden Retriever Breed Standard
What makes a Golden Retriever who they are? What should each body part look like? What color should they be? And how about their temperament?
All that and more is detailed in the following article:
General Breed Information
A collection of articles discussing fun, facts and general information about the Golden Retriever.
Golden Retriever 101 From Animal Planet
Some people like to read, others like to watch or listen. So to provide great information in an alternative format, please see the following video from Animal Planet.
It's a fantastic introduction to many important aspects of the breed…and a joy to watch so many beautiful dogs in action in a single short film. Check it out!
Useful Resources
For further information on general Golden Retriever facts and figures, please see the following resources:
Golden Retriever Breed Information Archive
Below you'll see all the breed information articles listed in date order, with the most recent on top, with image and a brief introduction.
At the bottom of the page are links to skip through previous pages of posts.
Please browse through the archive…I like to think there's something interesting there for everyone :-)